03 Sep
Nearly all of these are English-edition daily newspapers. These sites have interesting editorials and essays, and many have links to other good news sources. We try to limit this list to those sites which are regularly updated, reliable, with a high percentage of "up" time.
They wouldn't go away and leave them with the house keys
Untrustworthy governors: the lighter the color the less trusted they are.
Results of the National Survey 2017 have been released and the news isn't good for Mexico's state governors.
The opinion poll found almost eight out of 10 people did not trust their governor, while all but three of the 32 state leaders failed on performance assessments.
Responding to the question, "If the governor of your state was your neighbor and you had to go away for a few days, would you trust him/her with your keys?" 76% said they would not.
Graco Ramírez of Morelos fared worst on the question with just 11.1% saying they would hand over their keys to him, followed by Manuel Velasco (Chiapas), Arturo Núñez (Tabasco), Héctor Astudillo (Guerrero) and Francisco Vega de Lamadrid (Baja California).
Sonora Governor Claudia Pavlovich was deemed the most trustworthy even though only 41.4% said they would give her their keys.
Poll respondents gave failing grades to 29 governors for their performance with only Pavlovich, José Rosas Aispuro of Durango and Rolando Zapata of Yucatán achieving pass marks, although all three only just scraped by over the 60% cut-off.
At the bottom of the rankings were the same, least trustworthy governors, joined by Mexico City Mayor Miguel Ángel Mancera, whose performance was rated as the fifth worst of all state leaders.
The survey also found that almost 70% believed their governor was not in control of their state while half the respondents said that they wouldn't recommend living in their state because of a poor economy, few opportunities and high levels of insecurity.
Residents of Tabasco were least likely to recommend their state followed by respondents in Guerrero, Veracruz, México state and Zacatecas.
People from Yucatán were the happiest with just over seven out of 10 saying they recommended living there. Next came Aguascalientes, Sonora, Campeche and Baja California Sur.
Opinions were divided on social issues with just over 50% of respondents saying they supported same-sex marriage while 45.8% said they opposed it, while 42.7% said that first trimester abortion should be legal whereas 53.6% said it should not be.
Respondents in Mexico City were most likely to support both issues.
Legalization of marijuana for recreational use was opposed by 62% of respondents while almost 67% indicated that they would feel more unsafe if firearms were made legal for personal use.
Almost 75% of respondents said that the 200 federal deputies who are elected by proportional representation in the 500-seat Chamber of Deputies are unnecessary and the positions should be eliminated.
Market research company Gabinete de Communicación Estratégica polled just over 20,000 people for the annual survey.

World Politics
Germany
United States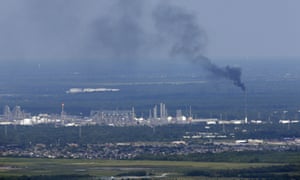 Houston's petrochemical industry has leaked more than 2,700 tons of extra air pollution in connection with Hurricane Harvey. Photograph: David J. Phillip/AP
Hurricane Harvey has resulted in Houston's petrochemical industry leaking thousands of tons of pollutants, with communities living near plants damaged by the storm exposed to soaring levels of toxic fumes and potential water contamination.
Refineries and chemical plants have reported more than 2,700 tons, or 5.4m pounds, of extra air pollution due to direct damage from the hurricane as well as the preventive shutting down of facilities, which causes a spike in released toxins.
On Friday, ozone levels in south-west Houston were nearly three times higher than the national standard, triggering one of Texas's worst recent smogs. Scientists warned that people outside cleaning up in the aftermath of Harvey were vulnerable to the poor air, particularly the elderly, children and those with asthma.
According to an analysis by the Center for Biological Diversity, a cocktail of nearly 1m pounds of particularly harmful substances such as benzene, hexane, sulfur dioxide, butadiene and xylene have been emitted by more than 60 petroleum industry plants operated by ExxonMobil, Shell, Chevron and other businesses since the hurricane.
Houston has not met national air quality standards since the introduction of the Clean Air Act in 1970 and the sudden surge in pollution has caused deep concern among public health advocates.
"It's a really serious public health crisis from the pollution and other impacts people are facing," said Bakeyah Nelson, executive director of Air Alliance Houston.
"Communities in close proximity to these facilities will get the worst of it, as they get the worst of it on a daily basis. There's also the acute danger of one of these facilities exploding in neighbourhoods where storage tanks are adjacent to people's back yards. It's a very real threat and it's a very precarious situation."
Footage captured by a drone shows the scale of flooding in Houston on Friday. The amateur video shows the aftermath of Hurricane Harvey as residents begin to return to undertake the massive cleanup effort. Donald Trump was due to meet survivors in Houston on Saturday
The released chemicals are linked, through prolonged exposure, to an array of health problems including heightened cancer risk, gastrointestinal ailments, nausea and muscle weakness. Residents living near the sprawling industrial facilities that dominate Houston's ship channel said they have experienced pungent smells and respiratory issues in the wake of the hurricane.
"It feels like someone has a hand on the crest of your noses and is pushing down on your nose and eyes," said Bryan Parras, who lives in the East End area of Houston. "You start to get headaches, your eyes start itching, your throat gets scratchy. I noticed it going outside for just a second. And then I realized that the air conditioning was sucking it into the house."
Jacob Judah on the Myanmar border
Gunfire and explosions crackle in the hills. Plumes of smoke from burning villages streak the monsoon-grey sky. Refugees fleeing for their lives are pouring into Bangladesh over the Myanmar border as the conflict between Myanmar security forces and Rohingya militias escalates and risks spiralling into a humanitarian disaster.
The refugees say their villages are being raided and burned. They tell stories of the indiscriminate killing of civilians at the hands of security forces and Buddhist nationalists. Since 25 August, more than 18,500 Rohingya, a largely Muslim ethnic group, have fled into Bangladesh from Rakhine state. However, UN sources say they believe the true figure is closer to 28,000. And Bangladeshi aid workers claimed on Saturday that 70,000 – almost 10% of the Rohingya population – had crossed in less than 24 hours. "This is a new dimension," said Adil Sakhawat, a journalist with the Dhaka Tribune.
Dozens of rickety shelters dot the fields surrounding the town of Gundum, where Rohingya refugees first started arriving last week. Goats and chickens that were brought across by the refugees dart between the muddy feet of old women and small children soaked by the monsoon rains.
Rusting machetes, arranged in expectation of the sacrificial cow slaughter for Eid al-Adha, are propped against bamboo sticks supporting a tarpaulin. Bengalis walk along the road with the odd cow that a refugee has sold them. Myanmar cattle are widely seen as the best quality and are in high demand across Bangladesh.
On top of those already here, UN sources have said there could be another 20,000 refugees stranded in a narrow strip of no man's land that separates mainly Buddhist Myanmar and predominantly Muslim Bangladesh. Prevented from entering Bangladesh by border guards, these Rohingya have limited access to relief and have been forced to rely on the help of local villagers to survive.
Rakhine state and the Rohingya are no strangers to ethnic violence. Fighting last October forced 87,000 Rohingya into Bangladesh. However, both refugees and Sakhawat said this year was different. "There were large influxes in 2012, 2015, and 2016, but this time it has broken every record," he said. "It is drastically different." Ominously, there are now fewer men entering Bangladesh than in previous years. Sakhawat, who walked four hours into the mountains in the Baichari area of the border, said: "The Rohingya told me that the Myanmar military are indiscriminately killing men of fighting age." He said he also heard accounts from four villages in northern Maungdaw that "the military are taking the children from the arms of their mothers, and throwing them away".
Fortify Rights, an NGO that is documenting human rights abuses in Rakhine, reported that survivors from the village of Chut Pyin, in Sittwe district, spoke of the Myanmar army and local civilians beheading Rohingya. Survivors estimated that the death toll in the village, which once had a population of 1,400, was more than 200.
The Rohingya are from Myanmar's western Rakhine state. Numbering about 1.1 million, there are now estimated to be more than 400,000 Rohingya refugees in Bangladesh. They face systematic discrimination in Myanmar and are often referred to as the world's most persecuted minority. Myanmar denies them citizenship, alleging they are illegal immigrants from Bangladesh.
Myanmar security forces have started to place mines along the fence. Ultimately, [the refugees] will become trapped

Bangladeshi border guard
This escalation in violence in Rakhine began when 30 Myanmar border posts and an army base were attacked last month by the Arakan Rohingya Salvation Army (Arsa), an insurgent group that began operating in October 2016. In response, security forces launched a "clearance operation", supported by Buddhist militias that Rohingya refugees say are intent on driving them out of the country.
In Tumbru, the men of the Border Guards Bangladesh (BGB) look across at the makeshift refugee shelters squeezed into the no man's land between the Naf river and the Myanmar border fence. Ringed by paddy fields and low hills, the monsoon has turned the ground into a sea of mud. A concrete Myanmar police outpost, nestled in the trees, overlooks the camp.
Smoke from nearby villages that have been torched is sometimes visible, and local villagers describe the buzzing of helicopters as Myanmar soldiers are moved between remote outposts and other Rohingya villages are raided.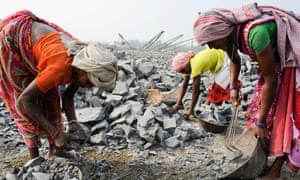 Workers at a stone quarry in India. Granite suppliers routinely claim to source from the country on their websites, often describing products in highly luxurious terms. Photograph: Alamy Stock Photo
John Lewis and Habitat have pulled a range of granite worktops from sale over concerns their supply chains may be tainted with slavery and child labour.
Many other high-street businesses selling granite products such as kitchen worktops, tiles and tombstones are also likely to scrutinise their supply chains after investigators discovered that debt bondage, underage workers and unsafe, unhealthy working conditions are part and parcel of daily working life in Indian quarries.
India is the largest global producer of granite, accounting for 49% of the world's raw stone export in 2015. Three-quarters of the country's granite is mined in just three states – Andhra Pradesh, Telangana and Karnataka. An investigation of 22 quarries and six waste stone processing sites in these states, recently published by the Dutch organisations India Committee of the Netherlands (ICN) and Stop Child Labour, revealed major human rights and labour rights violations.
The violations included children under 14 working in waste stone processing, wages tied to extortionate loans, and safety equipment offered only when mining inspections were taking place.
The quarries' performance was graded on six criteria: child labour, bonded labour, wages and social benefits, health, safety, and freedom of association.
More than 30 natural stone companies from the UK, EU, US, Australia and Canada are named in the report as sourcing products from the 22 quarries. None of the quarries has a prevention system for child labour.
One particularly problematic product is star galaxy granite, which is famed for its shimmer and often retails for £300 a square metre. It hails from only one area in the world: Prakasam district in Andhra Pradesh.
Diewertje Heyl, ICN's corporate social responsibility officer, told the Observer that the granite belt is located in a specific area in Prakasam, and that quarries are consequently located "side by side" to extract the stone. "There are a few quarries where conditions are better than others, but by and large the poor conditions we described in the report are representative of the sector as a whole."
Given the complexity of global supply chains, and the scale of abuses outlined in the report, it would be "almost impossible" to ensure that any star galaxy granite is free of labour or human rights irregularities, Heyl added.
John Lewis told the Observer that "in light of this report and pending further investigation, we have made the decision to remove from sale black/star galaxy granite and are currently investigating all granite sources worldwide".
The statement continued: "As a socially responsible retailer, we require our suppliers not only to obey the law but also to respect the rights, interests and well being of their employees, their communities and the environment. We do not source granite directly. We work with one UK importer who has signed up to the John Lewis code of practice on responsible sourcing, which sets out in detail the standards that we expect our suppliers to meet on labour standards and the environment."
Habitat kitchens are sold by the in-store concession Kütchenhaus, which is the UK subsidiary of German company Nobilia. Nobilia is the world's biggest kitchen manufacturer.
In a statement, Nobilia confirmed that, although it doesn't supply the granite worktops sold by its UK subsidiary, "star galaxy granite samples have been removed from the Habitat stores and Habitat have now stopped selling star galaxy [worktops]."
The statement continued: "All products that are sold in a store next to or in combination with Nobilia products (and could therefore be associated with Nobilia) should meet the same high welfare, environmental and quality standards as the products supplied by us and we do not hesitate to take appropriate action if any supplier is found to be in violation of these standards."
The durability and versatility of granite, which is available in 200 shades, make it the most sought after stone in the world. It is used for everything from government buildings and pavements to kitchen worktops and gravestones, with prices often soaring to £350 a square metre for premium varieties.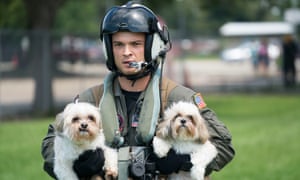 'The first responders and the people saving animals gave me hope.' Photograph: Christopher Lindahl/AFP/Getty Images
L

ike everyone right now, my thoughts are with all the people in Texas trying to recover in the wake of Hurricane Harvey. It's hard to watch something like this unfold when it feels like there is no real leadership to help guide the country through – but watching the stories out of Texas reminded me that the actual leadership is there, among the citizens who helped each other.
Even the reporters who covered the disaster found ways to help – from a CNN correspondent who saved a man and tried to give a woman with Alzheimer's some privacy from the camera, to local reporters who stayed to cover the storm even when it meant putting their own safety at risk.
The first responders and the people saving animals. Business owners who opened their doors to people seeking refuge. They all gave me hope; a feeling I think we could all use a little more of these days.
Glass Half Full
Amidst the destruction in Texas, humanity found a way to shine through again and again. There have been so many stories of bravery, but this one, in which neighbors formed a human chain to help a woman in labor, has stuck with me.
Human chain formed to help Houston woman in labor through floodwaters
A Houston woman who went into labor as floodwaters from Hurricane Harvey surrounded her apartment was helped to a rescue truck by a human chain of neighbors and firefighters.
Annie Smith, 32, said she was mentally preparing herself to have to undergo a home birth on Sunday as she and her husband, Greg Smith, watched the rising floodwaters make the 2-mile drive to a hospital no longer an option.
"When I saw all the flooding, I turned to Greg and was like, 'I'm really starting to get scared now,'" Annie Smith told ABC News. "It kind of dawned on me that this is it — I'm in actual labor."
The Smiths, both doctors, moved to Houston from Virginia earlier this summer to complete medical fellowships — Annie Smith in geriatrics and Greg Smith in pediatric anesthesiology.
Greg Smith went into "super doctor mode," according to his wife, and began collecting supplies around the house, like scissors and sewing needles, that could be used for the birth. He asked his mom, who was visiting, to boil water to sterilize the supplies.