04 Sep
Nearly all of these are English-edition daily newspapers. These sites have interesting editorials and essays, and many have links to other good news sources. We try to limit this list to those sites which are regularly updated, reliable, with a high percentage of "up" time.

Psychologist Stephan Grünewald has spent much of his career studying Germans. In a new study, he looked at current political attidudes and discovered raw emotions ahead of the upcoming election.

Hermann Bredehorst / DER SPIEGEL
Protesters greeting Chancellor Angela Merkel in the city of Quedlinburg in August 2017.
SPIEGEL: Mr. Grünewald, in the lead up to the election, the Rheingold Institute has once again undertaken a detailed analysis of Germany's political state. How did you proceed?
Gr ünewald: We put 50 voters on the couch. Twenty-six underwent in-depth psychological interviews, the others took part in three group discussions. Seven psychologists took part in the study, with two of them focusing on eastern Germany. It isn't representative, but you can recognize certain traits.
SPIEGEL: What did you find out?
Gr ünewald: On a fundamental level, the voters are totally disappointed in this election campaign. They feel like the things that are important to them aren't being discussed and that many things are being glossed over. We wanted to find out why.
SPIEGEL: What did you discover?
Gr ünewald: In the in-depth interviews, all people wanted to talk about was the refugee crisis, refugee crisis, refugee crisis. Despite being so elegantly left out of the campaign, it is still a sore spot that hasn't been treated by politicians.
SPIEGEL: What exactly is the problem?
Gr ünewald: The crisis two years ago plunged voters into a dilemma for which they still haven't found a clear response. Do I open the door, or do I close it? On one hand, they want to be part of the welcoming culture, but they are also afraid of being overwhelmed by foreigners and of no longer being able to recognize their own country. As a result, they want policymakers to develop a plan, to establish a compromise position. But they haven't, and now voters feel abandoned.
SPIEGEL: What is the consequence of this?
Gr ünewald: Voters are disoriented, full of uncertainties. They describe Germany either as an ailing, run-down country or as a secure island of affluence in a sea of risk. It's all very fragile and leads to emotional outbursts. I have never before seen so much anger and hatred among test subjects.
SPIEGEL: Do you expect growing political radicalization?
Gr ünewald: Not yet, because in reaction to the perceived hardening of the fronts, voters are also taking a step back. They argue that we cannot afford to slip into polarization because we are surrounded by three brutes: Trump, Erdogan and Putin. The anger is being expressed in shadowy digital worlds, but in the analog world, they keep a tighter rein on themselves.
SPIEGEL: Is the refugee crisis just a symbol for their discomfort with the difficult state of the world today?
Gr ünewald: Yes, because long before the refugee crisis people felt alienated by globalization and were also concerned about global security.
SPIEGEL: How is Trump being perceived?
Gr ünewald: He works to Merkel's advantage. Because of him, Putin and Erdogan, she is seen as the person who can tame the brutes. The chancellor is seen as the only one we can depend on, so we have to have a good relationship to her.
SPIEGEL: And her challenger?
Gr ünewald: Amid the skepticism around Merkel, Martin Schulz (of the center-left Social Democrats — SPD) arrived early this year as a figure seen as down-to-earth with a take-charge attitude. He was seen as a returning father, someone to finally fill the paternal vacancy in German politics — and it was blown up to almost messianic proportions. Schulz, the person, couldn't fulfill these expectations. He is seen more as a friendly uncle. The SPD faces a potential disaster in this election.
SPIEGEL: Could the right-wing populist Alternative for Germany (AfD) party do better than polls are currently leading us to expect?
Gr ünewald: The AfD channels a lot of this anger but it doesn't have a leadership figure. As such, it was a mistake to remove Frauke Petry from the spotlight. The tendency of voters to keep themselves in check, as I described earlier, won't help the AfD.
SPIEGEL: And the Green Party. Will they do well because climate change is such a critical issue?
Gr ünewald: No, it'll be tight for them. People think their problems lie elsewhere. And the Greens are also seen as arrogant because their fight for nature is often directed against human nature.
Stephan Grünewald, 56, wrote the bestseller "Deutschland auf der Couch" ("Germany on the Couch") and heads the Reingold Institute in Cologne, a specialized market research institute.

World Politics
Germany
United States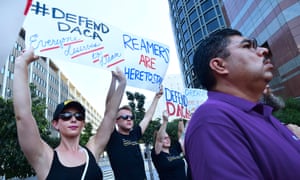 Protesters rally in support of Deferred Action for Childhood Arrivals (Daca) in Los Angeles. Photograph: Frederic J. Brown/AFP/Getty Images
Reuters
Donald Trump has decided to scrap a program giving work permits to people who came to the United States illegally as children but will give Congress up to six months to find a legislative alternative, according to reports.
The Obama administration policy protects nearly 800,000 young men and women often called "Dreamers" from deportation and allows them to work legally.
The decision to give Congress half a year to come up with an alternative represents a compromise after Republicans and business leaders asked Trump to keep the program. They included Facebook founder Mark Zuckerberg and Apple chief executive, Tim Cook, who tweeted that 250 staff were "Dreamers" and "I stand with them".
"Dreamers" are a fraction of the estimated 11 million illegal immigrants in the United States, most of them Hispanic. Trump as a candidate promised to deport all of them, but many Americans have rallied to support the young adults who have spent large parts of their lives in the United States.
The decision, to be announced on Tuesday, will seek to placate both sides in the immigration debate at a time when the president is also grappling with North Korea's nuclear program and Houston's recovery from Hurricane Harvey.
House of Representatives speaker Paul Ryan urged Trump on Friday not to rescind the program and was joined by senator Orrin Hatch, also a Republican.
Representative Ileana Ros-Lehtinen, a Cuban-American Republican from Florida, tweeted her dismay with the decision to scrap Daca: "After teasing #Dreamers for months with talk of his 'great heart,' @POTUS slams door on them. Some 'heart'."
Trump's base may also be disgruntled about the president's decision to leave open the option of a fix. Representative Steve King, a hawk on immigration and Iowa Republican, tweeted his opposition to the plan on Sunday night.
Democrats, such as Minnesota senator Al Franken, also wanted the program to continue. Franken called the reported decision a "disgrace". Nancy Pelosi, the top House Democrat, last week asked Ryan to meet her party to discuss a "comprehensive legislative solution".
Treasury secretary Steven Mnuchin downplayed the warnings from business figures, telling Fox News Sunday he was "less concerned about the economic impact".
Most of the Dreamers came from Mexico and elsewhere in Latin America. More than 200,000 live in California, while 100,000 are in Texas. New York, Illinois and Florida also have large numbers.
Congress under presidents of both parties has been unable to pass comprehensive immigration reform. The Daca issue has been actively debated within the White House and Trump administration. One senior administration official described the debate as a "tug of war" between factions.
Daca supporters argue that the people it protects are US-educated and integrated into American society, with little connection to the countries in which they are citizens. Opponents of the program argue that illegal immigrants take jobs from US citizens.
Chinese President Xi Jinping has few easy choices when dealing with North Korea. Photograph: Tyrone Siu/AP
On Friday afternoon, the eve of North Korea's most powerful ever nuclear test, China's football-loving president received a gift from the world's greatest ever player.
"Good luck," read the handwritten message from Pelé on a canary yellow Brazil jersey handed to Xi Jinping by his South American counterpart, Michel Temer.
Xi needs it. Experts say Kim Jong-un's latest provocation – which some believe was deliberately timed to upstage the start of the annual Brics summit in China – exposes not only the scale of the North Korean challenge now facing China's president but also his dearth of options.
"The Chinese are pissed off, quite frankly," says Steve Tsang, the head of the Soas China Institute.
"But there is nothing much they will actually do about it. Words? UN statements and all that? Yes. But what can the Chinese actually do?"
Zhao Tong, a North Korea expert from the Carnegie-Tsinghua Center for Global Policy in Beijing, believes there are a number of possible answers.
Sanctions or turning off the taps
The first is to further tighten sanctions on Kim's regime by targeting its exports of textiles and clothing.
"After the last round of UN resolution sanctions, textile products and clothing is now the most important source of foreign income for North Korea," says Zhao.
Xi could also deprive Kim of another key source of revenue by agreeing to limit or completely prohibit up to 100,000 North Korean labourers from working overseas, including in China.
A third and far more drastic option also exists: cutting off North Korea's crude oil supply. "This nuclear test is one of the few things that might trigger a cut-off of oil supplies, but we are still very reluctant to do so," one person close to Chinese foreign policymakers told the Financial Times after Sunday's detonation.
Zhao doubts Xi will choose that risk-strewn path. He believes turning off the taps could prove an irreversible decision since the pipeline delivering oil to North Korea is old and would corrode and break if left unused. Crucially, though, it would cripple North Korea's economy, almost certainly bring down Kim's regime and create a massive refugee and security crisis just a few hundred miles from Beijing.
"That is one of the most radical measures China could ever take and it could have strategic implications if the regime's stability is affected," says Zhao. "It is not going to be immediate but over time it could have an impact on the regime's survival."
Cheng Xiaohe, a North Korea expert from Renmin University in Beijing, also admits tightened sanctions are the only feasible response: "China has been pushed into a corner and has few options left."
Growing frustration
That said, some believe appetite is growing in China for a more robust response to Kim Jong-un's continued provocations.
"This is an insane country, and he is an insane leader," says Zhu Feng, an international security expert from Nanjing University. "We are now at a historic turning point and – from my point of view – China needs to strengthen coordination and cooperation with the international community, particularly with the US, Japan and South Korea."
"I think the domestic discussions about cutting crude oil supply are increasing," says Zhao, who thinks the mood in China – North Korea's key ally and trading partner – may be starting to shift.
Zhao believes Xi's ability to take tougher action against Kim partly hinges partly on how much he can strengthen his political position ahead of next month's 19th Communist party congress, a once-every-five-years conference marking the end of his first term in power. Recent weeks have seen tantalising glimpses of the internal power struggle that is raging at the top of China's Communist party, with the purging of one senior official tipped as Xi's possible successor and a major reshuffle in the leadership of the armed forces.
"If things settle down very quickly … that will give Xi Jinping some leeway to take more radical measures against North Korea," Zhao predicts. "But if domestic politics continues to play out until the 19th party congress, then I don't think China has any room to take radical measures."
Smart cookie and the wildcard
Tsang believes the apparent lack of effective options to halt Kim Jong-un's nuclear ambitions underlines what a shrewd strategtist he is and how successfully he was toying with both China and the US: "He is a smart cookie – a very, very smart cookie."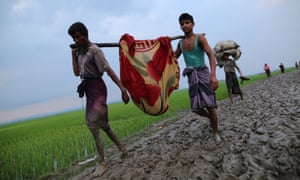 Rohingya Muslims, fleeing military operations in Myanmar's Rakhine state, make their way to Bangladesh.
Photograph: Anadolu Agency/Getty Images
Oliver Holmes South-east Asia correspondent
Myanmar has blocked all United Nations aid agencies from delivering vital supplies of food, water and medicine to thousands of desperate civilians at the centre of a bloody military campaign in Myanmar, the Guardian has learned.
The world body halted distributions in northern Rakhine state after militants attacked government forces on 25 August and the army responded with a counteroffensive that has killed hundreds.
The Office of the UN Resident Coordinator in Myanmar told the Guardian that deliveries were suspended "because the security situation and government field-visit restrictions rendered us unable to distribute assistance", suggesting authorities were not providing permission to operate.
"The UN is in close contact with authorities to ensure that humanitarian operations can resume as soon as possible," it said. Aid was being delivered to other parts of Rakhine state, it added.
In the deadliest violence for decades in the area, the military is accused of atrocities against the persecuted Muslim Rohingya minority, tens of thousands of whom have fled burning villages to neighbouring Bangladesh, many with bullet wounds.
Staff from the UN refugee agency (UNHCR), the United Nations Population Fund (UNFPA), and the United Nations Children's Fund (UNICEF), have not conducted any field work in northern Rakhine for more than a week, a dangerous halt in life-saving relief that will affect poor Buddhist residents as well as Rohingya.
The UN World Food Programme (WFP) said it also had to suspend distributions to other parts of the state, leaving a quarter of a million people without regular food access.
Sixteen major non-government aid organisations – including Oxfam and Save the Children – have also complained that the government has restricted access to the conflict area.
Humanitarian organisations are "deeply concerned about the fate of thousands of people affected by the ongoing violence" in northern Rakhine, said Pierre Peron, spokesman for the UN Office for the Coordination of Humanitarian Affairs (OCHA) in Myanmar.
Refugees who have made it to Bangladesh during the past week have told horrific stories of "massacres" in villages that they say were raided and burned by soldiers. Along miles of the border, thick black smoke can be seen rising from small settlements surrounded by green fields.
The government blames rebels for burning their own homes and accuses them of killing Buddhists and Hindus, a claim repeated by some residents.
Although the Rohingya have suffered oppression for decades, the recent bout of violence is seen as a dangerous escalation because it was sparked by a new Rohingya militant group called the Arakan Rohingya Salvation Army.
The military says 400 people have been killed, the vast majority of them "terrorists", although a government block on access to Rakhine makes it impossible to verify official figures.
An estimated 1.1 million Rohingya live in Myanmar, which refuses to grant them citizenship and has been internationally condemned for its treatment of the ethnic minority.
Climate contrarians, like Trump's EPA administrator Scott Pruitt and Energy Secretary Rick Perry, don't understand how scientific research works. They are basically asking for a government handout to scientists to do what scientists are should already be doing. They are also requesting handouts for scientists who have been less successful in research and publications – a move antithetical to the survival of the fitness approach that has formed the scientific community for decades.
The helping handout would be through a proposed exercise called a "red team/blue team" effort. It is a proposal that would reportedly find groups of scientists on both "sides" of the climate issue (whatever that means), and have them try to poke holes in each others' positions. I will explain why this is a handout but first let's talk about the plan and how it interferes with the scientific process.
I say that Pruitt and Perry don't understand how science works because we are already doing "red team/blue team" exercises everyday in our normal line of business. Science works by challenging each other and our ideas. If we think that a colleague has made an error, we tend to be merciless and tenacious to correct the errors. This is part of the premise of the concept of peer review – where we send studies and manuscripts to journals to have other experts objectively review them for errors.
So back to the basic premise of a red team/blue team exercise – basically the "red team" would critique some conclusion of a "blue team." The blue team would be able to respond, and there would be this back and forth exchange. On its face it sounds pretty straightforward even though scientists are already doing that in the scientific literature. But how would this work in practice?
First, how would the red team and blue team members be selected? Would they be picked by Pruitt and Perry who have already demonstrated a commitment to unbridled fossil fuel usage? The red team would almost certainly be selected from the very small but vocal group of contrarian scientists and non-scientists who have failed in the scientific arena. The fact is, there are no credible scientists who doubt that human emissions of greenhouse gases cause global warming. They just don't exist.
There are some "lukewarmist" scientists who think the problem won't be that bad, but these "lukewarmers" have failed to provide compelling evidence in the scientific literature. In many instances, their work has been shown to be wrong, the mainstream scientists have evaluated their claims and found them lacking or faulty. And this is why 97% of the world's top climate scientists agree with each other on climate change.
So forming a red team would basically amount to a governmental helping hand to scientists who have not succeeded in the scientific arena. Since they cannot compete in the cut-throat area of scientific research, they would be given a free pass by the government to circumvent the normal peer review process. Let's be clear, the red team cannot make the case in the scientific arena so they would be given a free pass to make their claims in the political arena.
What would the exercise look like? Well that isn't clear. Some ideas have been floated such as a live debate. Perhaps a red team response to a summary article such as the National Climate Report made public recently by the New York Times? Would it be special earmarked funding for contrarians to perform research? Would it be an "official" U.S. government report that is written by the contrarians? We just don't know.
But regardless of its manifestation, the result would be that contrarian scientists – who have already failed to make their case – would have their voices elevated to an inappropriate position of equality with those scientists whose work has survived scrutiny. The public would simply see two groups of "scientists" opposing each other, making it difficult for non-experts to discern who is correct. Finally, it would promote political ideology over scientific quality. Science works by being competitive; the best ideas and the best scientists are rewarded. The failed scientists and scientific ideas are discarded. By giving a free handout to failure, it would create an environment where you don't have to be good at your job; you just have to have the right politics.