05 Sep
Nearly all of these are English-edition daily newspapers. These sites have interesting editorials and essays, and many have links to other good news sources. We try to limit this list to those sites which are regularly updated, reliable, with a high percentage of "up" time.
A Country of Fear and Courage
Veit Medick recently spent two years as SPIEGEL ONLINE's correspondent in the United States. He lived with his family in a Washington, D.C., suburb. The experience taught him a lot about America's psyche, but also Germany's.
SPIEGEL ONLINE
I recently took another walk around our neighborhood with my children. We went out through the front door, down the four steps from our porch and then right onto Highland Avenue down to Lynbrook Park. It's a nice park with lots of tall trees, a basketball court, a playground and a large green field. It's surrounded by those American suburban homes that always seem to be built the same: driveway, garage, porch and front yard. Some of them have the American flag flying over the entrance.
It's an idyllic setting. At least on the surface.
The kids wanted to swing a bit on the playground. The sun was shining and it was warm out, but hardly anyone was out and about. No people, no cars on the road, no children throwing balls or walking dogs. The field was empty, as was the playground. The neighborhood felt like a still-life — as it so often had before.
We spent two years living in Bethesda, a privileged, almost exclusively white suburb located a few kilometers north of Washington, D.C. In many respects, it was a wonderful and exciting time. We experienced history in the making. We had to find our way in foreign surroundings, but learned that we had the skills to do so.
Over time, my daughters became little American girls. They now sing songs by Katy Perry and Miley Cyrus, they love motorhomes and collect Shopkins and they say things like "it's beautiful here" when they walk into a Disney Store. On those rare days when we don't drive our car to the supermarket, they think something must be wrong. In them, it is possible to see just how powerful the lure of the American way of life can still be. That can be annoying. But it's also kind of cute — at least for a short amount of time.
Empty Streets
I liked living in our neighborhood. We had great neighbors and the one's next door quickly became our friends. It's often said that relationships in the United States are superficial, but that wasn't out experience.
Nevertheless, the emptiness and sterility of the streets often got to me. Something was missing: vibrancy, public life and the feeling that a neighborhood is something that actually gets used and isn't just some movie set. Our neighbor Craig says that many Americans prefer to stay home because they have become comfortable, immobile. Because everything can be ordered online. Because air conditioning makes things so much more comfortable than the real weather outside. Because cars have become a second home for many. "We're complacent," Craig says. But is that really it?
I read a book a while ago by Barry Glassner, a sociologist. Glassner's theory is that Americans live in a culture of fear and don't do anything to try to counter it — instead allowing their lives to slide into a downward spiral of paranoia. I've thought a lot about this theory. In Bethesda, there's not really much to be afraid of other than, perhaps, mosquitoes or car accidents. But even a single neurosis can be enough to make one's home seem like a refuge. To me, Bethesda often seemed like one big refuge.
Fear, of course, is nothing new in America. It's a country that has always believed that the apocalypse is somehow just around the corner. But the level of fear that has developed in the United States — both on a smaller and larger scale — my God! You don't have to look very far to find it. Stores provide anti-bacterial wipes to protect their customers from germs on grocery carts. Parents obsessively coddle their children by driving them to school and picking them up each day. Fences surround playgrounds to prevent anything bad from happening. Alarms to protect classrooms from school shooters are ubiquitous. Hysteria is everywhere on the cable news channels.
A study was released recently about the things Americans fear the most. It includes literally everything. Terrorism and identity theft. Corrupt companies and financial ruin. Tornadoes and adultery. There is an explanation for this. America is no longer winning wars. Other countries suddenly also have a lot of power. Everything has become insanely fast. And the fear of external threats can influence the psyche — there's no question about that.
There's also a domestic dimension to this fear. Many Americans no longer trust their politicians or the elite. They no longer know what to believe in a situation where the macroeconomic indicators are trending positive but the amount of money that lands in their wallets is getting ever smaller. Many believe they have to take their fate in their own hands. And that can be exhausting.
American Fear Can Be Contagious
Donald Trump has been masterful in understanding how to take advantage of that fear — in many areas of life. In politics, in the real estate market and also in the media. At home, we subscribed to The Washington Post. My wife read the entire newspaper, even the local section — leading her to say things like, "Let's not drive through Prince William County — there are constantly shootings there." At first, I laughed at her. That is, until I also noticed that I myself had grown more cautious. For example, I no longer like going to stadiums that don't have security gates. Is that silly? Yes, but fear in America can be contagious.
And it's true, this country often drives people to despair, even if you live in a bubble. It is wrought with contradictions. Everyone talks about security, but the Americans haven't even managed to impose reasonable controls on weapon ownership. Everyone talks about freedom, but then, at the swimming pool we went to a few streets to the north, girls were made to wear bikinis even as babies. If I bought a bottle of wine at the store, I had to keep it hidden in a dark plastic bag until I got home.

World Politics
Germany
United States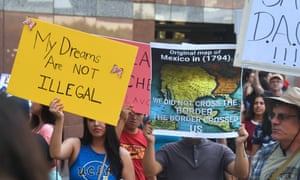 Young immigrants and their supporters rally in support of Daca in Los Angeles on 1 September. Photograph: Frederic J. Brown/AFP/Getty Images
Immigration hardliners are calling on Donald Trump to end the program that allows Dreamers – those brought to the US illegally as children – to be given relief from the threat of deportation, as the US president appeared poised to announce that the system will be scrapped, but not for another six months.
Attorney general Jeff Sessions is expected to announce on Tuesday a compromise that looks set to please few on either side of the debate, scrapping the Deferred Action for Childhood Arrivals (Daca) system created under the Obama administration in 2012, but delaying the reversal by six months in order to allow Congress to come up with some sort of replacement plan.
On Tuesday morning, Trump posted a tweet suggesting that reports of such a compromise were accurate:
Daca allows eligible, law-abiding young people who arrived illegally as children the chance to apply for temporary rights to live, work and study in the US.
Steven King, an ultra-conservative congressman from Iowa who opposes Daca, said the program should be scrapped without delay and argued that a six-month cushion was a way of allowing moderate Republicans to promote a policy of amnesty for Dreamers, which he warned would be damaging for the party.
"Ending Daca now gives [a] chance to restore rule of law. Delaying so R[epublican] leadership can push amnesty is Republican suicide," he tweeted on Sunday evening.
Some other conservatives strongly opposed to the program for Dreamers continued to call on Trump to end Daca, but reluctantly agreed to go along with the president's apparent plan – first reported by Politico on Sunday night – to ask Congress to find a solution first.
"Daca is unconstitutional and I support the ending of it," Mark Burns, an evangelical pastor from South Carolina and a member of Trump's evangelical advisory panel, told the Guardian. "We need to eliminate it so it stops immediately."
He added: "It's not wrong for an American president to promote the American citizen first. People should come through the door the right way." He accused illegal immigrants of "crushing" lower-class and middle-class American jobs and said that the Daca provisions for so-called Dreamers had created an unfair loophole in the law.
"I believe giving Congress six months to come up with a solution can work; I don't think the president wishes just to uproot people," he said.
Trump pledged during the election campaign that he was going to rip up Daca immediately if he won the White House.
"If President Trump had done what candidate Trump promised to do, which was end Daca on day one, there would not be this humming and hawing that we've seen from him and all this awful speculation," said Joe Guzzardi, a spokesman for Californians for Population Stabilization, which opposes giving legal status to Dreamers.
"Millions of people voted for him on the basis of that promise and the delay has been a huge disappointment," he said.
Guzzardi said he gave Congress "zero chance" of coming up with a viable replacement for the Daca scheme in six months. Meanwhile, those on Daca work permits should be told they will not be renewed and then Dreamers should have to go through new, tougher background checks, he said.
"If they have a record of, for example, two misdemeanor crimes or identity theft, they should be dealt with harshly. A lot of these Dreamers held jobs before Daca so they either used stolen or falsified identity documents and that's a crime," he said.
However, progressive leaders are equally horrified by the prospect of Trump failing to protect Dreamers and jeopardizing their legal status after the Daca program had led them to believe they could safely declare themselves to the government.
New York governor Andrew Cuomo and state attorney general Eric Schneiderman on Monday pledged to sue the Trump administration if it scraps the Daca program, saying it "would be cruel, gratuitous, and devastating to tens of thousands of New Yorkers"………………"Trump is trying to appeal to the lowest part of his base and it's a tragedy," said Choi.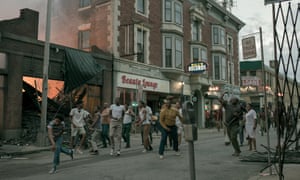 An image from Kathryn Bigelow's new film Detroit, which some critics say mischaracterises the city. Photograph: Francois Duhamel/eOne
Detroit's Irish-American mayor, Mike Duggan, has hit on a new way to remodel the narrative of a city beset by a history of decay, race riots and violence: hire an official "chief storyteller".
As the city starts to emerge from a long period of decline, the democrat mayor has appointed Aaron Foley, a popular African-American journalist to the new position in a city that at 83% percent African-American – the blackest major metropolis in America.
The $75,000 (£58,000) position, believed to be the first of its kind in the US, was conceived to give Detroiters a way to connect and discuss issues that don't get covered by the city's traditional media, and part of a dedication Duggan and Foley share to create a "meaningful and impactful ways to give Detroiters and their neighbourhoods a stronger voice."
Foley, formerly the editor of Blac Detroit magazine and author of How to Live in Detroit Without Being a Jackass, says local residents deserve better and more diverse stories about the reality of living in the city. Many have long since grown accustomedto stories that celebrate either the "ruin porn" of abandoned auto-factories and urban desolation, or pre-emptively trumpet Detroit's resurgence as a post-industrial tech hub.
"Detroit is a very diverse city of more than 200 neighbourhoods and a lot the coverage is focused on just a handful. There's a lot more to Detroit than bankruptcy, and the Detroit media focuses on food, crime and sports," Foley says. "I wanted to create something a bit different."
But he is facing a battle. Detroit is in the headlines once again at the moment thanks to director Kathryn Bigelow's new film, an effort to dramatise the 1967 incident at the Algiers Motel, in which three black men were killed by a group of white police officers.
The Oscar-winning director said she hoped to start a conversation about race, but many critics have said it mischaracterises the city. Alternet critic Frank Joyce wrote: "Approach [the film] as a case study of the intrinsic limits of the white gaze, combined with the manipulation of facts for political and Hollywood marketing purposes."
In contrast, the stories, interviews and first-person accounts Foley and his small staff of reporters are producing will be focused on the present and the reality of living in the city, and will be featured on social media, the city's cable channels and a new locally focused website, The Neighborhoods, which launched last week.
'A lot of the natives were wondering, 'Hey, when do we get to see stories about ourselves?'

Aaron Foley
The two stories already up on the chief storyteller's website include a piece about a visit to Boynton's RollerCade, the first black-owned roller rink in the US, opened in 1954. In another entry, Foley surveys a Bangladeshi cricket ground in the disused Detroit library parking lot in what is now called Banglatown. The city's history, he says, is often told simplistically, and often focused on the racial division and 1967 race riots. "They paint it as black versus white, but not all the people in between."
In recent years, that story has been accessorised with those of tech entrepreneurial drive and the notion of the city becoming a kind of a sub-Brooklyn hipster paradise.
In 2013, a meme called White Entrepreneurial Guy skewing this archetype became a city sensation. It featured a young tech developer Jason Lorimer standing in front of Michigan Central Station, a Beaux Arts behemoth disused since 1988 and a popular subject for ruin porn. The picture produced stinging taglines, including "Detroit is an opportunity to provide popular hipster things to the 10% of white people who live here."
Foley later wrote a column on the subject titled "Can Detroit Save White People?" in the journal Belt, in which he addressed the city's gentrification and asked: "What is it like being born into the most spoiled classes on the planet and wanting to move to a city full of black folks who have been ruined by centuries of your tyrannical rule?"
He added: "Why don't we just make a deal that when you move to Detroit, you just move here and shut up about it? Buy your abandoned building, build your lovely studio space and make art to your heart's content, but at the same time, keep that maudlin B.S. to a minimum. Get off this endless spiel of trying to 'save yourself' and just pay some property taxes. Welcome to Detroit."
Speaking to the Guardian about his new appointment, Foley said the media's general focus on non-black people moving to Detroit was, in a sense, a distraction. "A lot of the natives were wondering, 'hey, when do we get to see stories about ourselves?' That's where we're trying to fill in the gaps."
While the city has a long way to go in terms of solving crime and fixing public education, Foley says, one major issue facing Detroit's sense of integration is its sheer scale. "Because Detroit is so big, people on the west side just don't know what's going on on the east side. We're trying to say, 'don't be afraid to cross those boundaries'."