09 Sep
Nearly all of these are English-edition daily newspapers. These sites have interesting editorials and essays, and many have links to other good news sources. We try to limit this list to those sites which are regularly updated, reliable, with a high percentage of "up" time.
Migrants who make it across the Mediterranean to Italy dream of continuing on to northern Europe. Most, though, are unable to make it past the Brenner Pass. A visit to Europe's waiting room.

World Politics
United States
George W Bush's presidency never fully recovered from his botched handling of Hurricane Katrina. Barack Obama won re-election just days after Hurricane Sandy struck. So how can presidents respond effectively to natural disasters? And how has Donald Trump managed the response to Harvey and Irma?
Mar-a-Lago. Trump National Doral Miami. Trump Palace. Trump Royale. Trump International Beach Resort Miami. Trump Hollywood.
These Trump-owned or Trump-branded properties are in south Florida, in the path of Hurricane Irma. All are exalted by the Trump Organization and by the president himself. All could be underwater by the end of the century.
The National Oceanic and Atmospheric Administration (Noaa) predicts that the sea level will rise in south Florida by as much as 34in by 2050. The Southeast Florida Regional Climate Change Compact says the increase could be up to 81in by 2100.
By 2045, according to a risk analysis prepared by Coastal Risk Consulting for the Guardian, the grounds of Mar-a-Lago could be under at least a foot of water for 210 days a year because of increased tidal flooding.
The Palm Beach complex, which Trump has begun to call the "winter White House", is a source of pride for the president. Having described the private resort as the "best club in the world", he hosted the Japanese prime minister there in February. He also believes Mar-a-Lago has the best meatloaf in America.
The main building at Mar-a-Lago will be safe – at least for 30 years – but the flooding will restrict access to the building and impact infrastructure, Coastal Risk Consulting said.
The president, who is 71, is unlikely to be around to see that happen. But he could bear witness to repeated flooding of other Trump properties.
In just 30 years' time, the Trump Grande complex in Sunny Isles, Miami – consisting of the Trump Palace and Trump Royale condo buildings and the Trump International Beach Resort hotel – will be experiencing the effects of climate change. The resort could face tidal flooding and storm surges for 97 days a year, while its beaches could be badly affected by erosion.
The Trump Hollywood condos, about 12 miles north of Miami, "could be turned into islands" for 140 days a year.
Trump's National Doral golf course is also at risk. In June the Orlando Sentinel reported that sea-level rise and associated flooding could cause severe damage. Even if the course remains intact, flooding would mean fewer days where the National Doral is actually playable.
In his book Crippled America – "The rhetoric of this book is both tired and tiring in equal measure," according to Kings Review – Trump said, without explaining his reasoning, that he does not believe in climate change.
When the Guardian asked him about it in 2015, he would not respond. Trump has previously described the concept of climate change as a "hoax" invented by "the Chinese".
Despite those beliefs, in 2016 Trump applied for planning permission to build a two-mile long wall on the beach next to his golf course in Doonbeg in Ireland. The application said the wall was necessary because of global warming and rising sea levels.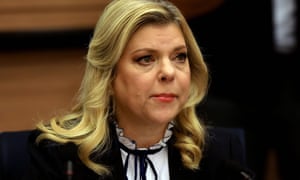 Sara Netanyahu will be given a last chance to present her side of the case at an indictment hearing. Photograph: Gali Tibbon/AFP/Getty Images
Sara Netanyahu, the wife of Israel's prime minister, has been formally notified that she is facing potential criminal charges for allegedly diverting tens of thousands of dollars of state money to use for private expenses.
The attorney general, Avichai Mandelblit, was considering prosecuting Benjamin Netanyahu's wife for offences that include fraudulently procuring items, fraud and breach of trust, according to a justice ministry statement.
Mandelblit, who was appointed by the prime minister, informed Sara Netanyahu on Friday that, having examined the evidence and heard the positions of the relevant authorities, he had decided to move forward.
Netanyahu will be given a last opportunity to present her side of the case at an indictment hearing – an unusual step for a person who is not a public official.
Benjamin Netanyahu is also under pressure as a result of several overlapping corruption investigations, which have gained pace in recent weeks.
The allegations against Sara Netanyahu have been under investigation for more than two years, since Joseph Shapira, the state comptroller, issued a report on spending at the Netanyahus' official residence.
She is suspected of excessive and unauthorised expenditure at the residence in Jerusalem – notably, engaging a private chef at state expense for meals claimed as official functions and then concealing that she did so. Both Netanyahus deny the allegations.
The prime minister, who is out of the country on an official visit, denounced the legal process against his wife, writing on his Facebook page that the claims "are absurd and will be proven to be baseless".
He said: "Sara Netanyahu is a brave and honest woman and has never done anything wrong. Alongside her work as an expert educational psychologist treating children every week, she spends a lot of time helping children with cancer, Holocaust survivors and lone soldiers."
The announcement of the potential proceedings marks only the latest chapter in the saga of Sara Netanyahu's time in the Balfour Street residence, including a succession of lawsuits and an avalanche of media stories including unflattering references to her as "Israel's Marie Antoinette".
In the most high profile civil case, the Netanyahus former chief caretaker Meni Naftali successfully sued her for wrongful dismissal, alleging abusive and erratic behaviour.
Since that case, Naftali has given evidence to the police investigation against Sara Netanyahu. He has also led weekly demonstrations outside the attorney general's house in Petah Tikva for almost a year, calling for an acceleration of the investigations into the couple.
The Netanyahus have tried to blame Naftali for overspending. Benjamin Netanyahu has denounced his former caretaker in recent speeches and on Facebook, writing: "The sharp increase in spending at the prime minister's residence was caused by offences committed by the problematic chief caretaker, Meni Naftali, a criminal state's witness and a serial liar.
"The average monthly spending on ordered meals while [he worked there] was five times the monthly average during the four years that followed, when Naftali did not work there. That says it all.
"Naftali is making false accusations against the prime minister's wife to extricate himself from accountability for the offences he committed."…………….He said his impression of the Netanyahus was that "they believe that everything belongs to them. They think they are king and queen. They would come back from abroad and say that, abroad, prime ministers have servants and people working for them, there was a feeling that the residence was not good enough for them.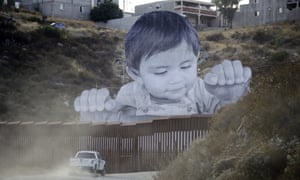 Associated Press
A photo of a giant toddler stands in Mexico and peers over a steel wall dividing the country from the United States.
The boy appears to grip the barrier with his fingers, leaving the impression the entire thing could be toppled with a giggle.
A French artist who goes by the name JR erected the cut-out of the boy that stands nearly 65 feet (20 metres) tall and is meant to prompt discussion of immigration.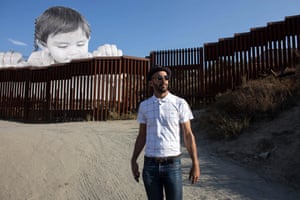 French artist JR pictured near his artwork on the US-Mexico border in Tecate, California, USA. Photograph: Guillermo Arias/AFP/Getty Images
On Friday, a steady stream of people drove to the remote section of wall near the Tecate border crossing, about 40 miles (64km) south-east of San Diego. Border Patrol agents warned visitors to keep the dirt road clear for their patrols and not pass anything through the fence.
Elmond Davantes, a software developer from Carlsbad, California, took photos from the US side.
"It's larger than life," he said. "It just draws attention to the whole issue in a positive way."
On the Mexican side, families scrambled down a scrubby hillside to take selfies with the artwork. Children in school uniforms played tag under the scaffolding supporting the photo.
People on each side of the wall waved to each other. Salma Montoya, 18, a student in Tecate said her town is abuzz about it. "It's beautiful," she said.
JR has done other large-scale portraits around the world, with much of his recent work focused on immigrants.
He told reporters at Wednesday's unveiling of the portrait that he was spurred by a dream in which he imagined a toddler looking over the border wall.
"And when I woke up, I wondered: 'What was he thinking?'" he said. "Like for us we know all the implications, what it represents, how it divides, but for a kid, I didn't have the answer."
A year later when JR was scouting for the perfect spot for his project, he noticed a house in Tecate near the border wall. He and a Mexican friend knocked on the door to see about the possibility of locating it around there. After they drove away, it occurred to him that the 1-year-old at the home who had been staring at them reminded him of the boy he had dreamed about.
JR and his friend immediately went back. JR asked the woman if he could photograph her son. She knew his work and agreed.
The administration also accepted more proposals for its plans to build a continuous wall along the nearly 2,000-mile border.
JR said he did not intend for the project in Tecate to coincide with the news about the Deferred Action for Childhood Arrivals program, known as DACA.
He has worked for years to highlight the "Ellis Islands of today," which has taken him from the shores of Italy where migrants have been arriving by boat from Africa to the California desert. "Now as an artist I think that it's amazing that the piece arrived at a moment when it creates more dialogue," he said. "Because the idea itself is to raise more questions."
For artists and activists, the 650 miles of existing wall and fencing between the US and Mexico has long been a blank canvas.
Stag deers in London's Richmond Park, elks in east China, and Bactrian deer in central Asia are among this week's pick of images from the natural world
A stag deer with undergrowth on its antlers in Richmond Park, London.
Photograph: Toby Melville/Reuters
Leadbeater's possum ( Gymnobelideus leadbeateri), an endangered species, in a flowering eucalyptus tree at night, Victoria, Australia.
Photograph: Jean-Paul Ferrero/Auscape/Alamy