11 Sep
Nearly all of these are English-edition daily newspapers. These sites have interesting editorials and essays, and many have links to other good news sources. We try to limit this list to those sites which are regularly updated, reliable, with a high percentage of "up" time.
America and the Dreamers
Barack Obama and Joe Biden meet with Dreamers. Obama White House photo archive.
by former US President Barack Obama, from his Facebook page
Immigration can be a controversial topic. We all want safe, secure borders and a dynamic economy, and people of goodwill can have legitimate disagreements about how to fix our immigration system so that everybody plays by the rules.
But that's not what the action that the White House took today is about. This is about young people who grew up in America — kids who study in our schools, young adults who are starting careers, patriots who pledge allegiance to our flag. These Dreamers are Americans in their hearts, in their minds, in every single way but one: on paper. They were brought to this country by their parents, sometimes even as infants. They may not know a country besides ours. They may not even know a language besides English. They often have no idea they're undocumented until they apply for a job, or college, or a driver's license.
Over the years, politicians of both parties have worked together to write legislation that would have told these young people — our young people — that if your parents brought you here as a child, if you've been here a certain number of years, and if you're willing to go to college or serve in our military, then you'll get a chance to stay and earn your citizenship. And for years while I was President, I asked Congress to send me such a bill.
That bill never came. And because it made no sense to expel talented, driven, patriotic young people from the only country they know solely because of the actions of their parents, my administration acted to lift the shadow of deportation from these young people, so that they could continue to contribute to our communities and our country. We did so based on the well-established legal principle of prosecutorial discretion, deployed by Democratic and Republican presidents alike, because our immigration enforcement agencies have limited resources, and it makes sense to focus those resources on those who come illegally to this country to do us harm. Deportations of criminals went up. Some 800,000 young people stepped forward, met rigorous requirements, and went through background checks. And America grew stronger as a result.
But today, that shadow has been cast over some of our best and brightest young people once again. To target these young people is wrong — because they have done nothing wrong. It is self-defeating — because they want to start new businesses, staff our labs, serve in our military, and otherwise contribute to the country we love. And it is cruel. What if our kid's science teacher, or our friendly neighbor turns out to be a Dreamer? Where are we supposed to send her? To a country she doesn't know or remember, with a language she may not even speak?
Let's be clear: the action taken today isn't required legally. It's a political decision, and a moral question. Whatever concerns or complaints Americans may have about immigration in general, we shouldn't threaten the future of this group of young people who are here through no fault of their own, who pose no threat, who are not taking away anything from the rest of us. They are that pitcher on our kid's softball team, that first responder who helps out his community after a disaster, that cadet in ROTC who wants nothing more than to wear the uniform of the country that gave him a chance. Kicking them out won't lower the unemployment rate, or lighten anyone's taxes, or raise anybody's wages.
It is precisely because this action is contrary to our spirit, and to common sense, that business leaders, faith leaders, economists, and Americans of all political stripes called on the administration not to do what it did today. And now that the White House has shifted its responsibility for these young people to Congress, it's up to Members of Congress to protect these young people and our future. I'm heartened by those who've suggested that they should. And I join my voice with the majority of Americans who hope they step up and do it with a sense of moral urgency that matches the urgency these young people feel.
Ultimately, this is about basic decency. This is about whether we are a people who kick hopeful young strivers out of America, or whether we treat them the way we'd want our own kids to be treated. It's about who we are as a people — and who we want to be.
What makes us American is not a question of what we look like, or where our names come from, or the way we pray. What makes us American is our fidelity to a set of ideals — that all of us are created equal; that all of us deserve the chance to make of our lives what we will; that all of us share an obligation to stand up, speak out, and secure our most cherished values for the next generation. That's how America has traveled this far. That's how, if we keep at it, we will ultimately reach that more perfect union.

World Politics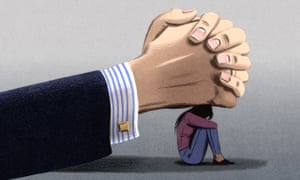 Illustration: Bill Bragg
T

he problem with people who bring religion to their politics is that they're obsessed with sex. It's never "I'm a devout Anglican, therefore I couldn't possibly vote for a cap on social security payments (Acts 4:34)." When a politician's potted history starts "a committed Christian", you can bet this isn't a prelude to a CV full of redistributive tax policies. It's all sodomy and foetuses, Tim Farron on a brightly lit TV sofa explaining why the adamantine but immeasurable quality of his "conscience" prevents him from according some people's sexuality the same dignity as other people's, or Jacob Rees-Mogg informing the pregnant victims of rape or incest that abortion is not an option, for, unlikely as it seems, this is what his Lord had in mind.
Conservative MP says he is against same-sex marriage and abortion in any circumstances. Speaking on Good Morning Britain on Wednesday, Jacob Rees-Mogg says 'life is sacrosanct'. The backbencher is a favourite among party members for next party leader
Then everyone disappears down the rabbit hole of church versus state, and what accommodations a reasonable political system can make to an immovable set of beliefs that are part of our cultural history and must not be erased. It's a basic category error: the principle is not that religion has no place in politics; it's that sex has no place in politics. If this assertion means we also have to stop going into a moral panic every time a minister has an affair, I'm OK with that.
The irreligious conservative bystander tends to respond with a shrug and wonder what the fuss is all about. Gay rights are well enough established that, even had the Liberal Democrats not been a spent electoral force, Farron's reservations were unlikely to result in any concrete change. If Rees-Mogg were to become prime minister tomorrow, the unwanted pregnancies of rape victims would be the least of our problems. This is chalked up to the relatively new concept of "liberal intolerance"; we liberals have had our own way for so long that we no longer allow our opponents even to think a thing we disapprove of.
The hitch in that insouciance is that, when your sexuality is deplored by your political system, you are brutalised by the institutions that surround it. You effectively operate outside the protection of the law. We know this from the way gay-bashing was investigated by police in the 50s and 60s (short version; it wasn't), we know this from the deaths of gay rights activists from Bangladesh to Jamaica to Cameroon. Homophobia has a curious, expansionist tendency: it is never enough to simply think less of a person for their sexual preferences. There is always an undercurrent of wanting to prove that disapproval with violence, or the turning-a-blind-eye thereto.
Anti-abortion rhetoric has a similar creeping quality, never confining itself to the rights of the unborn, always veering into women's lives generally, how healthy they should stay, how much they should be paid, what their status should be on an operating table, or in a court of law. The sharp edge of the social violence is that when women don't have access to legal abortion they die. So that's why, when sex enters politics, we all make such a fuss. It may all be a lovable pose from the person with the conscience, but to those against whom their consciences recoil, it is a matter of life and death. Plus, there's a simple hygiene issue: no consensual sex act is anybody else's business. Nobody wants Rees-Mogg in their bedroom, even if only in his imagination.
It is in the interests of the homophobic and the misogynistic to cleave to the idea that this is a matter of religion, since it dignifies what would otherwise be a seedy and base diversion from the proper business of politics.
Less straightforward is why the others of their faith do so little to critique them. It is striking that actual religious figures in public life – rather than public figures who declaim their religion but hold it distinct from their office – tend to be much more interested in the pro-social aspects of their faith. The archbishop of Canterbury, Justin Welby, last week put forward a radical plan for economic equality, not radical enough for my tastes, but situating him plainly in the territory of social justice.
Pope Francis is an ardent environmentalist and seeker after peace, positions that – at least in the first instance – would be anachronistic to find Biblical grounds for, but I think we can easily enough imagine having God's approval. History has no shortage of religious movements for peace, equality and universal rights, and arguably, it is within church structures that warriors for social justice – the Oscar Romeros, the Desmond Tutus – are likely to be found, while hard-right authoritarians, the Mike Pences, exist outside it, enabling them to appropriate the energy and respectability of their faith without having to go back and check that closing down Planned Parenthood is the stated priority of the synod.
The mistake – also made with Islam – is to present all this on a sliding scale: Welby, with his bleeding-heart liberalism is a "moderate", while Farron, unable to embrace sexual diversity even when his career depended on it, is "committed". A Muslim whose religion spurred her to work for peace in the Middle East would be a "moderate", while a Muslim who sought the immediate instatement of sharia law would be "extreme".
Yet these positions are not gradations on the same scale: they are completely different world views, as different as pluralism and absolutism, as different as tolerance and authoritarianism, hanging on the same godhead not by ideological commonality but by historical coincidence. The pope, were he aware of him, would be compelled by this debate's frame to defend Rees-Mogg, on the grounds that to do otherwise would be to allow religious conviction to be erased from the public sphere. What the pope ought to be able to do instead is to say: "Your conception of our religion, as a means of denigration and control, is not one I share or recognise." Or, more succinctly: "You ain't no Catholic, bruv."
•

Zoe Williams is a Guardian columnist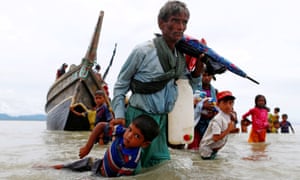 A Rohingya refugee pulls a child as they walk to shore after crossing the Bangladesh-Myanmar border by boat on Sunday. Photograph: Danish Siddiqui/Reuters
Myanmar's treatment of its Muslim Rohingya minority appears to be a "textbook example" of ethnic cleansing, the top UN human rights official has said.
In an address to the United Nations human rights council in Geneva, Zeid Ra'ad al-Hussein denounced the "brutal security operation" against the Rohingya in Rakhine state, which he said was "clearly disproportionate" to insurgent attacks carried out last month.
More than 270,000 people have fled to Bangladesh in recent weeks, with more trapped on the border, amid reports of the burning of villages and extrajudicial killings.
"I call on the government to end its current cruel military operation, with accountability for all violations that have occurred, and to reverse the pattern of severe and widespread discrimination against the Rohingya population," Zeid said.
"The situation seems a textbook example of ethnic cleansing."
On Sunday Bangladesh's foreign minister accused the Burmese government of committing "genocide" against the Rohingya. Analysts said that AH Mahmood Ali's language was the strongest yet from Myanmar's neighbour, and reflected intense frustration in Dhaka at the continuing influx of desperate Rohingya refugees.
Over the weekend the Dalai Lama became the latest Nobel peace prize laureate to speak out about the crisis, telling the Burmese involved in attacks on the ethnic Muslim minority to "remember Buddha".
India also stepped up pressure on Myanmar, urging the authorities to show restraint as Delhi outlined its own plan to deport 40,000 Rohingya refugees.
Ali told diplomats on Sunday that unofficial sources had put the Rohingya death toll from the latest unrest in Rakhine at about 3,000.
The violence was triggered on 25 August when a Rohingya militant group attacked more than a dozen security sites and killed 12 people.
Militia groups, local security forces and the Burmese army responded with "clearance operations" that have forced refugees into Bangladesh and left tens of thousands more displaced inside the state.
"The international community is saying it is a genocide. We also say it is a genocide," Ali told reporters in Dhaka.
He said the influx of refugees in the past month took the total number of Rohingya in Bangladesh to more than 700,000. "It is now a national problem," he said.
Ali said about 10,000 homes had been burned in Rakhine state, a figure that cannot be verified as Myanmar has restricted independent access to the state.
Scores of refugees in Bangladesh have given accounts of arson by Burmese security forces. On Sunday Human Rights Watch said that satellite analysis had shown evidence of fire damage in urban areas populated by Rohingyas as well as in isolated villages.
Myanmar says it is targeting armed insurgents, including fighters from the Arakan Rohingya Salvation Army (Arsa), the group which claimed responsibility for the August attacks and reportedly controls small ares of Rakhine.
Arsa, which has been accused of carrying out attacks against Buddhist and Hindu civilians, called for a month-long "humanitarian pause" on Sunday to deal with the refugee crisis. The truce was dismissed by Myanmar authorities who said they did not negotiate with "terrorists".
Read Full Article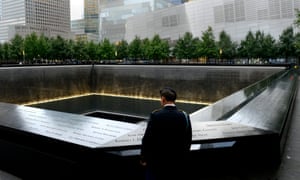 A member of the US military looks out at the South Pool at the National September 11 Memorial, in downtown Manhattan. Photograph: Justin Lane/EPA
Khalid Sheikh Mohammed, the accused "architect" of the terrorist attacks of 11 September 2001, will spend the 16th anniversary of the atrocity sitting in Guantánamo Bay, preparing for his 25th pre-trial hearing.
That hearing will take place next month. Military prosecutors' latest estimate is that jury selection in Mohammed's terrorism trial will begin in January 2019. Most interested experts think that is wildly optimistic, and are asking if a man arrested in Pakistan in 2003 will ever stand trial at all.
"It will take another two, three or four years to get the case to trial and it will take a year or so to try," the 53-year-old's lawyer, David Nevin, told the Guardian.
Nevin estimated there would likely follow an initial appeal that could take five years, then that appeal going up to the circuit court – another three or four years – and, maybe four years after that, a conclusion in the US supreme court up to 18 years from now – 34 years after the attacks.
"There's every possibility that my client will die in prison before this process is completed," said Nevin.
"I don't have the life expectancy statistics of someone in a US prison, also taking into account it would be someone who's been tortured, but I'm sure it's lower than normal. So you have to ask, why exactly are we doing this, or doing it in this way? We are spending millions and millions of [public] dollars every week for something that could be pointless."
Terry McDermott, a co-author of the book The Hunt for KSM, attended Mohammed's 24th pre-trial hearing last month.
"KSM already looks like he's 83, he's like a little old man," he said. "He still has black eyebrows and he dyes his beard with henna but his hair is completely white. It's that vision of the banality of evil."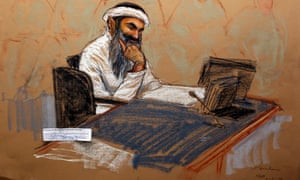 A sketch by courtroom artist Janet Hamlin shows Khalid Sheikh Mohammed during a military hearing at Guantánamo Bay in 2012. Photograph: Janet Hamlin/AP
A small group of relatives of those who died on 9/11 also attended the August hearing. The case, handled by a military tribunal, seemed as far from conclusion as ever. The defense is campaigning to have the judge and prosecutors disqualified, accusing them of secretly allowing the dismantling of one of America's overseas covert "black sites" where Mohammed is believed to have been persistently tortured, thus destroying vital evidence. The prosecution is seeking the death penalty, which the defense bitterly opposes.
Ellen Judd, 66, a Canadian anthropology professor at the University of Manitoba, attended the hearing and watched Mohammed and his four co-defendants through a triple-layered glass partition.
"It took a lot to steel myself for that," she told the Guardian.
When hijackers flew passenger jets into the towers of the World Trade Center in New York, killing more than 2,700 people, Judd's partner of 15 years, Christine Egan, died.
Egan's brother worked in one of the towers. She had chosen to visit him that morning. Egan, 55, and her brother, originally from Hull in the UK, were both killed. Egan had worked in healthcare and research among Inuit communities in northern Canada.
"The sense of loss is never over," said Judd, adding that the presence of relatives at the court hearings was important. "It's part of the grieving process, part of remembrance but it's also to witness," she said.