13 Sep
Nearly all of these are English-edition daily newspapers. These sites have interesting editorials and essays, and many have links to other good news sources. We try to limit this list to those sites which are regularly updated, reliable, with a high percentage of "up" time.

World Politics
United States
W

hen Kris Kobach was first running for office in Kansas in 2010, he claimed he'd found evidence that thousands of Kansans were assuming the identities of dead voters and casting fraudulent ballots – a technique once known as ghost voting.
Kobach even offered a name, Albert K Brewer of Wichita, who he said had voted from beyond the grave in the primaries that year.
But then it emerged that Albert K Brewer, aged 78, was still very much alive, a registered Republican like Kobach, and more than a little stunned to be told he'd moved on to the great hereafter. No evidence emerged that anyone had ghost voted in Kansas that year.
Seven years on, as Donald Trump's point man on reforming the US electoral system, Kobach has not backed away from those same scare tactics – no matter that he is frequently called a fraud and a liar, and his allegations entirely baseless.
On the contrary. Backed by a president who, days after assuming office, claimed that 3 to 5m million fraudulent ballots had been cast for Hillary Clinton, Kobach is enthusiastically spreading stories of voter impersonation on a massive scale, of out-of-state students voting twice, and of non-citizens casting illegal ballots.
As vice-chair of the Presidential Advisory Commission on Election Integrity, his mission to root out "fraudulent voter registrations and fraudulent voting" is sending chills down the spines of election experts and voting rights activists who believe he is intent on instituting a sweeping wave of new voter suppression laws.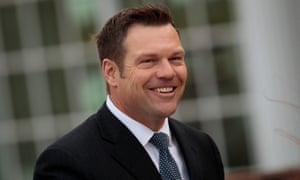 Kris Kobach, vice-chair of the Presidential Advisory Commission on Election Integrity, at Trump International Golf Course. Photograph: Drew Angerer/Getty Images
Vanita Gupta, who headed the justice department's civil rights division under President Obama, calls the commission "a pretext … to kick millions of eligible voters off the rolls and undermine the sanctity of our election systems". Already in conjunction with a commission hearing in New Hampshire on Tuesday, a Kobach ally proposed instituting a system of background checks on voters as strict as the checks liberal groups want to impose on gun buyers.
Kobach did not respond to an interview request from the Guardian.
While it may seem astonishing to see such tactics being deployed in the world's most powerful democracy, they cannot be attributed solely to the rise of Trump. In truth, the politics of electoral combat have been heating toward boiling point for a decade and a half – and are the product of a political system that has never, in more than two centuries, resolved basic questions of democratic accountability and is thus unique in the developed western world.
•
•
•
The 2000 presidential election, and in particular the bruising 36-day fight over Florida's votes, exposed flaws in the US electoral system that many Americans had not thought about since the end of segregation and the landmark achievements of the civil rights era.
Not only was there a problem of reliability with the voting machines, it also became clear that the United States had never established an unequivocal right to vote; had never established an apolitical, professional class of election managers; and had no proper central electoral commission to set standards and lay down basic rules for everyone to follow free of political interference.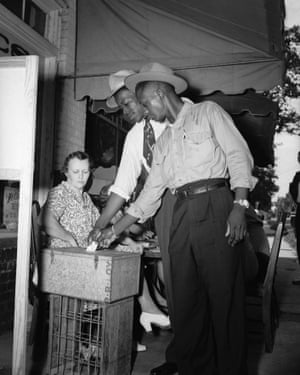 In Mississippi, two African American men vote for the first time in the 1946 Democratic primary. Many southern states have persisted with Jim Crow-era laws the disproportionately impact black voters. Photograph: Bettmann/Bettmann Archive
In the absence of such a body, every jurisdiction was free to play fast and loose with the rules on everything from voter eligibility to whether or not to conduct recounts.
"All these different systems in different counties with no accountability … it's like the poorest village in Africa," the chair of South Africa's Independent Electoral Commission, Brigalia Bam, later exclaimed on a follow-up tour of Florida on the eve of the 2004 presidential election.
Much of that dysfunction harks back to the country's shameful racial history. To circumvent constitutional amendments passed in the wake of the civil war, southern states approved a slew of discriminatory laws and introduced literacy tests and good character tests (also adopted in parts of the north) that made it next to impossible for blacks to vote. James Vardaman, the despotic governor of Mississippi, admitted in 1890 that his state's new constitution had "no other purpose than to eliminate the nigger from politics".
Even after segregation and Jim Crow voting laws came to a formal end in the South, modern politicians remained susceptible to the temptations of racist dog-whistles as a way of mustering the support of white voters and justifying the restriction of minority voting rights. Many southern states, for example, have persisted with segregation-era laws banning felons and ex-felons from voting – a restriction that disenfranchised an estimated 6 million voters in 2016, a vastly disproportionate number of them black men.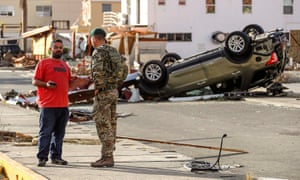 A Royal Marine speaking to a resident in Tortola, the British Virgin Islands. Photograph: Handout/Reuters
Aid offered by the British government to its hurricane-battered territories in the Caribbean has been dismissed as "derisory" by a former attorney general of one of the worst-hit islands.
Rupert Jones, who completed a two-year posting to Anguilla last year, suggested the government's reluctance to commit significant aid may be motivated by embarrassment over its role in sustaining tax havens in the region.
He pointed out that the foreign secretary, Boris Johnson, who is expected to travel to Anguilla to highlight British aid efforts, had indicated that £28m of the aid had already been spent. "Are we to believe it will only release a further £4m? This would be derisory – it would not even pay to rebuild one school," Jones wrote.
Jones questioned whether the government's slowness may have been linked to its fear of exposing the islands' controversial tax arrangements, and its own failure to tackle them.
As attorney general to Anguilla, Jones had a front-row seat on how it and other islands are used by hundreds of thousands of companies to avoid tax, and how the British government turns a blind eye.
"There have been longstanding reports that the islands are havens for corruption, tax avoidance and money laundering," he wrote. "Much of their offshore wealth emanates from the UK. The Panama Papers exposed the level of BVI [British Virgin Islands] ownership of London property. I would hope this publicity will not cause the UK government such embarrassment that it would seek to distance itself from the islands."
He added: "Legislative attempts to end these secretive arrangements so far have been a fig leaf: last year's compromise agreements fell short of requiring public registries of the beneficial ownership of companies registered in the islands … It may fear to do so because it would highlight the UK's ultimate responsibility. Both UK and local politicians also recognise that the islands' economies, heavily reliant on offshore financial services, might flounder with the major loss of jobs."
Murphy told the Guardian: "Humanitarian aid should be unconditional. But reconstruction aid should not be one way. If [the territories] need us, and they do, we need them to honour their commitments to the UK, but the reality is they use their quasi-independent status to undermine our tax law. It is no longer acceptable for them to say we need you desperately but we do not have to respect your right to impose tax in the way that you wish."
Murphy agreed with Jones that the UK government was keen to avoid awkward questions being raised about tax on the islands.
"There is an embarrassment about this relationship. It is about why are we happy to pay when they don't. And why do we permit this tax haven activity to take place in the first instance?"
Murphy said the impact of Hurricane Irma would test the ability of the BVI to operate as tax havens for hundreds of thousands of companies.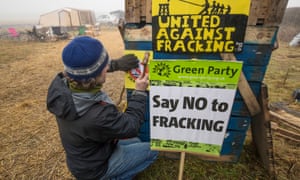 The legal case could be pivotal as other fracking firms faced with protests could take out similar injunctions. Photograph: Danny Lawson/PA
The legality of a wide-ranging injunction obtained against anti-fracking protesters by a multinational firm is to be examined in a three-day court hearing.
Two campaigners have launched a legal challenge against the injunction obtained by Ineos, the petrochemicals giant. Joe Corré, the son of the fashion designer Vivienne Westwood, and Joe Boyd, say it is draconian, oppressive and dramatically curtails protesters' rights.
Directed at "persons unknown", the injunction covers any campaigner who protests against Ineos's fracking activities.
It tells protesters that they may be imprisoned, fined or have their assets seized if they cause any obstruction to the firm's fracking operations, or substantial interference with its lawful activities.
The legal case could be pivotal as other companies faced with protests over their conduct could take out similar injunctions.
Ineos, which seeks to become one of the UK's biggest frackers, had been granted the temporary injunction in July at an unpublicised court hearing at which no one else was able to make legal arguments.
At a second high court hearing on Tuesday, Ineos had sought a ruling making the injunction permanent.
Mr Justice Morgan decided to extend the injunction for two months with small modifications until the three-day hearing in November that will decide whether to impose it on a long-term basis.
Ineos says the injunction is necessary to "protect people on and around our sites and supply chain".
Janet Bignell QC, representing Ineos, argued that the firm cannot accept its staff and contractors being intimidated and threatened by protesters.
Ineos had told the court in July that there was ample evidence that the risk of unlawful protests was "both imminent and real".
On Tuesday, Heather Williams QC, representing Boyd, said the claims by Ineos were "grossly overstated, alarmist and hyperbolic".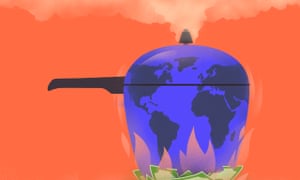 Illustration by Sébastien Thibault
T

here was "a flaw" in the theory: this is the famous admission by Alan Greenspan, the former chair of the Federal Reserve, to a congressional inquiry into the 2008 financial crisis. His belief that the self-interest of the lending institutions would lead automatically to the correction of financial markets had proved wrong. Now, in the midst of the environmental crisis, we await a similar admission. We may be waiting some time.
For, as in Greenspan's theory of the financial system, there cannot be a problem. The market is meant to be self-correcting: that's what the theory says. As Milton Friedman, one of the architects of neoliberal ideology, put it: "Ecological values can find their natural space in the market, like any other consumer demand." As long as environmental goods are correctly priced, neither planning nor regulation is required. Any attempt by governments or citizens to change the likely course of events is unwarranted and misguided.
The unregulated market is as powerless in the face of these forces as the people in Florida who resolved to fight Hurricane Irma by shooting it. It is the wrong tool, the wrong approach, the wrong system.
There are two inherent problems with the pricing of the living world and its destruction. The first is that it depends on attaching a financial value to items – such as human life, species and ecosystems – that cannot be redeemed for money. The second is that it seeks to quantify events and processes that cannot be reliably predicted.
Environmental collapse does not progress by neat increments. You can estimate the money you might make from building an airport: this is likely to be linear and fairly predictable. But you cannot reasonably estimate the environmental cost the airport might incur. Climate breakdown will behave like a tectonic plate in an earthquake zone: periods of comparative stasis followed by sudden jolts. Any attempt to compare economic benefit with economic cost in such cases is an exercise in false precision.
Even to discuss such flaws is a kind of blasphemy, because the theory allows no role for political thought or for action. The system is supposed to operate not through deliberate human agency, but through the automatic writing of the invisible hand. Our choice is confined to deciding which goods and services to buy.
But even this is illusory. A system that depends on growth can survive only if we progressively lose our ability to make reasoned decisions. After our needs, then strong desires, then faint desires have been met, we must keep buying goods and services we neither need nor want, induced by marketing to abandon our discriminating faculties, and to succumb instead to impulse.
You can now buy a selfie toaster, that burns an image of your own face on to your bread – the Turin Shroud of toast. You can buy beer for dogs and wine for cats; a toilet roll holder that sends a message to your phone when the paper is running out; a $30 branded brick; a hairbrush that informs you whether or not you are brushing your hair correctly. Panasonic intends to produce a mobile fridge that, in response to a voice command, will deliver beers to your chair.
Urge, splurge, purge: we are sucked into a cycle of compulsion followed by consumption, followed by the periodic detoxing of ourselves or our homes, like Romans making themselves sick after eating, so that we can cram more in.
Continued economic growth depends on continued disposal: unless we rapidly junk the goods we buy, it fails. The growth economy and the throwaway society cannot be separated. Environmental destruction is not a byproduct of this system: it is a necessary element.
The environmental crisis is an inevitable result not just of neoliberalism – the most extreme variety of capitalism – but of capitalism itself. Even the social democratic (Keynesian) kind depends on perpetual growth on a finite planet: a formula for eventual collapse. But the peculiar contribution of neoliberalism is to deny that action is necessary: to insist that the system, like Greenspan's financial markets, is inherently self-regulating. The myth of the self-regulating market accelerates the destruction of the self-regulating Earth.