14 Sep
Nearly all of these are English-edition daily newspapers. These sites have interesting editorials and essays, and many have links to other good news sources. We try to limit this list to those sites which are regularly updated, reliable, with a high percentage of "up" time.

World Politics
United States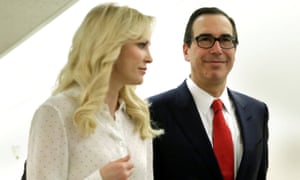 Steven Mnuchin with his wife, the British actor Louise Linton, in Washington. The pair have previously caused controversy with a government trip to Kentucky during the solar eclipse. Photograph: Yuri Gripas/Reuters
Steven Mnuchin, the US treasury secretary, requested the use of a government jet for his European honeymoon, it was reported on Wednesday.
The treasury department's inspector general is investigating Mnuchin's request for a US air force plane – with a reported operating cost of around $25,000 per hour – to transport him and his wife, Louise Linton, on their honeymoon to Scotland, France and Italy this summer, according to ABC News.
Donald Trump and first lady Melania Trump and several cabinet members attended Mnuchin's wedding to British actor Linton in Washington in June.
A spokesman for the treasury told ABC that Mnuchin, 54, a former Goldman Sachs banker, sought the military jet to ensure he had a secure line of communication but aborted the request after it became clear there were other ways to maintain contact.
The spokesman was quoted as saying: "The Secretary is a member of the National Security Council and has responsibility for the Office of Terrorism and Financial Intelligence. It is imperative that he have access to secure communications, and it is our practice to consider a wide range of options to ensure he has these capabilities during his travel, including the possible use of military aircraft."
Travel on military aircraft is usually reserved for cabinet members who deal directly with national security.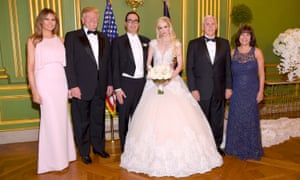 Donald and Melania Trump, along with Mike and Karen Pence, attended the wedding of Louise Linton and Steven Mnuchin in June 2017. Photograph: Kevin Mazur/Getty Images for LS
Democrats seized on the revelations. Ron Wyden, the top Democrat on the Senate Finance Committee, told ABC News: "You don't need a giant rulebook of government requirements to just say yourself, 'This is common sense, it's wrong,'. That's just slap your forehead stuff."
Mnuchin is already facing an inquiry from his department's inspector general after he and his wife traveled to Fort Knox, Kentucky, at the time of the solar eclipse on 21 August. Counsel Rich Delmar said at the time: "We are reviewing the circumstances of the secretary's 21 August flight … to determine whether all applicable travel, ethics, and appropriation laws and policies were observed."
Mnuchin's office insisted that he was there to attend meetings on tax reform rather than watch the eclipse. The treasury said the couple would reimburse the government for Linton's travel costs.
But on Monday, Citizens for Responsibility and Ethics in Washington sued the treasury for release of documents relating to the trip. Noah Bookbinder, its executive director, said: "We filed an expedited Foia request because Americans deserve more information to determine whether there has been misuse of government resources."
Linton, 36, caused further controversy at the time when she posted a photo on Instagram with hashtags of various luxury designers she was wearing. When another user challenged her, Linton went on the offensive: "Aw!! Did you think this was a personal trip?! Adorable! Did you think the US govt paid for our honeymoon or personal travel?! Lololol." The actor later apologised for her tirade.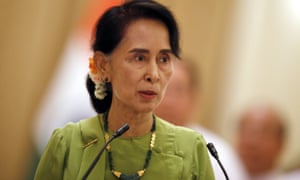 Aung San Suu Kyi, facing an international outcry, has cancelled a planned speech to the UN general assembly. Photograph: Hein Htet/EPA
Scores of villages that were inhabited by Myanmar's Muslim Rohingya minority are now completely empty, a government spokesman has said.
Of 471 villages targeted in "clearance operations" by the Burmese army since late August, 176 were now empty and at least 34 others partially abandoned, Zaw Htay said.
The violent crackdown, launched in response to attacks by militants, has sent at least 370,000 Rohingya scrambling across the border to Bangladesh and prompted a barrage of criticism of Aung San Suu Kyi, Myanmar's de facto leader.
The Nobel laureate had been due to attend the UN general assembly next week, but Zaw Htay said she would now skip the event.
"The first reason is because of the Rakhine terrorist attacks," he said. "The second reason is there are people inciting riots in some areas … The third is that we are hearing that there will be terrorist attacks and we are trying to address this issue."
The second vice-president, Henry Van Tio, instead will represent Myanmar at the UN.
Aung San Suu Kyi, who has been criticised for blaming "terrorists" for what she called "a huge iceberg of misinformation" about the violence in recent weeks, will give a televised address in Myanmar next week that will cover the same topics she would have addressed at the UN.
Five fellow Nobel peace prize winners have added their voices to a chorus of international calls for Aung San Suu Kyi to defend the rights of the Rohingya people. Mairead Maguire, Jody Williams, Shirin Ebadi, Leymah Gbowee and Tawakkol Karman signed a letter asking her: "How many Rohingya have to die; how many Rohingya women will be raped; how many communities will be razed before you raise your voice in defence of those who have no voice?"
Bangladesh has urged Myanmar to take back the Rohingya who have fled in recent weeks, but on Wednesday Zaw Htay suggested not all of them would be able to return immediately.
"We have to verify them; we can only accept them after they are verified," he said. His comment was an apparent reference to plans announced on Tuesday to speed up progress on verifying Rohingya under Myanmar's citizenship laws.
Q&A
Why hasn't Aung San Suu Kyi condemned anti-Rohingya violence?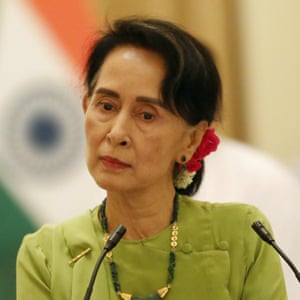 When Aung San Suu Kyi was elected to parliament in 2012 there were high hopes that the Nobel peace prize winner would help heal Myanmar's entrenched ethnic divides.
Some defenders at the time tried to argue that she was gagged by temporary political concerns because she had to hold on to the votes of nationalist Buddhists. However, her NLD party won a landslide victory in elections in 2015 and yet she remained conspicuously silent.
She has defended the government that she is part of in response to the recent wave of violence, sparking further widespread condemnation.
Her exact motivations remain opaque but the only thing she obviously stands to lose by speaking out is the support of the military power brokers who still ultimately control Myanmar. The only thing she could obviously hope to gain by her silence is more power and influence.
As criticism of Myanmar mounts, a humanitarian crisis is brewing on both sides of the border. Bangladesh is struggling to provide humanitarian relief for the refugees, 60% of whom are children, while nearly 30,000 ethnic Rakhine Buddhists as well as Hindus have been displaced inside Myanmar.
On Wednesday the UN secretary general, António Guterres, called on Myanmar to suspend its military action, describing the humanitarian situation as "catastrophic" and calling on all countries to supply aid. Earlier this week his colleague Zeid Ra'ad al-Hussein, the UN human rights chief, accused Myanmar of waging a "systematic attack" on the Rohingya that appeared to amount to ethnic cleansing.
Aung San Suu Kyi, Myanmar's first civilian leader in decades, does not control the actions of the military, which ran the country for 50 years before allowing free elections in 2015………………….Associated Press reporters on the Bangladesh side of the border said they had seen an elderly woman with devastating leg wounds, one half-blown off and the other also badly injured. Relatives said she had stepped on a landmine.

Rohingya Muslims flee from Myanmar's Rakhine state to Bangladesh by boat. Photograph: Anadolu Agency/Getty Images
Responding to reports that Myanmar's military had planted landmines in the path of Rohingya fleeing violence, Australia's foreign minister, Julie Bishop, said it would be a "gross violation of international law" if confirmed.
The White House issued a statement calling for "Burmese security authorities to respect the rule of law, stop the violence and end the displacement of civilians from all communities".
The US senator John McCain said he would seek to "remove military cooperation" with Myanmar by changing the language of an upcoming bill authorising increased US defence spending. Senators are scheduled to vote on the bill this week.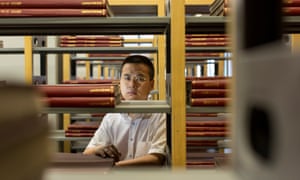 Since 2014, Qiao had been banished from the classroom, apparently in punishment for his public support for ideas such as democracy. Photograph: James Wasserman/Demotix

Qiao Mu had always insisted he would not be forced to leave China. "We must change our nation, not our nationality," the outspoken academic told the Guardian over lunch in the summer of 2015.
Last Friday morning, however, Qiao and his family set off for Beijing's international airport to catch a Boeing 777 bound for the United States.
"I'm leaving my country and I'll miss it. Farewell," Qiao, 47, announced on the social messaging service WeChat as he waited to board Air China Flight CA817 to Washington DC. He did not say when, or indeed if, he might return.
In the nearly five years since Xi Jinping became China's top leader, Qiao, a journalism professor at Beijing Foreign Studies University and human rights advocate, had emerged as an increasingly isolated voice of dissent in a country where political opposition appears to grow more perilous by the day.
China-based foreign correspondents and diplomats complain that under Xi – who is about to complete his first term in power – local scholars have increasingly shied away from discussing politically sensitive topics or, in some cases, meeting with foreigners at all.
"The general climate for reporting in China deteriorated over the last year," described a report released by the Foreign Correspondents' Club of China in November 2016. "Many denounced pressure exerted on organisations and academia, and cited growing difficulties in securing interviews with sources and experts."
He tackled thorny issues such as media censorship, ethnic rioting, elite politics and the Mao-style personality cult that some accuse President Xi of trying to cultivate. "I'm a typical Chinese person. I love my country and I want to change it," Qiao told AFP earlier this year.
Qiao declined to go into details about his decision to swap northern China for the east coast of the US. "I'm busy making a living," he said in a brief WeChat message this week.
But friends said he had decided to leave after seeing his academic career wrecked by his refusal to fall into line. Since 2014 Qiao had been banished from the classroom, apparently in punishment for his public support for ideas such as multi-party democracy and freedom of speech.
In April this year Qiao resigned citing his frustrations at the political restrictions as a motivating factor. "A journalism professor [who] has to be against a free media. Even Tchaikovsky couldn't play a symphony with enough sorrow for my situation," he complained in an online letter.
Shi Jiepeng, a fellow academic who also recently fell victim to the crackdown on liberal thinkers, said life had been made impossible for his friend. "People like him cannot find any jobs within the system," said Shi, who was sacked from his job at Beijing Normal University in July as a result of his politically charged online posts.
"There was still space outside the system but without the backing of an institution a scholar faces all sorts of inconveniences," Shi added. He suggested financial difficulties had played a role in Qiao's exit, since he would have lost the benefits that came with a university job, such as his daughter's education.
"Going to [America] is the least bad choice for him. But it's not the best choice and he has no alternative but to choose," said Shi.
During his 2015 interview Qiao said he was well aware of the risks involved in speaking out in Xi's ever more illiberal China. Just days before security forces had launched a notorious round-up of human rights lawyers and activists – later dubbed China's "war on law" – spiriting some of the country's best-known attorneys into secret detention.
"Before Xi Jinping we feared only that they would delete our [online] posts. In the worst situation they would delete [your account]," Qiao said. "But since Xi Jinping came to power this changed. They began to arrest people."
Qiao avoided that fate. But with his departure last week he joined a growing list of liberal Chinese academics who are abandoning their homeland and seeking sanctuary overseas……………. Two years ago Qiao said he dreamed of one day being elected to office in a democratic China and vowed to remain so he was ready to serve his country when that day came: "I have studied the transition of eastern European countries – usually it is professors, writers, lawyers and journalists who become politicians," he said. "I want to be a congressman – to criticise, to supervise the corrupt government."
Did Qiao still harbour that dream, despite his decision to leave? "It seems he still does," said his friend, Shi.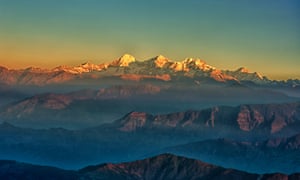 The Asian high mountains are already warming more rapidly than the global average. Photograph: Alamy Stock Photo
Agence France-Presse
Asia's mountain glaciers will lose at least a third of their mass through global warming by the century's end, with dire consequences for millions of people who rely on them for fresh water, researchers have said.
This is a best-case scenario, based on the assumption that the world manages to limit average global warming to 1.5C (2.7F) over pre-industrial levels, a team wrote in the journal Nature.
"To meet the 1.5C target will be a task of unprecedented difficulty," the researchers said, "and even then, 36% (give or take 7%) of the ice mass in the high mountains of Asia is projected to be lost" by 2100.
With warming of 3.5C, 4C and 6C respectively, Asian glacier losses could amount to 49%, 51% or 65% by the end of the century, according to the team's modelling study.
The high mountains of Asia comprise a geographical region surrounding the Tibetan plateau, holding the biggest store of frozen water outside the poles.
It feeds many of the world's great rivers, including the Ganges, the Indus and the Brahmaputra, on which hundreds of millions of people depend.
Nearly 200 nations adopted the Paris agreement in 2015, which sets the goal of limiting warming to a level "well below" 2C, while "pursuing efforts" to achieve a lower ceiling of 1.5C.
Earth's surface has already warmed by about 1C, according to scientists.
For high warming scenarios, experts predict land-gobbling sea-level rise, worsening storms, more frequent droughts and floods, species loss and disease spread.
The Asian high mountains, the new study said, were already warming more rapidly than the global average.
A global temperature rise of 1.5C would mean an average increase in the region of about 2.1C, with differences between mountain ranges – all of which will warm by more than 1.5C.
The Hindu Kush mountain range would warm by about 2.3C and the eastern Himalayas by 1.9C, the study forecast.
"Even if temperatures stabilise at their current level, [glacier] mass loss will continue for decades to come," the researchers added.
For the high mountain glaciers to survive, "it is essential to minimise the global temperature increase".
Swaths of south Asia and China depend on meltwater from Himalayan glaciers for drinking water, electricity generation and irrigation.
Opinion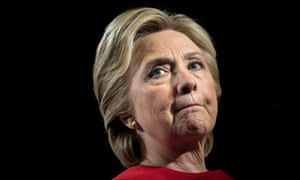 'No real blame ever settles anywhere near Clinton's person.' Photograph: Brendan Smialowski/AFP/Getty Images
H

ow do you lose the presidency to a man like Donald Trump? He was the most unpopular presidential candidate of all time, compounding blunder with blunder and heaping gaffe upon gaffe. Keeping him from the Oval Office should have been the single-minded mission of the Democratic party. And it should have been easy for them.
Instead they lost, and now their 2016 candidate Hillary Clinton comes before us to account for this monumental failure, to tell us What Happened. Unfortunately, her new book is less an effort to explain than it is to explain away.
No real blame ever settles anywhere near Clinton's person. And while she wrestles gamely with the larger historical question of why the party of the people has withered as inequality grows, she never offers a satisfying answer. Instead, most of the blame is directed outward, at familiar suspects like James Comey, the Russians and the media.
Still, by exercising a little discernment, readers can find clues to the mystery of 2016 here and there among the clouds of blame-evasion and positive thinking.
Start at the beginning: why did Hillary Clinton run for president? "[B]ecause I thought I'd be good at the job," she writes. Then, 13 pages later: "It was a chance to do the most good I would ever be able to do."
A would-be do-gooder needs problems to solve, of course, and so Clinton says she turned next to the people who knew what was wrong. "I started calling policy experts," she writes, "reading thick binders of memos, and making lists of problems that needed more thought." Lists of problems and solutions are everywhere; reeling them off one after another is one of her favorite rhetorical devices, her way of checking the boxes and letting everyone know that she cares.
Proceeding in this rational, expert-sanctioned way, Hillary Clinton set out resolutely on the road to oblivion.
She seems to have been almost totally unprepared for the outburst of populist anger that characterized 2016, an outburst that came under half a dozen different guises: trade, outsourcing, immigration, opiates, deindustrialization, and the recent spectacle of Wall Street criminals getting bailed out. It wasn't the issues that mattered so much as the outrage, and Donald Trump put himself in front of it. Clinton couldn't.
To her credit, and unlike many of her most fervent supporters, Hillary Clinton doesn't deny that this web of class-related problems had some role in her downfall. When she isn't repeating self-help bromides or calumniating the Russians she can be found wondering why so many working-class people have deserted the Democratic party.
This is an important question, and in dealing with it Clinton writes a few really memorable passages, like her description of a grotesque campaign stop in West Virginia where she was protested by a crowd that included the former CEO of the company that owned the Upper Big Branch mine, where 29 coal miners died in 2010.
But by and large, Clinton's efforts to understand populism always get short-circuited, probably because taking it seriously might lead one to conclude that working people have a legitimate beef with her and the Democratic party.
Countless inconvenient items get deleted from her history. She only writes about trade, for example, in the most general terms; Nafta and the TPP never. Her husband's program of bank deregulation is photoshopped out. The names Goldman Sachs and Walmart never come up.
Besides, to take populism seriously might also mean that Bernie Sanders, who was "outraged about everything," might have had a point, and much of What Happened is dedicated to blasting Sanders for challenging Clinton in the Democratic primaries. Given that he later endorsed her and even campaigned for her, this can only be described as churlish, if not downright dishonest.
That Clinton might have done well to temper her technocratic style with some populist outrage of her own only dawns on her towards the end of the book, by which point it is too late.
Not to mention impossible. Hillary Clinton simply cannot escape her satisfied white-collar worldview – compulsively listing people's academic credentials, hobnobbing with officers from Facebook and Google, and telling readers how she went to Davos in 1998 to announce her philosophy.
And then, in her concluding chapter, returning to her beloved alma mater Wellesley College and informing graduates of that prestigious institution that, with their "capacity for critical thinking" (among other things) they were "precisely what we needed in America in 2017."
I wish it were so. I wish that another crop of elite college grads were what we needed. I wish Hillary's experts and her enlightened capitalist friends could step in and fix this shabby America we inhabit today, where racists march in the streets and the Midwest falls apart and cops shoot motorists for no reason and a blustering groper inhabits the White House.
I wish it were all a matter of having a checklist of think-tank approved policy solutions. But I know for sure it isn't. And voters knew that, too.
Thomas Frank is a Guardian US columnist