15 Sep
Nearly all of these are English-edition daily newspapers. These sites have interesting editorials and essays, and many have links to other good news sources. We try to limit this list to those sites which are regularly updated, reliable, with a high percentage of "up" time.
Imagine the entire population of Canberra driven from their homes in mere weeks. That's almost the scale of what's happening in predominantly Buddhist Myanmar, once known as Burma. More than 300,000 persecuted Muslim Rohingya were forced to leave their torched villages in the past month.
Australia's response has been a disgrace, all the more so amid our campaign for a seat on the United Nations Human Rights Council. We've offered just $5 million to the emergency relief effort, a pittance compared to the $122 million we are spending surveying opinions on whether same sex-couples should be able to marry.
UN calls Myanmar's crackdown 'ethnic cleansing'
Hundreds more Rohingya Muslims arrive in south Bangladesh, as the UN condemns Myanmar's brutal security operation.
Foreign Minister Julie Bishop says she's "deeply concerned" and has called for "restraint".
Australia is the richest kid on the block. This is our region.

Rohingya Muslims scuffle for donated puffed-rice rations in Kutupalong, Bangladesh. Photo: Bernat Armangue
The Rohingya have been persecuted for years because of their darker skin and different religion. There have been forced displacements dating back to the 1990s. In February this year, a UN report documented mass gang-rapes, killings, the murder of babies, young children and their parents, and disappearances at what appears to be the hands of Myanmar's security forces. The Turnbull government only reluctantly backed an international investigation, and then only after significant pressure.
The Australia government is in Myanmar providing defence training. We could offer to convene peace talks, or at least help facilitate them.
We could bolster hope with increased diplomacy, help stop the violence, support reconciliation. The Rohingya want international peacekeeping forces. Where's Australia? This week, the Turnbull government celebrated our peacekeepers by opening a new memorial, with the message that international peace and security does not begin with going to war.
We could adopt the Greens' suggestion and take in as many as 20,000 people made homeless through no fault of their own. Amnesty International says just 37 Rohingya have been resettled in Australia since 2013, even though about 200,000 have been waiting in squalid refugee camps on the Bangladesh border for years. That they are Muslim might have made them a lower priority.
We could adopt the Greens' suggestion and take in as many as 20,000 people made homeless through no fault of their own. Amnesty International says just 37 Rohingya have been resettled in Australia since 2013, even though about 200,000 have been waiting in squalid refugee camps on the Bangladesh border for years. That they are Muslim might have made them a lower priority.
A Rohingya family fleeing Myanmar reaches the Bangladesh border after crossing a creek. Photo: Bernat Armangue
It would be a humanitarian as well as a strategic gesture. Sidney Jones, of the Jakarta-based Institute for Policy Analysis of Conflict, identifies the emergence of extremism among the displaced Rohingya as a real possibility.
When pressed about resettling more this week, Bishop pointed to the $5 million that was on its way.
"The donation is welcome, but it will not change things," said Habid Urahman, a refugee who fled Myanmar 20 years ago and now lives in Melbourne. It is like treating a wound but not the cause of the infection.
Urahman is profoundly disappointed that Myanmar's leading politician, Aung San Suu Kyi, whose National League of Democracy won most seats in the 2015 election, has been silent. "She does not speak for any minorities under attack," he tells me. "Worse, she has denied crimes on the ground. It's completely unacceptable. She's blocked international media from visiting."
The Nobel peace laureate is different now that she is in power. "She wants to stay in power. She was in house arrest for 20 years and she sacrificed her life, confronting the military junta. We've seen her bravery in the past, yet now she is siding with the military."
What's tragic is this crisis was predictable. On the surface, predominantly Buddhist Myanmar looks to be an emerging democracy but has no record of a commitment to human rights or multiculturalism. It continues to refuse to grant citizenship to the Rohingya (a word the government has officially banned) even though they have lived there for generations, as far back as the ninth century.

World Politics
Germany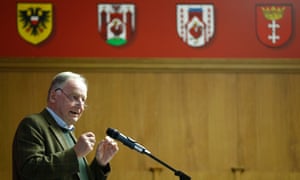 Alexander Gauland's Alternative for Germany party could enter parliament in elections on 24 September. Photograph: Odd Andersen/AFP/Getty Images
Reuters in Berlin
Germans should be proud of what their soldiers achieved during the first and second world wars, the top candidate of the far-right Alternative for Germany (AfD) has said in the run-up to elections on 24 September at which the party is expected to enter parliament.
Opinion polls show the anti-immigrant AfD iwinning up to 12% of the vote, meaning it could become the third largest party in Germany's lower house behind Angela Merkel's Christian Democrats (CDU) and the Social Democrats (SPD).
"If the French are rightly proud of their emperor and the Britons of Nelson and Churchill, we have the right to be proud of the achievements of the German soldiers in two world wars," Alexander Gauland, 76, said in a speech to supporters on 2 September that has since been uploaded to YouTube.
"If I look around Europe, no other people has dealt as clearly with their past wrongs as the Germans," he said.
The Nazis ruled Germany from 1933 to 1945, during which time they killed 6 million Jews in the Holocaust.
"People no longer need to reproach us with these 12 years. They don't relate to our identity nowadays," Gauland said.
He said the battle of Verdun during the first world war belonged to German history, as did Erwin Rommel, the second world war field marshal celebrated as the Desert Fox and the army officer Claus von Stauffenberg, who led an unsuccessful attempt to assassinate Hitler in July 1944 with a bomb hidden in a briefcase.
Gauland said Germany needed to reclaim its history.
The AfD did not immediately respond to a request for comment.
In January, Björn Höcke, the AfD's chief in the eastern state of Thuringia, provoked outrage by describing the Holocaust Memorial in Berlin as a "monument of shame" and demanding a "180-degree turnaround" in the way Germany seeks to atone for Nazi crimes.
United States
Government accused of systematic strategy in Rakhine state as Rohingya claim soldiers torched their homes and fired on them after urging them to leave
Smoke billows from a Rohingya village in footage filmed 11 September 2017
Satellite imagery has shown flames engulfing huge swaths of Myanmar's Rakhine state, prompting accusations that state forces are adopting a deliberate and systematic scorched-earth campaign to drive out the Rohingya Muslim minority.
In addition to the satellite evidence, captured by Amnesty International, the Guardian has received video footage from Rohingya villagers fleeing their homes as they attempt to make their way to Bangladesh. The clips show fires burning in the distance and hundreds of people hiking up muddy jungle paths and crossing rivers with sacks and baskets crammed with their belongings. The Guardian has been shown at least two images of corpses.
The footage has not been independently verified by the Guardian as media access to the area is strictly controlled.
Amnesty's satellite imagery accompanies new testimony from Rohingya refugees, who claim they were warned of attack by state forces and told to flee their villages, only to be fired upon and stabbed at random by soldiers as they tried to run away.
Rohingya people in Myanmar, apparently fleeing across a river with their belongings
At least 370,000 Rohingya have fled across the border to Bangladesh over the past three weeks. Unicef, the UN children's agency, has estimated that more than 1,100 children have arrived in Bangladesh unaccompanied, and warned the number will increase in the days ahead.
"The military attacked at 11am. They started shooting at houses and at people, it went on for around an hour," said a Rohingya man from Myo Thu Gyi in Maungdaw township, near the Bangladesh border. "When people fled, they burned the houses with bottles of petrol and rocket launchers. The burning continued for three days. Now there are no homes in our area – all are burned completely."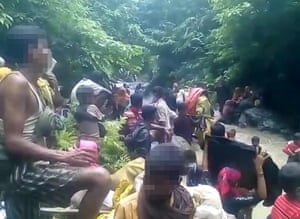 People apparently fleeing with their possessions. Photograph: Handed to the Guardian
Amnesty has corroborated the testimonies by matching them with fire-detection data, satellite imagery, photographs and video from the ground, as well as interviews with eyewitnesses in Myanmar and Bangladesh.
Satellite sensors show that at least 80 major fires have torn across inhabited areas in northern Rakhine since 25 August, when the Myanmar army launched a military operation following attacks on police posts by the militant Arakan Rohingya Salvation Army (Arsa). Imagery from the same period over the past four years detected no fires of comparable magnitude anywhere in the state.
Cumulatively, the evidence indicates that Rohingya homes have been deliberately targeted in what foreign governments and human rights organisations have largely condemned as "ethnic cleansing".
Tirana Hassan, Amnesty International's crisis response director, described the evidence as irrefutable and said it was illustrative of crimes against humanity.
"There is a clear and systematic pattern of abuse here. Security forces surround a village, shoot people fleeing in panic and then torch houses to the ground. In legal terms, these are crimes against humanity – systematic attacks and forcible deportation of civilians."
On a recent trip to Maungdaw, the BBC – which had been invited to the area by the Myanmar government – witnessed a Muslim village burn to the ground just after it had been set alight by Rakhine Buddhist youths, who told the BBC they had done so with the help of the police.
Myanmar's president, Aung San Suu Kyi, who has come under international criticism for her failure to condemn the attacks, was due to attend the UN general assembly next week. But Zaw Htay said she would remain in the country as the government is facing "riots in some areas" and, allegedly, impending "terrorist attacks", supposedly from Rohingya militants.
The family of Justine Damond (above) has called for a transparent investigation where there 'is no stone left unturned'. Photograph: Aaron Lavinsky/AP
Australian Associated Press
The Minneapolis police union boss has broken his silence, saying Officer Mohamed Noor, who shot Justine Damond dead in July, should not be charged simply on that basis that the Australian yoga instructor was a "fine young woman in a nice neighbourhood".
In a letter published in the Minneapolis Star Tribune, Lieutenant Bob Kroll has also alleged a lack of objectivity and professionalism on the part of the top prosecutor in the case, Hennepin county attorney Mike Freeman, who will decide if Noor will be charged.
Freeman's comments at a recent Minneapolis town hall meeting, where he was questioned by residents about the 15 July shooting that made headlines in the US and Australia, had raised the ire of the police union head.
"Freeman's comments that 'I'm saddened by the death of this fine young woman' and that 'it didn't have to happen – it shouldn't have happened' show he is focusing on the status of the person lost rather than the events leading to a tragic loss," Kroll, president of the Police Officers Federation of Minneapolis, who has previously declined to comment on the shooting, wrote.
"This comment breaks with the imperative that fairness cross all socio-economic boundaries. We want an assurance that Noor will not be charged simply on the basis of Damond's status as a fine young woman in a nice neighbourhood.
"The status of the deceased as a fine young woman, while true, is not and should not be part of an objective decision to charge anyone with a crime. This case is tragic, and so are the too many other deaths that have occurred in our city.
"This comment brings Freeman's objectivity into question."
Noor, following legal advice, has declined to speak publicly or to investigators about the shooting.
Damond's death has added to already bubbling racial issues and protests over police shooting in the US city. An independent body has handed the results of its investigation to Freeman, who has indicated he will decide by the end of the year if Somalia-born Noor will be charged.
Damond's family has also called for a transparent investigation where there "is no stone left unturned".
"We trust that the Hennepin county attorney's determination will be based on an astute assessment of the facts," the family wrote in a statement this week.
Damond was shot by Noor after she called 911 just before midnight on 15 July to report a woman screaming in her affluent Minneapolis neighbourhood.
When Damond approached Noor's police car in an alley behind her home, he shot across his partner and out of the car window where the Australian was standing in her pyjamas.
Kroll also said in his letter that "irresponsible comments by public officials are fuelling the creation of police widows and widowers".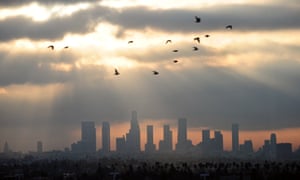 The smoggy, downtown Los Angeles skyline on 14 December 2011. Photograph: Frederic J Brown/AFP/Getty Images
Oliver Milman
People of color are still far more likely to suffer from harmful air pollution than white people across the US and this disparity has barely improved in recent years, despite overall improvements in air quality, a new federal government-funded study has found.
Exposure to nitrogen dioxide, NO2, a key transportation-related pollutant, is significantly influenced by race, far more than by income, age or education, the paper found.
While the racial imbalance in pollution impacts has long been noted by researchers and environmental justice campaigners, the study found that progress in addressing it has been sluggish.
The report comes as the Trump administration has outlined plans to dismantle the EPA's office of environmental justice, which advocates for communities of color.
"What surprised us is that race matters more than income when it comes to who is breathing in NO2," said Julian Marshall, UW professor of civil and environmental engineering and senior author of the study, published in Environmental Health Perspectives on Thursday.
"I just stared at these findings and thought: 'What is going on?' You would think places near highways would cost less. But it's race that is driving this, not income. Urban planners tell us that cities are still really segregated – people live close to people who look like them. We are seeing the outcome of that."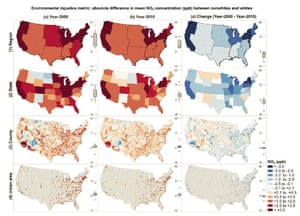 In columns A and B, red identifies locations where NO2 concentrations were higher for nonwhite people than white people; blue indicates that NO2 concentrations were higher for white than nonwhite people; and white means they were equal. In column C, red indicates that the absolute difference inNO2 concentration between nonwhites and whites increased over time; blue indicates that difference decreased over time; and white indicates no change. Photograph: Handout
The study, funded in part by the Environmental Protection Agency, found that overall exposure to NO2 among all Americans dropped between 2000 and 2010. But black and Hispanic people experienced 37% higher exposures to the pollutant than white people in 2010 – only a slight decrease from the 40% gap in 2000.
In some parts of the country, the situation has actually become worse. In 2000, concentrations of NO2 in neighborhoods with the smallest proportions of white people were 2.5 times higher than in areas that are overwhelmingly white. In 2010, this discrepancy increased to 2.7 times higher. The gap between white and nonwhite people is starkest in the midwest and California.
NO2 is a nationally regulated pollutant that is emitted through the burning of fuel by cars, trucks and power plants. The pollution can make the air hazy and trigger a range of health problems, such as coughing, wheezing and infections, particularly in those with respiratory issues such as asthma.
According to the EPA, annual concentrations of NO2 have dropped across the US by 56% since 1990. But this overall improvement hasn't wiped out the disproportionate impact suffered by black and Hispanic people, who have historically been housed nearer to major roads, industrial plants and other sources of pollutants than whites.
The University of Washington study estimated that if people of color breathed in the same level of NO2 as white people, about 5,000 premature deaths from heart disease would have been avoided in 2010.
"Everyone benefited from clean air regulations and less pollution; that's the good news," said Lara Clark, lead author and UW civil and environmental engineering doctoral student.
"But the fact that there is a pervasive gap in exposure to NO2 by race – and that the relative gap was more or less preserved over a decade – is the bad news."
Previous research has found that the very worst polluting sites are situated next to neighborhoods with high minority populations. The EPA has typically been reluctant to use the Civil Rights Act to prosecute polluters and help remedy this situation.
"We have policies in place to reduce pollution in general but we don't have policies in place on environmental justice," said Marshall. "We aren't addressing the disparities in health risks. It's important that this is recognized. We can't just ignore it."
A Rohingya family fleeing Myanmar reaches the Bangladesh border after crossing a creek. Photo: Bernat Armangue