18 Sep
Nearly all of these are English-edition daily newspapers. These sites have interesting editorials and essays, and many have links to other good news sources. We try to limit this list to those sites which are regularly updated, reliable, with a high percentage of "up" time.

World Politics
United States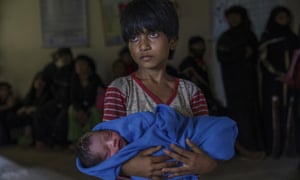 About 80% of those fleeing are women and children – and there are babies being born along the way. Photograph: Dar Yasin/AP
Thaslima Begum, Ben Quinn and Millie Shields
More than 400 babies have been born in the no man's land between the borders of Bangladesh and Myanmar in the past 15 days as 400,000 Rohingya people have fled from the violence, house burnings and gunfire in Rakhine state.
The Rohingya are trapped. Myanmar's military has blamed insurgents for the latest round of violence. The UN has called the situation a "humanitarian disaster" and aid agencies are overwhelmed. About 80% of those fleeing are women and children – and there are babies being born along the way.
Caught between two countries – and welcome by neither – Suraiya Sultan, 25, is one of those new mothers. She was waiting in a 500-yard-long strip of mud when she went into labour. As her contractions increased, Border Guard Bangladesh (BGB) took her on to a boat, where she gave birth to her daughter, Ayesha, under a makeshift sari canopy. Sick and exhausted, mother and baby were taken to the Nayapara camp to seek medical assistance. Camp officer Mohd Mominul Haq said they had received many others in a similar position and that their condition was "critical".
"We are trying our best to help them, but the situation is beyond our capacity," he said. Mothers have died during childbirth; others gave birth only to watch helplessly as their newborns died from sickness and poor camp conditions.
Masum Bhadur, 28, lost her son. "He had a fever and wouldn't stop shaking," she sobbed. Her husband Abu Bakr, 35, went to find help, but when he returned the baby was dead. There is no proper burial ground in the vicinity, as all available space is being used to erect make-shift shelters, so Abu Bakr dug a small grave in the forest nearby and buried their son. He was three days old.
Another woman did not know what to do with her dead baby. After carrying her boy with her for two days, she slipped him into the Naf river. Tears streamed down her face as she told her story. Manzur Kadir Ahmed, chief executive of Gonoshasthaya Kendra (People's Health Centre), said that the mothers were unable to breastfeed their babies because of a lack of enough food and water.
Vivian Tan, from the UN refugee agency UNHCR, described how a man approached the clinic at the Nayapara camp looking distressed. "He took us to this little basket covered by a blanket … he opened it and showed us two tiny babies. His wife had just given birth to twins while they were on the run," she said. One died soon afterwards.
Anthony Lake, executive director of the UN children's agency Unicef, said: "Women and children on both sides of the border need urgent help and protection." While Unicef is scaling up its response in Bangladesh, Myanmar has blocked all aid-worker access to civilians in northern Rakhine, including babies and pregnant women.
As the situation on the border of Myanmar and Bangladesh worsens, the global criticism directed at Myanmar's de facto leader, Aung San Suu Kyi, over her silence about the ethnic cleansing of the Rohingya minority, who are mainly Muslim, is mounting. In the UK, there are growing calls for awards and honours bestowed on her by a range of universities and cities to be withdrawn. In the City of London – where Aung San Suu Kyi was endowed with the honorary freedom of the City as recently as May this year – questions are also being asked about how and why she was honoured after local government members and others expressed their concerns.
The role of the Foreign Office, which was consulted by City of London officials, is also now in the spotlight, and at least one elected member of the Square Mile's local authority has now initiated discussions with colleagues on whether her honour could be withdrawn.
"The City remains a fantastically diverse place, with a huge number of south Asian Muslims living and working here. This makes it all the more important that we hold ourselves to the highest possible standard on this issue," said the letter from Thomas Anderson, which has been seen by the Observer.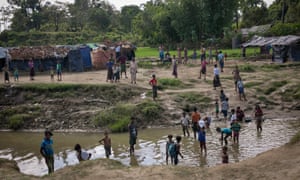 Thousands of Rohingya refugees are stuck in no man's land between Myanmar and Bangladesh. Photograph: Allison Joyce/Getty Images
In Dublin, where she received the freedom of the city in 2012, councillors have started to debate whether to begin the process of taking back that award, with one, Mannix Flynn, warning colleagues that they could have "blood on their hands".
Disappointment at Aung San Suu Kyi's stance on the violence is keenly felt in Oxford, her former home. A campaign is under way there calling for withdrawal of the honorary doctorate bestowed on her in 2012, when she visited after being released from 15 years under house arrest in her own country.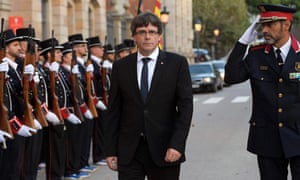 Catalan president Carles Puigdemont and Josep Lluis Trapero Álvarez, chief of the regional police, inspect members of the Mossos d'Esquadra force last week. Photograph: Lluis Gene/AFP/Getty Images
In two weeks, Catalans will go to the polls to vote in a referendum on whether to secede from Spain and form an independent republic. Or will they?
Ever since Carles Puigdemont's government called the referendum for 1 October, the central government in Madrid has been doing everything in its power to ensure that it does not happen. Madrid says the referendum is unconstitutional and so are the laws the Catalan parliament passed a week ago, which will in effect disconnect Catalonia from Spanish legislative and administrative control if the Yes vote prevails.
If the Catalan government's strategy has been to provoke a reaction from Madrid, it has succeeded. While refusing to discuss the issue, the Spanish government has lashed out with a series of threats, including taking control of Catalonia's finances by 18 September and abolishing its regional autonomy. It has threatened to bar Catalan leaders from holding office and even warned them that they could face jail. The attorney general has also said that any mayor who allows local authority buildings to be used as polling stations could face prosecution. Meanwhile, mayors who say they will not facilitate the referendum are being picketed and sent hate mail by pro-secessionists.
Anyone printing or distributing ballot papers or supplying ballot boxes risks prosecution, and the government has even threatened to cut off the electricity to schools serving as polling stations. It has warned postal workers against handling electoral material. The Mossos d'Esquadra, the Catalan police force who became local heroes over their handling of the terrorist attacks last month, have been ordered to intervene to prevent voting taking place.
Last Wednesday the Civil Guard shut the official referendum website, but within 24 hours Puigdemont had published a new link to the site on his Twitter account. WikiLeaks's Julian Assange says he has been helping to defend the website.
Critics of the referendum, including Ada Colau, the mayor of Barcelona, say it lacks the necessary guarantees and has set no minimum level of participation. However, she has reached an agreement with Puigdemont to facilitate the vote in the capital. Meanwhile the Catalan government has sent letters to 55,000 citizens calling on them to run the polling stations. Under the Catalan referendum law they are obliged to take part, but the law has been ruled illegal by Spain's constitutional court.
In a last-ditch effort to break the deadlock, Colau and Puigdemont have sent a joint letter to the prime minister, Mariano Rajoy, and the king pleading for dialogue and a legally binding referendum. In the letter they appeal for an "open and unconditional dialogue". Rajoy insists that he is open to dialogue on any topic – except a referendum on independence.
The Yes camp has successfully created an image of consensus around independence – witness the million people they mobilised on the streets of Barcelona last week for Catalonia's national day – but these impressive shows of popular power mask the fact that there is still only a minority in favour of secession. A survey at the end of July found that 49.4% of Catalans were against independence and 41.1% supported it.
When a similar referendum was held in November 2014, 80% voted Yes. However, the turnout of barely 37% suggested that No voters had boycotted the poll. There are fears this will be repeated on 1 October, but the Catalan government seems bent on a declaration of independence, however small the margin in favour.
Police order crowds to disperse after dozens arrested at weekend during protests over acquittal of Jason Stockley
Clashes in St Louis after policeman acquitted of murder
A largely peaceful rally in St Louis turned rowdy on Sunday as a handful of demonstrators protesting at the acquittal of a white police officer over the fatal shooting of a black man in 2011 threw bottles in response to police making arrests.
Hundreds of people gathered for the third night in a row in the Missouri city of almost 320,000 people. Violence erupted the previous two nights, evoking memories of the riots following the 2014 shooting of a black teenager by a white officer in nearby Ferguson, Missouri.
More than 80 people were arrested as police in riot gear used pepper spray and arrested the demonstrators who had defied orders to disperse following a larger, peaceful protest.
At a late-night news conference, Mayor Lyda Krewson noted that "the vast majority of protesters are non-violent," and blamed the trouble on "a group of agitators."
Sunday's event began peacefully, just like the previous two nights. Then a police officer was making two arrests a block away from police headquarters, leading some to rush toward the officer, who then jumped in his car and reversed quickly through the crowd to get away, according to two Reuters journalists.