19 Sep
Nearly all of these are English-edition daily newspapers. These sites have interesting editorials and essays, and many have links to other good news sources. We try to limit this list to those sites which are regularly updated, reliable, with a high percentage of "up" time.

World Politics
United States
Chris Riddell on the US president and the Russian bear that just won't go away
*******************
A religious person would swear he is the Ant-Christ. His devotees are snowed so deep that they resemble a crazy cult. A pathological liar, in the eyes of his sycophantic followers a charismatic leader who can do no wrong,  the pointless rallies, his requirement of blind loyalty from his administration, etc. etc. If ever ousted, it wouldn't surprise me in the least if he set up shop in Russia, and convinced his cult to follow him there.
The McGlynn
*******************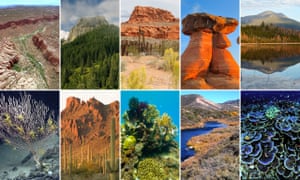 Threatened US monuments, including Bears Ears national monument, Cascade-Siskiyou national monument and Gold Butte national monument. Composite: Getty Images
The Trump administration faces a fresh legal battle from environmental groups after the interior department recommended that 10 national monuments be resized or opened up to mining, logging and other industrial purposes.
In a leaked memo, the interior secretary, Ryan Zinke, wrote that the boundaries of some national monuments were "arbitrary or likely politically motivated or boundaries could not be supported by science or reasons of resource management".
Zinke, who was tasked by Trump in April to review 27 land and ocean monuments created since 1996, wrote that 10 protected areas from Maine to the southern Pacific Ocean must be either shrunk or modified so more mining and other "traditional uses" be allowed.
Conservationists immediately vowed to fight any move to refashion monuments declared by presidents over the last century. The Antiquities Act of 1906 allows presidents to unilaterally protect certain areas of federal land without the need for congressional approval.
"If President Trump accepts Zinke's advice and moves to eviscerate monument protections, he'd be ignoring the law and the will of the American people," said Rhea Suh, president of the Natural Resources Defense Council (NRDC).
Her group would fight any changes "in court if necessary", Suh said.
Zinke's memo states that there is "no doubt" that Trump has the authority to reshape monuments and cites the example of the Mount Olympus national monument in Washington state that was altered by three presidents up until the 1920s.
Environmentalists argue that legislation passed in the 1970s gives Congress a role in deciding changes to existing monuments.
We hope the president wont act on these recommendations but if he does, we will be ready

Kristen Brengel, National Parks Conservation Association
"We will 100% challenge this in court because presidents don't have the authority to change monuments," said Kristen Brengel, vice-president of government affairs at the National Parks Conservation Association.
"It would be horrific to change these areas of beautiful rivers, canyons and architectural sites. Trees are meant to be vertical in conservation, not horizontal. That's not how you manage a national park unit.
"We hope the president won't act on these recommendations but if he does, we will be ready."
Existing grazing and mining are already allowed in many of the national monuments reviewed by Zinke, although new development is largely curtailed. Such restrictions have proved controversial in places such as Bears Ears national monument in Utah, which was designated by Barack Obama in December and has been forcefully opposed by Utah Republicans in Congress.
Zinke's review states that the Bears Ears boundary should be "revised" and that hunting, fishing and "traditional use" should be emphasized.
The Cascade-Siskiyou national monument in Oregon, the Gold Butte national monument in Nevada and the Grand Staircase-Escalante national monument in Utah should also have their boundaries changed, Zinke's memo says, although there is no suggestion as to what extent.
Katahdin Woods and Waters national monument in Maine, formed from land donated to the federal government last year by the Burt's Bees co-founder Roxanne Quimby, should be opened up to timber harvesting, the memo states.
Read Full Article>>
As protests over the acquittal of the former St Louis police officer Jason Stockley moved into their fourth night, some observers said the response from law enforcement had grown heavy-handed, and that local and state authorities had learned little from their actions during the Ferguson protests.
Stockley, who is white, was accused by prosecutors of murdering Anthony Lamar Smith, who was black, following a high-speed car chase.
During intense demonstrations on Sunday night in downtown St Louis, police were accused of co-opting and chanting the popular protest slogan "whose streets? Our streets". The interim police chief, Lawrence O'Toole, whose department made more than 120 arrests, said at a press conference that St Louis police "owned the night".
Cara Spencer, alderman for the city's 20th ward, said she was "deeply disappointed" by the rhetoric.
"The chants were disheartening and 'we own the night' sets a bad tone," she said.
While acknowledging the need to protect the safety of officers, Spencer also criticized law enforcement's response for its militarized overtones.
"Seeing troops marching down the street and in tanks or humvees is a horrifying scene to behold," she said. "The protest leadership deserves kudos for asking everyone to disperse at a reasonable hour. The people who remain are agitators with different goals."
St Louis protests continue for third day – video
Marching in unison through the downtown streets and dressed in riot gear, police seemed to take a firmer approach on Sunday, after several evenings of intense protests, arrests and property damage around the city.
Downtown resident Christian Misner, who watched some of the street scenes unfold in front of his home, said he was taken aback by the tone of the police response.
"It was militaristic, coordinated, antagonistic and intimidating," he said. "They were chanting and hitting the ground and their shin guards in unison with sticks."
Misner said there was a disconnect between the behavior of the crowd and the response of the police officers.
"I saw no bottle-throwing, spitting or anything else," he said. "Everyone was hanging out, talking, taking photos and video. Only two people were loudly vocalizing their frustration."
On Friday evening, protesters surrounded the home of the St Louis mayor, Lyda Krewson, breaking windows and throwing paint.
Protest leaders, encouraging use of the chant "you kill our kids, we kill your economy", have vowed to sustain large public demonstrations in an effort to disrupt the city's economy. While protests after the teenager Michael Brown's death in Ferguson were largely confined to a few blocks within that small St Louis suburb, these demonstrations have targeted areas of the city with concentrated wealth and business activity.
Related
 
Leader and her government 'burying their heads in the sand over the horrors unfolding in Rakhine', says Amnesty
L
The leader of Myanmar has broken her silence on the Rohingya crisis in Myanmar, saying she does not "fear international scrutiny" and that the government was still assessing allegations of atrocities
Aung San Suu Kyi has broken her silence on the Rohingya crisis in Myanmar, delivering a speech denounced as a "mix of untruths and victim-blaming" by Amnesty International.
In her first public address since a bloody military crackdown on the Rohingya Muslim minority that has been branded "a textbook example of ethnic cleansing" by the United Nations, the Nobel laureate did not criticise the army and said she did not "fear international scrutiny".
"I'm aware of the fact that the world's attention is focused on the situation in Rakhine state. As a responsible member of the community of nations Myanmar does not fear international scrutiny," she said.
"There have been allegations and counter-allegations … We have to make sure those allegations are based on solid evidence before we take action," she said in her speech from the capital, Naypyidaw.
She insisted there had been "no conflicts since 5 September and no clearance operations" against the country's Muslim minority, a point disputed by those who have fled the violence.
Aung San Suu Kyi, who won worldwide admiration for her long fight against military rule, claimed the majority of Rohingya villages had not been affected by violence. She refrained from criticising the military – which has been accused of arson and indiscriminate killing – but said it had been instructed to exercise restraint and avoid "collateral damage" in its pursuit of insurgents.
Amnesty International said Aung San Suu Kyi's speech showed the leader and her government were "burying their heads in the sand over the horrors unfolding in Rakhine state".
"Aung San Suu Kyi's claims that her government does not fear international scrutiny ring hollow," said James Gomez, Amnesty International's regional director for south-east Asia, who later described the speech as a "mix of untruths and victim-blaming".
"If Myanmar has nothing to hide, it should allow UN investigators into the country, including Rakhine state. The government must also urgently allow humanitarian actors full and unfettered access to all areas and people in need in the region."
Mark Farmaner, the director of Burma Campaign UK, said the speech was "business as usual, denial as usual".
The UN's migration agency says about 421,000 people have fled from Myanmar to neighbouring Bangladesh in less than a month amid the crackdown. Joel Millman, spokesman for the International Organization for Migration, said an estimated 20,000 people are flowing across the border every day.
Unicef spokeswoman Marixie Mercado said the UN children's agency now estimates that over 250,000 children have fled Myanmar over the last 25 days.
Protesters in Madrid carry Catalan separatist flags during a rally in favour of a planned referendum on independence. Photograph: Sergio Perez/Reuters
B

ehind his counter in the Mercat de la Independència, a handsome modernista market that commemorates the centenary of the outbreak of Spain's war of independence in 1808, Jaume Florensa is reflecting on an earlier, if equally fateful, year in national history.
Like many Catalans – about 41%, according to the polls – the poulterer is a passionate believer in sovereignty and a man with a memory that stretches back well beyond his 61 years.
He still rues the day, 303 years ago, when Barcelona fell to Philip V and the king went on to punish Catalonia for backing the wrong candidate in the war of the Spanish succession by suppressing its ancient freedoms and institutions.
"We've always felt we've had a raw deal – ever since 1714," says Florensa, who was born and bred in Terrassa, a city half an hour's drive from Barcelona.
"I suppose that makes it an old fight. As far as the top people in Madrid are concerned, Catalonia is a possession; we still feel like we're the spoils of war."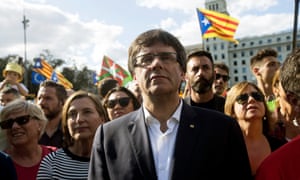 Catalonia's regional president, Carles Puigdemont, takes part in a rally celebrating the Diada in Barcelona. Photograph: Quique Garcia/EPA
The secessionists argue that Catalonia has a moral, cultural, economic and political right to self-determination. They also feel their rich region of 7.5 million people has long put more into Spain than it has received in return. But the Spanish government says there will be no referendum because the vote would be illegal, unilateral and unconstitutional.
The showdown, which has seen the usual deep mutual suspicion between Barcelona and Madrid curdle into something far more toxic, is also splitting Catalans, almost 50% of whom favour staying as part of Spain.
One business owner in Terrassa quietly expresses the hope that Catalonia will remain part of Spain before swiftly refusing to elaborate or be named.
The city's mayor, whose offices are a stone's throw from the market, is also well aware of just how polarising the independence debate can be.
Jordi Ballart, a member of the Catalan Socialist party (PSC), which opposes the referendum, declined to be interviewed. His Facebook page, however, details the abuse he has suffered over his opposition to the vote.
"They've called me a quisling, a turncoat, a sellout, a coward, a wimp and a traitor … They've told me … I'm a bad Catalan, a moron, that I'm despicable, a piece of shit and a disgusting faggot – among many other things," he wrote.
Núria Marín, the PSC mayor of Catalonia's second most populous city, L'Hospitalet, is reported to have complained to Puigdemont about the pressure being brought to bear on her colleagues by some in the independence movement.
"I told him what a lot of people are thinking," she told El País last week. "It hasn't happened to me but a lot of my colleagues are having a rough time. Putting mayors in the crosshairs won't fix anything; it'll just add fuel to the fire."