21 Sep
Nearly all of these are English-edition daily newspapers. These sites have interesting editorials and essays, and many have links to other good news sources. We try to limit this list to those sites which are regularly updated, reliable, with a high percentage of "up" time.

World Politics
France
Spain
Pro-independence protesters rally after Catalan officials arrested – video report
Great Britain
PM ranks US plan to withdraw from Paris treaty alongside North Korean nuclear tests as threat to global security
Theresa May has issued a veiled warning to Donald Trump, arguing that his plan to withdraw from the Paris climate change treaty ranks alongside North Korea's nuclear missile tests as a threat to global prosperity and security.
In a speech to the United Nations general assembly, the prime minister, whose authority at home has been severely tested since June's general election result, sought to project her vision of a "rules-based" international order.
She said global cooperation was the only way to confront shared international challenges, including terrorism, climate change, and mass movements of refugees – and condemned countries that fail to play by the rules.
The prime minister did not name the US president directly but made clear that she believed ongoing membership of the Paris climate change accord was as important as the nuclear non-proliferation treaty in maintaining global security.
"As the global system struggles to adapt, we are confronted by states deliberately flouting – for their own gain – the rules and standards that have secured our collective prosperity and security," she said.
She singled out Russia, Syria and North Korea for direct condemnation, but described the climate change treaty as part of the "rules-based system" that protects global peace and security.
"It is the fundamental values that we share, values of fairness, justice and human rights, that have created the common cause between nations to act together in our shared interest and form the multilateral system.
"And it is this rules-based system which we have developed – including the institutions, the international frameworks of free and fair trade, agreements such as the Paris climate change accord, and laws and conventions like the non-proliferation treaty – which enables the global co-operation through which we can protect those values."
She warned that undermining these international institutions, including the UN, ultimately threatened states' national interests.
"If this system we have created is found no longer to be capable of meeting the challenges of our time, then there will be a crisis of faith in multilateralism and global cooperation that will damage the interests of all our peoples."
The prime minister was the first world leader to visit Trump in the White House, brushing off concerns in some European capitals about his unpredictability.
But she has repeatedly expressed concern about his decision to seek to renegotiate the Paris treaty, and a planned state visit to the UK has been indefinitely postponed, amid fears of public protests.
She delivered the speech just an hour before she was due to meet Trump for a bilateral meeting in a New York hotel. In his own speech to the UN general assembly on Tuesday, the US president described the North Korean leader, Kim Jong-un, as "rocket man", and threatened to "totally destroy" Kim's country if it did not rein in its nuclear ambitions.
May issued her own strongly worded condemnation of North Korea's actions, but stopped short of threatening military action.
"Time after time he has shown contempt for the international community of law-abiding states," she said of Kim Jong-un. "Contempt for his neighbours. And contempt for the institutions and rules that have preserved peace and security.
"On this challenge the UN has in recent weeks shown it can step up to the task, with last Monday's security council resolution creating the biggest sanctions package of the 21st century. We have seen regional and global powers coming together and – as in its founding charter – putting aside limited self-interest to show leadership on behalf of the wider world."
She also criticised Russia for using its veto on the UN security council to block tougher action against Syria for using chemical weapons on civilians.
United States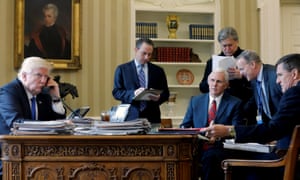 Donald Trump in the Oval Office on 28 January 2017. Photograph: Jonathan Ernst/Reuters
They were military and business leaders, political insiders, novices and lords of finance. But the parade of job seekers to Trump Tower last winter almost all had one thing in common: they were men.
The work of staffing the federal government has since lost its casting-call quality, but little appears to have changed.
A new analysis shared exclusively with the Guardian has found that 80% of nominations for top jobs in the Trump administration have gone to men – putting Donald Trump on track to assemble the most male-dominated federal government in nearly a quarter-century.
Without a significant shift, men will outnumber women four-to-one in top positions of the Trump administration.
By contrast, men in government outnumbered women three-to-one during the first term of George W Bush, and there were two women for every five men in government during the Clinton and Obama administrations, according to a 2013 New York Times analysis of all appointees, Senate approved or not.
"If you're not intentional about it [diversity], it won't happen," said Don Gips, who served as the White House personnel director for the first six months of Obama's presidency.
The Obama, Bush and Clinton administrations, Gips said, all made efforts to pick administration officials who "looked like America" in terms of their race, gender and viewpoints, and under Obama, geography. But doing so took work. "There's always a government in-waiting who want to come in, and unfortunately, they often are mostly white men."
The 80% figure comes from an analysis of 408 political nominees Trump has sent to the Senate for approval – 327 men and 80 women. The Senate has confirmed 129 of those nominees, and a handful are holdovers from the last administration.
American Bridge 21st Century, a progressive Super Pac that monitors Republican candidates, provided the Guardian with data on the gender of Trump's nominees.
The White House has the power to name other administration officials without the Senate's input. But the presidential appointees who require Senate approval represent the top echelons of the federal government – cabinet secretaries, but also the under-secretaries, directors and commissioners who drive policymaking at scores of federal agencies. From scores of officials within the Department of Defense to the tiny National Council on Disability, these appointees have sway over almost every issue before the government.
White House officials did not respond to questions about the gender breakdown of Trump's appointees or any efforts by his transition team to take gender diversity into account.
The new numbers could draw fresh criticism for an administration that has already stuffed its inner ranks with white men. Although his transition team vowed that Trump's nominees would "be very broad and diverse, both with the Cabinet and the administration", Trump would go on to choose a cabinet with a smaller proportion of women and nonwhites than any president's first cabinet since Ronald Reagan.
Just days into Trump's presidency, a photo showed him flanked by half a dozen men as he expanded a ban on international aid for groups supporting abortion rights.
Trump is not the only president to disproportionately staff his administration with men. Obama attracted scorn for filling 60% of political positions with men in his first term, and for passing over women for several high-profile cabinet appointments.
Still, Obama placed women in high positions of power at agencies, like the treasury department, with reputations for being boys' clubs. And a person familiar with appointments under Obama said his administration made a conscious attempt to nominate individuals of many different backgrounds and sought to build pipelines that would keep diverse groups represented in the White House.
The efforts aren't just about checking off a box, said one proponent of women in government.