22 Sep
Nearly all of these are English-edition daily newspapers. These sites have interesting editorials and essays, and many have links to other good news sources. We try to limit this list to those sites which are regularly updated, reliable, with a high percentage of "up" time.


World Politics
United States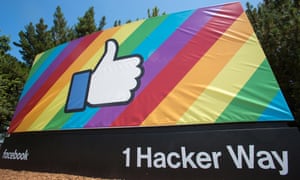 Facebook headquarters in Menlo Park, California. Photograph: Alamy Stock Photo
Facebook will provide to Congress the contents of 3,000 advertisements purchased by Russians during the 2016 US presidential race, Mark Zuckerberg announced on Thursday following weeks of scrutiny surrounding the social network's potential role in influencing elections.
The CEO said in a Facebook live video that the company would provide the controversial ads to government officials to support ongoing investigations in the US and as part of the social media company's renewed efforts to protect the "integrity" of elections around the world.
"I wish I could tell you we're going to be able to stop all interference, but that just wouldn't be realistic," Zuckerberg said. "There will always be bad actors."
Facebook's general counsel Colin Stretch said in a statement: "After an extensive legal and policy review, today we are announcing that we will also share these ads with congressional investigators. We believe it is vitally important that government authorities have the information they need to deliver to the public a full assessment of what happened in the 2016 election."
Facebook disclosed earlier this month that an influence operation that appeared to be based in Russia had purchased $100,000 in ads to promote divisive political and social messages in a two-year period.
The adverts had spread controversial views on topics such as immigration, LGBT rights and race and had promoted 470 "inauthentic" pages and accounts that Facebook later suspended, according to the company. Facebook has said it was cooperating with related federal investigations, and the revelations have lended credence to the findings of US intelligence officials that Russia was involved in influencing the 2016 presidential election.
Concerns about the role of political ads on Facebook have not been limited to the US. A series of Conservative party attack ads in the UK were sent to voters in a key marginal constituency and relied on dummy Facebook accounts, the Guardian reported earlier this year.
The announcement comes one day after 20 Democratic senators and representatives wrote to the Federal Election Commission to urge it "develop new guidance" for advertising platforms "to prevent illicit foreign spending in US elections".
In his speech, Zuckerberg said Facebook would also create a "new standard" for transparency in political advertising so advertisers must disclose which page paid for an ad and so that the public can visit advertisers' pages and see the ads they're currently running to any audience on the site.
The CEO said the company had also been working to ensure the integrity of the forthcoming German election and had taken action against thousands of fake accounts.
"I don't want anyone to use our tools to undermine democracy," he said, but later added that Facebook would never be able to catch all "bad content" in the system. "Freedom means you don't have to ask permission first, and that by default you can say what you want."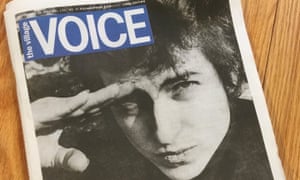 The image of Dylan was taken in January 1965, near the old offices of the Voice. Photograph: Guardian
In the way that some things come back stronger once before they go away for good, that sentinel of downtown New York bohemian life, the Village Voice, has published its last printed edition, with a heyday cover shot of Bob Dylan.
Photographed in a salute, the image of Dylan was taken in January 1965, near the old offices of the Voice.
The 176-page issue features a 50-page portfolio of journalistic luminaries who helped define the publication, including Voice co-founder Ed Fancher, theater critic Michael Feingold, and film critics J Hoberman and Amy Taubin.
Michael Musto, the longtime nightlife columnist, marked the occasion with a return of his "La Dulce Musto" column.
By mid-morning on Thursday, many of the publication's distinctive red distribution boxes were empty, copies collected up by souvenir hunters. In severing the Voice from its physical existence, owner and publisher Peter Barbey said the 62-year old print publication had been "a public forum for ideas and a cultural touchstone for the progressive thought and envelope-pushing aesthetics that defined New York".
In the final edition, a photo section celebrated the photographers and writers who "looked out at the rest of the world from south of 14th Street".
The images include the infamous denizens of the downtown realm – William Burroughs (with sword), the Beastie Boys, Madonna, Jack Kerouac – while cartoonist Steve Brodner reminisced: "This is journalism – authentic, fearless, two-fisted, pure."
While many mourn the Voice's physical passing, others have been less charitable.
Contrarian New York Post columnist Maureen Callahan wrote that the changes at the Voice and the sale of Rolling Stone meant post-war baby boomers were finally releasing their "chokehold on American culture".
"So enough with the eulogies for Rolling Stone and the Village Voice, two relics demolished not by the internet but their own narcissistic, congenital nostalgia," Callahan crowed.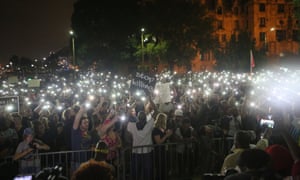 About 1,000 people use their cell phones to light the night at the St Louis Justice Center during an effort to to raise money to bail protesters from jail in St Louis on Monday. Photograph: UPI/Barcroft Images
It's become a familiar scene in the the city's metropolitan area, equal parts deja vu and cliche.
Again, protesters marched up and down a stretch of Missouri highway with signs that read "black lives matter" and "say their names". Again they beat drums, cheered chants and locked arms. Above, helicopters buzzed while police in riot gear cordoned off sections of road. In rolled the armored bearcat, garrisoned with Swat officers.
As if on cue, an hour or so in, the protest was declared unlawful – no reason was immediately given. Threats of arrest and chemical munitions rang over police PA.
For demonstrators and reform advocates in the greater St Louis area, the exhaustion, the wearying sense of repetition was palpable – but so was the resolve.
"When folks stop making a mockery of the justice system, that's when this stops," said protester Jay Weaver as riot police slowly but steadily advanced their phalanx towards the crowd. "Until that mock trial mess going on in the courtroom stops, this can't stop. They're the ones making things worse, not the people out on the street protesting."
Three years and some change since the police shooting of Mike Brown and the ensuing unrest burned the name Ferguson into the nation's consciousness, the visuals persisted a few miles down the road at the St Louis Galleria in Clayton, Missouri. So did the catalyst. This was sixth day of protest since the acquittal of former St Louis officer Jason Stockley, who is white, over the 2011 death of Anthony Lamar Smith, a black man. Stockley shot and killed Smith after a car chase; he said he thought Smith was reaching for a gun. The defense presented evidence, which the judge in the case ignored, that the gun recovered may have been planted.
 
Jason Stockley. Photograph: AP
Stockley, who wasn't arrested until four and a half years after the 2011 incident, had precedent on his side. No St Louis police officer had ever been convicted for the death of a suspect. On 15 September, Stockley saw that streak extended, and the ensuing protests begged the question: where was all the change that Ferguson seemed bound to deliver?
All the wrong lessons, all the wrong conclusions
Among the answers is that legally, there was little that was required to change, despite substantial involvement by the Obama-era Department of Justice. One of the most important revelations of the post-Ferguson reckoning was the fractured nature of of law enforcement in the metropolitan area. St Louis County and city bounded by the Missouri and Mississippi rivers has a population of a little over 1 million people, yet it contains 59 separate law enforcement agencies, each in charge of its own staffing, training and policies. Even though the tiny department of Ferguson, with it's 40-50 officers was legally bound to make a wholesale changes in the wake of a bombshell DoJ report that uncovered blatant racial bias in the department, that mandate affected a miniscule portion of the region's law enforcement.
"That's one jurisdiction and it has no impact on what's happening to the St Louis police," said Christy Lopez, a professor of law at Georgetown University and the leader of the DoJ team that produced the Ferguson report. "What you hope with these sorts of agreements is that, as people start to see them work they become more and more imaginable to other departments."……………….He had no regrets about the tactics police used Sunday night, despite all the criticism, calling the arrests a "completely appropriate reaction".
"Those folks had been asked to disperse for an hour and a half. So it was time for them to go to jail."
As for the provocative chants from uniformed officers, Roorda demurred. "I'm not saying that I condone those statements but they were made after 12 hours of dealing with very harrowing protests, and, I don't see the harm."
They came for nothing but my son's body
Meanwhile, across town at city hall, a small group of demonstrators had gathered to celebrate what should have been the 22nd birthday of Isaiah Hammett, who was shot and killed by police in June. Authorities said Hammett "fired numerous shots at police officers" with a high-powered rifle from his home before being gunned down by Swat officers in a "no-knock" raid. His family countered that a private forensic analyst found no sign of gunfire coming from inside the house. The rifle which police said Hammett fired, his family said was legally owned and non-functional, in the box waiting to be returned.
A rare rhinoceros under constant protection, an albino orangutan, and protected pandas are among this week's pick of images from the natural world