01 Oct
News and Analyses, A Foreign Perspective
Nearly all of these are English-edition daily newspapers. These sites have interesting editorials and essays, and many have links to other good news sources. We try to limit this list to those sites which are regularly updated, reliable, with a high percentage of "up" time.

World Politics
United States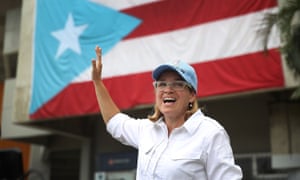 Mayor Carmen Yulín Cruz speaks to the media as she arrives at the temporary staging ground for relief efforts at the Roberto Clemente stadium in San Juan. Photograph: Joe Raedle/Getty Images
With her city in near ruins, and facing the most profound crisis of her political career, San Juan's mayor, Carmen Yulín Cruz, made it clear she had no patience for, or interest in a personal row with Donald Trump.
"I have no time for distractions. All I have is time for people to move forward," she told MSNBC's Joy Reid on Saturday morning. "This isn't about me, this isn't about anyone. This is about lives that are being lost …
"This is a time where everyone shows her true colors."
According to those who know her, Cruz certainly seems to be showing hers, as a no-nonsense leader with a talent for empathy to match.
"She goes head first, chest first. She's not going to let anybody do what she's not willing to do," said Luis Vega, a legislator in the US territory's house of representatives. "She has no patience for red tape and that's what we need right now," Vega added.
Now the two-term mayor has become perhaps the most visible communicator of the commonwealth's challenges in the wake of Hurricanes Irma and Maria, which devastated the island leaving virtually all of its residents without electricity and access to drinkable water and food.
"What we we are going to see is something close to a genocide," Cruz said of what many have decried as a delayed and inadequate response to the urgent humanitarian needs of the island. "Mr Trump, I am begging you to take charge and save lives," she added, pleading for a more robust federal response.
Trump, as he has tended to during his brief political career, took Cruz's comments personally and on Saturday morning responded via Twitter, decrying Cruz's "poor leadership" and accusing her of being "nasty to Trump".
"I was asking for help. I wasn't saying anything nasty about the president," Cruz retorted.
Cruz was a late, surprise candidate in the 2012 election but won handily, defeating a three-term incumbent to become San Juan's third female mayor. The mainland political action group Our Revolution described her election as "the result of a grassroots effort which united in an unprecedented alliance groups which have traditionally been excluded from the democratic process".
Born in San Juan in 1963, Cruz has been a leader and a competitor since childhood. President of her high school student council, Cruz set track and field records as a teen before she came to the mainland US for college in the 1980s.
In 2012, Cruz ran on a platform that emphasized progressive change on issues of gender equality, LGBT and disabled rights, and a municipal plan for universal healthcare. Citizen participation has been at the core of her administration, and the city has begun trialling a participatory budgeting process since she's been in office. Cruz is a member of the centrist/centre-left Popular Democratic party, which favors the commonwealth retaining that relationship with the mainland US, as opposed to full independence or statehood as other political parties advocate.
In 2016 she dedicated her election win to Oscar López Rivera, a controversial figure in Puerto Rican politics, and a former member of a radical Puerto Rican independence group that committed several terrorist attacks on the mainland during the 1970s.
"She's a feisty one. I'm her friend and her ally and I've also fought with her because we're both very opinionated," Vega said. "I've never ever been prouder of her."
She was no stranger to the mayor's office when she was elected in 2012. Cruz spent 20 years in Puerto Rican politics before her run, starting off with a stint as an adviser to Mayor Héctor Luis Acevedo in 1992. Before that Cruz spent 12 years on the mainland, much of that time at Boston University as an undergrad and Carnegie Mellon University's Heinz College of Information Systems and Public Policy. While there she was the first student to win the "spirit award" now presented annually to "the student with the greatest positive impact on the quality of life of their peers".
"She is a force of nature," Jon Nehlsen, an associate dean at the school told the Pittsburgh Gazette. "She's probably not 5ft 2in, but she's this ball of energy, very charismatic. You can just tell she exudes leadership qualities."

Jeremy Corbyn calls on Spanish government to end 'shocking' police violence as Catalans vote in independence referendum
Spanish riot police attack protesters in Barcelona. Catalan president Carles Puigdemont has told reporters that 'violence will not stop Catalans from voting. The Catalan government says 38 people have been treated by emergency services. Barcelona's mayor Ada Colau has called on prime minister Mariano Rajoy to resign and demanded police stop using violence against voters.
Human Rights Watch has released a statement calling on Spanish authorities to respect their citizens' right to peaceful assembly and refrain from using excessive force.
Details on voter turnout in the independence referendum are sparse at the moment.
Voting has been slow because the electronic census used to count the ballot is down, and people are voting on paper, according to Spanish media.
Stephen Burgen reports that police repression has been far from systematic. He says people from all over Catalonia are sending messages saying they are voting where there is no police presence.
Soraya Sáenz de Santamaría, the Spanish deputy prime minister, said in a press conference that the "absolute irresponsibility of the Catalan government has had to be dealt with by the professionalism of the state's security forces. With firmness and and proportionality we have thrown into disarray the Generalitat's plans. There hasn't been a referendum nor the semblance of one. Nothing good will come of this."
The Guardian's Sam Jones has spoken to Jesús López Rodríguez, a 51-year-old administrator who lives opposite the Ramon Llull school, who witnessed this morning's violent police raid on the polling station.
We were in the street from 5am. Hundreds of us were waiting to vote peacefully. The ballot boxes came at about 7.30am. Around eight o'clock, we saw seven national police vans. Half an hour later, the police came in riot gear with shields and helmets. They told us that the Catalan high court had ordered them to take the ballot boxes and they told us that we needed to disperse. We said, 'No! No! No!'. Then about 20 police officers charged us. It was short – about two minutes – and we stayed together. I heard the chief officer telling them to retreat. But they just stopped and stayed there for about 15 minutes.
Then eight or nine national vans came and they cordoned off the surrounding streets. We were pushing back and forth until they started to arrest people. They dragged people out violently. We stood our ground but they dragged people away, kicking them and throwing them to the ground … Lots more police came – maybe 100 or more. When they saw they couldn't get into the main building, they jumped over the fence and went in. They came out with ballot boxes 10 minutes later and they broke down the doors [of the school] with axes. They left with the ballot boxes.
There were a lot of police but we stayed there trying to vote. We looked around for other places to vote and then we came back. Half an hour later, we saw lots of police vans on Gran Vía. Then, at about 10.25am, they started to shoot rubber bullets – at least 30 or 40. People were running away, scared and totally defenceless. I ran towards the shots but my wife pulled me back. I was down there for a lot of hours this morning and I didn't hear one insult [towards the police] … I feel really angry about it but I also hope that people in Europe and around the world see what's happening in Catalonia.
Belgium PM condemns referendum violence
Belgium prime minister Charles Michel has spoken out against the violence and called for political dialogue.
He is the first world leader to do so.