04 Oct
News and Analyses, A Foreign Perspective
Nearly all of these are English-edition daily newspapers. These sites have interesting editorials and essays, and many have links to other good news sources. We try to limit this list to those sites which are regularly updated, reliable, with a high percentage of "up" time.
General Noriega's Dignity Battalions (CODEPADI) militia, a lot of whom were government workers, some of whom were thugs (and some, both). Automatic weapons were distributed in great numbers to these folks before the 1989 US invasion. When the attack began some fought bravely and well, but overall they did not amount to a significant military force. After the invasion many of their weapons were used in a great national crime wave and that experience informs Panamanian attitudes about guns.
Can we get down to reality about guns?
Gun LAWS, and gun POLICIES — those are complicated things about which to argue in the USA. They are much less complicated in Panama.
Would someone want to impose Panamanian gun restrictions on US society? To be fully enforced it would involve removing weapons from tens of millions of households, and a head-on challenge to a long-standing body of law.
We had a vice minister who started was US gun seller advertising talk in Panama, a man who said that more and more powerful weapons in public circulation here would make the country and its citizens safer. He found a little bit of libertarian support, but to most Panamanians he seemed to be something of a nut case, his ideas about our gun policies were rejected and when he was removed there were no demonstrations in his favor.
Let's get down to basic facts, after which we can marshall other facts and invoke philosophies for arguments that can go all sorts of ways
A firearm in the house does not make the members of the household safer. It makes it a more dangerous living situation. This is statistically shown in many countries, in settings both urban and rural, in high crime areas and in places without much of that sort of social problem.
The notion that if everyone can carry a gun then crime is reduced because a criminal gunman will be shot down by a non-criminal gunman is false. Sometimes it happens that way, but quite rarely. In Las Vegas, where the gun lobby has managed to get Nevada gun laws pretty much as it wants them to be, most of the 30,000 people at that concert had a right to carry a gun and surely some of them did. Nobody in that crowd shot back at the sniper. That's in line with the experience of almost all mass shootings everywhere.
Do people involved in dangerous businesses need guns for protection? Many are the tales of armed gangsters shot dead. The safe thing is to stay away from the rackets, not to go about an armed life of crime.
Take the "for protection" argument out of consideration. It's a delusion.
Beyond those basic facts we can freely debate whether Jesus Christ would want a senator who waves a pistol onstage at his campaign stops, or whether the Las Vegas sniper's right to ear protection by silencers on his weapons should have been superior to his targets' ability to hear what was going on and seek cover.
Set all that lunacy aside and still many jurisdictions, Panama included, might argue about the value of firearms hunting seasons. Panamanians in particular might want to talk about a constitution that calls for a militia commanded by the police in lieu of a military force, and what that implies about ordinary citizens' ability to use and maintain weapons. Gun laws, and gun policies, actually are complicated questions.
But let us consider such questions without fallacies that are propagated for the purpose of selling guns.
World Politics
United States
President Trump distributing aid supplies in Puerto Rico
This jackass appears as if he is throwing food to animals.
San Juan, Puerto Rico Mayor Carmen Yulin Cruz told President Donald Trump Tuesday that hurricane relief efforts on the island were "not about politics," days after Trump sparred with Cruz via Twitter over her criticism of the federal government's response.
"It's all about saving lives, it's not about politics," said Cruz to Trump as they shook hands following a briefing earlier in the day.
Trump accused Cruz of "poor leadership" and speculated that "Democrats" told her to "be nasty to Trump" in a barrage of tweets over the weekend after the mayor denounced a comment by the acting Homeland Security Secretary Elaine Duke, who said last week she thought the federal government's reach in Puerto Rico was "a good news story."
It was originally unclear if Trump and Cruz would meet, but on Tuesday morning Cruz announced that she had been invited to the briefing and had accepted.
"I will use this opportunity to reiterate the primary message: This is about saving lives, not about politics; this is also about giving the people of Puerto Rico the respect we deserve; and recognizing the moral imperative to do both," said Cruz prior to the meeting in a statement.
Trump touted the response to Hurricane Maria as he attended the briefing on relief efforts, noting that the territory's officials "can be proud" of the relatively low death toll on the island compared to Hurricane Katrina in 2005.
Noting that "every death is a horror," Trump called Katrina "a real catastrophe" given its "hundreds and hundreds and hundreds of people that died," before asking a Puerto Rican official for their "death count."
"Sixteen people certified," continued Trump after receiving a response. "Sixteen people versus in the thousands. You can be very proud of all of your people and all of our people working together. Sixteen versus literally thousands of people. You can be very proud."
Cruz characterized the president as having a "lack of sensibility" in an interview with CNN Tuesday afternoon. She later told the network that she felt the most productive part of the meeting came after Trump spoke when she was among a group that met with White House staffers.
"I truly believe that they finally saw the connection, or the disconnect, between what they were hearing on the one hand and the reality of what is happening on the ground," the mayor said.
Aboard Air Force One as he traveled back to Washington, Trump told reporters he heard no criticism during the visit and described the day as "terrific" and "great."
"They were so thankful for what we've done," he said. "We only heard 'thank yous' from the people of Puerto Rico…. I enjoyed very much being with them."
The meetings came as Trump visited the island in his fourth hurricane-related trip in the course of just over a month. Hurricane Maria carved a path of destruction across Puerto Rico two weeks ago in a storm season that has already seen hurricanes Harvey and Irma create billions of dollars in damage in Texas, Louisiana and Florida.
Trump specifically commented during the briefing on the high cost of rebuilding the island and restoring its infrastructure following the storm.
"I hate to tell you, Puerto Rico, but you've thrown our budget a little out of whack," said Trump. "Because we've spent a lot of money on Puerto Rico and that's fine. We saved a lot of lives."
The president's trip came amid some criticism over the federal government's response to the island twice hit by a hurricane in the past month. The president has repeatedly defended the federal response.
"It's been amazing what's been done in a very short period of time on Puerto Rico," the president said in the Oval Office Monday.
The island is still grappling with the damage caused by Hurricane Maria and deeply plunged in recovery efforts. Only 47 percent of the island's water customers have access to potable water and 95 percent of Puerto Rico is still without power, according to the office of Puerto Rico's governor.
ABC News' Jordyn Phelps contributed to this report.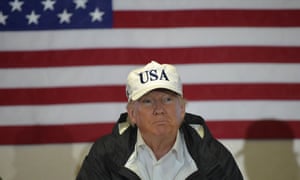 In a Republican-controlled Congress, Democrats know the odds are against them. But they may have an unlikely ally in Trump, whose views on gun control have shifted. Photograph: Mandel Ngan/AFP/Getty Images
Donald Trump faces a test of temperament on Wednesday as he visits Las Vegas, the scene of the deadliest mass shooting in modern US history, with Democrats stepping up political pressure for tighter gun laws.It has become a grim ritual for American presidents to visit the scenes of mass murder and gun violence, burdened by expectations that they will be dignified, rise above party politics and perform the unifying role of head of state.But Trump is already notorious for divisive rhetoric at key national moments, including after the racially charged violence in Charlottesville, Virginia, in August. The National Rifle Association was crucial to his election and he was the first sitting president since Ronald Reagan to address its annual conference, where he vowed to defend the second amendment.
Since the gunman, identified by police as Stephen Paddock, opened fire from his hotel room, killing at least 59 people and injuring more than 500 at a country music festival on Sunday night, Trump has struck a measured tone. But on the ground in Las Vegas, where he is expected to meet the state governor and city mayor, and possibly visit survivors in hospital, there will be no shortage of opportunities for a jarring remark. On Tuesday, visiting hurricane hit Puerto Rico, he joked: "I hate to tell you, Puerto Rico, but you've thrown our budget a little out of whack. But that's fine because we've saved a lot of lives."Democrats intend to throw down the gauntlet before Trump's plane touches down by staging a high profile event on the front steps of the US Capitol building in Washington. Congressman and civil rights veteran John Lewis and former congresswoman Gabby Giffords, who survived a shooting in 2011, will be among those calling for the immediate passage of legislation to strengthen background checks on gun buyers, as well as creating a bipartisan select committee on gun violence.
In a Republican-controlled Congress, Democrats know the odds are against them. But they think they may have an unlikely ally in Trump, whose views on gun control have shifted since he ran for president as a Republican. Past incidents – such as visceral TV images of children killed by poison gas in Syria – suggest that Trump can be swayed by direct appeals to the heart. On Tuesday the president said: "We'll be talking about gun laws as time goes by."In a floor speech, Chuck Schumer, the Senate minority leader, called on Trump to bring together leaders of Congress as a sign to both sides that he is "ready and willing to address this issue of gun safety head-on".Activists and even comedians have called on Trump, who ran as an anti-Washington outsider, to act. Late night TV host Stephen Colbert said: "You do not owe the Republicans anything. You know the Republicans tried to stop you from being president; well screw 'em. You want to make America great again, do something the last two presidents have been unable to do: pass any kind of commonsense gun control legislation that the vast majority of Americans want."Democrats are weary from years of political stalemate over gun control. Senator Chris Murphy, from Connecticut, was visibly frustrated on Tuesday when he condemned members' "utter silence" in response to ever-rising toll of mass shootings and called their inaction "unintentional complicity".
"In the minds of these mad men when they see Congress doing absolutely nothing, shooting after shooting – they read that as quiet acceptance of the carnage," Murphy told reporters on Capitol Hill. "It has to stop."Joined by four colleagues, the Democratic senators outlined "a menu" of gun control measures they planned to introduce, including to expand background checks and to restrict people convicted of domestic violence from obtaining a gun. Senator Dianne Feinstein of California also plans to reintroduce a bill that would ban bump-stocks and similar devices, which Murphy said he believes could attract bipartisan support.Senator Bob Casey, a Democrat of Pennsylvania, cited himself as an example of how one incident can change hearts and minds. Before the 2012 massacre of 26 young children and teachers in Newtown, Connecticut, Casey opposed additional gun restrictions. He said he realised then that opposing slate of gun control measures brought forward that session meant accepting that nothing could change.
Spanish monarch uses strongly worded television address to chastise Catalan president, Carles Puigdemont, for attempting to break the 'unity of Spain'
King Felipe accuses Catalan authorities of fracturing Spanish solidarity – videoKing Felipe of Spain has accused the Catalan authorities of attempting to break "the unity of Spain" and warned that their push for independence could risk the country's social and economic stability.In a rare and strongly worded television address on Tuesday evening, he said the Catalan government's behaviour had "eroded the harmony and co-existence within Catalan society itself, managing, unfortunately, to divide it".
Speaking two days after the regional government's unilateral independence referendum, in which 90% of participants opted to secede from Spain, he described Catalan society as "fractured" but said Spain would remain united.The king made no mention of the violence that marred the referendum when Spanish police officers raided polling stations, beat would-be voters and fired rubber bullets at crowds.Instead, he focused on the actions of the government of the Catalan president, Carles Puigdemont."These authorities have scorned the attachments and feelings of solidarity that have united and will unite all Spaniards," he said. "Their irresponsible conduct could even jeopardise the economic and social stability of Catalonia and all of Spain.The king's speech followed a BBC interview with Puigdemont in which he vowed to press ahead with a declaration of independence, saying the regional government would "act at the end of this week or the beginning of next".
Puigdemont has previously said independence would be declared within 48 hours of a successful yes vote. He also warned the Spanish government that any attempt by Madrid to suspend regional autonomy and take control of Catalonia's institutions would be "an error which changes everything".In his speech, the king described the regional government actions as "an unacceptable attempt" to take over Catalan institutions, adding that they had placed themselves outside both democracy and the law."They have tried to break the unity of Spain and its national sovereignty, which is the right of all Spaniards to democratically decide their lives together," he said."Given all that – and faced with this extremely grave situation, which requires the firm commitment of all to the common interest – it is the responsibility of the legitimate state powers to ensure constitutional order and the normal functioning of the institution, the validity of the rule of law and the self-government of Catalonia, based on the constitution and its statute of autonomy."King Felipe went on to address himself to all Spaniards – "particularly the Catalans" – telling them that Spain had now lived in a state of democracy for decades and was a country in which anyone was permitted to defend their ideas as long as they respected the law."Without that respect, no democratic co-existence is possible in peace and liberty; neither in Catalonia, nor the rest of Spain, nor anywhere in the world."He said he was also well aware of the worry that the behaviour of the regional government had caused many in Catalonia."I tell them: they are not alone, nor will they be. They have all the support and solidarity of the rest of the Spaniards, and the absolute guarantee of our rule of law in defending their liberty and rights.
"To all Spaniards, who have been living through these events with sadness and unease, I want to send a message of calm, confidence and hope. These are difficult moments, but we will overcome them."They are very complicated moments, but we will forge ahead because we believe in our country and we feel proud of what we are because our democratic principles are strong and solid. And they are like that because they are based on the desire of millions and millions of Spaniards to live together in peace and freedom."He said the Spain of recent decades had been built on such principles and would continue to abide by them.