07 Oct
News and Analyses, A Foreign Perspective
Nearly all of these are English-edition daily newspapers. These sites have interesting editorials and essays, and many have links to other good news sources. We try to limit this list to those sites which are regularly updated, reliable, with a high percentage of "up" time.
Erika Kinetz
It is no secret that the bulk of Ivanka Trump's merchandise comes from China. But just which Chinese companies manufacture and export her handbags, shoes and clothes is more secret than ever, an Associated Press investigation has found.
IN THE months since she took her White House role, public information about the companies importing Ivanka Trump goods to the US has become harder to find.
Information that once routinely appeared in private trade tracking data has vanished, leaving the identities of companies involved in 90% of shipments unknown.
Even less is known about her manufacturers. Trump's brand, which is still owned by the first daughter and presidential adviser, declined to disclose the information.
The deepening secrecy means it's unclear who Ivanka Trump's company is doing business with in China, even as she and her husband, Jared Kushner, have emerged as important conduits for top Chinese officials in Washington.
The lack of disclosure makes it difficult to understand whether foreign governments could use business ties with her brand to try to influence the White House — and whether her company stands to profit from foreign government subsidies that can destroy American jobs.
Such questions are especially pronounced in China, where state-owned and state-subsidised companies dominate large swathes of commercial activity.
"There should be more transparency, but right now we do not have the legal mechanism to enforce transparency unless Congress requests information through a subpoena," said Richard Painter, who served as chief White House ethics lawyer for George W. Bush, and is part of a lawsuit against President Donald Trump for alleged constitutional violations.
"I don't know how much money she's making on this and why it's worth it. I think it's putting our trade policy in a very awkward situation."
An AP review of the records that are available about Ivanka Trump's supply chain found two potential red flags. In one case, a province in eastern China announced the award of export subsidies to a company that shipped thousands of Ivanka Trump handbags between March 2016 and February of this year, Chinese public records show — a possible violation by China of global fair trade rules, trade experts said.
AP also found that tonnes of Ivanka Trump clothing were exported from 2013 to 2015 by a company owned by the Chinese government, according to public records and trade data.
It is unclear whether the brand is still working with that company, or other state-owned entities. Her brand has pledged to avoid business with state-owned companies now that she's a White House adviser, but contends that its supply chains are not its direct responsibility.
Ivanka Trump's brand doesn't actually make its products directly. Instead, it contracts with licensees who oversee production of her merchandise. In exchange, those licensees pay the brand royalties. AP asked Ivanka Trump's brand for a list of its suppliers. The company declined to disclose them. The clothing, footwear and handbag licensees contacted by AP also declined to reveal source factories.
Trump's Democratic opponents have previously faulted Ivanka Trump for outsourcing the production of her company's branded goods to Chinese factories with questionable working conditions.
Democratic National Committee spokesman Daniel Wessel cited the AP's reporting to argue that the secrecy around her brand's subcontracting relationships could conceal potential conflicts of interest.
"What we don't know is the extent to which foreign governments could use, or are already using, her business ties to try to influence the White House," he said.
World Politics
United States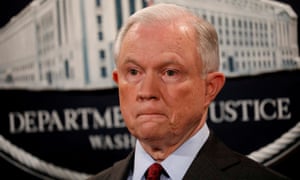 In issuing the memo, Jeff Sessions is injecting the department into a thicket of highly charged legal questions that have repeatedly reached the US supreme court. Photograph: Aaron Bernstein/Reuters
Guardian staff and agencies
The attorney general, Jeff Sessions, on Friday issued a sweeping directive that undercuts federal protections for LGBT people, telling agencies to do as much as possible to accommodate those who claim their religious freedoms are violated.
In response, one LGBT rights advocate called the directive a "license to discriminate" and "an attack on the values of freedom and fairness that make this nation great".
Also on Friday, the Trump administration issued a new rule that substantially undermines women's access to birth control under the Affordable Care Act.
The Sessions directive, an attempt to deliver on Donald Trump's pledge to evangelical supporters that he will protect religious liberties, effectively lifts a burden from religious objectors to prove their beliefs about marriage or other topics are sincerely held.
A claim of a violation of religious freedom will now be enough to override many anti-discrimination protections for LGBT people, women and others.
The guidelines are so sweeping that experts on religious liberty called them a legal powder keg that could prompt wide-ranging lawsuits against the government.
"This is putting the world on notice: you better take these claims seriously," Robin Fretwell Wilson, a law professor at the University of Illinois at Urbana-Champaign, told the Associated Press. "This is a signal to the rest of these agencies to rethink the protections they have put in place on sexual orientation and gender identity."
Rebecca Isaacs, executive director of the Equality Federation, said in a statement: "This license to discriminate is an attack on the values of freedom and fairness that make this nation great. It opens the door for discrimination in the workplace and public services, flying in the face of the majority of Americans of whom over 70% believe laws should protect LGBTQ people from discrimination.
"The Trump administration's ongoing attempts to undermine LGBTQ Americans' ability to provide for themselves and their families without fear of discrimination highlights the urgent need for national nondiscrimination protections, which are supported by the vast majority of Americans."
Trump announced plans for the directive last May in a Rose Garden ceremony, surrounded by religious leaders. Since then, religious conservatives have awaited the justice department guidance, hoping for greatly strengthened protections for their beliefs amidst a rapid national acceptance of LGBT rights.
Religious liberty experts said they would have to see how the guidance would be applied by individual agencies, both in crafting regulations and deciding how to enforce them. But experts said the directive clearly tilted the balance very far in favor of people of faith who do not want to recognize same-sex marriage.
"Except in the narrowest circumstances, no one should be forced to choose between living out his or her faith and complying with the law," Sessions wrote. "To the greatest extent practicable and permitted by law, religious observance and practice should be reasonably accommodated in all government activity."
The document lays the groundwork for legal positions the Trump administration intends to take in religious freedom cases, envisioning sweeping protections for faith-based beliefs and practices in private workplaces and government jobs and even in prisons.
In issuing the memo, Sessions, a deeply devout Methodist from Alabama, is injecting the department into a thicket of highly charged legal questions that have repeatedly reached the US supreme court, most notably in the 2014 Hobby Lobby case that said corporations with religious objections could opt out of a health law requirement to cover contraceptives for women.
The memo makes clear the justice department's support of that opinion in noting that the primary religious freedom law, the Religious Freedom Restoration Act of 1993, protects the rights not only of people to worship as they choose but also of corporations, companies and private firms.
The document also says the government improperly infringes on individuals' religious liberty by banning an aspect of their practice or by forcing them to take an action that contradicts their faith. As an example, justice department lawyers say government efforts to require employers to provide contraceptives to their workers "substantially burdens their religious practice".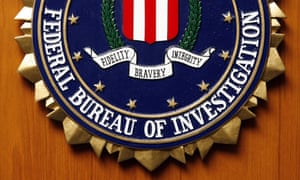 An FBI report describes a likely 'increase in premeditated, retaliatory lethal violence against law enforcement'. Photograph: Michael Sohn/Associated Press
The US government has declared "black identity extremists" a violent threat, according to a leaked report from the FBI's counter-terrorism division.
The assessment, obtained by Foreign Policy, has raised fears about federal authorities racially profiling activists and aggressively prosecuting civil rights protesters.
The report, dated August 2017 and compiled by the Domestic Terrorism Analysis Unit, said: "The FBI assesses it is very likely Black Identity Extremist (BIE) perceptions of police brutality against African Americans spurred an increase in premeditated, retaliatory lethal violence against law enforcement and will very likely serve as justification for such violence." Incidents of "alleged police abuse" have "continued to feed the resurgence in ideologically motivated, violent criminal activity within the BIE movement".
The FBI's dedicated surveillance of black activists follows a long history of the US government aggressively monitoring protest movements and working to disrupt civil rights groups, but the scrutiny of African Americans by a domestic terrorism unit was particularly alarming to some free speech campaigners.
"When we talk about enemies of the state and terrorists, with that comes an automatic stripping of those people's rights to speak and protest," said Mohammad Tajsar, staff attorney with the American Civil Liberties Union. "It marginalizes what are legitimate voices within the political debate that are calling for racial and economic justice."
The FBI did not immediately respond to the Guardian's request for comment on Friday, but defended its tracking of "black identity extremists" in a statement to Foreign Policy, claiming the "FBI cannot initiate an investigation based solely on an individual's race, ethnicity, national origin, religion, or the exercise of First Amendment rights".
The FBI's report noted specific cases of recent violence against police, most notably Micah Johnson, a 25-year-old shooter in Dallas who killed five officers and said he was targeting white people and law enforcement. Black Lives Matter – a movement protesting the disproportionate killings of black citizens by police in the US – had no ties to Johnson or other targeted killings of police and has condemned those shootings.
The number of police officers killed on the job also remains a fraction of the number of citizens killed by officers each year, and statistics suggest that more white offenders than black offenders kill officers.
The new FBI report said "BIE violence" peaked in the 1960s and 1970s "in response to changing socioeconomic attitudes and treatment of blacks", adding that possible indicators today for "BIEs posing a violent threat to law enforcement" include "violent anti-white rhetoric" and "attempts to acquire illegal weapons or explosives". BIE appears to be a very new term within law enforcement, Foreign Policy noted.
Elsa Waithe, a comedian and activist with Black Lives Matter, said she feared the FBI's classification could deter people from joining protests and further "criminalize anyone who is already in the movement".
She noted that she often wears a "black power" button and could easily see the FBI labeling her as a threat as a result: "The term 'black identity extremist' is so vague on purpose … If I wanted to do a picnic for black folks, is this now some sort of terrorist activity?"
But law enforcement threats would not discourage her, she said. "This changes nothing. For some people, this means we fight harder."
Some reports have suggested that the Trump administration has also pushed to focus counter-terrorism efforts solely on Islamist extremism and no longer target white supremacist groups. The president further faced significant backlash in August for saying there were "very fine people" on both sides of a neo-Nazi rally where a civil rights activist was killed by an alleged white nationalist.
The FBI document seemed to be aligned with far-right figures who have increasingly called Black Lives Matter a terrorist group, some comparing it to the Ku Klux Klan, noted Tajsar.
In the week since the mass shooting in Las Vegas left nearly 60 people dead and hundreds injured, Americans have spoken out in outrage and grief, demanding action. They have asked, again: why can't the US pass any gun control laws?
At the same time, just as they did after Sandy Hook and San Bernardino and Orlando, these passionate advocates have endorsed some gun control laws with very little evidence behind them, even some policies that experts have labeled "fundamentally not rational" or a "hysterical" violation of civil rights. The great bipartisan gun control victory of this year may be new restrictions on "bump stocks", a "range toy" used to make a semi-automatic rifle fire more like a fully automatic rifle, which arguably should never have been legal in the first place. That won't do much to reduce America's more than 36,000 annual gun suicides, homicides, fatal accidents, and police killings.
Why does the US feel so paralysed every time it is confronted by a new attack?
Jon Stokes, a writer and software developer, said he is frustrated after each mass shooting by "the sentiment among very smart people, who are used to detail and nuance and doing a lot of research, that this is cut and dried, this is black and white".
Stokes has lived on both sides of America's gun culture war, growing up in rural Louisiana, where he got his first gun at age nine, and later studying at Harvard and the University of Chicago, where he adopted some of a big-city resident's skepticism about guns. He's written articles about the gun geek culture behind the popularity of the AR-15, why he owns a military-style rifle, and why gun owners are so skeptical of tech-enhanced "smart guns".
He watches otherwise thoughtful friends suddenly embrace one gun control policy or another, as if it were a magic bullet.
"Some kind of animal brain kicks in, and they're like, 'No, this is morally simple.'"
Even to suggest that the debate is more complicated – that learning something about guns, by taking a course on how to safely carry a concealed weapon, or learning how to fire a gun, might shift their perspective on whichever solution they have just heard about on TV – "just upsets them, and they basically say you're trying to obscure the issue".
"I don't want to see that kid dead any more than you do," Stokes said. "If there was a magic fix, I promise you I would support it."
In early 2013, a few months after the mass shooting at Sandy Hook elementary school, a Yale psychologist created an experiment to test how political bias affects our reasoning skills. Dan Kahan was attempting to understand why public debates over social problems remain deadlocked, even when good scientific evidence is available. He decided to test a question about gun control.
Kahan gave study participants – all American adults – a basic mathematics test, then asked them to solve a short but tricky problem about whether a medicinal skin cream was effective or ineffective. The problem was just hard enough that most people jumped to the wrong answer. People with stronger math skills, unsurprisingly, were more likely to get the answer right.
Then Kahan ran the same test again. This time, instead of evaluating skin cream trials, participants were asked to evaluate whether a law banning citizens from carrying concealed firearms in public made crime go up or down. The result: when liberals and conservatives were confronted with a set of results that contradicted their political assumptions, the smartest people were barely more likely to arrive at the correct answer than the people with no math skills at all. Political bias had erased the advantages of stronger reasoning skills.
The reason that measurable facts were sidelined in political debates was not that people have poor reasoning skills, Kahan concluded. Presented with a conflict between holding to their beliefs or finding the correct answer to a problem, people simply went with their tribe.
It wasa reasonable strategy on the individual level – and a "disastrous" one for tackling social change, he concluded.
When it comes to guns, Americans want it both ways. A recent Pew study found that just over half of Americans want stronger gun laws. Even stronger majorities of Americans also believe that most people should be allowed to legally own most kinds of guns – and allowed to carry them in most places.
There is room for thoughtful gun control within these constraints. But the extreme polarization of America's gun debate – the assumption, as the late-night television host Stephen Colbert argued when talking about the Las Vegas shooting, that "the bar is so low right now that Congress can be heroes by doing literally anything" – obscures how symbolic and marginal some of the most nationally prominent gun control measures are. Like closing the "terror gap", so that people on terror watchlists are not allowed to buy guns, or rolling back an Obama order on guns and mental illness that had been opposed by disability rights groups and civi liberties campaigners.
A lost leopard, a wounded rhino and a sunbathing iguana are among this week's pick of images from the natural world