09 Oct
News and Analyses, A Foreign Perspective
Nearly all of these are English-edition daily newspapers. These sites have interesting editorials and essays, and many have links to other good news sources. We try to limit this list to those sites which are regularly updated, reliable, with a high percentage of "up" time.
World Politics
Netherlands
United States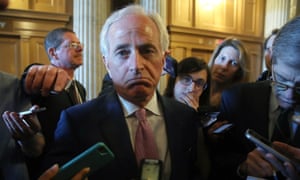 Senator Bob Corker speaks to reporters on Capitol Hill. Photograph: Mark Wilson/Getty Images
Donald Trump's fractious relationship with the Republican establishment reached a bizarre new level on Sunday when Senator Bob Corker described the White House as an "adult day care center" and warned that the president risked setting the US "on the path to World War III".
An extraordinary exchange between Trump and the chair of the Senate foreign relations committee began when Trump accused Corker, who is retiring, of "not having the guts" to run for re-election.
In response, Corker tweeted: "It's a shame the White House has become an adult day care center. Someone obviously missed their shift this morning."
Trump also said that Corker had "begged" him for an endorsement for re-election. "He also wanted to be secretary of state, I said 'NO THANKS.'," Trump tweeted. "He is also largely responsible for the horrendous Iran deal!"
In a statement to the Guardian, Corker's chief of staff, Todd Womack, directly contradicted Trump. "The president called Sen Corker on Monday afternoon and asked him to reconsider his decision not to seek re-election and reaffirmed that he would have endorsed him, as he has said many times," he said.
Corker was considered for both vice-president and secretary of state and was a key Trump ally during much of the 2016 campaign. He has since become a vocal critic.
In an interview with the New York Times later in the day, Corker said he was alarmed about a president who acts "like he's doing The Apprentice or something" a reference to the reality television show Trump had once hosted.
"He concerns me. He would have to concern anyone who cares about our nation," the senator said, adding that Trump's threats towards other countries could set the nation "on the path to World War III".
Corker is an important and supportive voice on the deal between Iran and six major nations including the US that restricts Tehran's pursuit of nuclear weapons. It was reported this week that Trump, against the wishes of senior advisers, will not re-certify the deal. That would put it in the hands of Congress, which would decide whether to reimpose sanctions, a move that would threaten the deal's existence.
Corker announced his decision to retire last month. "The most important public service I have to offer our country could well occur over the next 15 months," he said, hinting at his opposition to the president. "I want to be able to do that as thoughtfully and independently as I did the first 10 years and nine months of my Senate career."
The president called Senator Corker on Monday … and reaffirmed that he would have endorsed him

Todd Womack, Corker chief of staff
Last week, he made he made headlines when he implied that Trump was leading the US to the brink of "chaos".
Speaking to reporters on Capitol Hill about reports that the US secretary of state, Rex Tillerso,n called Trump a "fucking moron" and considered resigning, Corker said: "I think Secretary Tillerson, Secretary [of defense Jim] Mattis and Chief of Staff [John] Kelly are those people that help separate our country from chaos."
Asked if he was referring to Trump, he said: "[Mattis, Kelly and Tillerson] work very well together to make sure the policies we put forth around the world are sound and coherent. There are other people within the administration that don't. I hope they stay because they're valuable to the national security of our nation."
On Wednesday, Tillerson denied he had thought of resigning but did not say he had not called the president a moron, leading to reports of presidential fury. Speaking briefly to reporters on Saturday, Trump said he and Tillerson had "a very good relationship" but said the secretary of state could be "tougher".
Last weekend, the president, who in his debut at the United Nations said the US could "totally destroy" North Korea, slapped down his top diplomat over efforts to pursue talks. On Saturday, Trump tweeted that "only one thing will work" to rein in Pyongyang. In his remarks to the press, he refused to clarify what that meant.
Corker has also said he could oppose moves by Trump and congressional Republicans to pass tax reform, a priority after the repeated failure of attempts to repeal and replace the Affordable Care Act. Corker has insisted that any changes to the tax code must reduce the deficit. Trump's plan would likely increase it. Republicans hold a slim 52-48 majority in the Senate, making defections costly.
Later on Sunday, Trump tweeted again: "Bob Corker gave us the Iran deal, & that's about it. We need HealthCare, we need Tax Cuts/Reform, we need people that can get the job done!"
Trump's endorsement for Senate races, meanwhile, may be of dubious utility. Last month in Alabama, Luther Strange, the man Trump endorsed for the seat vacated by the attorney general, Jeff Sessions, lost a party primary runoff to Roy Moore, a hardline conservative twice removed from the state supreme court.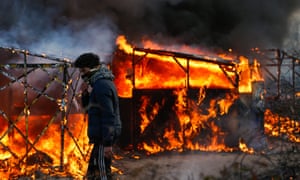 Shelters at the Calais refugee camp ablaze at the start of the clearing operation. Photograph: Laurent Dubrule/EPA
Owen Bowcott Legal affairs correspondent
Hundreds of unaccompanied children claiming to have relatives in Britain are stranded in France where their asylum cases are not being actively considered, senior human rights lawyers have said.
A study by the human rights committee of the bar (BHRC), released a year after the demolition of the Calais refugee camp, warns that as many as 400 children are trapped in France and are still vulnerable to trafficking, abuse and disease.
The allegations that asylum applications are not being properly considered is disputed by the Home Office, which points to six alternative legal routes by which children can still enter the UK.
These include the Syrian vulnerable persons resettlement scheme and refugee family reunion programmes. More than 900 unaccompanied, asylum-seeking children were allowed into the UK from Europe in 2016, according to the Home Office, which insists that it works closely with EU states on applications.
Barristers from the committee were among a small number of legal observers present when shacks and temporary accommodation on the site were dismantled by the French authorities at the end of October last year.
"Children were subjected to a chaotic and unlawful age verification and registration process, based in many cases on physical appearance alone," the report by Kirsty Brimelow QC and Jelia Sane, who were in the camp, says. "The methods employed by officials were arbitrary and discriminatory."
"[The committee] has learned that family reunion cases under Dublin III [EU asylum regulations] were poorly handled such that an estimated 400 unaccompanied minors claiming to have relatives in the UK are now stranded in France having had no proper decisions on their cases."
Children refused asylum at the time were not given an opportunity to challenge age assessments which put them over the age of 18, the barristers maintain, a failure compounded by restrictions imposed by French officials on lawyers giving advice.
Two officials from the organisation France Terre D'Asile, which conducted assessments on teenage migrants in Calais, resigned in protest and were "appalled at what they had witnessed", the report says.
"They reported that even children who had identity documents were being expelled from the queue if their appearance did not fit," according to the barristers.
"The delegation heard reports that guidelines which should have been followed were severely curtailed or ignored due to lack of time. This resulted in adults being assessed as children and vice versa."
Unaccompanied migrant children are living in overcrowded and squalid conditions across the EU, Brimelow and Sane point out. "Children are often found in emergency accommodation such as hotels or schools with no reliable access to food, water, sanitation, official information or any form of legal advice.
"Others sleep in car parks, train stations, hospital waiting rooms or on the streets. At borders, in 'hotspots' and in camps, children regularly witness violence or are subjected to violence themselves. An increase in numbers has meant that any child-specific facilities that do exist now are overstretched."
The BHRC condemns the government's decision to impose a limit on the number of children let into the UK under the emergency Dubs scheme.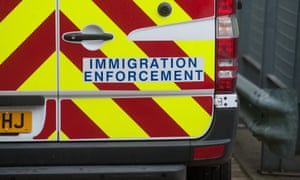 A Home Office immigration enforcement van. In some cities almost a third of those stopped were UK nationals. Photograph: Alamy
Damien Gayle, Charles Boutaud and Adam Cantwell-Corn
One in five people stopped by immigration enforcement teams in Britain's biggest cities is a UK national, according to newly revealed figures that critics say cast doubt on official claims that such stops are "intelligence-led".
The figures, obtained through freedom of information requests, show that out of 102,552 stopped in the past five years, 19,096 – 18.6% – were British citizens. Lawyers say they lend credence to suspicions of unlawful racial profiling.
The Bureau of Investigative Journalism (TBIJ), working with the Bristol Cable, obtained the new Home Office data after repeated attempts by officials to block their requests stalled its release for seven months.
The data, which covers 11 of the largest cities in England, Wales and Scotland, shows that in London alone, 8,002 British citizens were stopped. In Sheffield and Glasgow, nearly a third of those stopped were British citizens.
In each city, British citizens were the most stopped nationality, despite Home Office guidance which states that stops must be carried out on "an intelligence-led basis".
Immigration enforcement is the Home Office body responsible for tracking down people who are in the country illegally and ensuring they return to their home countries. In recent years their liveried vans have become an increasingly common sight in areas with large migrant communities.
Two barristers at Garden Court Chambers, Chris Williams and Nicola Braganza, who analysed the data, concluded that "by reason of those individuals being British, by definition, any intelligence relied on to spot-check them must have been wholly flawed".
Prominent Glasgow human rights lawyer Aamer Anwar told TBIJ: "There is definitely racial profiling going on, and we're increasingly concerned about the intelligence."
In light of the findings, Walthamstow MP Stella Creasy, Manchester Gorton MP and shadow immigration minister Afzal Khan, Hampstead and Kilburn MP Tulip Siddiq and Bristol West MP Thangam Debbonaire told TBIJ they would call on the Home Office to review its procedures.
"These statistics reveal a system which seems arbitrary, unsophisticated and possibly discriminatory to British citizens simply trying to go about their day," Siddiq said. "I hope the Home Office will reflect on these figures and consider whether their current approach is fit for the challenges they are seeking to address."
It is not the first time that immigration enforcement has been accused of racial profiling. In 2013, the Equality and Human Rights Commission wrote to the Home Office after human rights campaigners and politicians raised concerns that immigration officers were using racial profiling techniques at public transport hubs.
Jeremy Corbyn – then a backbencher – raised the issue in parliament, saying that he had witnessed such stops at tube stations in London. In response, the then immigration minister, Mark Harper, insisted "we do not stop people at random; we are not empowered to do so by law". He added: "We stop people when we think there is intelligence to indicate that they are breaking our immigration laws."
Opinion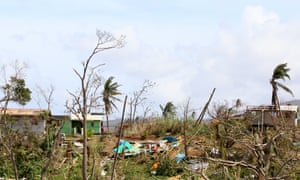 Devastation on the island of Dominica in the wake of Hurricane Maria. Photograph: Jose Jimenez/Getty Images
Dr Michael Taylor
A

s a Caribbean climate scientist, I am often asked to speak about how climate change affects small islands. In the aftermath of Hurricane Maria, one of two category five storms to batter the eastern Caribbean in just a week, three words resonate in my mind.
The first word is "unfamiliar". Scientific analysis shows that the climate of the Caribbean region is already changing in ways that seem to signal the emergence of a new climate regime. Irma and Maria fit this pattern all too well. At no point in the historical records dating back to the late 1800s have two category five storms made landfall in the small Caribbean island chain of the eastern Antilles in a single year.
The intensification almost overnight from a tropical storm to a category five hurricane and the devastating intensity that lingered for several days are also unfamiliar, even to a region that is used to seeing hurricanes. Alongside other emerging climate patterns, there is a strong case to be made that there is something unfamiliar about the Caribbean's climate today. We are seeing repeated and prolonged droughts, an increase in the number of very hot days, intense rainfall events causing repeated localised flooding, and rising sea levels that are consuming the beautiful beaches on which tourism in our region depends.
The problem with unfamiliarity is that daily existence in the Caribbean is built on familiar patterns of climate. Our economies are premised on industries and sectors that are extremely sensitive to climate variations, such as tourism and agriculture. In a year that follows expected patterns and pulls no surprises, we see favourable economic growth and improvements in our quality of life. Even when we've seen bad weather, we have always had a certain familiarity with the limits of how bad it can be. Until now, newer infrastructure in the Caribbean has largely withstood the ravages of hurricanes and tropical storms, as their design has accounted for the upper bounds of extreme weather experienced in the past.
Irma and Maria threw out the notion of planning and preparedness based on the expected and the familiar. Their ferocity destroyed even the strongest evacuation shelters and brought devastation of catastrophic proportions to our tiny islands. Just as climate change is heralding in an era marked by the unfamiliar, we need a paradigm shift in our approach to development planning in highly vulnerable regions.
The second word that comes to mind is "unprecedented". A business-as-usual scenario without global action suggests that by the end of the current century, the Caribbean region will warm a further 2-3C over the 1C already seen in the last century. We project annual rainfall amounts will decrease by up to 40%, posing a significant challenge to already water stressed islands. Projections also show sea levels rising by 1-2 metres, far exceeding the rise already recorded.
Most frighteningly, given our experience in the last few weeks, is the expectation that we will see more of the strongest tropical Atlantic hurricanes (though not necessarily more overall). Cumulatively, the science of projections suggests that the region's climate will be altered beyond recognition. This is to say, it will be outside the bounds of our lived experience to date. It will not just be unfamiliar at times, it may be unprecedented all the time.
The stocktaking is hardly complete from Irma and Maria. Yet for Barbuda and Dominica at least, the setback to their economies will be measured in years. The initial estimates for rebuilding are staggering. Perhaps even more heartbreaking is the loss of those things that are economically unquantifiable. The drastic reductions in living standards, especially for the most vulnerable, that will continue for months to come. The loss of irreplaceable culture and cultural assets, the mental anguish and loss of lives, the loss of biodiversity, and the destruction of "island life" as we know it.
The small island of Barbuda, for the first time in 300 years, has no human inhabitants. They were all evacuated after the devastation wreaked by Irma and in anticipation of Jose and Maria. This seems to portend the challenge that climate change represents for the Caribbean region – a challenge that becomes more acute as the era of the unprecedented is ushered in faster than the region can prepare for its onset.
Finally, the third word that comes to mind is "urgent". Admirably, although the Caribbean islands are minuscule emitters of greenhouse gases, they have made bold commitments regarding future use. But in the end, the future viability of the region is premised on collective global action to reduce greenhouse gas emissions. It is for this reason that the Caribbean and other small island and developing states have argued for a limit to global warming of 1.5C. It is this message that must reach the global community when they see the images of Irma and Maria. For those in the Caribbean, the lessons are all too clear.
•
Dr Michael Taylor is a physicist based at the University of the West Indies