10 Oct
News and Analyses, A Foreign Perspective
Nearly all of these are English-edition daily newspapers. These sites have interesting editorials and essays, and many have links to other good news sources. We try to limit this list to those sites which are regularly updated, reliable, with a high percentage of "up" time.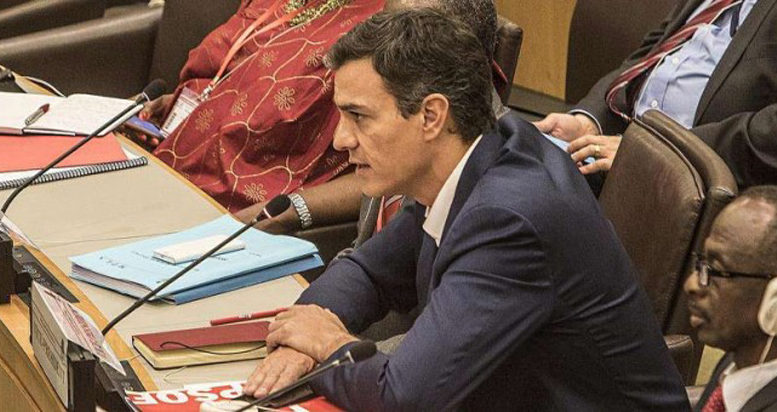 • PSOE leader re-elected to Socialist Internat'l VP post during meeting at UN
• Sees rights, equality, environment as key to multilateral response to Trump
In a speech delivered Tuesday during a meeting of the Socialist International Council at the United Nations, Spanish Socialist party (PSOE) Secretary General Pedro Sánchez called on democratic-socialist and labour parties worldwide to face the challenge posed by the unilateral and isolationist policies of the administration of U.S. President Donald Trump by uniting around a new "eco-progressive multilateralism" that puts human rights, the fight against inequality, the environment and peace at the center of the world's agenda.
Sánchez, who was re-elected to one of the four Vice-President positions of the Socialist International at the two-day meeting hosted at UN Headquarters in New York, told assembled delegates that democratic-socialist and progressive parties worldwide need to come together to reinvigorate and coordinate global action against the kind of isolationism and ultra-nationalism exemplified by the current U.S. administration since Trump's inauguration in January.
Speaking to reporters before the meeting, Sánchez said that the election of Trump has "raised awareness" and "spurred resolve" among progressives in the United States and around the world and should be seen in Europe "as an impetus to strengthen our volition" to fight for a "fair globalization" in the face of neoliberal economic models that have failed to provide social and economic justice around the world.
Sánchez previously held a Vice-Presidency seat of the Socialist International, but after his ouster as PSOE secretary general last year in an internal party coup was replaced in that post by Javier Fernández, the interim caretaker leader of the PSOE.  As a result of his successful campaign for re-election to the PSOE's top leadership position, Sánchez was re-elected in New York to the council of the global socialist organisation, which represents 150 democratic-socialist and labour parties and political worldwide.
World Politics
United States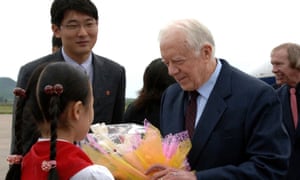 Jimmy Carter on a visit to Pyongyang in 2010 to try to win the release of a jailed American. Photograph: KCNA/Reuters
Jimmy Carter has reportedly said he is willing to meet North Korean leader Kim Jong-un in a bid to defuse tensions over Pyongyang's nuclear and missile programmes, and bring "permanent peace" to the Korean peninsula.
In an intervention that is likely to irritate Donald Trump, the 93-year-old former president told a South Korean academic that he was willing to travel to the North Korean capital if it meant preventing war.
"Should former president Carter be able to visit North Korea, he would like to meet with North Korean leader Kim Jong-un and discuss a peace treaty between the United States and the North, and a complete denuclearisation of North Korea," Park Han-shik, a professor of international affairs at the University of Georgia, told South Korea's JoongAng Daily newspaper.
Park said Carter told him during a meeting at his home in Georgia at the end of September that he wanted to "contribute toward establishing a permanent peace regime on the Korean peninsula.
"He wants to employ his experience visiting North Korea to prevent a second Korean war," he added.
Carter's recent comments on North Korea have angered the White House, which last month reportedly asked him not to speak publicly about the crisis amid fears he was undermining Trump, who refuses to entertain any form of rapprochement with the regime.
Media reports said a senior US state department official had visited Carter at his home to pass on Trump's request.
Carter's conciliatory stance sits uneasily with attempts by the Trump administration to intensify sanctions against Pyongyang and threats to use military force if the US or its allies are threatened by the regime.
Carter, however, does not appear to be listening to his successor in the White House.
In an opinion piece in the Washington Post last week, he described the North Korean situation as "the most serious existential threat to world peace" and implored Washington and Pyongyang to find a peaceful way to defuse tensions and "reach a lasting, peaceful agreement".
Carter said all the North Korean officials he had met, including the former leader Kim Il-sung, had told him that all they wanted were direct talks with the US to negotiate a peace treaty to replace the uneasy ceasefire reached at the end of the 1950-53 Korean war.
Attempts to pressure the North into abandoning its nuclear and ballistic missile programmes will fail for as long as the regime believes its survival is at stake, Carter wrote.
"The next step should be for the United States to offer to send a high-level delegation to Pyongyang for peace talks or to support an international conference including North and South Korea, the United States and China, at a mutually acceptable site."
Carter's brand of gentle diplomacy has won concessions from the North Koreans before.
In 1994, during Bill Clinton's presidency, he persuaded Kim Il-sung to freeze his country's nuclear programme in a deal that may have averted conflict with the US.
In August 2010, he secured the release of Aijalon Gomes, an American who had been sentenced to eight years in prison for entering North Korea illegally.
Park, who helped organise the 1994 and 2010 trips to North Korea, said he had communicated to Pyongyang Carter's wish to lead a US delegation to the country.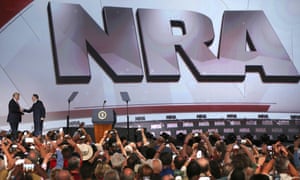 Donald Trump, left, shakes hands with the NRA chief executive, Wayne LaPierre, at an NRA forum, in Atlanta. Photograph: Curtis Compton/AP
The British advertising and public relations company WPP has been one of the National Rifle Association's most important political advocates in the last decade, with companies it owns collecting $1.46m (£1.1m) in lobbying fees since 2007 to further the US pro-gun group's agenda.
At the same time as companies owned by WPP helped the NRA block gun control legislation in Washington, WPP sought to portray itself as being opposed to gun violence. A sustainability report on its website points to a 2013 pro gun-control advert that one of its advertising companies produced pro bono as part of WPP's human rights work.
Last week the US had its deadliest mass shooting in recent history, when a man with a stockpile of weapons opened fire on concertgoers in Las Vegas, killing 58 people and wounding 500.
After the shooting, Wayne LaPierre, the NRA chief executive, signalled some support for an examination of new rules that could regulate the sale of bump stocks, a device used by the Las Vegas shooting. But the NRA is expected to oppose any effort to ban the devices by law.
LaPierre also argued on Sunday that Americans would ultimately be safer if their access to guns was expanded and if federal laws that restrict gun rights locally were overturned.
"There are monsters like this monster out there every day," he said. "Nobody should be forced to face evil with empty hands."
WPP is the world's biggest advertising multinational. Its role in the pro-gun movement reflects the global nature of the US gun industry. The NRA has, through the skill of the lobbyists it employs, become the single most dominant political force in Washington in opposition to gun control legislation, using its 5 million-strong membership to pressure Republicans and conservative Democrats against any such proposals.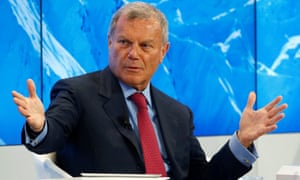 Sir Martin Sorrell, the WPP chief executive. Photograph: Ruben Sprich/Reuters
Sir Martin Sorrell, the chief executive of WPP and one of Britain's highest-paid executives, declined to respond to a request for comment.
A WPP spokesperson told the Guardian in an emailed statement: "Our subsidiary companies will not undertake work that is intended or designed to mislead, and they operate within national laws at all times. In the US, our public affairs companies have representatives of both major parties among senior management, and work with clients from across the political spectrum."
WPP's main lobbyist for the NRA in recent years has been Vickie Walling of Prime Policy Group. Walling is described in her biography as a 30-year veteran of Democratic politics on Capitol Hill, where she worked for Democratic members of Congress before joining the lobby firm.
Before Walling a Republican lobbyist, Wayne Berman, was WPP's primary link to the NRA. Berman had served as chairman of Ogilvy Government Relations, a WPP company, but resigned in 2012 to join Blackstone, the private equity firm.
WPP firms – Ogilvy and then Prime Policy Group – have generated a steady stream of revenues from the NRA in the last decade, US lobbying records show. Prime Policy has not recorded any new revenues from the NRA in 2017 – such reports are made quarterly and are public record – but the firm still lists the NRA as a client.
In the 2013 pro-gun control ad, which was produced by WPP advertising company Grey New York, a man enters an office with a musket and misfires a single shot aimed at a co-worker. Scrambling office workers have time to escape as the shooter stops to clean his rifle. "Guns have changed. Shouldn't our gun laws?" the ad states.
That same year, lobbyists working for a company owned by WPP helped to defeat an effort on Capitol Hill to pass a gun control measure after the Sandy Hook massacre in Newtown, Connecticut, in which a gunman killed 20 children and six adults.
Barack Obama has said the day of the massacre, which occurred just before Christmas in 2012, was his worst day as president and that the subsequent failure by the US Congress to pass a gun control bill was his biggest disappointment. Today, gun control advocates say the futility of their fight against the NRA was made apparent after the shooting.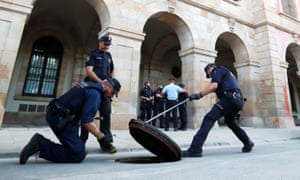 Officers from Catalonia's regional police force, Mossos d'Esquadra, search under a manhole cover outside the regional assembly in Barcelona on Tuesday. Photograph: Gonzalo Fuentes/Reuters
Spain's worst political crisis in four decades is expected to come to a head on Tuesday when the Catalan president, Carles Puigdemont, reveals his plans for independence as he addresses the regional parliament for the first time since the referendum that provoked the standoff with the Spanish government.
Although Puigdemont had originally promised to make a unilateral declaration of independence within 48 hours of a victory for the secessionist campaign, he has so far held off from doing so, calling instead for mediated negotiations with the Madrid government.
It is unclear whether Puigdemont will push ahead with a formal declaration of independence or choose a less drastic option in the hope of avoiding a further escalation of tensions. He is due to appear before parliament at 6pm.
The Spanish government has repeatedly argued that the referendum was illegal and unconstitutional and has said it will use all the legal means at its disposal to prevent Catalonia from splitting from the rest of the country.
Spain's prime minister, Mariano Rajoy, has threatened to impose direct rule on Catalonia, and a series of banks and businesses have announced plans to relocate from the region amid the enduring uncertainty.
Police are stationed outside government buildings in Barcelona and have closed off the Ciutadella park around the regional parliament on security grounds.
By mid-morning on Tuesday the park was ringed by Catalan regional police officers, the Mossos d'Esquadra, while Spanish national police vans were parked around the corner. Thousands of independence campaigners are expected to gather nearby on Tuesday afternoon to watch the parliamentary session on giant screens.
A Catalan government source dismissed suggestions that Puigdemont would opt for a merely symbolic recognition of independence, but refused to be drawn on what he might do.
"We're still on track. We're here to do what we're here to do and we will do it, especially now that we know that people have voted in a referendum and the result is clear," the source said.
"We're not doing anything apart from what we have committed to do. It is the president's prerogative to establish the exact parameters on which this will be done."