11 Oct
News and Analyses, A Foreign Perspective
Nearly all of these are English-edition daily newspapers. These sites have interesting editorials and essays, and many have links to other good news sources. We try to limit this list to those sites which are regularly updated, reliable, with a high percentage of "up" time.
World Politics
Austria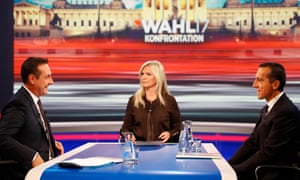 Heinz-Christian Strache, left, head of the Freedom party, presenter Claudia Reiterer and incumbent chancellor Christian Kern, right, on the TV debate in Vienna. Photograph: Leonhard Foeger/Reuters
Austrian politics is set to tip to the right less than a year after averting a far-right presidency by the populist Freedom party , with the party on course to emerge as coalition kingmaker in Sunday's national elections.
Though currently fighting for second place behind 31-year-old Sebastian Kurz of the centre-right Austrian People's party (ÖVP), the Freedom party has managed to dictate the agenda of a campaign centred largely around immigration and fears of radical Islam, and will receive a last-stretch boost from a "dirty campaigning" row between the traditional centre parties.
Neither Kurz nor incumbent chancellor Christian Kern of the centre-left SPÖ have ruled out entering a coalition with the Freedom party, whose current leader Heinz-Christian Strache could become the first European politician with a neo-Nazi background to sit in government since the second world war.
If it enters government, the Freedom party wants to deny migrants access to welfare payments, introduce Swiss-style referendums and push for Austria to join the Visegrád group of central European states whose borders overlap with the 19th-century Austro-Hungarian empire.
FPÖ politician Norbert Hofer, who was beaten in the race for the Austrian presidency by Green-backed Alexander van der Bellen in December 2016, will be pushed by the party as a candidate for the foreign ministry.
Founded by a former Nazi functionary and SS member after the end of the second world war, the Freedom party became the first rightwing populist party to form part of a government in postwar Europe when its late leader Jörg Haider entered a coalition with the conservative ÖVP in 2000 – a that which was at the time met with outrage and economic sanctions from Israel and several EU member states.
A split in 2005 and Haider's death in a car crash three years later appeared to have signalled the end of the anti-immigration party, yet 12 years later FPÖ officials are not only confident of surpassing their best results of the Haider years but have managed to turn Austria into what political scientists call a "net exporter of rightwing populism", pioneering strategies later adopted by far-right parties elsewhere in Europe.
Under the leadership of Strache, who was arrested by German police as a 20-year-old for taking part in a march organised by a banned neo-Nazi movement modelled on the Hitler Youth, the FPÖ has professionalised its methods and switched its campaign from broad anti-foreigner sentiment to a more focused anti-Islam rhetoric as early as 2006.
For this year's national elections, the party produced not conventional campaign ads but a short sitcom series called "The Hubers", which voices fears about welfare tourism and overcrowding to the sound of laughter without ever explicitly mentioning immigration.
"In terms of strategy, the FPÖ have had an excellent campaign," said Thomas Hofer, an Austrian communication consultant. "They have managed to go on the attack without looking like they are going over the top."
Kurz's candidacy – which has in itself been quite rightwing – appears to have dented the Freedom party's fortunes. The foreign minister prides himself on having brought an end to the refugee crisis by closing the Balkan route in 2016 and vows to reform the asylum system so that claimants in the future are processed via "rescue centres" outside the European Union. Promises to fight political Islam feature heavily in Kurz's manifesto.
Having led the polls by a considerable margin since spring 2015, the Freedom party was leapfrogged by the ÖVP and the SPÖ after Kurz announced his run for chancellor in the summer. But political observers argue that this has only made it easier for the rightwing populists to frame Austrian political debate.
United States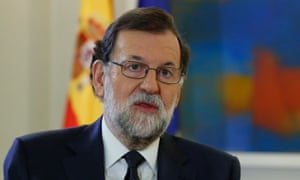 The Spanish prime minister, Mariano Rajoy, has refused to rule out imposing direct rule over the semi-autonomous region. Photograph: Angel Diaz/EPA
The Spanish prime minister, Mariano Rajoy, is chairing an emergency cabinet meeting in response to an address to parliament by the Catalan leader, Carles Puigdemont, on Tuesday evening.
In his address, Puigdemont said that, while the referendum earlier this month had given his government a mandate to create a sovereign republic, he would not immediately push ahead with independence from Spain.
Rajoy has vowed to use everything in his power to prevent independence and has refused to rule out imposing direct rule over the semi-autonomous region – an unprecedented move many fear could lead to civil unrest.
Puigdemont's proposal to suspend a declaration of independence to allow for negotiations pulled the region back from the brink of an unprecedented showdown with Madrid, but drew criticism from both the Spanish government and the leader of the opposition in the Catalan parliament.
Spain's deputy prime minister, Soraya Sáenz de Santamaría, accused him of plunging the region into fresh uncertainty, adding that his speech was that of someone "who doesn't know where they are, where they're going or who they want to go there with".
She also appeared to rule out any negotiations, saying: "Dialogue between democrats takes place within the law, respects the rules of the game and doesn't make them up as it goes along."
The move came nine turbulent days after the independence referendum, in which 90% of participants voted in favour of splitting from Spain. The poll was marred by violence after Spanish police acting on court orders attempted to stop the vote by raiding polling stations, seizing ballot boxes, beating voters and firing rubber bullets at crowds.
Although Puigdemont had originally promised to make a unilateral declaration of independence within 48 hours of a victory for the yes campaign, he has instead chosen to seek international help for mediated negotiations with the Madrid government.
"Today, I ask you to respect, in your intentions, the constitutional order and not to announce a decision that would make such dialogue impossible," he said.
In the run-up to the announcement, police had been stationed outside government buildings in Barcelona and had closed off the Ciutadella park around parliament.
Thousands of independence campaigners, many of them draped in Catalan estelada flags, gathered nearby to watch the parliamentary session on giant screens as police helicopters hovered overhead.
Behind them, just in front of Barcelona's Arc de Triomf, stood nearly three dozen tractors that had been driven to the city in a show of farmers' support for Catalan sovereignty.
The long push for independence has riven both the wealthy north-eastern region and Spain itself, leaving the country facing the greatest threat to national unity since it returned to democracy after the death of the fascist dicator, Francisco Franco, in 1975.
It has also prompted a series of banks and businesses to announce plans to move their bases out of the region amid the continuing uncertainty.
Rajoy, who will address the Spanish parliament at 4pm on Wednesday afternoon, has suggested he is willing to take the drastic step of invoking article 155 of the Spanish constitution. Article 155 allows the central government to take control of an autonomous region if it "does not fulfil the obligations imposed upon it by the constitution or other laws, or acts in a way that is seriously prejudicial to the general interest of Spain".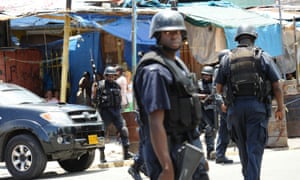 Jamaican police have been granted sweeping powers in designated Zones of Special Operations. Photograph: Anthony Foster/AFP/Getty Images
Kate Chappell in Kingston
Human rights activists have condemned sweeping new anti-crime legislation in Jamaica which grants police and troops the power to stop, search and detain citizens without a warrant in designated areas.
Until the end of October, citizens in the community of Mount Salem in Montego Bay will be liable to random searches or detention without a warrant, and will be obliged to present ID in order to leave or enter the area after it was named a Zone of Special Operations (Zoso) last month.
Jamaican authorities say that the move has led to a number of arrests and helped reduce violence in the area, a community of 3,500, which is reportedly home to 12 streets gangs.
But Aisling Reidy, senior legal adviser for Human Rights Watch, said that the legislation was "ripe for abuse".
"The introduction of legislation like this into any country, creating a situation of extraordinary policing powers to be exercised by the military, should give serious ground for concern because without proper oversight and remedies these are the sort of powers that are ripe for abuse," she said .
Reidy said the legislation grants broad powers that could scapegoat entire communities. "On the face of it, it allows law enforcement to cast far too wide a net. In practical terms, this may well prove counterproductive, because it tends to alienate the very people in communities you want cooperation and information from," she said.
Jamaican human rights activist Lloyd D'Aguilar said that women, schoolchildren and the elderly were regularly being searched by police.
"There have been egregious breaches of civil liberties in the way the Zones of Special Operations have been rolled out," he said.
Sharon Davis, 46, the president of a local development committee in Mount Salem, said she was no longer kept awake by gunfire, but the soldiers themselves could be intimidating.
"To be honest, I was feeling scared. I'm not used to seeing so many soldiers and police. Some of them are OK, but some of them deal with decent citizens like they are criminals."
But the island has long struggled with one of the highest murder rates in the world. Police statistics show that from 1 January to 16 September 1,125 people were murdered – a 26% increase over the same period in the previous year.
In a 12 September address to parliament, the prime minister, Andrew Holness, described the Zoso measures as an attempt to rein in rampant lawbreaking.
"Criminals operate freely in these communities, taking life, taking your daughters, taking property, and extorting tax to protect you from them," he said.
The Zoso legislation targets "high volume criminals" – gunmen, gangsters and lottery scammers, (fraudsters who often target elderly Americans, telling them they must send money in order to claim a fictitious prize).