12 Oct
News and Analyses, A Foreign Perspective
Nearly all of these are English-edition daily newspapers. These sites have interesting editorials and essays, and many have links to other good news sources. We try to limit this list to those sites which are regularly updated, reliable, with a high percentage of "up" time.
© Pascal Lachenaud, AFP | A man holds a sign reading "Macron get lost" as employees of the French auto parts manufacturer GM&S protest on the sidelines of the French president's visit to the Creuse region in central France.
French President Emmanuel Macron is again facing accusations of contempt for the working class after an apparent dig at workers battling to save their jobs at a bankrupt auto parts manufacturer in central France.
Macron was visiting a training centre in the rural Creuse region on Wednesday when he was caught on camera making a disparaging remark apparently aimed at workers of GM&S, more than half of whom face redundancy.
When told that another local factory, located 150 kilometres away from the GM&S plant, was struggling to hire workers, Macron said: "There are some who'd be better off looking for a job there rather than wreaking havoc."
His remark was widely interpreted as being aimed at the GM&S workers, several of whom were standing outside holding placards and calling on the French president to come and talk to them.
The bankrupt company's 277 workers have been battling for months against a planned takeover by French firm GMD, which would see all but 120 jobs axed. The case is seen as a test of Macron's willingness to intervene to save struggling French factories.
Several opposition parties have condemned Macron's words, which lawmaker Clémentine Autain, of the hard-left France Unbowed party, described as evidence of "gross class contempt".
Referring to previous controversial remarks by the French president, Oliver Faure, the head of the Socialist group of MPs, slammed Macron's "contempt for the 'illiterate', the 'slackers', the 'nobodies'," which he claimed contrasted with his "compassion for the very rich".
A former investment banker, the 39-year-old centrist president is facing growing resistance from trade unions to his pro-business agenda and has provoked unease even among members of his own party with his plans to scrap a long-standing wealth tax.
World Politics
United States
President's tweets complain of 'total lack of accountability'
'Electric and all infrastructure was disaster before hurricanes'
Staff and agencies
Donald Trump renewed his criticisms of Puerto Rico on Thursday and said the US government could not keep providing federal aid in the wake of Hurricane Maria "forever".
The president attacked the US territory in a series of tweets on Thursday.
He said there was a "total lack of accountability", attributing that thought to the governor, Ricardo Rosselló, and "electric and all infrastructure was disaster before hurricanes".
The president added: "We cannot keep FEMA, the Military & the First Responders, who have been amazing (under the most difficult circumstances) in P.R. forever!"
The House is on track to back Trump's request for billions more in disaster aid, $16bn to pay flood insurance claims and emergency funding to help the cash-strapped government of Puerto Rico stay afloat.
Thursday's hurricane aid package totals $36.5bn and follows a $15.3bn measure that passed last month. The measure sticks close to the White House request, ignoring – for now – huge demands from the powerful Florida and Texas delegations, who together pressed for some $40bn more.
Several lawmakers from hurricane-hit states said a third interim aid request is expected shortly – with a final, huge hurricane recovery and rebuilding package likely to be acted upon by the end of the year.
Hurricane Maria struck Puerto Rico on 20 September. It has killed at least 45 people, and about 85% of residents still lack electricity.
Trump has come under fire for a patronising and callous attitude to the island, and got into a high-profile spat with the capital's mayor, Carmen Yulín Cruz.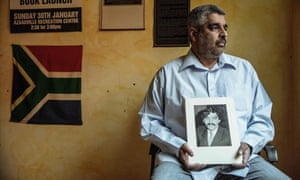 Imtiaz Cajee, nephew of Ahmed Timol, holds a portrait of his uncle. An inquest in 1972 endorsed police's assertion that Timol killed himself in police custody. Photograph: Gianluigi Guercia/AFP/Getty Images
Agence France-Presse in Pretoria
An anti-apartheid activist who died in custody 46 years ago did not kill himself but was murdered by police officers, a South African court has said, in a historic ruling for campaigners.
The court called for an officer involved in covering up the circumstances of the 1971 death to be investigated as an accessory to murder.
The packed courtroom in Pretoria burst into applause when the judge delivered his ruling on Thursday.
Ahmed Timol, a 29-year-old campaigner against white-minority rule, was arrested in Johannesburg in October 1971. He died after plummeting from the city's police headquarters five days after his detention.
Officers from the feared security branch that held Timol said at the time he took his own life, a verdict endorsed by an inquest in 1972.
His family, however, fought the ruling for decades and have campaigned hard to secure the legal review, which finally began in June.
"Timol did not jump out of the window but was pushed out of the window or off the roof," said judge Billy Mothle, reading a summary of his 129-page judgment.
"Members of the security branch … murdered Timol."
The judge called for the security branch officer Joao Rodrigues, who admitted helping to cover up the murder, to be prosecuted, but he acknowledged that the men actually responsible have since died.
"Most of the main perpetrators have since passed on [but] all security branch officers responsible for guarding and interrogating Timol are collectively responsible for his injuries," Mothle said.
Members of the South African Communist party present shouted "Viva Ahmed Timol!" as the judge adjourned the hearing and the public gallery burst into applause.
Salim Essop, who was arrested, detained and tortured alongside Timol in 1971, said Mothle had delivered "a fine, a superb judgement".
"He concluded that the police were responsible for his death … they may not have intended to kill him but they did have the risk of killing him by torturing him and in that respect they were responsible for his murder."
Mothle called for families who lost relatives in circumstances similar to Timol's to be assisted in reopening their cases, particularly when suicide was recorded as the cause of death.
George Bizos, an anti-apartheid veteran who was close friends with Nelson Mandela, welcomed the outcome and said the case had exposed how the era had been previously unaccountable.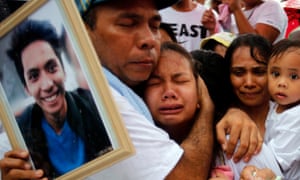 Relatives mourn Ephraim Escudero, the victim of an extrajudicial killing, in San Pedro city, Philippines. Photograph: Francis R. Malasig/EPA
The president of the Philippines, Rodrigo Duterte, has ordered police to end all operations in his deadly war on drugs after a 15-month campaign in which officers have killed thousands.
In a televised speech he said he hoped a shift to target big networks in his war on drugs would satisfy "bleeding hearts" and interfering western states fixated on the high death toll in his brutal crackdown.
He read a memorandum that removes police from the drug war and places the Philippine Drug Enforcement Agency (PDEA) in charge and said the shift was to target "big fish", moving away from street level operations to go after big networks and suppliers.
Duterte, nicknamed "the Punisher" for his blood-soaked approach to policing, lashed out at western powers who colonised countries, started wars and "stole" oil from the Middle East.
He said his new alliances with Russia and China – United Nations security council permanent members – would keep the Philippines in the UN.
"We will be excluded in the UN? You son of a bitch. Go ahead. You are interfering in our affairs because we are poor. You give money and then you start to orchestrate what things should be done," he said.
"You bullshit. We are past the colonisation stage. Don't fuck with us."
Duterte's spokesman, Ernesto Abella, later clarified that Duterte's "expression of outrage" was a reaction to the Progressive Alliance, a group of European parliamentarians which on Monday said it was "extremely alarmed" by the drug war, which "falsely portrayed itself as an EU mission" and made irresponsible statements. The European Union delegation in Manila issued a statement clarifying that it had no involvement in the visit by the Progressive Alliance.
The PDEA's 1,800 staff make up just over 1% of the 160,000-strong national police, meaning the new order could significantly reduce the extrajudicial killings.
The statement comes at a time of waning public support for countrywide operations that police say have killed more than 3,900 "drug personalities" since last July, although activists say these are alleged drug users and suspected small-time dealers.
More than 2,000 other people have also been killed in drug-related crimes and thousands more murdered in unexplained circumstances, according to police data.
It was the second time the leader decreed that the agency should lead the drug war. He suspended police anti-drugs operations in late January, to cleanse a force he called "corrupt to the core", but rescinded the decision five weeks later.
The memorandum, signed on Tuesday, orders officers at all times to "maintain police visibility, as a deterrent to illegal activities". Its aim is "to bring order to the operation or campaign against illegal drugs", the document says.
The mercurial leader has rebuffed any criticism and said he is "happy to slaughter" millions of addicts, evening dismissing the deaths of children as "collateral damage".

Opinion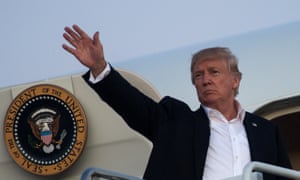 Donald Trump waves as he boards Air Force One. 'The downgrading of the state visit has left us scenting blood.' Photograph: Nicholas Kamm/AFP/Getty Images
P

rotest works. Cast your minds back to that distant political era otherwise known as January 2017. A racist misogynist megalomaniac had just celebrated his inauguration as the 45th president of the United States. Theresa May – overcome with hubris, but yet to be fatally wounded by her nemesis – gallivanted off to the White House and served us up a grotesque love-in with Donald Trump. Her offer of a state visit, an honour never even extended to some presidents, was a PR coup for an already deeply unpopular demagogue.
Then came Trump's Muslim ban, and – with 36 hours' notice – ten of thousands of us poured on to Britain's streets in protest. Our message was not just solidarity with those targeted by Trump's hatred. It was a rejection of xenophobia and racism at home and abroad – and a passionate rejection of May's government subordinating Britain to the level of Trump's poodle.
Ever since, it has been abundantly clear to the authorities that any visit by Trump to Britain will be met with a mass show of democratic force on the streets. With very little notice, Stop Trump and other campaigns will mobilise protests in every town and city in the country. Trump has the lowest approval ratings of any president since records began eight decades ago. He is loathed and ridiculed by tens of millions of his own people. For May to offer a full state visit to the lying, failing Trump – to use his own terminology – when her own authority has been shattered, would be political suicide. One recent poll suggested that 2 million Brits would protest a state visit. For Trump, too, it would prove an utter humiliation: the United States would see the citizens of their closest ally united with contempt and fury at their unfortunate ruler.
Even though my cat has more political nous than the UK government, that's the conclusion they themselves have come to, and Trump's visit has been downgraded. If they believe that will prove sufficient, and the protests will be called off, disappointment beckons. Any official visit – even one without pomp and ceremony – will be met with mass protests. For a start, Trump will try to use a visit to what is nominally his closest ally as an attempt to shore up his appalling domestic position. It will be nothing less than a political stunt by an increasingly cornered hatemonger.
Indeed, the downgrading of the state visit has left us scenting blood. It is clear that authorities on both sides of the Atlantic are rightly fearful about the response Trump will get. These mass demonstrations, of course, will go far beyond the personality of Trump.
They will represent a passionate rejection of anti-Muslim hatred, immigrant-scapegoating and refugee-bashing, not just in the US, but here in Britain, too. They will offer a reminder that powerful vested interests – including plutocrats such as Trump – should be blamed for our social and economic woes, not those fleeing foreign violence and persecution. They will promote feminism and women's rights in defiance of a self-confessed harasser of women. They will champion the cause of trans rights against the transphobe-in-chief, who has singled out this minority to be excluded from the US military. They will advance the cause of saving the planet from a climate change crisis exacerbated by Trumpism. They will challenge the warmongering of Trump's administration, which threatens the lives of tens of millions of people. And they will seek to unite progressives from either side of the Atlantic in these common causes. The mirror image of Trumpism will be on the streets.