13 Oct
News and Analyses, A Foreign Perspective
Nearly all of these are English-edition daily newspapers. These sites have interesting editorials and essays, and many have links to other good news sources. We try to limit this list to those sites which are regularly updated, reliable, with a high percentage of "up" time.
World Politics
United States
Donald Trump has to be reminded to sign his bill weakening Obamacare by the vice-president, Mike Pence, on Friday. Trump presents the bill and his intention to give Americans 'great healthcare' but then turns to leave. Pence stops him, and Trump jogs back across the room to write his signature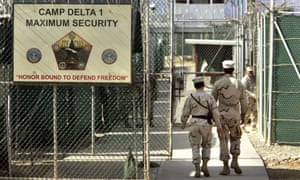 The Pentagon insists that an 11-year-old military policy allowing the involuntary feeding of detainees remains in place, although a spokesman did confirm some shift in approach. Photograph: Brennan Linsley/AP
A detainee on hunger strike at Guantánamo Bay has accused officials of a sudden change in practice that could result in him starving to death.
Khalid Qasim, held at the prison for 15 years without charge or trial, told his lawyer that doctors stopped force-feeding him and another inmate three weeks ago, and are no longer monitoring their medical condition.
"They have decided to leave us to waste away and die instead," Qasim, 40, told his lawyer by phone for an article published by the Guardian. "I am in so much pain every minute that I know it can't go on much longer. Now as each night comes, I wonder if I will wake up in the morning. When will my organs fail? When will my heart stop? I am slowly slipping away and no one notices."
Barack Obama tried and failed to close the prison at Guantánamo, a US naval station on the south-east corner of Cuba. Donald Trump has vowed to keep it open and "load it up with some bad dudes". Of the 41 men still held there, 26 are dubbed "forever prisoners" – never to be released. At least four have been on hunger strike since 2013, claiming it as the sole peaceful protest open to them.
Shelby Sullivan-Bennis, a lawyer at the human rights group Reprieve, which represents eight detainees, said: "It's the only control they have over their own lives. Khalid has used the word 'dignity' to reference to why he hunger strikes."
Strikers who suffer chronic weight loss are typically force-fed twice a day by being strapped into a restraint chair and having a supplement poured through their noses via a very thin tube. Qasim and another inmate, Ahmed Rabbani, have gone without food since 20 September, according to Reprieve and other sources.
Sullivan-Bennis said: "In calls with three or four of our clients, we learned the new senior medical officer said this policy would no longer continue and any harm to inmates 'was their own choice'."
The Pentagon insists that an 11-year-old military policy allowing the involuntary feeding of detainees remains in place, although a spokesman did confirm some shift in approach, indicating a change in the medical conditions that require force-feeding.
Major Ben Sakrisson, a spokesman, said: "There has not been a change in policy. Existing policy is just being reinforced with our personnel.
"In some instances in the past, attempts to provide detainees who claimed that they were on hunger strike with a measure of dignity through voluntary enteral feedings unintentionally created a situation that potentially encouraged future hunger strikes. As a result, the preexisting standard of medical necessity will be enforced in the future."
According to Reprieve, Qasim, from a small town in Yemen, travelled to Afghanistan in search of work in 2000. He was detained by Afghan police and handed over to US forces in a case of mistaken identity.
He has spent most of his adult life in Guantánamo, finding consolation in painting and poetry that often reflect on his predicament. He mixed glue with gravel from the yard where detainees play football to create a three dimensional piece. He turned cloth from his shirt and pillow into a canvas on which he painted a cracked vase – later adding the date of Trump's inauguration.
Sullivan-Bennis said: "Someone I spoke to said that, before this, he was the happiest he had been in the past three years. The art gives him an ability to express himself and have a sense of pride."
But when Sullivan-Bennis talked to Qasim by phone on 5 October, he sounded despondent. "We usually start with banter like 'How are you?', 'How are the family?' and something about his artwork. We didn't talk about his artwork for the first time I remember. When I asked, 'How are you?', his first words were, 'Very bad'."
Qasim reported that in recent weeks he had not been weighed and not had his blood pressure taken. On one occasion he passed out but did not receive treatment. "These days have been the most terrifying of my 15 years in this place," he told the lawyer. "We are used to torture here but this is so slow and so cruel."
Sullivan-Bennis is worried that he will suffer organ damage but doubts that the US military would risk a fatality. She added: "We're at a crossroads. It seems quite obvious to us there has been a significant change and it does seem to be a new regime of medical neglect as punishment to quash the strike. Frankly it seems obvious they are breaching their own standard operating procedure."
Clive Stafford Smith, founder of Reprieve, wrote on its website that Rabbani now reportedly weighs just 6.7 stone (95lbs) and has long suffered internal bleeding.
Trump administration has been preparing for a withdrawal from world heritage body for months, which Israeli PM praises as 'brave and moral decision'
Unesco expresses deep regret at US decision to leave organisation – video
The United States has formally notified the UN's world heritage body Unesco that it is withdrawing its membership of the organisation citing "continuing anti-Israel bias".
The announcement by the Trump administration was followed a few hours later by news that Israel was also planning to quit the financially struggling cultural and educational agency.
In a statement Benjamin Netanyahu, the Israeli prime minister, welcomed the US move saying: "This is a brave and moral decision, because Unesco has become a theatre of absurd. Instead of preserving history, it distorts it."
The body is best known for its world heritage listings of outstanding cultural and natural sites but has often drawn the ire of Israel and the Trump administration for a series of decisions, including the listing of Hebron, a city in the southern part of the occupied Palestinian territories, as a Palestinian world heritage site.
Unesco's director general, Irina Bokova, expressed her "profound regret" over the US decision. "This is not just about World Heritage," she said, describing the withdrawal as "a loss to both the organisation and the US".
"At the time when conflicts continue to tear apart societies across the world, it is deeply regrettable for the United States to withdraw from the United Nations agency promoting education for peace and protecting culture under attack." she added. "This is a loss to the United Nations family. This is a loss for multilateralism."
Disclosing the US government's decision, the state department said in a statement it would seek to "remain engaged … as a non-member observer state in order to contribute US views, perspectives and expertise".
The statement added: "This decision was not taken lightly, and reflects US concerns with mounting arrears at Unesco, the need for fundamental reform in the organisation, and continuing anti-Israel bias at Unesco," the US state department said.
The withdrawal will take effect on 31 December 2018.
In 2011 the US cancelled its budget contribution to Unesco in protest against the admission of Palestine as a full member.
The Israeli ambassador Danny Danon said the US withdrawal was proof that the "absurd and shameful resolutions against Israel have consequences."
Danon said: "Today is a new day at the UN where there is a price to pay for discrimination against Israel."
Unesco members are voting on a replacement for Bokova, whose term in office is coming to an end.
After two days of a secret ballot that could run until Friday, Qatar's Hamad bin Abdulaziz al-Kawari is leading France's Audrey Azoulay and Egyptian hopeful Moushira Khattab.
The emergence of Kawari has been seen by Israel and the US as a failure of their efforts to secure the post for a figure they regard as more friendly.
Earlier this week Israel's Unesco ambassador described the trajectory of voting in the secret ballots as "bad news for the organisation and unfortunately also for Israel".
The US decision to quit Unesco, however, was regretted by other member countries who said the move could harm the struggling organisation.
France's ambassador to the UN, Francois Delattre, said Unesco's ideals are "part of America's DNA" and that "we need an America that stays committed to world affairs."
Tatiana Dovgalenko, Russia's deputy permanent representative to the agency, told The Associated Press that the departure of "one of the countries that founded the UN system" is "a shock and a pity."
According to a report in Foreign Policy, the US decision was also driven by a desire to make budget cuts.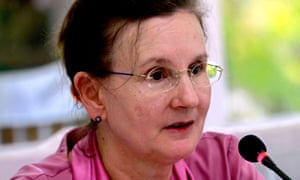 Renata Lok-Dessallien's departure was announced earlier this year, but she was kept on after the Myanmar government rejected her replacement. Photograph: Nyunt Win/EPA
Oliver Holmes South-east Asia correspondent
The United Nations' most senior official in Myanmar is to leave the country at the end of the month, her office has said, amid allegations the world body failed to promote the rights of persecuted Rohingya people.
Renata Lok-Dessallien, the UN resident coordinator since January 2014, would take on "another assignment at headquarters", the statement said without elaborating.
Having spent close to three decades at the UN, the Canadian has faced charges that she prioritised good relations with the Myanmar government, to pursue development projects, over humanitarian access and human rights advocacy, especially for Rohingya, a contentious subject for the authorities.
Although her departure was announced earlier this year, UN sources said Lok-Dessallien had been kept on because the Myanmar government rejected her replacement. Many expected her to remain until someone was approved, although her office did not say if a replacement had been confirmed.
The announcement comes in the wake of increased scrutiny of UN work in Myanmar, following the worst outbreak of violence in decades in western Rakhine state where the Rohingya live.
Responding to attacks by Muslim rebels, the military has conducted a severe crackdown that has forced more than half a million Rohingya to flee to neighbouring Bangladesh. More than 200 villages have been burned and refugees allege the army has been responsible for mass killings and rapes, claims the government denies.
A BBC report cited aid workers who alleged that in the run-up to the recent bloodshed, Lok-Dessallien had tried to stop human rights activists travelling to Rohingya areas and attempted to shut down public advocacy on the subject.
Sources in the UN and aid community have also told the Guardian that Lok-Dessallien suppressed an independent report she commissioned. The final document was highly critical of the UN's strategy in Myanmar and said it needed to undertake serious contingency planning for a potential Rohingya crisis.
The report's author said Lok-Dessallien was put in an impossible position as senior figures at UN headquarters in New York did not have a coherent or well-coordinated approach to Myanmar.
Meanwhile, the UN's strategy had not worked, aid workers said. After the attacks, Aung San Suu Kyi's government blocked off vital parts of the region to aid agencies, meaning thousands were not receiving adequate food or medicine. And despite UN efforts to work with authorities, the government has lashed out at humanitarians, in one instance accusing aid workers of helping "terrorists".
The world body has denied that Lok-Dessallien suppressed the report, and has repeatedly supported her, saying the senior official "has been a tireless advocate for human rights".
The statement announcing her departure said Lok-Dessallien "will use her remaining time until the end of the month to further the UN system's efforts to promote peace and security, human rights, as well as humanitarian and development assistance for all people in Myanmar".
It added that Lok-Dessallien "appreciates the secretary general's confidence in the UN team in Myanmar".

Opinion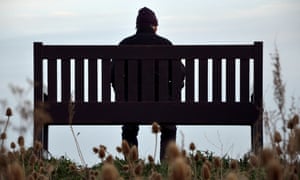 'Loneliness at work costs employers £2.5bn a year, a Co-op report revealed. Family doctors reported that at least one in 10 people attended their surgery mainly because they were lonely.' Photograph: Adam Lister/Getty
B

eing lonely isn't just a feeling. It is proven to be bad for you. Research shows loneliness is equivalent to smoking 15 cigarettes a day or being an alcoholic, that it's as harmful as not exercising and twice as harmful as being obese.
When she went to university, Jo Cox was lonely. And while knocking on doors in Batley and Spen, Jo found herself speaking to people who were lonely, too. Once in parliament she sought out the Conservative MP Seema Kennedy and, together with 13 organisations working on loneliness, they set up a commission. After her murder in June 2016, I pledged to carry on Jo's legacy and I now co-chair the Jo Cox Commission on Loneliness, alongside Seema.
We know quite a lot about the impact of loneliness. Your mind may have conjured up an image of a woman with wrinkled hands in her 80s, sat alone in an armchair. But loneliness affects us all; the Royal Voluntary Society found men reported that the age of 38 was the time at which they had the fewest friends. Loneliness among people in work costs employers £2.5bn a year, a Co-op report revealed. Jo was ahead of the game and her insistence that "young or old, loneliness doesn't discriminate" is a guiding principle for the commission.
In 2013, one of our partner organisations, the Campaign to End Loneliness, asked GPs about the issue. Family doctors reported that at least one in 10 people attended their surgery mainly because they were lonely. And as Professor Helen Stokes-Lampard warns: "If nothing is done, loneliness will inevitably take its toll on the entire healthcare system." She calls for GPs to be given "time to care".
As a society, we need to prioritise reducing loneliness. Politicians from all parties, businesses, healthcare professionals, individuals and communities urgently need to come together to try to understand the causes of loneliness and what we can to do about it.
There are some excellent examples in general practice. In Worcestershire, GPs can refer older patients to a project called Reconnections. The project works with them to develop an action plan based on their personal interests and, together, they put it into practice. The project has a strong business case, too. Using the social impact bond model, it aims to reduce the costs of loneliness to local authority and primary health providers, meaning fewer visits to GPs.
In Leeds, the Robin Lane Health and Wellbeing Centre provides activities and a community cafe. This week there have been singing sessions, a bridge club and a poetry-and-pint night.
Across the country thousands of individuals and volunteers have set up initiatives: the Rural Coffee Caravan in Suffolk, the Leyland Veterans' Drop-In Cafe in Lancashire. On Friday I'll be at an event in my own constituency, focusing on loneliness in refugees and the importance of English language classes.
The commission will be outlining its thinking at the end of the year with requests for government and business. But we'll also be explaining how we all have a role to play. Jo knew this. She said that tackling loneliness is "something many of us could easily help with – whether looking in on a neighbour, visiting an elderly relative or making that call or visit we've been promising to a friend".
In January, we launched the commission with "Happy to chat" badges. Wearing a badge was a way of letting people know – be it a neighbour, friend, or stranger – that you're there to talk.
But you don't need a badge to start a conversation. Try it next time you're waiting in a queue or you're on the bus. It might be the only conversation that person has all day. Then perhaps we might all play a part in a kinder society, where people don't feel the need to visit their GP simply to feel connected.
•

Rachel Reeves is Labour MP for Leeds West and co-chair of the Jo Cox Commission on Loneliness