14 Oct
News and Analyses, A Foreign Perspective
Nearly all of these are English-edition daily newspapers. These sites have interesting editorials and essays, and many have links to other good news sources. We try to limit this list to those sites which are regularly updated, reliable, with a high percentage of "up" time.
Corkwoman Mary Elmes was awarded Israel's highest honour for saving countless Jewish children from deportation to Nazi concentration camps during WWII. Less well known is her work helping to feed over 80,000 French schoolchildren who faced near-famine conditions. In an area of southwest France the size of Munster, all of the children knew her name…
Mary Elmes in the 1940s, left, and in Perpignan after the war, right. Picture courtesy of Caroline and Patrick Danjou.
Exclusive edited extract from Clodagh Finn's biography of Mary Elmes: A Time to Risk All
Dear Mademoiselle,
All of the pupils in my school, even the littlest ones, know your
name – Miss Elmes. Those words will always conjure up for us the idea of snacks that we have been without for so long: chocolate and jam. Thank you so much for
all that we owe you.
FRANCINE Delmas, a pupil in the village of Cases-de-Pène, north-west of Perpignan, was nine years old when she wrote those words, but her elegant script, beautifully spaced on a copybook grid, belies her years.
Another note, from seven-year-old Marcelle Mas at the same school, reads: "Please, Mademoiselle, pass on lots and lots of thanks-you to our friends in America."
Yet another, from 12-year-old Rosette Arnaud, said: "In exchange for all your good things, we have nothing to offer you but our friendship, but we do so with all of our heart."
Mary Elmes and her colleagues received thousands of similar letters from grateful French schoolchildren and their parents who wanted to convey "truckloads of thank-yous" for the food, medical aid and clothes received during the war years and afterwards.
As well as helping the refugees in the camps, the Quakers did what they could to alleviate the acute suffering that also affected the French population. Food shortages were already severe in the first winter after the fall of France. In November 1940 the mayor of Carcassonne, Dr Tomey, warned that the region was facing "near-famine conditions".
The mayor happened to mention to Mary, in passing, that the local council was no longer able to finance the school-feeding scheme that it had run in crèches and nursery schools for years.
She was said to have been "profoundly moved" by the news and immediately contacted her superior, Howard Kershner, asking him to intervene.

Children being fed at a children's home set up by Mary
He was able to rally 50 days' worth of food supplies and sent 1,600kg of rice, 128kgs of cocoa and 512kg of sugar to Carcassonne, the makings of a comforting chocolate-pudding snack.
Some days later a local newspaper published an account of the Quakers' generosity, praising Mary Elmes in particular. The mayor said he was "profoundly touched" by the gesture.
During her tenure Mary and her Quaker colleagues provided school snacks or a midday meal to more than 84,000 children in schools in the south of France. The most common — and most popular — snack was the famous Quaker chocolate pudding, made from rice, chocolate, and sugar.
It was a favourite with schoolchildren, but delegates also spent considerable time trying to work out the right proportion of ingredients to maximise the nutritional content. They also wanted it to taste good and on occasion sampled it for themselves.
"I tasted the pudding and found it quite palatable," Mary's colleague Donald Stevenson reported after one school visit.
"The children evidently liked it for it disappeared very rapidly. I wish that the ration for each child could have been larger. Double the amount would seem to me to have given them more of a meal."
But food was increasingly scarce, and children in the region lost a tenth of their weight in one 10-month period in 1941, Howard Kershner reported with alarm in a letter to Mary……………………..
Meanwhile, the class at the Jules Ferry school in Montpellier was inspired to write a poem:
We, the little children of France
We salute our faraway friends
We thank with all our hearts
Our generous benefactors,
Who give us every morning
A good American meal.
Please accept the gratitude
Of all the mothers in France.
They will never forget
Your goodness.
Mary Elmes Quaker I
Mary Elmes Quaker ID. Postcard image: courtesy of the American Friends Service Committee
………………….At least, she thought, the Quakers had been able to provide a little oasis between two lost existences: the miserable camp they had left and the uncertain future that awaited them when they returned to Spain.
The Spanish refugees were repatriated to Franco's Spain. The Quakers were not able to say what became of them.
The Book: A Time to Risk All: The Mary Elmes's story
World Politics
United States
As a report says he hates 'everybody at the White House', the president has taken his own radical steps on Iran and healthcare

Donald Trump has responded by his inability to govern as he likes by throwing red meat to his base. Photograph: Yuri Gripas/Reuters
Donald Trump's decision to go it alone with rapid fire announcements on healthcare and Iran reflects his boiling frustration with the limits of presidential power, analysts say.
The US president made a brazen move on Thursday night to halt payments to insurers under Barack Obama's healthcare law. Democrats accused him of a "temper tantrum" and spiteful attempt to sabotage legislation he promised but failed to replace. Less than 24 hours later, he condemned the "fanatical" government of Iran as he decertified his predecessor's nuclear deal, defying his own cabinet and disquieting European allies.
The one-two punch showed Trump straining to assail Obama's legacy but stopping short of terminating either the Affordable Care Act, known as Obamacare, or the Iran nuclear accord. Both are back in the hands of Congress, a source of constant exasperation for the property tycoon turned novice politician, who finds himself isolated and lashing out.
"The Congress has been frustrating to him," John Kelly, the White House chief of staff, told reporters on Thursday. "Of course, our government is designed to be slow, and it is. His sense, I think, as a man who is outside the Washington arena, a businessman, much more of a man of action, I would say his great frustration is the process that he now finds himself [in].
"Because, in his view, the solutions are obvious, whether it's tax cuts and tax reform, healthcare, infrastructure programmes, strengthening our military. To him, these all seem like obvious things that need to be done to protect the American people, bring jobs back."
Since taking office 10 months ago as the first US president with no previous political or military experience, Trump has been given a crash course in the workings of government and the delicate balance of power between the White House, Capitol Hill and the courts. That his writ only runs so far has come as a rude awakening. His executive orders can only achieve so much, and frustrations have sometimes spilled out in impetuous speeches and tweets.
Rick Tyler, a political analyst and partner at Foundry Strategies, said: "He is acutely aware of the limits of presidential power. It's not like being the CEO of a company where you just do what you want to do.
"By using executive orders, Trump is making something happen on healthcare. He's prevented from changing it himself, but will force another branch of power to react. It's the same on Iran."
Having repeatedly vented his anger at the Republican-controlled Senate for failing to repeal and replace Obamacare, despite seven years of promises, Trump has now thrown a spanner in the works by ending the so-called cost-sharing subsidies that help people on low incomes. The White House claims the government cannot legally continue to pay the subsidies because it lacks formal authorisation by Congress.
The president explained on Friday: "It's step by step by step and that was a very big step yesterday … We're going to have great healthcare in our country. We're taking a little different route than we had hoped, because Congress forgot what their pledges were. So we're going a little different route. But you know what? In the end, it's going to be just as effective, and maybe it will even be better."
The intervention, however, could backfire. It was condemned by Democrats including the House minority leader, Nancy Pelosi, who told reporters: "The president single-handedly decided to raise America's health premiums for no reason other than spite and cruelty." Senator Chris Murphy tweeted: "Trump's decision to stop ACA payments is nuclear grade bananas, a temper tantrum that sets the entire health system on fire. My god."
Doctors' groups also warned of "dramatic, if not catastrophic, increases in premiums across the country" and millions of Americans losing coverage. Nineteen states plan to sue.
Trump has previously blamed the lack of healthcare fixes on Obama or Congress, but he now he risks being held personally responsible for cutting the system off at the knees. Robert Shrum, a Democratic consultant, said: "The healthcare thing is madness in both policy and politics. He's wilful, he's angry, he's clearly lashing out. He was better off leaving healthcare to Lamar Alexander and Patty Murray", the senators working on a bipartisan deal.
Trump's decision to stop ACA payments is nuclear grade bananas … that sets the entire health system on fire. My god

Senator Chris Murphy
Trump's claim that Iran has not lived up to the spirit of the nuclear deal and his threat to terminate it also put him at odds with his secretary of state, Rex Tillerson, and his defence secretary, Jim Mattis. The Israeli prime minister, Benjamin Netanyahu, said he welcomed what he called a courageous decision, but the leaders of Britain, France and Germany said they stood committed to the agreement.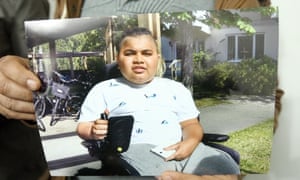 Adan Abdulrahman, 13, died in hospital in Bolzano while recovering from a fall from his wheelchair. Photograph: Supplied
Angela Giuffrida in Rome
The distraught father of a disabled 13-year-old Iraqi boy who died in northern Italy on Sunday has spoken of his anguish at flaws in Europe's migration system.
Adan Abdulrahman, who had muscular dystrophy, died in hospital in the early hours of Sunday while recovering from a fall from his wheelchair. The cause has not been confirmed. He also had breathing difficulties and caught an infection in the days before he died.
His family spoke of an arduous week after they arrived in Italy as they struggled to find accommodation, even spending a night under a bridge.
Authorities in Bolzano, in the wealthy Alto Adige region close to the Austrian border, have scrutinised their treatment of migrants following Adan's death.
"Despite being disabled, Adan was a bright, happy, intelligent boy," his father, 36-year-old Hossein Abdulrahman, said by phone as Adan's mother cried in the background.
"She can't eat, can't drink, can't sleep," Abdulrahman said. "She is completely destroyed."
Two years ago Adan's five-year-old sister was killed in a car bomb in Kirkuk, in the Kurdistan region of Iraq. The family fled to Europe, arriving in Sweden, which received more than 160,000 asylum applications in 2015.
They were told in September this year that their request had failed and that they had 21 days to leave the country before being deported home.
"We were told that we had to leave or go back to Kirkuk, but it is not a safe or secure place," said Abdulrahman.
EU rules allow the family to reapply for asylum in another state, so they left Sweden by train and made the three-day journey towards southern Europe, transiting through Denmark, Germany and Austria to northern Italy, where they had heard about the presence of Kurdish communities.
They arrived in Bolzano on 1 October, and spent their first night sleeping under a bridge. The next day they visited the Catholic church-run charity, Caritas, which notified social services that a family with four children, aged between six and 13, needed accommodation.
The request was turned down, owing to a local regulation – the "Circular Critelli" – that restricts the reception of migrants who enter Italy from other EU countries or are not referred by Italy's interior ministry. The charity persevered, pointing out Adan's disability, but to no avail.
"They told us that all the [refugee] accommodation was full and instead offered to pay our train ticket to go somewhere else in Italy," said Abdulrahman.
On 2 October the family went to the city's police headquarters to make an appointment for an asylum request, only to find the office was closed. That evening Adan's health took a turn for the worse – he struggled to breathe and had pains in his body – so he was taken to hospital, where he and his family spent the night.
He was discharged two days later, on 4 October, and the family was put up in a hotel paid for by volunteers. On 5 October, the hotel was full, so they slept on the floor of an evangelical church.
On 6 October, Adan fell from his wheelchair as the family made their way to a Caritas foodbank following a second visit to the police HQ.
He was taken to hospital and underwent an operation, a procedure he seemed to be recovering well from before he developed an infection and fever. Adan died in the early hours of 8 October.
Martha Stocker, a councillor for Bolzano's local authority, said in a statement that the family should have been able to qualify for accommodation for up to three nights, and that their request was perhaps rejected "due to a lack of information".
She expressed her condolences to the family, while highlighting the "need to improve communication between various public institutions, voluntary associations, the province, the state and communes".
But Thomas Branca, a law consultant at the Association of Juridical Studies on Immigration, said a document existed that proved that the hospital provided authorities with information about Adan's medical condition on the day he was discharged, and urged them to accommodate the family.
"They [social services] applied the rules in a restrictive way for this family … In the time they had to make a decision they didn't find this family's case to be serious enough," said Branca. "They also tried to blame the volunteers because the volunteers told the hospital they were taking care of the family."

More than 141,000 people visit the exhibit in Wuhan before it is eventually removed after sparking complaints from Africans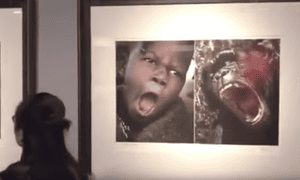 A photo of an African boy and a gorilla by Yu Huiping in an exhibit in China that was removed after sparking accusations of racism. Photograph: Shanghaiist
A museum in China has removed an exhibit this week that juxtaposed photographs of animals with portraits of black Africans, sparking complaints of racism.
The exhibit titled This Is Africa at the Hubei Provincial Museum in the city of Wuhan displayed a series of diptychs, each one containing a photo of an African person paired with the face of an animal. In a particularly striking example, a child with his mouth wide open was paired with a gorilla and other works included baboons and cheetahs.
The exhibit was eventually removed after complaints by Africans, including some living in China, the curator said. All the photographs were taken by Yu Huiping, a construction magnate who has travelled to Africa more than 20 times, has previously won awards for his work and is vice-chairman of the Hubei Photographers Association.
Racial sensitivities are often muddled in China, where about 92% of the population belongs to the dominant Han ethnicity and ethnic minorities mostly live in the sporadically populated far west of the country. African countries are increasingly important trading partners, but cultural stereotypes dominate Chinese popular discourse on the continent.
Wang Yuejun, one of the exhibit's curators, said that comparisons to animals were typically seen as a compliment in Chinese culture, pointing to the zodiac signs that identify people with animals according to their birth year.
"The target audience is mainly Chinese," Wang said in a statement. But the museum understood the images offended "our African friends" and the pictures were removed to show respect for their concerns, Wang added.
The offensive nature was first notices by a Nigerian Instagram user, Edward E Duke. In a post, which was later removed, he asked why the museum "put pictures of a particular race next to wild animals".
More than 141,000 people visited the show, which opened just before China's week-long National Day holiday.
China is rife with examples of tone deafness when it comes to race. China's most popular chat app, WeChat, was forced to apologise this week after its software used the English N-word to translate a Chinese phrase that commonly means "black foreigner".

A wild boar, clown fish and two rhinoceros calves are among this week's pick of images from the natural world