15 Oct
News and Analyses, A Foreign Perspective
Nearly all of these are English-edition daily newspapers. These sites have interesting editorials and essays, and many have links to other good news sources. We try to limit this list to those sites which are regularly updated, reliable, with a high percentage of "up" time.
World Politics
United States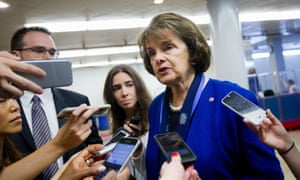 Dianne Feinstein. Photograph: Pablo Martinez Monsivais/AP
Is time up for no left-lean Dianne Feinstein?
Senator Dianne Feinstein, who has represented California for 25 years, announced this week she will run for a sixth term on Capitol Hill.
The moderate Democrat, who is 84, will likely face a strong primary from those who argue she is not progressive enough. California congressman Ro Khanna is among those calling for challengers.
"She hasn't been a strong advocate on privacy, she hasn't been strong on civil liberties, she hasn't been strong in terms of standing up to our foreign policy interventions around the world,'' Khanna told Politico.
"She was totally out of touch when the whole debate happened on encryption" after the San Bernardino attack, Khanna said. "And most recently, she has not embraced a move toward 'Medicare for All' and bold economic policies."
The LA Times reported that California state senate leader Kevin de Léon and entrepreneur Joseph Sandberg are among those preparing to run.
#WomenBoycottTwitter …
… was trending on, er, Twitter on Friday, as a number of women pledged to avoid the site.
The pledges were in response to Twitter suspending the actor Rose McGowan's account after she tweeted about sexual harassment in the wake of the Harvey Weinstein scandal.
A number of celebrities joined in the boycott – although some participants were called out by others as not having been as supportive when women of colour were attacked in the past.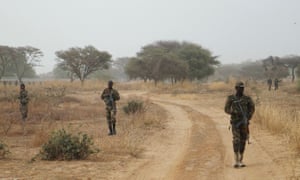 Nigerien troops patrol as part of a joint military exercise with US troops in Diffa, Niger. Photograph: US army/Spc Zayid Ballesteros H/EPA
W

hen four US special forces soldiers died in an ambush earlier this month in scrubby desert in western Niger, attention was suddenly focused on one of the most remote and chaotic war zones on the planet.
The US troops had been embedded with a larger unit of Nigerien troops and were attacked as they left a meeting with local community leaders a few dozen kilometres from the remote town of Tongo Tongo.
Some reports claimed US troops were on a mission to kill or capture a high-value target in the area, perhaps even Adnan Abu Walid al-Sahraoui, the leader of the only local faction of fighters to have formally pledged allegiance to the Islamic State.
Given the light armament of the US detachment, the scramble to evacuate them, and the lack of medical backup or reinforcements, this seems unlikely. The US troops were eventually rescued by French aircraft, which flew from bases about 300 miles away in neighbouring Mali.
That there are conflicting accounts of the clash is not surprising. It occurred in an environment where hard fact is rare, and rumours swirl as fiercely as the dust storms that sweep the scrub and desert.
Reuters news agency reported that the attackers were from al-Sahraoui's group, which calls itself the Islamic State in the Greater Sahara.
Al-Sahraoui's background and allegiance is evidence of the extremely fractured nature of the conflict across the swath of northern Africa known as the Sahel.
The 40-year-old is thought to have grown up in refugee camps in the south of Algeria, where he was committed to the nationalist cause of the Western Sahara. Little is known about how he became interested in Islamist extremism but by 2012 he was spokesman for the militant coalition that took over Timbuktu, the mythic city in northern Mali.
French troops forced the militants back into the northern deserts of Mali in 2013, and a year later the rise of the Islamic State in Iraq and Syria (Isis) split their coalition.
Some factions maintained their ties to al-Qaida in the Maghreb, the tenacious and powerful local affiliate of the veteran group founded by Osama bin Laden in 1988.
Al-Sahraoui went his own way with a few dozen extremist followers, eventually pledging allegiance to Isis in May 2015.
In recent years disaffected extremist leaders have looked to Isis for sponsorship – and advantage over their rivals – in conflict zones from west Africa to the Philippines.
Often such pledges of support have been welcomed by Isis high command. But it took 18 months for al-Sahraoui's bayat, or oath of allegiance, to be formally accepted – and only after he proved his mettle with a series of attacks.
This delay has raised doubts over the substance of al-Sahrouai's links with Isis.
If it is hard to place factions in the Sahel on an organogram of extremist groups, it is even harder to place them on a map.
Other than Boko Haram, the Islamic State affiliate based in north-east Nigeria, no Islamic extremist faction in the Sahel currently has a fixed base, making it very difficult to track the whereabouts and evolution of any individual group……………………..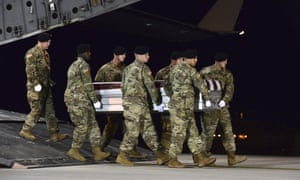 A US army carry team at Dover, Delaware, transfers the remains of Staff Sgt Dustin Wright, one of four special forces soldiers killed in Niger. Photograph: Staff Sgt Aaron J Jenne/AP
In this complex environment, western military units have to have significant autonomy in order to respond rapidly to local threats and conditions.
Reuters has reported that the US special forces soldiers abandoned, or at least extended, their more limited mission in Tongo Tongo when they learned of a raid nearby, deciding to engage the attackers themselves.
Former western special forces officers with firsthand knowledge of current operations in the Sahel said this account was "plausible".
"Since [President] Trump took power, US forces deployed around the world have had a lot more room to manoeuvre. Decisions about when and what to engage have been devolved right down to unit level," the former officer said. "Any soldier knows that if you give guys on the ground more independence, then they will be that much more aggressive and will take more risks."
Read Full Article>>

T

hese days, Tommy Delgado barely notices the helicopter flights full of affluent tourists coming and going just across the street from the Magic Castle Inn and Suites. After living in the same poky hotel room for five years, and now sharing it with his fiance, their 19-month-old son, two dogs and a cat, he has become immune to the existence of the helipad and the windows rattling from every lift-off of another aerial tour of Disney World's theme parks, a few miles to the west.
Delgado and his family are part of Kissimmee's hidden homeless, those living paycheck to paycheck, or in many cases on no paycheck at all, in cramped and semi-permanent accommodation in cheap motels behind the neon-lit, tourist attraction-laden facade of Highway 192, the pathway to Disney. Most will never be able to afford the price of theme park tickets, far less a helicopter ride above it.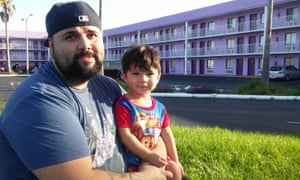 Tommy Delgado. Photograph: Richard Luscombe for the Guardian
It is a dark existence brought vividly into focus by director Sean Baker in his gritty movie The Florida Project, which tells of the day-to-day struggles of two residents of the Magic Castle, a six-year-old livewire named Moonee and her mom Halley, a single mother who turns to prostitution when waitressing falls through.
The story is fictional and the real-life Magic Castle, a shabby, bright pink, low-budget hotel where Baker shot the film, is nowhere near as seedy as its big-screen portrayal. But the scenes of poverty, depression and deprivation it conveys, and the juxtaposition of living in the direct shadow of Disney World, the self-proclaimed happiest place on earth, are all too real to Delgado. He has been a stay-at-home dad to his toddler, Mason, since leaving his last job as a trucker three months ago.
"Some of the stuff in the movie, this really does happen," he said. "There's a lot of people who live in these rooms with their kids, there's a lot of drug addicts that need help, they don't get that help here.
There was a woman living here with five kids in a small room, that was pretty tough

Tommy Delgado
"This area is good in certain parts but there's still crime, there's prostitution and that happens a lot. There's guys that will come from Disney and rent a room for just 45 minutes, that's a part of it, you'll see it in the movie. People will call social services if they see something going on, it's happened.
"There was a woman living here with five kids in a small room, that was pretty tough. You look at those places, you know where you should be and you know where you shouldn't be."
The stigma attached being a permanent hotel-dweller is one of the hardest obstacles to overcome, Delgado said.
"I tried to finance a car and they didn't want to give me the loan because I live in a hotel, they called me homeless. They said, 'You can't show that you pay rent so why should we give you a car?'
"When you go for jobs and you tell them you live in a hotel they look at you like, 'Why should we hire you?' So the people out here, they don't want to try."……………….
'This place is ghetto enough'
Kissimmee, rather than Orlando, is Disney World's unofficial dormitory town, home to many workers plus the majority of tourists who flock to central Florida for the sunshine and theme parks. Despite its position at the heart of the state's booming tourist industry, filled with restaurants and attractions as diverse as airboat rides and even a machine gun shooting range, the statistics are perhaps surprising: there are high levels of crime and a poverty rate of 25.6%, according to the US census bureau, more than 10% above the national average.
Even so, Delgado is keen for people to know that life for the motel dwellers is not always as grim as it sounds.
"Just because everyone lives in a hotel, doesn't mean they're all the same," he said. "There are people that work, there's a woman here on the second floor who works two jobs to look after her disabled sister. Not everybody's on drugs, even if the movie made it look that way."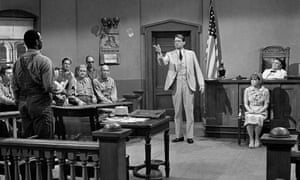 Gregory Peck appears as lawyer Atticus Finch with Brock Peters as Tom Robinson in the 1962 film adaptation of To Kill a Mockingbird. Photograph: Allstar/UNIVERSAL
Guardian staff and agencies
To Kill a Mockingbird, Harper Lee's classic novel about racism and the American south, has been removed from a junior-high reading list in a Mississippi school district because the language in the book "makes people uncomfortable".
The Sun Herald reported that administrators in Biloxi pulled the novel from the 8th-grade curriculum this week.
Kenny Holloway, vice-president of the Biloxi School Board, told the newspaper: "There were complaints about it. There is some language in the book that makes people uncomfortable, and we can teach the same lesson with other books. It's still in our library. But they're going to use another book in the 8th-grade course."
A message on the Biloxi schools website said To Kill A Mockingbird teaches students that compassion and empathy do not depend upon race or education.
Published in 1960, Lee's Pulitzer Prize-winner deals with racial inequality in a small Alabama town, in the aftermath of an alleged rape of a white woman for which a black man is tried. It has sold more than 40m copies and it was made into a film in 1962, winning three Oscars.
An email to the Sun Herald from a concerned reader referred to the book's use of the word "nigger" when it said the school board's decision was made "mid-lesson plan". "The students will not be allowed to finish the reading of To Kill A Mockingbird," the email said "… due to the use of the 'N' word."
The newspaper quoted the reader as writing: "I think it is one of the most disturbing examples of censorship I have ever heard, in that the themes in the story humanize all people regardless of their social status, education level, intellect, and of course, race. It would be difficult to find a time when it was more relevant than in days like these."