17 Oct
News and Analyses, A Foreign Perspective
Nearly all of these are English-edition daily newspapers. These sites have interesting editorials and essays, and many have links to other good news sources. We try to limit this list to those sites which are regularly updated, reliable, with a high percentage of "up" time.
World Politics
United States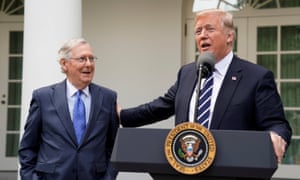 Donald Trump on Mitch McConnell: 'My relationship with this gentleman is outstanding.' Photograph: Yuri Gripas/Reuters
Donald Trump and Mitch McConnell appeared side-by-side in the Rose Garden after lunch at the White House on Monday in a show of solidarity after the president's former chief strategist called for the metaphorical assassination of the Senate majority leader.
Trump insisted he and McConnell were "closer than ever before", despite his having publicly criticized the Republican leader for the Senate's failure to enact the president's legislative agenda, including Republicans' failure to repeal the Affordable Care Act, which Trump called a "disgrace".
"My relationship with this gentleman is outstanding," Trump said, gesturing to McConnell, who stood steps away.
"We are fighting for the same thing: we are fighting for lower taxes, big tax cuts, the biggest tax cuts in the history of our nation," Trump continued. "We are fighting for tax reform as part of that."
Stepping to the lectern, McConnell affirmed their friendship and said the two men were working together to move forward on tax reform and other major legislation.
"Contrary to what some of you may have reported, we are together, totally, on this agenda to move America forward," McConnell said. This summer, however, McConnell drew Trump's ire when he said that the president held "excessive expectations" for the pace of congressional progress.
Despite the declarations of unity, Trump had just hours before told reporters he "totally understands" the frustrations of his former chief strategist, Steve Bannon, who recently declared political war on the Republican establishment that McConnell leads.
"We are not getting the job done," Trump said, as he convened a cabinet meeting earlier on Monday. "I'm not going to blame myself, I'll be honest. They are not getting the job done, so I can understand where Steve Bannon is coming from."
Speaking at the Values Voter Summit in Washington on Saturday, Bannon invoked the death of Julius Caesar and called for "a season of war against [the] GOP establishment".
But after a lunch with McConnell, Trump struck a more conciliatory note and said he would encourage Bannon to refrain from running primary challenges against certain Republican senators.
"Some of the people he may be looking at, I'm going to see if we can talk him out of that, because I think they're great people," Trump said .
The majority leader cautioned against pushing primary challengers, noting that in the past, they had failed to make it to the Senate.
"You have to nominate people who can actually win because winners make policy and losers go home," McConnell said.
For nearly 50 minutes, Trump and McConnell took questions from reporters, touching on a wide range of issues. He hinted that he would declare a state of emergency on the opioid crisis next week, after having promised to do it several months ago. He also blamed the Cuban government for alleged sonic attacks on American personnel at the US embassy in Havana. The state department removed staff from the embassy as a precaution.
Trump also said he was "very happy" with his decision to end critical healthcare payments to insurance companies that help low-income Americans afford health insurance. He said the decision was helping spur bipartisan action on healthcare. After repeated failures to pass legislation repealing the healthcare law, Trump claimed Republicans had found enough support to pass a new measure, which he expects despite wariness from GOP senators on the Hill to revisit the issue ahead of next year's midterms.
He also expressed a desire for Hillary Clinton to run again in 2020. He said her defense of NFL players who take a knee during the national anthem to protest against police violence was "very disrespectful to our country".
"That's why she lost the election. I mean, honestly, it's that thinking, that is the reason she lost the election," Trump said.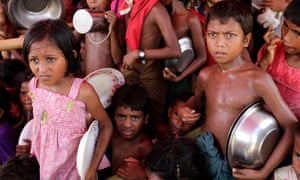 Oliver Holmes, south-east Asia correspondent
The United Nations food aid agency withdrew a critical report revealing desperate hunger among the persecuted Rohingya population after the Myanmar government demanded it be taken down, the Guardian has learned.
The July assessment by the World Food Programme (WFP) warned that more than 80,000 children under the age of five living in majority-Muslim areas were "wasting" — a potentially fatal condition of rapid weight loss.
The six-page document, which was reported on at the time, has since been replaced with a statement saying Myanmar and WFP were "collaborating on a revised version".
That process would involve "representatives from various ministries, and will respond to the need for a common approach" that was in line with "WFP's future cooperation with the government".
The report should not be cited in any way, the statement added.
The revelation that the report was spiked will add to a series of recent criticisms that UN did not push the government hard enough for the rights of 1.1 million Rohingya in Myanmar or sound the alarm on their spiralling oppression.
The issue exploded on 25 August when Rohingya insurgents attacked security forces, who responded with a severe counteroffensive. More than half a million Rohingya have since fled to neighbouring Bangladesh, many alleging the army conducted mass killings and rapes, claims the government denies.
The UN's most senior official in the country will leave at the end of the month amid allegations she suppressed another report, a damning consultation of the UN's strategy, and also attempted to shut down public advocacy on Rohingya suffering. She leaves in the middle of the current crisis, the worst in decades, while a replacement has not been publicly announced.
Asked why the July study on Rakhine state was removed, WFP said it was withdrawn from the website "following a request by the government to conduct a joint review".
It an emailed statement, the agency said "WFP stands by its original assessment, which was conducted jointly with local authorities in Rakhine state … However WFP recognises that in a dynamic and evolving situation, it is important to coordinate closely with all partners, including the government."

The journalist who led the Panama Papers investigation into corruption in Malta was killed on Monday in a car bomb near her home.
Daphne Caruana Galizia died on Monday afternoon when her car, a Peugeot 108, was destroyed by a powerful explosive device which blew the vehicle into several pieces and threw the debris into a nearby field.
A blogger whose posts often attracted more readers than the combined circulation of the country's newspapers, Caruana Galizia was recently described by the Politico website as a "one-woman WikiLeaks". Her blogs were a thorn in the side of both the establishment and underworld figures that hold sway in Europe's smallest member state.
Her most recent revelations pointed the finger at Malta's prime minister, Joseph Muscat, and two of his closest aides, connecting offshore companies linked to the three men with the sale of Maltese passports and payments from the government of Azerbaijan.
No group or individual has come forward to claim responsibility for the attack.
Malta's president, Marie-Louise Coleiro Preca, called for calm. "In these moments, when the country is shocked by such a vicious attack, I call on everyone to measure their words, to not pass judgment and to show solidarity," she said.
After a fraught general election this summer, commentators had been fearing a return to the political violence that scarred Malta during the 1980s.
In a statement, Muscat condemned the "barbaric attack", saying he had asked police to reach out to other countries' security services for help identifying the perpetrators.
"Everyone knows Ms Caruana Galizia was a harsh critic of mine," said Muscat at a hastily convened press conference, "both politically and personally, but nobody can justify this barbaric act in any way".
Muscat announced later in parliament that FBI officers were on their way to Malta to assist with the investigation, following his request for outside help from the US government.
The Nationalist party leader, Adrian Delia – himself the subject of negative stories by Caruana Galizia – claimed the killing was linked to her reporting. "A political murder took place today," Delia said in a statement. "What happened today is not an ordinary killing. It is a consequence of the total collapse of the rule of law which has been going on for the past four years."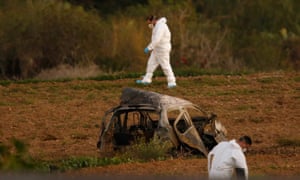 Forensic experts walk in a field after a powerful bomb blew up a car killing investigative journalist Daphne Caruana Galizia. Photograph: Darrin Zammit Lupi/Reuters
According to local media reports, Caruana Galizia filed a police report 15 days ago to say that she had been receiving death threats.
The journalist posted her final blog on her Running Commentary website at 2.35pm on Monday, and the explosion, which occurred near her home, was reported to police just after 3pm. Officers said her body had not yet been identified. According to sources, one of her sons heard the blast from their home and rushed out to the scene.
Caruana Galizia, who claimed to have no political affiliations, set her sights on a wide range of targets, from banks facilitating money laundering to links between Malta's online gaming industry and the Mafia.

Opinion
Coming out as rich: 'There are reasons why the wealthiest don't want to come out.' Photograph: Alamy
T

hey are a minority in this country. Their rituals are often secretive. They have their own lingo, etiquette, schools, neighborhoods, and certain places they visit, seasonally. Typically, they partially hide their identities. But in the last five years, some have started to "come out", not necessarily in pride but simply out of civic-mindedness. What they are revealing is surprising.
Eric Schoenberg is one of them. "I pay a lower tax rate than you do, which is startling," Schoenberg, 55, told me. To illustrate this problem, Schoenberg posted portions of his returns online. He wanted to show how much he, a very wealthy person, benefits from our system. He has always benefited from low taxation on his investment income, for instance.
Schoenberg is part of a group I call "the transparent rich". He is also in an organization that is similarly interested in transparency, the Patriotic Millionaires. The website describes members as "traitors to their class", and then elaborates: "Patriotic Millionaires are high-net-worth Americans, business leaders, and investors who are united in their concern about the destabilizing concentration of wealth and power in America."
Schoenberg's own wealth derives from what he calls a "complicated money story". "My father was a very successful business person, so I come from a background of wealth," he says. In turn, Schoenberg became an investment banker on Wall Street and a private investor. He also taught classes on family wealth at the Wharton business school.
And like others before him, he is coming out now because he sees a grave need for social transformation.
"I believe today's tax proposals will cut taxes on very rich people, and that's why I posted some of my tax returns online," says Schoenberg, perhaps referring to Donald Trump's recent call to repeal the estate tax altogether, as well as Republican plans to cut the corporate tax rate. "Look, if you are uncomfortable about where society is and want to make a difference, this is one way you can."
By coming out as rich, these affluent progressives are starting to expose their own positions, advocating greater equality in the process. You might call them "class woke" (and I don't mean that entirely ironically). They hope that they can help bring about change, at least a little.
In addition to making people more aware generally of a preferential tax code, more transparency about inherited wealth might help middle-class or working-class people feel less self-critical after they realize the hidden advantage of others. It would underline how taxes enable and a whole societal structure rewards the wealthiest. It may also help people without such resources to see that they aren't "doing it wrong", and stop them from blaming themselves when they are struggling.
After all, an estimated 35% to 45% of wealth is inherited rather than self-made. The Brookings Institution's Richard V Reeves and Kimberly Howard have called this a "glass floor", one element that protects the wealthiest from ever losing their mobility.
This inherited wealth can be passed on to one's family members tax-free unless it's larger than $5,430,000 – an extremely generous arrangement. (This means that fewer than 1% of all estates are taxed.) This is part of why social mobility is no longer what it once was. There are real racial gaps in upward mobility as well.
For instance, Iimay Ho, the executive director of Resource Generation, a nonprofit working to "organize young people with wealth and class privilege" to work to relieve inequality, came out to me when we first spoke on the phone.
We had never previously crossed paths, but she immediately told me
that she has personal access to net assets of $100,000 and that she makes $68,000 a year. (In New York City, these figures don't necessarily read as "rich", but they do, demographically, put Ho in the top 10% of those in her 18-to-35 age bracket, she said.
Ho also owns a $370,000 apartment. "Homeownership is a marker and a part of a huge transfer of wealth," she explained. Wealth was being defined here as US households with at least an income around $148,000 and home equity above $1.3m, but RG's other wealthy young recruits can have considerably more.
My fascinating and somewhat vertiginous chat with Ho seemed a salve for the tendency toward covertness among the rich, especially those who have inherited their fortunes. And I've long noticed among my creative-class social set in New York City a mysterious silence around family money. So do others, like my journalist friend who was struggling from paycheck to paycheck and, when she was younger, wondered how her successful-seeming writer friends were getting by: the secret lay in the fact that their parents had bought their homes for them or offered them the capital to do so.
But it's not just the wealthiest who are reassessing how they think about themselves. Scholars who study the 1% are as well. There are new books on the warily wealthy, including Rachel Sherman's Uneasy Street: The Anxieties of Affluence.