18 Oct
News and Analyses, A Foreign Perspective
Nearly all of these are English-edition daily newspapers. These sites have interesting editorials and essays, and many have links to other good news sources. We try to limit this list to those sites which are regularly updated, reliable, with a high percentage of "up" time.
World Politics
United States
Florida congresswoman reports president's message of condolence

Sgt La David Johnson was one of four special forces troops killed in Niger
Donald Trump told the widow of a soldier killed in an ambush in Niger that her husband "knew what he signed up for", according to a Florida congresswoman who says she heard part of the conversation on speakerphone.
Representative Frederica Wilson said she was in the car with Myeshia Johnson on Tuesday on the way to Miami international airport to receive the body of Johnson's husband, Sgt La David Johnson, when Trump called.
When asked by Miami station WPLG if she indeed heard Trump say that, Wilson answered: "Yeah, he said that. To me, that is something that you can say in a conversation, but you shouldn't say that to a grieving widow." She added: "That's so insensitive."
Trump later claimed on Twitter that her account was false, writing:
Wilson stood by her account, telling CNN on Wednesday that "the president evidently is lying, because what I said is true". Wilson said she and others in the car with Johnson heard Trump.
Escalating the criticism of the president, Wilson said: "He doesn't even know how to sympathize with people. We're grieving. This is a grieving community. … It's disgraceful for him to even tweet about this. And as I say, this gentleman has a brain disorder and he needs to be checked out."
Sgt Johnson was among four servicemen killed in the African country of Niger earlier this month. They died when militants thought to be affiliated with the Islamic State group ambushed them while they were patrolling in unarmored trucks with Nigerien troops.
Wilson, a Democrat, said she did not hear the entire conversation and Myeshia Johnson told her she could not remember everything that was said when asked it about it later.
The White House did not immediately comment.
Trump has been criticized for not reaching out right away to relatives of the four killed in Niger and for remaining silent about the deaths for 12 days.
On Monday, Trump said he had written letters that had not yet been mailed. His aides said they had been awaiting information before proceeding.
After Donald Trump criticised Barack Obama for not calling fallen service members' loved ones, bereaved military families paint a contrasting picture
President Barack Obama hugs gold star mother Michelle DeFord during a meeting with veterans and Gold Star Mothers at the White House on 10 September 2015. Photograph: Alex Wong/Getty Images
Stephanie Fisher got the letter about a week later, delivered by an army casualty assistance officer: the president of the United States wished to express his condolences over the death of her son.
Staff Sgt Thomas Kent Fogarty, a 30-year-old father of two, was killed in Afghanistan in May 2012 by an improvised explosive device.
"I was very comforted. I actually felt like I could have picked up the phone and said 'look, my son died … and I need to talk to President Obama.' I kind of feel like I might have been able to get a hold of him," Fisher said. "I felt like my son got lots of respect."
Donald Trump painted a contrasting picture of Barack Obama and his predecessors this week. Asked in a news conference on Monday about his silence regarding the four special forces soldiers killed during an ambush in Niger on 4 October, Trump said: "If you look at President Obama and other presidents, most of them didn't make calls. A lot of them didn't make calls".
He modified that claim when questioned: "President Obama, I think, probably did sometimes, and maybe sometimes he didn't. I don't know. That's what I was told."
Obama's standard practice appears to have been to write to bereaved relatives of military members and meet with many of them in person, and to make occasional telephone calls that the White House did not publicise.
Regardless of the contact method, Trump's implication was clear: that Obama disrespected the families of fallen soldiers by a lack of personal effort. Such a claim surfaced in conservative media during his presidency and was also levelled at George W Bush in 2003, though the Washington Times reported five years later that Bush spent considerable time contacting bereaved families.
On Tuesday, Trump told Fox News Radio: "I don't know what Bush did. I don't know what Obama did." But he again took a swipe at his predecessor, suggesting it would be worth asking Trump's chief of staff, John Kelly, if he received a call from Obama after Kelly's son died in Afghanistan in 2010.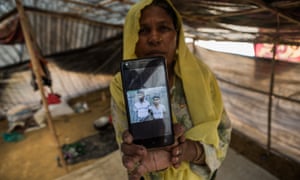 Nur Asha with a photograph of the sons she lost in Myanmar. Photograph: Amnesty International
Oliver Holmes, South-east Asia correspondent
Amnesty International has accused Myanmar's security forces of committing crimes against humanity as hundreds of thousands of Rohingya women, men, and children have fled the country.
In a report released on Wednesday Amnesty cited testimony from more 120 Rohingya men and women who have fled to Bangladesh in recent weeks, part of a half-a-million-strong exodus of people escaping a bloody army campaign.
Thirty medical professionals, aid workers, journalists and Bangladeshi officials, were also interviewed for the research, titled "My World Is Finished", and Amnesty also referred to satellite imagery, as well as on-the-ground video footage.
Amnesty said some of the worst atrocities were committed in Min Gyi, or Tula Toli, a village identified by the Guardian as the site of what appeared to be a brutal massacre after army forces swept through on 30 August.
Evidence all points to the same conclusion, it said: "hundreds of thousands of Rohingya women, men, and children have been the victims of a widespread and systematic attack, amounting to crimes against humanity."
"In this orchestrated campaign, Myanmar's security forces have brutally meted out revenge on the entire Rohingya population of northern Rakhine State, in an apparent attempt to permanently drive them out of the country. These atrocities continue to fuel the region's worst refugee crisis in decades," said Tirana Hassan, Crisis Response Director at Amnesty.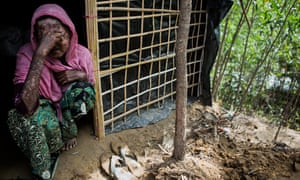 Shara Jahan, who has burn marks on face and arms. Photograph: Amnesty International
"Exposing these heinous crimes is the first step on the long road to justice. Those responsible must be held to account," she added, specifically calling for Myanmar's commander-in-chief, senior general Min Aung Hlaing, to take immediate action to stop his troops from committing atrocities.
Oppressed for decades, the minority Muslim Rohingya were forced to escape after soldiers launched a massive counteroffensive across Rakhine state, a response to around 30 coordinated attacks by Rohingya militants on army outposts on 25 August.
Myanmar has blocked media and major United Nations aid agencies from operating freely in Rakhine and newly-released satellite images from Human Rights Watch show that at least 288 villages were partially or totally destroyed by fire in northern Rakhine State.
One woman interviewed in the Amnesty report, Shara Jahan, 40, whose husband and son were shot and killed, said she was trapped in her home as the roof started to burn, with her clothes catching alight.
"I had this fire on my entire body, on my clothes. I was rolling, rolling toward the rice field. [When I got there], that's when the fire was put out. I rolled in the little water there in the rice field," she was quoted as saying.
I had this fire on my entire body, on my clothes. I was rolling, rolling toward the rice field.

Shara Jahan
An image of Jahan shows her face and arms covered in what appears to be burn scars. Amnesty referenced a forensic medical expert who said her appearance shows deep 2nd or 3rd degree burns.

More than half a million Rohingya refugees have flooded into Bangladesh to flee an offensive by Myanmar's military which the United Nations has called 'a textbook example of ethnic cleansing'. Photographer Kevin Frayer is in Bangladesh to document the crisis