19 Oct
News and Analyses, A Foreign Perspective
Nearly all of these are English-edition daily newspapers. These sites have interesting editorials and essays, and many have links to other good news sources. We try to limit this list to those sites which are regularly updated, reliable, with a high percentage of "up" time.
World Politics
United States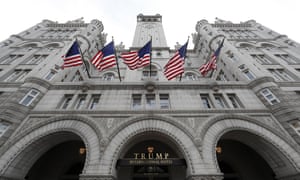 The Trump International Hotel in Washington. Photograph: Alex Brandon/AP
Associated Press in New York
A federal judge on Wednesday pressed government lawyers to explain why Donald Trump's ownership of hotels patronized by foreign government officials did not violate the constitution, a key question that could shed light on Trump's finances if a civil lawsuit heard in New York is allowed to proceed.
At issue in the case brought by the left-leaning public policy group Citizens for Responsibility and Ethics in Washington (Crew) is the interpretation of the so-called foreign "emoluments clause" of the constitution, a provision meant to prohibit bribery of federal officials by foreign governments.
A lawyer for Crew, which represents competing restaurateurs, hotel owners and others in the industry, said during oral arguments in Manhattan federal court that by doing business with foreign officials with an interest in currying favor with the White House, Trump runs afoul of the constitution. A lawyer for the Department of Justice disagreed, saying a violation only happens if an actual act is done in exchange for a payment.
US District Judge George B Daniels said he would rule on whether the case can go forward in the next 30 to 60 days. The government has sought to dismiss the case.
If Daniels allows the case to proceed, it could reveal much about Trump's business and personal finances, possibly forcing him to disclose tax returns and other financial information in the course of discovery.
Trump, who made his fortune in real estate, marketing and entertainment, bucked decades of precedent by refusing to release his tax returns during the 2016 presidential elections. That has fueled suspicions about his possible conflicts of interests as well as concerns about the source of his income, including whether any of it comes from sources abroad.
Government lawyer Brett Shumate argued for a precise definition of the emoluments clause, saying that because an emolument includes the exchange of payment for an official act, Trump's business income couldn't qualify as such a payment.
Daniels repeatedly questioned him on that point and others, proposing that if the president promises to take an official act in exchange for money – by signing a treaty, for example – the money transferred is an emolument whether or not the president ever follows through on the action.
The framers of the constitution did not just want the president not to take money from foreign governments, "they wanted him to not take the promise of the money", he said.
Later in the hearing, Daniels pushed Crew attorney Deepak Gupta to explain why the issue is even something the courts should have to resolve, asking at one point whether Congress, instead of the courts, was best suited to resolve the case.
"They have the power to act if they had a concern about acting," Daniels said, at one point likening litigation on behalf of rival hotels, restaurants and good-government groups to "a street fight" with the president.
The clause at issue allows for that, saying no US official can "accept any present, emolument, office, or title of any kind whatever, from any king, prince, or foreign state" without the consent of Congress.
Attorneys for Crew say that court precedent on the topic gives the judicial branch authority to explore the issue.
Crew, in a lawsuit first filed in January, has argued that Trump, who didn't put his businesses in a blind trust after becoming president, has an unfair business advantage while in the White House that harms his rivals in the industry, taking away their business and enriching him by actors with an incentive to curry favor for official acts.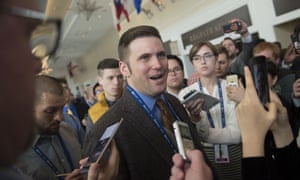 Richard Spencer is paying the university $10,564 to rent the Phillips Center and pay for security inside the venue. Photograph: UPI/Barcroft Images
A white nationalist has been given full control over which journalists will be permitted to cover his "freedom of speech" event at the University of Florida on Thursday, a university spokeswoman said, a situation one expert called "ironic".
"They've rented the facility. It's their event. It's not our event," university spokeswoman Janine Sikes said on Wednesday. "It's their event, so that's why they can have whomever they want."
White nationalist Richard Spencer, who is headlining the event, has the authority to handpick which journalists can cover his speech or deny access to any journalists at all, first amendment experts at the University of Florida said.
Spencer's group has also been given complete control over who will receive audience tickets. The group announced they will hand out tickets in person about an hour before the speech starts, a plan one student organizer called "volatile" and "a huge danger".
The university's negotiations with Spencer appear to have "unfortunately sacrificed" journalists' first amendment rights, said Clay Calvert, the director of the University of Florida's Marion B Brechner First Amendment Project.
Asked who was to blame for this state of affairs, Calvert said: "The university would be responsible. I don't want to say the word 'blame'. The university is the entity that ultimately made the decision not to allow a free access pool of journalists, and they could have negotiated that."
Calvert went on: "It is a rather ironic situation. Here's a individual who gets to speak because of the first amendment, but he also gets to exclude members of the press based upon his whim, who are also protected by the first amendment."
"It's a hard thing to wrap your head around," said Frank LoMonte, the director of the university's Joseph L Brechner Center for Freedom of Information. "I can only imagine that the goal is not to entangle the university in the management of the event.
"The president here has been very clear that the university didn't invite this speaker, doesn't condone this speaker, and it may be that they're taking an especially hands-off policy so as not to get entangled."
I love mainstream liberals. Those are my favorite journalists

Richard Spencer
University of Florida president Kent Fuchs said this month the school had no choice but to allow Spencer to rent a public campus venue to discuss his white nationalist ideas and racist advocacy. Spencer is paying the university $10,564 to rent the Phillips Center and pay for security inside the venue. By law, the president said in a statement, the university must shoulder the additional cost of more than $500,000 to provide security for Spencer's event and the protests around it.
But the details of ticketing and media credentialing would have been negotiated by private contract, not constitutional law, the two experts said.
"Once you're turning the space over completely to a private lessor, then unless the contract provides otherwise, the university can and I guess does relinquish control over the event," LoMonte said…………..While they had originally set aside 100 seats for journalists, "we might boost that up to 150," Spencer said.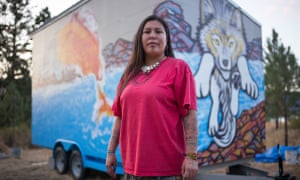 Secwepemc activist Kanahus Manuel in front of a tiny house being built in the path of Kinder Morgan pipeline's planned route through her Nation's territory in British Columbia, Canada. Photograph: Ian Willms/Greenpeace
The controversial expansion of a pipeline that would carry tar sands crude from Alberta to British Columbia's coast will be doomed by the rising power of Indigenous land rights.
That's the message that Kanahus Manuel, an Indigenous activist from the Secwepemc Nation in central BC, plans to deliver to banks financing the project as she travels through Europe this week.
She'll have in hand a report being released today by the Indigenous Network on Economies and Trade, which argues that Texas-based Kinder Morgan has misled financial backers about the risks of expanding its TransMountain pipeline, almost half of which runs across "unceded" Secwepemc territory.
The project, whose cost has ballooned from $5.4 to $7.4bn, would nearly triple capacity on an existing pipeline to ship 890,000 barrels a day to Asian markets, locking in expanded production of one of the world's most carbon-intensive oils.
The report details "significant legal, financial and reputation risks" that amount to "serious obstacles" it says have been downplayed by Kinder Morgan in its dealings with Canadian and international banks.
The key risks, identified by economists and lawyers based on the pipeline's history, Canadian legal precedents, and financial documents, include Kinder Morgan's plans to build on lands whose ownership is hotly contested.
The pipeline crosses 518km of Secwepemc territory over which the First Nations assert Aboriginal title, a type of land rights that the supreme court of Canada has recognized were never ceded or relinquished through treaties.
The Secwepemc could not oppose the original Trans Mountain pipeline being built through their territory in 1951, because it was illegal at the time for Indigenous peoples to politically organize or hire lawyers to advocate on their behalf.
"[Kinder Morgan] either does not understand the diverse realities of Indigenous rights in Canada or they are wilfully ignoring the consequences of those rights for the project," the report says. "Either way, it should be a major red flag for investors, lenders, and other financial backers."
Kinder Morgan did not return a request for comment.
Banks are increasingly rethinking their investments in the tar sands – French bank BNP Paribas pledged last week to stop financing pipelines carrying tar sands oil, following similar moves by Dutch Bank ING and Sweden's largest pension fund AP7.
The report also notes that the likelihood of increasing Indigenous protest has not been accounted for by the company.
Inspired by her time at the Standing Rock encampment, this fall Manuel and others finished constructing the first of several tiny houses – to be outfitted with solar-panels – that they will place in the path of the pipeline as an act of defiance.
"We will defend with all of our capacities our unceded lands and waters from this climate chaos-fuelling pipeline," Manuel said from Europe. "The government has to follow the minimum standards laid out in the United Nations Declaration on the Rights of Indigenous Peoples – that includes free, prior and informed consent, which they have not gotten from us for the project. Instead Kinder Morgan is hiding the risks and the costs their backers will face when this pipeline doesn't get built."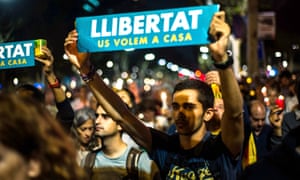 An independence campaigner holds a placard saying 'Freedom – we want you back home' at a rally in Barcelona. Photograph: Rex/Shutterstock
The Spanish government is to suspend Catalonia's autonomy and impose direct rule after the region's president refused to abandon the push for independence that has led to Spain's biggest political crisis for 40 years.
The announcement of the unprecedented measure came after the Catalan president, Carles Puigdemont, threatened a unilateral declaration of independence if the Spanish government did not agree to talks on the issue.
In a letter to the Spanish prime minister, Mariano Rajoy, sent on Thursday morning – the deadline set by Madrid for the region to abandon its independence plans – Puigdemont said discussions were the only way to resolve the crisis.
The Catalan president accused Spanish authorities of seeking to repress the independence movement after two of its leaders were denied bail by a national court judge this week, and he said using article 155 of the 1978 constitution to impose direct rule from Madrid would force his hand.
"The suspension [of the independence declaration] is still in place. The [Spanish] state is entitled to decide to apply article 155 if it secures the senate's approval," he wrote.
"But despite all our efforts and our desire for dialogue, the fact that the only reply we have been given is that autonomy will be suspended suggests that you do not understand the problem and do not wish to talk.
"If the [Spanish] government persists in hindering dialogue and continues with its repression, the Catalan parliament could, if it deems appropriate, proceed to vote on the formal declaration of independence, which it did not vote on on 10 October."
In a statement on Thursday morning, the Spanish government said Puigdemont had again not confirmed whether independence had been declared, adding: "At an emergency meeting on Saturday, the cabinet will approve measures to be put before the senate to protect the general interest of Spaniards, including the citizens of Catalonia, and to restore constitutional order in the autonomous community."
It criticised Catalan authorities for "deliberately and systematically seeking institutional confrontation, despite the serious damage it's causing to coexistence and Catalonia's economy".
According to article 155, which has never been used, the Spanish government will need to lodge a formal complaint with Puigdemont, then submit its proposals to the senate for debate and approval. As a result, it will be at least a few days before concrete steps are taken.
This week, a Spanish government spokesman said article 155 had been designed not to remove Catalonia's autonomy, but ensure its autonomous government adhered to the law.
"We have envisaged a range of scenarios and will apply 155 accordingly," he said. "It's not a question of applying it in its entirety or of taking over every government function or department. Clearly the Catalan government would lose many of its powers, though not all. It's a case of using a scalpel, not an axe."
In theory, its application could still be avoided if the Catalan government were to call a snap regional election without a confirmation of independence. However, the Catalan foreign minister, Raül Romeva, speaking in Brussels on Wednesday, said: "Elections from our perspective are not an option."
Although Puigdemont has claimed that the unilateral independence referendum held on 1 October, in which 90% of participants opted for independence, gave his government the mandate to forge a sovereign state, he has ignored Rajoy's demand to clarify whether or not independence has been declared.
He has instead proposed that the effects of an independence declaration be suspended for two months while both sides open dialogue aimed at resolving the standoff.