23 Oct
News and Analyses, A Foreign Perspective
Nearly all of these are English-edition daily newspapers. These sites have interesting editorials and essays, and many have links to other good news sources. We try to limit this list to those sites which are regularly updated, reliable, with a high percentage of "up" time.
Regional premier faces choice of declaring independence or calling snap election before losing control

A Catalan police officer in front of regional government headquarters in Barcelona.

Massimiliano Minocri
The Spanish government is aiming to remove a minimum number of key Catalan officials when it implements emergency measures to restore the law in the breakaway region next Saturday.
Following the Spanish Cabinet's approval of emergency powers this weekend, when Article 155 of the Constitution was invoked, Prime Minister Mariano Rajoy announced that Catalan premier Carles Puigdemont, his deputy Oriol Junqueras and the other members of the regional cabinet will be removed from their posts. The idea is that these will be replaced with the second or third highest-ranking official within each department.
"The option of early elections "is not on the table right now"

Jordi Turull, Catalan government spokesperson
With this move, Madrid hopes to halt the secessionists' ongoing drive to create a parallel legal system in Catalonia as a prelude to declaring outright independence. The Spanish government has resorted to Article 155, an obscure constitutional provision that has never been used before, after official requests for Puigdemont to stop the breakaway process went unheeded.
The Rajoy administration wants to leave another 180 high-ranking Catalan government officials in their posts, as well as the heads of the region's public companies. But if these individuals fail to obey the law, they will be replaced as well. Madrid is aware that it will not be easy to keep replacements down to a minimum.
"All we're going to ask of them is to act like professionals and keep doing their job by running their department, so that services will continue to be delivered to citizens," said a government source.
This same source dismissed rumors that the central government is going to introduce new guidelines for each department.
"If anyone thinks that Madrid is going to dictate orders so the (Catalan) departments of education, health or justice will make changes to their everyday affairs, they are deeply mistaken," said the source. "There's not going to be more Spanish language classes at school, or different content taught in history class."
Snap election?
Rajoy, of Spain's ruling Popular Party (PP) also said on Saturday that there will be a new regional election in Catalonia within the space of six months. His goal is to schedule the vote as soon as possible so that the emergency measures can be rolled back, and control handed over to the new government chosen at the ballot boxes.
"There are no plans for making changes beyond stopping the kind of unlawfuless that the Catalan government and its allies have been committing," said sources at La Moncloa, the seat of the Spanish government.
Last week, some Socialist Party (PSOE) officials suggested that it would be good if Puigdemont were to call a snap election himself. The PP, PSOE and center-right party Ciudadanos – all of whom worked on the emergency measures together – all believe that calling early elections would be the best response by Puigdemont to the rising political, institutional and social tension in Catalonia.
This move is also supported by elements of Puigdemont's own Democratic Party of Catalonia (PDeCat), which governs in coalition with the Catalan Republican Left (ERC) as Junts pel Si (Together for Yes) after earning 48% of the vote at the 2015 election. Because the coalition's joint 62 deputies in the 135-seat assembly are not enough for a majority, it relies on a far-left party called CUP that wants Puigdemont to unilaterally declare an independent republic.
World Politics
United States
As the aftershocks from Harvey Weinstein's alleged sexual misconduct spread to other powerful men in Hollywood and media, a group of women for whom the allegations are "gross but familiar" are wondering if the fallout will reach an even more powerful man – the one in the White House.
During the course of his presidential campaign, more than 10 women came forward with accusations that Donald Trump had touched or kissed them without consent – something he bragged about on the infamous 2005 Access Hollywood tape when he said stars like him could "grab them by the pussy".
A number of other women accused Trump of unwanted sexual advances. And like so many of the Weinstein stories to come out this month, their claims have remarkable consistency.
Three of them spoke with the Guardian after the allegations against Weinstein – who denies the claims against him – came to light, to revisit their accusations against Trump.
Although they are glad women have spoken up against the Hollywood producer and feel the culture may finally change, they are worried the relative silence of men will continue to allow abusers to rise to power.
They were just some of the women who spoke out about Trump's behavior – women who, in many cases, were young and vulnerable and eager for an opening in industries such as modelling or TV in which the Miss Universe owner and Apprentice star had sway.
There was his former business partner in the beauty pageant industry, Jill Harth, who told the Guardian in an interview last summer that Trump groped her breasts and grabbed her crotch in one of the children's rooms at his Florida home Mar-a-Lago in 1993.
"My pain is everyday with bastard Trump as President. "No one gets it unless it happens to them. NO one!" Harth tweeted after the Weinstein allegations came to light.
Then there was Kristin Anderson, who claimed last fall that Trump touched her vagina through her underwear at a Manhattan nightclub in the early 1990s.
And Mindy McGillivray, who said Trump groped her in 2003 when she was 23, also allegedly at Mar-a-Lago.
And Rachel Crooks, who said Trump kissed her forcibly on the mouth in 2005.
Temple Taggart McDowell, a former Miss USA beauty pageant contestant, also alleged that Trump kissed her without permission, as did Jessica Drake, along with other claims. Natasha Stoynoff accused Trump of "forcing his tongue down my throat" in 2005.
A former contestant on The Apprentice, Summer Zervos – who also said Trump kissed and groped her without consent – has filed a defamation claim against the now-president. Through her lawyer Gloria Allred, she declined to be interviewed for this story.
A year after the election of a man they say sexually harassed or assaulted them, Leeds, Heller and Wells spoke in depth with the Guardian about Weinstein's fall, and why their allegations against Trump didn't have the same effect on the man who went on to become the 45th president of the United States.
Trump has denied all allegations, at various points threatening to sue his accusers and calling their accounts "total fabrication" and "pure fiction". He also suggested some of the accusers were not attractive enough for him to have assaulted them, saying of Leeds: "Believe me: She would not be my first choice. That I can tell you."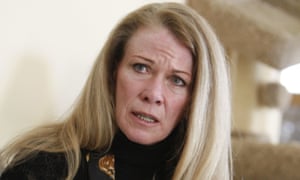 State senator Vicki Marble said she did not know about Ames Mayfield's dismissal but thought there was an 'element of manipulation involved' in his questions. Photograph: Jack Dempsey/AP
Guardian staff and agencies
A Cub Scout was kicked out of his group after he questioned a Colorado Republican lawmaker about gun control and contentious comments she made about African Americans.
The story, which spread via social media, represents another political flashpoint for the Boy Scouts of America, of which the Cub Scouts is a part. The organisation faced harsh criticism this summer, after President Donald Trump used a speech at its national jamboree to rail against "fake news" and Barack Obama, boast about beating Hillary Clinton and reminisce about his hedonistic life in New York.
At a group meeting in Broomfield, Colorado, earlier this month, Cub Scouts were told to come prepared to talk to state senator Vicki Marble about issues important to them. Lori Mayfield, the mother of 11-year-old Ames Mayfield, posted footage of ensuing exchanges online.
Reading from a printed sheet, her son asked Marble about "commonsense gun control". "I was shocked that you co-sponsored a bill to allow domestic violence offenders to continue to own a gun," he said. "… Why on earth would you want someone who beats their wife to have access to a gun?"
The boy also mentioned a vote to repeal background checks on private gun sales, support for concealed carry without a permit, and the struggles of some victims of the Las Vegas mass shooting to afford healthcare for the injuries.
Fifty-eight people died and nearly 500 were injured in the Las Vegas shooting, when a gunman opened fire on a music festival from the 32nd floor of the Mandalay Bay hotel.
"There's something wrong in this country when Republicans believe it is a right to own a gun but a privilege to have healthcare," Ames Mayfield said, before listing statistics on support for gun control and eventually being cut off by a male adult.
"That's a great question and I am really very aware of those statistics," Marble said. "And I have a concealed carry permit. I shoot. And all my sons shoot.
"And when you talk about the Las Vegas shooting, which was a horrible tragedy, that was a gun-free zone. Did you know that? Did you know the Aurora shooter [who killed 12 in a movie theater in 2012] was [in] a gun-free zone? It didn't stop it, did it? They went and looked for those zones."
Marble then said "it has been shown that the more guns a society has, the less crime or murders are committed" and cited Chicago and Detroit as "gun-free zones" with "more crime, more murders, than anywhere else in the United States".
Advising Ames to "look at a lion in Africa, going after a gazelle", she said shooters were "predators … and the prey are us".
Lori Mayfield said a local scout leader told her after the 9 October event that the topic of gun control was inappropriate because of its political nature and that her son's questions were disrespectful. The Boys Scouts have refused to comment on the reason the boy was asked to leave but have said he will remain in the Scouts after finding a new group.
"The Boy Scouts of America is a wholly nonpartisan organization and does not promote any one political position, candidate or philosophy," the organisation said in a statement on Friday.
In videos recorded by Lori Mayfield, other scouts were heard asking about why people wanted to vote for Obama just because he was black and about Trump's proposed wall along the US-Mexico border.
Marble drew national attention in 2013 after she seemed, during a legislative committee hearing, to link the health of black people to eating fried chicken and barbecue. The head of the state Republican party and others criticized her words. She issued a statement saying she was saddened her comments were taken to be disparaging.
During the scout meeting, Ames told Marble he was "astonished that you blamed black people" for their health problems.
She replied: "I didn't. That was made up by the media. So you want to believe it, you believe it, but that's not how it went down."
Marble went on to say Americans enjoy multicultural food but cautioned that people also need to consider whether they are predisposed to any diseases because of their genetic makeup.
In a statement on Friday, Marble said she did not know about Ames's dismissal until she read about it. She said she didn't blame him because she thought there was an "element of manipulation involved".

Move comes after imposition of direct rule by Madrid – described by Carles Puigdemont as worst attack on institutions since Franco
Spanish foreign minister defends police actions after Catalan referendum – video
The Catalan parliament will meet over the coming days to agree its response to the Spanish government's unprecedented decision to impose direct rule as speculation mounts that the regional president, Carles Puigdemont, is planning to press ahead with a unilateral declaration of independence.
On Saturday night, Puigdemont described Madrid's move as the worst attack on Catalonia's institutions since General Franco's dictatorship and accused the Spanish government of "slamming the door" on his appeals for dialogue to resolve the country's worst political crisis since its return to democracy 40 years ago.
Hours later, the Catalan government said it would fight "tooth and nail to defend Catalonia's democratically elected institutions" and the mandate it had received through the unilateral independence referendum held on 1 October.
Its spokesman, Jordi Turull, told the Catalan radio station RAC1 that the coming week would be one "where decisions are taken … doing nothing doesn't figure in our plans".
He rejected demands for fresh elections to be held as a way to break the standoff, saying polls were "not on the table".
Puigdemont signed a declaration of independence on 10 October, but proposed that its effects be suspended for two months to allow for dialogue.
Although Puigdemont has resisted internal political pressure to now formally declare Catalan independence, he has refused to rule out the move, which would escalate tensions further and could pit the regional police force, the Mossos d'Esquadra, against the thousands of Spanish Guardia Civil and national police officers deployed in Catalonia.
Even if he draws back from a declaration, many Catalans – including Mossos and civil servants – may decide to not to obey orders from Madrid, and tens of thousands of people could take to the streets to protect key regional government institutions.
The Spanish prime minister, Mariano Rajoy, said on Saturday that his government was taking the dramatic step of invoking article 155 of the constitution to "restore the rule of law, coexistence and the economic recovery and to ensure that elections could be held in normal circumstances".
He said Puigdemont's administration would be stripped of its powers and its functions would be assumed by the relevant ministries in Madrid. The government will submit its proposals to a vote in the Spanish senate on Friday.
The speaker of the Catalan parliament, Carme Forcadell, called the measures a "de facto coup d'etat" and Puigdemont said the legislature would meet to discuss it response.
"I will ask parliament to call a plenary session in which the representatives of civil sovereignty – those who have been elected by the votes of citizens – can debate and decide how to respond to the attempt to eliminate our self-government and our democracy, and act accordingly," he said in Saturday's speech.
The board of the Catalan parliament is due to meet on Monday to fix a date for the plenary session.
Spain's reaction had been firm and blunt. On Sunday, its foreign minister, Alfonso Dastis, said if a coup had taken place, it had been carried out by Puigdemont and his colleagues.
Dastis said the government was trying, "reluctantly", to reinstate order in Catalonia following the referendum and called on people in the region to respect its decision.