26 Oct
News and Analyses, A Foreign Perspective
Nearly all of these are English-edition daily newspapers. These sites have interesting editorials and essays, and many have links to other good news sources. We try to limit this list to those sites which are regularly updated, reliable, with a high percentage of "up" time.
World Politics
United States
The US president blames the news media for his image and boasts about his intelligence. 'People don't understand,' he says. 'I went to an Ivy League college. I was a nice student. I did very well. I'm a very intelligent person … I think the press creates a different image of Donald Trump.'
The McGlynn: Is it not true that intelligent people need to say "I'm an intelligent person" all the time?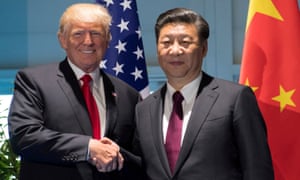 Donald Trump and Xi Jinping shake at the July 2017 G20 Summit in Hamburg. Photograph: Reuters
Donald Trump has saluted the "extraordinary elevation" of President Xi Jinping and compared him to a "king" on the eve of his trip to meet an exalted and emboldened leader now considered China's most powerful since Mao.
Xi confirmed his absolute supremacy over China's one-party state this week with the historic decision to enshrine his political thoughts in the Communist party's constitution during a congress marking the end of his first term.
Party officials responded by showering adjectives of adulation on the man they say is making their nation great again, hailing Xi's incisive, glorious, magnificent, visionary, pioneering and thrilling leadership.
Trump – who is scheduled to fly to Beijing on 8 November for a three-day visit – went almost as far on Wednesday. "Spoke to President Xi of China to congratulate him on his extraordinary elevation," the US president tweeted, having refrained from weighing in on Asian affairs during Xi's politically sensitive summit. "Also discussed NoKo [North Korea] and trade, two very important subjects!"
In a second tweet Trump said he was looking forward to "what will hopefully be a historic trip!".
Trump continued his charm offensive in an interview with Fox Business Network. "He's a powerful man," he told anchor Lou Dobbs. "Now some people might call him the King of China – but he's called president."
Experts say Trump wants to butter up Xi before trying to strike a deal over North Korea during his visit.
"It's classic Trump," said Paul Haenle, a veteran US diplomat who advised both George W Bush and Barack Obama on China. "Trump's comments play very well to a Chinese domestic audience. I think ultimately what he is trying to do is preserve that good personal rapport with Xi which he thinks he will be able to do more with from a negotiating standpoint."
Orville Schell, the head of the Centre on US-China Relations at New York's Asia Society, said Trump's tribute showed he was in "hyper-cultivation mode" ahead of his trip to Beijing.
However, Shi Yinhong, a Renmin University international relations expert, said Trump's blarney would not fool China's leaders. "He's a two-faced man … Beijing might be happy about [his flattery]. But they know very well in their hearts [what Trump is like]."
Some had expected Trump to touch down in Beijing touting a grand US-China bargain. Such a deal might have seen Xi agree to help thwart Kim Jong-un's nuclear ambitions in exchange for US concessions on issues such as the South China Sea or Taiwan, or its acquiescence on Chinese human rights abuses.
In recent weeks, though, those expectations have faded. Haenle, the head of Beijing's Carnegie-Tsinghua Centre, predicted Trump would seek only "short-term business deals that can be touted as Trump victories" back home.
Haenle urged the US president to use his 12-day tour of Asia – which also includes stops in Japan, South Korea, Vietnam and the Philippines – to outline a foreign policy vision as bold as the one unveiled by Xi at last week's 19th Communist party congress.
"Clearly as Trump and his administration are retreating China is stepping in – not in all areas where we leave a void, but in the areas that align with Chinese national interests … The Trump administration is handing [global leadership] to China on a silver platter.
"I hope [Xi's speech] is a bit of a wake-up call for the Trump administration and that Trump uses his trip out here to put forward an equally ambitious agenda," Haenle said, adding: "I have to say, I'm not optimistic."
In a recent interview, Andrew Nathan, a Columbia University expert in Chinese politics and foreign policy, said: "I don't see Trump having enough coherency to his policy to conceptualise a grand bargain.
"If Trump comes along and says: 'I'm going to give you Taiwan. I'm going not make any trade sanctions on you. I'm going to give you everything you want. Can I please build a hotel?' then the Chinese would probably say, 'That's fine. We'll take everything' … [But] insofar as they would involve China meeting the US halfway, I don't think the Chinese would feel they needed to do that."
Read Full Article>>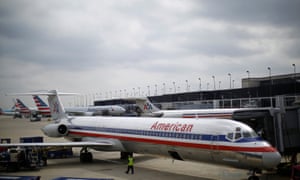 The NAACP said: 'We for several months now have been monitoring a pattern of disturbing incidents reported by African American passengers.' Photograph: Jim Young/Reuters
The NAACP has issued a warning to black travelers about flying with American Airlines, following what the US's oldest and most well-known civil rights organization called a series of "disturbing incidents".
The group said it had issued a "national travel advisory" in response to what it described as "disrespectful, discriminatory or unsafe conditions" for African Americans traveling on the world's largest airline.
"The NAACP for several months now has been monitoring a pattern of disturbing incidents reported by African American passengers, specific to American Airlines," the organization said in a release.
"In light of these confrontations, we have today taken the action of issuing national advisory alerting travelers – especially African Americans – to exercise caution, in that booking and boarding flights on American Airlines could subject them disrespectful, discriminatory or unsafe conditions."
The airline, which serves 500,000 passengers daily, said it was "disappointed" to learn of the advisory.
"We do not and will not tolerate discrimination of any kind," CEO Doug Parker wrote in a memo to employees. "We have reached out to the NAACP and are eager to meet with them to listen to their issues and concerns."
The first of the four cases cited by the NAACP appears to involve a flight boarded by the Rev Dr William Barber, a civil rights activist and president of the NAACP's North Carolina branch. The Barber case is already the subject of a pending lawsuit.
Barber says he was kicked off an AA flight in 2016 after responding to two verbally abusive white passengers, who were allowed to remain on the flight.
"This differential treatment was based on race, as other passengers noted and stated to American Airlines employees," the lawsuit says. "Reverend Barber was calm, complied with all directives from the flight crew, and did nothing that remotely warranted being ejected from the airplane."
According to the lawsuit, a black airline employee at the gate told Barber that "this tends to happen a lot". She said she was "sick of American Airlines doing this".
Barber did not respond to a request for comment at time of publication.
Two of the other incidents cited by the NAACP occurred earlier this year. Briana Williams, 24, said she was booted off an AA flight in August after she asked for her gate-checked stroller during an extended travel delay as passengers were leaving the plane.
"I told a crew member that I was not going to be leaving the aircraft without my stroller," Williams told the New York Daily News.
The pilot was called, and according to Williams he became angry and summoned police to eject her.
Similarly, Tamika Mallory, the national co-chair of the Women's March movement, said that after she contested a seat change with gate attendants, the flight's pilot, who overheard the discussion, kicked her off a flight last week.
"It definitely was white male aggression. I was singled out, I was disrespected, and he was trying to intimidate me," Mallory told the New York Daily News. "I was discriminated against."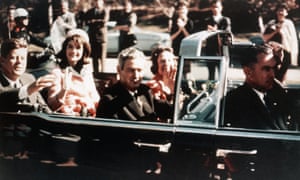 President John F Kennedy, First Lady Jacqueline Kennedy, and the Texas governor, John Connally, ride through the streets of Dallas on 22 November. Photograph: Historical/Corbis via Getty Images
I

n the persistent, probably eternal whirlwind of conspiracy theories about the November 1963 assassination of President John F Kennedy, there is one conspiracy theory that is no longer just a theory – and hasn't been for years.
That wide-ranging conspiracy was for real. And proof of its existence will almost certainly grow more solid on Thursday with the imminent release of tens of thousands of pages of long-classified, assassination-related documents from the National Archives – supposedly the last of the government's secret files on Kennedy's murder.
What conspiracy? Not one involving a second assassin in Dealey Plaza. (All of the most credible evidence continues to point to Lee Harvey Oswald as the lone gunman in Dallas.) Not some sort of mafia plot that resulted in the silencing of Oswald two days later by Dallas strip-club impresario Jack Ruby. (Really, what half-way competent Mob boss would choose a delusional blabbermouth like Ruby to carry out a second Crime of the Century by murdering Oswald?) Not a sprawling coup d'état involving everyone from President Lyndon Johnson to the Pentagon architects of the Vietnam war to a cabal of gay rightwingers in New Orleans. (See Oliver Stone's hit 1991 film JFK.)
I'm referring to the well-documented, proven conspiracy within the highest reaches of the US government – a criminal conspiracy from the start, involving the destruction of top-secret documents and photographs, the silencing of witnesses and whistleblowers, and the wholesale suborning of perjury – to cover up the truth about what the government had known in advance about Oswald and the clear threat he had posed to one man: President Kennedy.
The word "cover-up" is not hyperbole. Remarkably enough, it is the word that the CIA itself applies to what happened immediately after the assassination. In a once-classified internal report that became public in 2014, the spy agency's in-house historian acknowledged that the CIA had engaged in a "cover-up" (albeit a "benign cover-up", he insisted) to hide evidence from the Warren commission and later government investigations. The cover-up was intended to keep investigators focused exclusively on evidence that proved "what the Agency believed at the time was the 'best truth' – that Lee Harvey Oswald, for as yet undetermined motives, had acted alone in killing Kennedy".
I certainly don't see the cover-up as benign. And in conspiring to hide evidence of their bungling before the assassination – a conspiracy exposed document by document over the last half-century – the CIA and FBI helped launch the much larger wave of conspiracy theories that followed and are likely to plague us forever. Since the late 1960s, opinion polls have shown consistently that a majority of the American people are convinced that the government has never told them the full truth about the murder of their president. And their skepticism, the evidence shows, has always been justified.
After falling down the rabbit hole of the national debate over the Kennedy assassination – my first book was a history of the 9/11 commission, so I made the grievous mistake of thinking it would be easy to follow up by writing a similar history of the Warren commission – I was saddened and surprised by a central conclusion that I reached by the end of my research: the Kennedy assassination did not have to happen. It could have been prevented – easily – if the CIA and FBI had just acted on the intelligence in their own files in November 1963. Yes, Oswald was a violent, delusional misfit. But he was not the pure "lone wolf" portrayed by the initial government accounts of the assassination – the image that the government was desperate to present after Kennedy's murder, since it suggested nothing could have been done to stop him.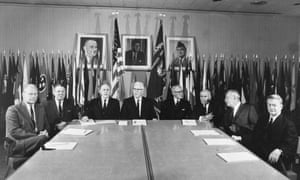 The bipartisan Warren commission investigated but faced obstruction from the CIA and FBI. Photograph: AP
In fact, both the CIA and FBI had Oswald under aggressive surveillance in the months before the assassination – and knew he was talking to people who, at the height of the cold war, might also have wanted to see Kennedy dead.
Both agencies had strong reason to believe that Oswald, a self-proclaimed Marxist who had years of rifle practice in the Marine Corps, would be a danger when Kennedy's motorcade passed through Dallas on 22 November 1963. In what I believe was a horrifying coincidence, Oswald had just begun a new job as a laborer in a book warehouse that overlooked Dealey Plaza – the Texas School Book Depository.
The evidence gathered by the CIA and FBI before the assassination about Oswald should have put his name in "red lights" as a threat to Kennedy, former FBI director Clarence Kelley admitted reluctantly after his retirement. If the FBI had just acted on the information, he wrote in his own memoirs in 1987, "without doubt JFK would not have died in Dallas and history would have taken a different turn".
Instead, immediately after the assassination, panicked officials at both the CIA and FBI tried, desperately, to cover up evidence of the extent of their knowledge of Oswald, fearing their bungling of the intelligence about JFK's assassin might be exposed – and that they would be blamed for the president's murder.
All of which brings us to today. It is no surprise that the CIA and FBI are, ultimately, the source of most of tens of thousands, if not hundreds of thousands of pages, of classified documents that are scheduled to be released by the National Archives on Thursday.
From the bare-bones index of the documents provided by the archives, many of the 3,100 never-before-seen files will reveal new details about the extent of the voluminous information that the CIA and FBI gathered about Oswald in the months and years before Kennedy's death; previously declassified CIA documents show the agency was monitoring Oswald as early as 1959, the year he tried to defect to Moscow.
This week's massive government document dump, which Donald Trump has said he does not intend to block unless he sees "compelling and clear" last-minute proof that some documents could damage national security, fulfills a deadline established under a 1992 law passed by Congress to try to stem conspiracy theories about the Kennedy assassination.
The authors of the 1992 JFK Assassination Records Collection Act said they were alarmed, in particular, by the cloud of suspicion kicked up by Stone's film, which was released the year before. Under the law, all government files related to the assassination must be released, in full, within 25 years of the law's passage – a deadline reached this Thursday, 26 October.
Many historians and researchers, including this one, will be most intrigued to see the still-secret files that, according to the Archives index, are related to an event that was the focus of so much of the cover-up by the CIA and FBI – Oswald's six-day trip to Mexico City just weeks before the assassination. He had apparently gone there to try to obtain a visa to defect to Cuba.
Immediately after the assassination, the CIA and FBI acknowledged they had been aware that Oswald had visited the Cuban and Soviet embassies in Mexico. But the agencies insisted they had no information to suggest that Oswald had done anything in Mexico to hint that a plot to kill Kennedy had been hatched there – or anywhere else………………….In Dallas, the FBI cover-up began the weekend after the president's death. The first act came on Sunday 24 November, the day Ruby gunned down Oswald at Dallas police headquarters, when an FBI agent in the bureau's field office across town was ordered to destroy a threatening handwritten note that Oswald had hand-delivered to the office earlier that month – apparently a protest over the FBI's aggressive surveillance of his family.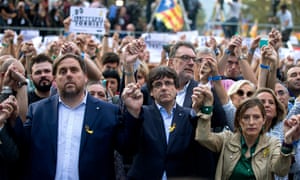 The Catalan vice-president, Oriol Junqueras, left, with the president Carles Puigdemont and the government speaker, Carme Forcadell. Photograph: Quique Garcia/EPA
Catalonia's vice-president has warned Spain that its decision to impose direct rule has left separatists with little choice but to embark on the creation of a sovereign Catalan state, increasing speculation that a unilateral declaration of independence could be made within the next 48 hours.
Oriol Junqueras said the central government's insistence on using the Spanish constitution to suspend regional autonomy had forced the hand of those who want to break away from Spain.
Junqueras told Associated Press that his Republican Left party – part of Catalonia's ruling coalition – was "going to work towards building a republic because we understand that there is a democratic mandate to establish such a republic".
He stressed that he was speaking only for his party and not the Catalan government, but added: "We also understand that the Spanish government is giving us no other option than to defend the civil rights and citizens' rights through the best tools that our institutions have."
His remarks came hours after the Catalan president, Carles Puigdemont, turned down an invitation to appear before the Spanish senate to defend his government's bid for independence as the upper house of Spain's parliament prepared to approve plans to strip him of his powers.
A spokesman for the Catalan government said Puigdemont would not attend the senate because the Spanish government had already made it plain that it would push ahead regardless with its measures to suspend regional autonomy under article 155 of the Spanish constitution.
He said Puigdemont had no intention of attending another senate session on Friday.
The speaker of the Catalan parliament, Carme Forcadell, also told regional MPs that Thursday's crucial plenary session – at which Puigdemont is under growing pressure to make a unilateral independence declaration – had been pushed back to the afternoon.
Reports on Wednesday suggested that some members of the Catalan president's coalition were still urging him to end the impasse by calling regional elections, while others were pressing him to declare independence – a move he has so far resisted.
Junqueras rejected calls for a snap election, saying it would be wrong "to renounce the democratic mandate that we have from citizens".
Earlier on Wednesday, the Spanish prime minister, Mariano Rajoy, said Puigdemont's disregard for the constitution had left him with no choice but to invoke article 155.
Under the article, which has never been used, Puigdemont's government would be relieved of its powers and new regional elections held within six months.
"The government's response is the only one possible, given the stance of the Catalan institutions," Rajoy told the Spanish parliament. "I am fulfilling my duty and I am doing it in the face of a rejection of our laws, of our constitution and of the millions of Catalan citizens who can see that their government has flouted the law."
Rajoy said that while he hoped the Spanish state's intervention in the region would be brief, it had a duty to "restore legality, boost the social co-existence that has been broken in Catalonia and tackle the economic consequences that its decisions are provoking".
The senate, where Rajoy's People's party has a majority, is expected to approve the government's plans when it meets on Friday.
Tensions between the governments in Madrid and Barcelona have risen to new heights following Puigdemont's decision earlier this month to hold a unilateral independence referendum in defiance of Spain's constitutional court.
Although Puigdemont signed a declaration of independence two weeks ago, he has proposed that its effects be suspended for two months to allow for talks.

The Guardian's picture editors bring you a selection of photo highlights from around the world, including a huge flower exhibition in Thailand, water cannon in Jerusalem and animal selfies in Western Australia
Iain MacDougall

Cox's Bazar, Bangladesh
Queen Rania of Jordan meets Rohingya Muslim refugees on a visit to the Kutupalong camp in Ukhia
Photograph: Getty Images

The winner of the 10th annual environmental photographer of the year competition is Quoc Nguyen Linh Vinh, from Vietnam, for his poignant image of a young girl and her mother, surrounded by filth, danger and pollution, making their living by collecting waste
Winner of Ciwem environmental photographer of the year 2017: Quoc Nguyen Linh Vinh for 'The hopeful eyes of the girl making a living by rubbish'
Vinh's winning photo is a poignant image of a child and her mother collecting waste. Vinh said "The child was happy, looking at the dark clouds and chatting to her mother. This was so touching. She should have been enjoying her childhood and playing with friends rather than being there."
Photograph: Quoc Nguyen Linh Vinh/2017 Ciwem environmental photographer of the year