27 Oct
News and Analyses, A Foreign Perspective
Nearly all of these are English-edition daily newspapers. These sites have interesting editorials and essays, and many have links to other good news sources. We try to limit this list to those sites which are regularly updated, reliable, with a high percentage of "up" time.
Opinion
Images of a half-empty parliament secretly voting on breaking up Spain will forever haunt Catalonia
Catalan government and pro independence deputies sing the Catalan anthem after the Catalan regional Parliament declared independence from Spain in Barcelona, October 27, 2017. REUTERS/Albert Gea

ALBERT GEA

REUTERS
Independence leaders on Friday voted inside an assembly that was half empty, where they cast secret ballots on an independence resolution with neither legal or effective value. Of 135 deputies, 70 voted in favor of a resolution that urges the regional government to open up a constituent process. Another 55 lawmakers walked out, and 10 voted against it.
Images of an empty parliament secretly voting on such a relevant issue will forever change not just Catalonia, but all of Spain. The vote was secret because proclaiming independence is considered a crime of rebellion, which entails prison terms of up to 35 years.
Pro-independence parties in Catalonia represent 2.5 million voters out of a total population of 7.5 million and a voter census of 5.5 million.
The Spanish government has challenged the declaration in the Constitutional Court. The Spanish Senate has approved measures suspending the autonomy of Catalonia. In the coming hours, the entire Catalan government will be removed from office, and its functions taken over by Madrid until new elections are called within the next six months.
To all effects and purposes, Catalonia is not independent. Pro-independence leaders do not have the social or political majority required to follow through on what this freshly-approved declaration promises to do, which is to "constitute a Catalan republic as an independent, sovereign, democratic and social state based on the rule of law."
Legislative, executive and judicial powers in Spain have repeatedly warned that what happened today in Catalonia is illegal.
Friday marked the climax in an increasingly radicalized journey undertaken by regional political leaders who have joined the radical left in order to proclaim Catalan independence regardless of the cost, triggering a massive capital flight in the region, where 1,000 businesses have changed their registered corporate addresses to other Spanish cities.
These leaders have left out of their plans the 2.5 million voters who cast their ballots for non-separatist parties at the 2015 election, and the many Spaniards from other parts of the country who live and work in Catalonia.
The crisis took a turn for the worse during the global economic crisis that began in 2008. Catalan nationalist parties responded to the rise in unemployment and cuts to public services with a supremacist, nativist narrative about an impoverished Spanish state dragging down a Catalonia that was, in their own view, economically and culturally superior. The message gelled, and civic groups were formed that later offered political leaders the chance to organize massive street demonstrations.
Now, these leaders have made the most of the populist tide rising across the West. Just as Donald Trump made it into the White House with an isolationist message, and Brexit triumphed on the back of supremacist arguments, nationalism has imposed itself in Catalonia, causing irreparable damage to the region. In all of these cases, Russia has set its interference and fake news machinery in motion, always with the aim of weakening the United States and the European Union.
In just a few hours, the central government will take over Catalonia's powers of self-rule. This is something that had not happened since the 17th-century civil war between supporters of different contenders for the Spanish Crown. The winner at that time was Felipe V, the first Bourbon monarch in Spain, who cancelled Catalan self-government.
World Politics
United States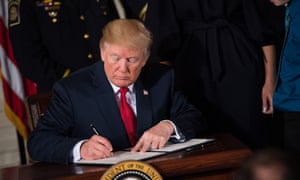 Donald Trump signs a presidential memorandum declaring the opioid crisis a public health emergency, in the East Room at the White House in Washington on Thursday. Photograph: UPI / Barcroft Images
When Donald Trump directed his administration to declare America's opioid overdose crisis a public health emergency, Republicans swiftly praised his "bold national leadership".
But with no new funding, many public health experts and state officials said it was "magical thinking" to imagine that the declaration would stem the tide of opioid overdoses that has already killed 183,000.
"We need more resources," said Dr Jay Butler, chief medical officer for the state of Alaska, who was at the White House for Trump's announcement. Butler said the president's speech sounded "a call for an opioids moonshot, but in order to focus resources, you need resources".
Announcing the measure, Trump called on Americans to come together as a national family, and laid out a sweeping call for reform, though it mostly lacked specifics.
"The federal government is aggressively fighting the opioid epidemic on all fronts," Trump told a crowd of addiction survivors, Congress members and law enforcement officials at the White House. "We can be the generation that ends the opioid epidemic. We can do it."
In addition to a national health emergency, Trump announced an intention to sue pharmaceutical companies; to pull an "evil" opioid from the market; to create an addiction education campaign for youth; and to build a wall on the southern border of the United States.
He also called for a public-private partnership between scientists at the National Institutes of Health and drug companies to develop non-addictive painkillers, and pledged to suspend an obscure provision of federal law that bars public funds from paying for addiction treatment in facilities with more than 16 beds.
The president's proposals heartened some. "We went into it hopeful that it would be a comprehensive strategy, and it was just that." said Jessica Nickel, president of the Addiction Policy Forum. "Using the public health emergency route makes a lot of sense. This is a health condition, an illness."
But it was what the president left out of his announcement that most frustrated many addiction treatment advocates.
Trump failed to call for more funding; stopped short of declaring a more sweeping national emergency as he had promised and his own White House commission recommended; and declared the emergency as his administration attacks public health insurance for the poor.
Jeff Levi, professor of health policy at George Washington University, said it was simply "not true" that the federal government was using all the tools at its disposal.
"Declaring a public health emergency brings no new resources to the table, and there is a broad consensus in the public health community that we need additional resources for prevention, harm reduction and treatment," said Levi.
The public health emergency Trump announced is technically declared by the US health and human services secretary, Eric Hargan. It will allow people to receive addiction treatment through telemedicine. It will also make federal grants for HIV and for displaced workers available to combat the opioid epidemic. It also gives the health secretary access to the health emergency fund.
However, the public health emergency fund has a balance of only $57,000, and some experts were concerned using funds dedicated to HIV could mean robbing Peter to pay Paul.
Further, because public health emergency declarations are typically used to cut red tape after natural disasters or during disease outbreaks, they expire after 90 days. The declaration will then have to be renewed.
"It's not a proposal, it's not a plan," said Dr Andrew Kolodny, executive director of Physicians for Responsible Opioid Prescribing and co-director of opioid policy research at Brandeis University. "If Trump is serious, this afternoon we'll hear an appropriations request, I believe, in the billions."
"You want – in every county – to be able to walk into a treatment center and on that same day access treatment," Kolodny said, "regardless of their ability to pay for it." He estimated a request to "build out" an addiction treatment network in the US would cost $6bn.
James Hodge, an Arizona State University public health law professor, said declaring a public health emergency, not a national emergency, was "a real missed opportunity".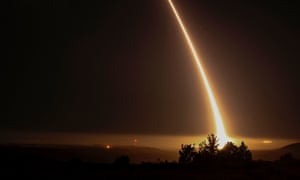 The US military test fires an unarmed intercontinental ballistic missile from the Vandenberg air force base in California on 3 May 2017. Photograph: Ringo Chiu/AFP/Getty Images
Congressional Democrats have introduced legislation aimed at preventing Donald Trump from launching a pre-emptive attack on North Korea, as concerns grew about the administration's failure to explore talks with Pyongyang.
The "No Unconstitutional Strike against North Korea" bill is the second legislative attempt to curtail's Trump power to start a war unilaterally. Earlier this year, a bill was introduced to prohibit the president from ordering a nuclear first strike against a foreign adversary without a declaration of war by Congress, amid concerns over Trump's belligerent language, erratic behaviour and frequent tweeted threats against other countries.
The new legislation prohibiting an attack on North Korea without congressional authority was launched by Democrats John Conyers in the House and Ed Markey in the Senate. It has two Republicans among the 61 backers in the House, but at present no formal Republican backing in the Senate.
"As a veteran of the Korean war, I am ashamed that our commander-in-chief is conducting himself in a reckless manner that endangers our troops stationed in South Korea and our regional allies," Conyers said.
"President Trump's provocative and escalatory rhetoric, with threats to unleash 'fire and fury' and 'totally destroy' North Korea, cannot be allowed to turn into reality," Senator Markey said. "As long as President Trump has a Twitter account, we must ensure that he cannot start a war or launch a nuclear first strike without the explicit authorization of Congress."
The bill's supporters acknowledge that it will not pass without attracting more Republican support, but they argue that it helps focus attention on the unlimited authority of a US president to order the use of nuclear weapons, many of which can be launched within a few minutes. No official has the power to stop or even delay the launch.
Senator Dianne Feinstein, speaking at a conference organised by the Ploughshares Fund, an non-proliferation advocacy group said she once asked a former head of US Strategic Command if he would carry out a launch order even if he knew it was a catastrophically bad decision. "He looked me straight in the eye and said: Yes," Senator Feinstein recalled.
Tensions on the Korean peninsula have reached critical levels since Pyongyang carried out a sixth nuclear test in September and a series of long-range missile tests. Trump has tweeted a series of threats against the regime and declared at the UN in September that he could "totally destroy" North Korea.
Meanwhile, Trump and his administration have given mixed signals on whether they would consider any kind of dialogue with Pyongyang, and no overtures appear to have been made in that direction.
NBC News reported on Thursday that Joseph Yun, the top American diplomat on North Korean issues, has been warning of a breakdown in diplomatic efforts at meetings in Congress and seeking help in persuading the White House to give negotiations a chance.
William Perry, a former US defence secretary and a veteran of the Cuban missile crisis, said there was a rising danger of the US stumbling into a war with North Korea by making Pyongyang think a "decapitation strike" is imminent and panicking it into launching its own nuclear weapons.
"What we're doing is making the regime think they are about to go, so they might as well go out in a blaze of glory," Perry said, adding that the best thing Congress could do to stop the drift to nuclear war was to pass the Conyers-Markey legislation.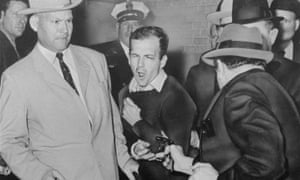 Lee Harvey Oswald is shot by Jack Ruby in a corridor of Dallas police headquarters. Photograph: Bob Jackson/AP
The publication of nearly 3,000 previously classified files relating to the assassination of John F Kennedy in 1963 reveals that the FBI had warned Dallas police about a threat to kill Lee Harvey Oswald, and claims that Soviet officials feared an "irresponsible" US general could launch a missile strike in the wake of the crisis.
The US government released 2,891 documents on Thursday, but President Donald Trump delayed the release of others, saying he had "no choice" but to consider "national security, law enforcement and foreign affairs concerns" raised mostly by the FBI and CIA.
One of the first interesting documents to be unearthed, as journalists, scholars and the public pored over them, was a memo written by director J Edgar Hoover that said the FBI had warning of a potential death threat to Oswald, who was then in police custody.
"There is nothing further on the Oswald case except that he is dead," Hoover said on 24 November 1963. "Last night we received a call in our Dallas office from a man talking in a calm voice and saying he was a member of a committee organized to kill Oswald.
"We at once notified the chief of police and he assured us Oswald would be given sufficient protection. This morning we called the chief of police again warning of the possibility of some effort against Oswald and again he assured us adequate protection would be given.
"However, this was not done."
Hoover admitted he did not have "firm" information about Jack Ruby, the man who shot Oswald dead. But he elaborated on the nightclub owner anyway, saying his real name was Rubenstein and noting rumors of "underworld activity".
The FBI sent an agent to Oswald's deathbed in the hopes of a confession, to no success. Ruby denied making any phone call to the bureau.
In the same memo, Hoover said he and Nicholas Katzenbach, the deputy attorney general, already feared the spread of conspiracy theories. He noted that Oswald had visited Mexico City, called the Cuban embassy there, and sent a letter to the Soviet embassy about a visa.
"The thing I am concerned about, and so is Mr Katzenbach, is having something issued so that we can convince the public that Oswald is the real assassin," Hoover wrote.
The files amounts to nearly the final 1% of records held by the federal government and their publication follows a release in July when the National Archives posted 3,801 documents online, mostly formerly released documents with previously redacted portions. An administration official told reporters on Thursday that the files that remain secret have information that "remains sensitive depending on its context".
Trump ordered the agencies to review those redactions over the course of six months, the official said, to ensure more documents reach the public. The next deadline for documents is 26 April 2018.
According to the National Archives, 88% of records related to Kennedy's murder were already fully open and another 11% released but partially redacted. In total, that makes for about 5m pages.
The newly released documents also reveal that Soviet Union leaders considered Oswald a "neurotic maniac who was disloyal to his own country and everything else", according to an FBI memo documenting reactions in the USSR to the assassination.
The Soviet officials feared a conspiracy was behind the death of Kennedy, perhaps organised by a rightwing coup or JFK's successor, Lyndon Johnson.
They also feared a war in the aftermath of Kennedy's death, according to the memo: "Our source further stated that Soviet officials were fearful that without leadership, some irresponsible general in the United States might launch a missile at the Soviet Union."
The documents include details of various CIA attempts to assassinate foreign leaders, most frequently Cuban leader Castro. He told American lawmakers in 1978 that his country was not involved in the plot to kill Kennedy.
In 1963, however, the Cuban ambassador to the US reacted with "happy delight" to the murder, according to a CIA memo.
Other information so far uncovered includes: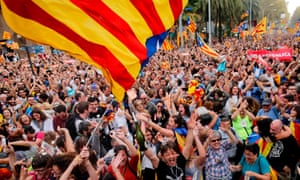 Crowds in Barcelona celebrated after Catalonia's parliament voted to declare independence from Spain Photograph: Pau Barrena/AFP/Getty Images
Spain's senate has granted the country's prime minister, Mariano Rajoy, unprecedented powers to impose direct rule on Catalonia minutes after the region's parliament voted to establish an independent republic on Friday afternoon.
Rajoy, who has vowed to stop the region becoming independent, is now expected to call a cabinet meeting to begin assuming control of the region and sacking its president, Carles Puigdemont.
On Friday afternoon, Catalan MPs voted for independence by a margin of 70 votes to 10. Two ballot papers were blank.
The result was greeted with jubilation by pro-independence MPs, who applauded and began singing the Catalan anthem, Els Segadors. Thousands of people gathered outside Catalonia's parliament building in support of the region's independence bid cheered and danced at the move.
But the proposal, brought by the region's ruling Together for Yes coalition and their far-left allies the CUP party, was bitterly attacked by opposition MPs who boycotted a vote they viewed as illegal.
Dozens of members of the Catalan Socialist party (PSC) walked out of the chamber before the vote, as did MPs from the centrist Ciutadans party and the conservative People's party. Some left Spanish and Catalan flags on their empty seats.
Opponents of independence accused Puigdemont and his allies of ignoring the views of the majority of Catalans who wish to remain part of Spain.
On Friday morning, as the parliament prepared to debate its response to the Madrid government's decision to take control of the region, separatist MPs had filed a motion to hold a vote on whether to create "a Catalan republic as an independent and sovereign state of democratic and social law".
In a tweet posted shortly after the result was announced, Rajoy said: "I appeal for all Spaniards to stay calm. The rule of law will restore legality in Catalonia."
Carlos Carrizosa of Ciutadans described Friday as "a sad day and a blow to democracy".
Turning on the regional government and its president, he added: "You're like gods, above the law. How can you imagine you can impose independence like this without a majority in favour … and with this simulacrum of a referendum? Puigdemont will be remembered not for ruining Catalonia but for having divided the Catalans and Spain."
Eva Granados of the Catalan PSC asked: "Have you any idea how frightened many Catalans are?"
However, Carles Riera of the CUP said the declaration would pave the way for independence and a transformation of the lives of working people.
"We declare the republic of Catalonia," he said. "This is a happy day."
The vote came hours after Rajoy asked the Spanish senate for authorisation to fire the Catalan president and his cabinet as Madrid prepares to assume control of the region to put an end to the independence crisis.
Addressing the senate on Friday morning, Rajoy said Carles Puigdemont's decision to flout the Spanish constitution by holding a unilateral independence referendum earlier this month had forced the central government to take the unprecedented step of imposing direct rule.
Mariano Rajoy requests powers to dismiss Catalan government – video
Addressing the senate on Friday morning, Rajoy said Carles Puigdemont's decision to flout the Spanish constitution by holding a unilateral independence referendum earlier this month had forced the central government to take the unprecedented step of imposing direct rule.
In a speech punctuated by loud applause, he requested permission to remove Puigdemont's administration, saying recent events in Catalonia represented "a clear violation of the laws, of democracy, of the rights of all – and that has consequences".
The senate, in which Rajoy's governing People's party (PP) has a majority, is expected to approve the series of measures proposed under article 155 of the Spanish constitution later on Friday.
"He was given the opportunity to clarify whether there had been a unilateral declaration of independence," the prime minister said. "This is not a trifling matter. An answer was required and it wasn't a difficult one: yes or no."
He also criticised Puigdemont for turning down an invitation to explain himself before the senate, and said: "Dialogue has two enemies. The first is abusing the law, ignoring it and disobeying it. The second is when someone only wishes to listen to themselves and won't understand or try to understand others."