28 Oct
News and Analyses, A Foreign Perspective
Nearly all of these are English-edition daily newspapers. These sites have interesting editorials and essays, and many have links to other good news sources. We try to limit this list to those sites which are regularly updated, reliable, with a high percentage of "up" time.
World Politics
United States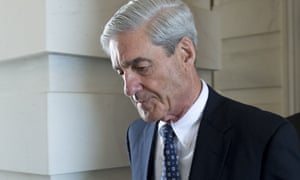 Former FBI director Robert Mueller, special counsel on the Russian investigation, has not commented on reports that charges have been filed. Photograph: Saul Loeb/AFP/Getty Images
Staff and agencies
A federal grand jury on Friday approved the first charges in the investigation into alleged Russian meddling in the 2016 US presidential election, according to multiple reports.
The indictment was sealed by a federal judge so it is not clear what the charges are or to whom they relate, a source briefed on the matter told Reuters, adding that the indictment could be unsealed on Monday.
The filing of charges by the grand jury in Washington was first reported earlier on Friday by CNN, which quoted multiple sources and said the target or targets could be taken into custody as soon as Monday. The Wall Street Journal later confirmed the report.
US intelligence agencies concluded in January that Russia interfered in the election to try to help Donald Trump defeat Democratic candidate Hillary Clinton through a campaign of hacking and releasing embarrassing emails, and disseminating propaganda via social media to discredit her campaign.
Special counsel Robert Mueller, a former director of the FBI, is investigating whether Trump campaign officials colluded with those Russian efforts.
"If the special counsel finds it necessary and appropriate, the special counsel is authorized to prosecute federal crimes arising from the investigation of these matters," Deputy attorney general Rod Rosenstein said in a 17 May letter appointing Mueller.
Sources familiar with Mueller's investigation say he has used that broad authority to investigate links between Trump aides and foreign governments as well as possible money laundering, tax evasion and other financial crimes.
Peter Carr, a spokesman for Mueller, declined to comment to Reuters or CNN on Friday.
Trump has denied allegations his campaign colluded with Russians and condemned investigations into the matter as a witch hunt.
The Kremlin has denied the allegations.
The special counsel's investigation also includes an effort to determine whether the president or any of his aides tried to obstruct justice.
Mueller's team has conducted extensive interviews with former White House chief of staff Reince Priebus, former spokesman Sean Spicer and other current and former White House officials.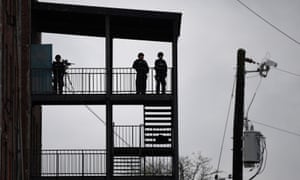 Police officers from throughout middle Tennessee prepare for the White Lives Matter rally in Shelbyville. Photograph: Bryan Woolston/Reuters
As white supremacists prepared to rally in two small Tennessee towns on Saturday, local law enforcement was imposing strict security measures including the use of hand-held metal detectors to detect guns, pipes, chains and a long list of other banned objects.
Several white nationalist and neo-Nazi groups that marched in Charlottesville, Virginia in August were slated to rally in Shelbyville on Saturday morning and in Murfreesboro in the afternoon. Both small cities are a short drive south of Nashville, and have majority white populations.
The town of Murfreesboro had shut down several blocks around its public square, where a "White Lives Matter" rally was due to be held. Officials said they "strongly encouraged" residents to avoid the area "in the interest of reducing tension and avoiding conflicts".
Earlier this month in Gainesville, Florida, an estimated 2,500 people protested a speech by the white nationalist Richard Spencer at the University of Florida. Elaborate security measures were not enough to prevent an act of violence that left three white supremacists charged with attempted homicide.
In Tennessee, the white nationalist groups were set to protest against a range of issues, including refugee resettlement, the impact of the opioid epidemic and what they say is a lack of media attention around a mass shooting in Antioch, Tennessee in September in which one woman was killed and seven people were injured. The suspect is black and reportedly came to the US from Sudan.
"The first amendment provides a right to free speech and a right to peaceably assemble and thus neither the city nor the county can legally prohibit the event," the city of Murfreesboro said in a statement. The statement added that the city and county were "proud of the community we are building and the diversity of its residents".
"The slightest indication of disruption or violence will initiate immediate law enforcement action to uphold the rights of citizens and ensure their safety," Sheriff Mike Fitzhugh and Murfreesboro police interim chief Michael Bowen said.
A series of open white supremacist rallies in cities across the US has put American towns on edge, with city leaders fearful of violence and residents and business owners often resenting their towns being associated with neo-Nazis and other racist hate groups.
In Charlottesville, the largest white nationalist rally in decades sparked open fighting in the streets, with neo-Nazis wearing helmets and shields clashing with counter-protesters and being doused with bottles of urine.
One white supremacist was arrested for firing a gun towards protesters. The worst of the violence happened after the official rally was shut down, when a car plowed into a crowd in a narrow street. Heather Heyer, a 32-year-old civil rights activist, was killed and 19 people were injured.
James Fields, the 20-year-old charged over the incident, was photographed at the rally demonstrating with Vanguard America, though the group has said he was not a member. Vanguard America was set to protest on Saturday in Tennessee.
"We're not going to back down and be content to be closeted," one Tennessee organizer wrote on the white nationalist blog Occidental Dissent earlier this month. "Instead, we are going to soldier on and move beyond what happened in Charlottesville. It has been a black cloud hanging over us ever since 12 August and we need to move forward."

Political crisis deepens after secessionist MPs vote to create 'Catalan republic as an independent and sovereign state'
Spain imposes direct rule as Catalan parliament votes for independence – video
The Spanish government has taken control of Catalonia, dissolved its parliament and announced new elections after secessionist Catalan MPs voted to establish an independent republic, pushing the country's worst political crisis in 40 years to new and dangerous heights.
Speaking on Friday evening, the Spanish prime minister, Mariano Rajoy, said his cabinet had fired the regional president, Carles Puigdemont, and ordered regional elections to be held on 21 December.
Rajoy said the Catalan government had been removed along with the head of the regional police force, the Mossos d'Esquadra. The Catalan government's international "embassies" are also to be shut down.
"I have decided to call free, clean and legal elections as soon as possible to restore democracy," he told a press conference, adding that the aim of the measures was to "restore the self-government that has been eliminated by the decisions of the Catalan government.
"We never, ever wanted to get to this situation. Nor do we think that it would be good to prolong this exceptional [state of affairs]. But as we have always said, this is not about suspending autonomy but about restoring it."
The actions came hours after Spain's national unity suffered a decisive blow when Catalan MPs in the 135-seat regional parliament voted for independence by a margin of 70 votes to 10.
Dozens of opposition MPs boycotted the secret ballot, marching out of the chamber in Barcelona before it took place and leaving Spanish and Catalan flags on their empty seats in protest.
Minutes later in Madrid, the Spanish senate granted Rajoy unprecedented powers to impose direct rule on Catalonia under article 155 of the constitution.
The article, which has never been used, allows Rajoy to sack Puigdemont and assume control of Catalonia's civil service, police, finances and public media.
The European Union, the UK, Germany and the United States all said they would not recognise Catalan independence and expressed support for Madrid's to preserve Spanish unity.
Rajoy had earlier appealed for calm following the vote and promised that Catalonia would be returned to legal and constitutional order.
"What has happened today in the Catalan parliament is unequivocal proof of how necessary it was for the senate to approve the government's proposals," he said on Friday afternoon. "Today the Catalan parliament has approved something that, in the opinion of the great majority of people, is not just against the law, but is also a criminal act because it is intended to declare something that isn't possible – Catalan independence."
Rajoy's cabinet held an emergency meeting to enact the measures and is expected to appeal against the independence declaration in the Spanish constitutional court.
Prosecutors will also file charges of "rebellion" against Puigdemont, a crime punishable with up to 30 years in jail, a spokesman said.
Much will now depend on exactly how the Spanish government goes about removing Catalan officials from office and how pro-independence activists and the Mossos d'Esquadra react to the intervention.
The result of the vote was greeted with jubilation by pro-independence MPs, who applauded and began singing the Catalan anthem, Els Segadors. Thousands of people who gathered outside Catalonia's parliament cheered the announcement.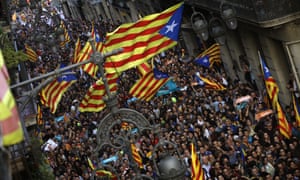 Pro-independence supporters flood streets near the Palau Generalitat in Barcelona. Photograph: Emilio Morenatti/AP
Addressing the crowds, Puigdemont called for a peaceful response to the coming crackdown. "In the days ahead, we must keep to our values of pacificism and dignity," he said. "It's in our – in your – hands to build the republic."
The joyous scenes outside the parliament jarred with the angry debate that preceded the vote inside. Opponents of independence accused Puigdemont and his allies of ignoring the views of the majority of Catalans who wished to remain part of Spain. They said he had declared independence on the back of a deeply flawed and undemocratic referendum.
Carlos Carrizosa of the centrist Ciutadans party described Friday as "a sad day and a blow to democracy".
Turning on the regional government and its president, he said: "You're like gods, above the law. How can you imagine you can impose independence like this without a majority in favour … and with this simulacrum of a referendum? Puigdemont will be remembered not for ruining Catalonia but for having divided the Catalans and Spain."
Eva Granados of the Catalan socialist party asked: "Have you any idea how frightened many Catalans are?"
However, Carles Riera of the far-left, pro-independence CUP party, said the declaration would help transform the lives of working people. "We declare the republic of Catalonia," he said. "This is a happy day."
The independence declaration met with an unambiguous response from Donald Tusk, the president of the European council. "For [the] EU nothing changes. Spain remains our only interlocutor," Tusk tweeted.

Vaquita, Fynbos flowers and the world's only alpine parrot are among this week's pick of images from the natural world
A red squirrel sitting on a tree trunk covered with autumn mushrooms in Hinterzarten, Germany.
Photograph: Dennis Wegewijs/Alamy
Sow polar bear ( Ursus maritimus) and cubs walking in shallow water in the Beaufort Sea in Kaktovik, Alaska. On 19 October the US Senate voted down a Democratic measure to protect the vast refuge, the largest in the United States, from future oil and gas drilling.
Photograph: Ray Bulson/Alamy Stock Photo
Jose Luis Rodriguez was awarded the Ciwem Changing Climates prize for this outstanding photograph 'Flight for Life', showing a kingfisher caught mid-flight, with severe pollution in the background.
Photograph: Jose Luis Rodriguez/2017 Ciwem environmental photographer of the year