29 Oct
News and Analyses, A Foreign Perspective
Nearly all of these are English-edition daily newspapers. These sites have interesting editorials and essays, and many have links to other good news sources. We try to limit this list to those sites which are regularly updated, reliable, with a high percentage of "up" time.
NEWS—Puigdemont, regional ministers and all of their advisors are out; Guardiola's sister sacked as "ambassador" in Copenhagen.
Until the new regional elections have taken place, there is now no Catalan government. Its functions have all been assumed by Spanish Prime Minister Mariano Rajoy, Deputy Prime Minister Soraya Sáenz de Santamaría and other cabinet ministers in Madrid.
Carles Puigdemont has been sacked as First Minister of Catalonia, along with all of his advisors.
The Deputy First Minister and regional economy minister, Oriol Junqueras, has been sacked; Catalan government spokesman Jordi Turull and foreign affairs spokesman Raul Romeva have lost their jobs, along with all of the other regional ministers; and all of their advisors, too.
The Catalan Parliament has now been dissolved and regional elections called for December 21. The election campaign will begin on December 5 and end on December 19.
The Catalan government's diplomacy service, Diplocat, and Catalan "embassies" in France, the United Kingdom, Germany, the United States, Austria, Italy, Morocco, Vatican, Portugal, Denmark, Poland, Croatia have all been closed and the "ambassadors" sacked, along with the immediate closure of representative offices with international bodies in Geneva, Vienna, Paris and Strasbourg.
Among these overseas posts is the one taken up by Francesca Guardiola, sister of Manchester City manager Pep Guardiola, who was appointed to serve in Copenhagen for the Nordic countries in April.
Catalonia's delegate to Madrid, Ferran Mascarell i Canalda, and its permanent representative before the EU, Amadeu Altafaj i Tardio, have also both been sacked.
The central government has also ordered the closure of the First Minister's office, the Deputy First Minister's office, the "national transition advisory council" and the special commission announced by Puigdemont on October 2 to investigate "the violation of fundamental rights" during the police charges of October 1.
Mariano Rajoy is now ultimately responsible for all that happens in Catalonia under Article 155, but he has delegated full responsibility to his already very powerful Deputy Prime Minister, Soraya Sáenz de Santamaría.
All of these central government decisions regarding the suspension of home rule in Catalonia were published in the early hours of Saturday morning in Spain's official gazette (BOE).

All photos: AFP
Chanting "Viva Espana", hundreds of thousands of protesters gathered in the Catalan capital Barcelona Sunday, furious at a move by the region's now deposed leaders to break away from Spain.
A protester holds a sign reading "Being Catalan is a pride, being Spanish is an honour" 
World Politics
Iceland
United States
Opinion
O

ur intentions are good but our memories are short. It was exactly a year ago that the recording of Trump boasting about that "pussy grab" led to an online flood of women sharing their own experiences of sexual assault. There were the formative flashings, the inappropriate doctors, there were women who relived the abuse they'd suffered as children, tweeting into space and risking plenty in order to affect change.
Post-Weinstein, women have been sharpening their experiences again into little hashtagged spears
It was exciting! Do you remember 2016? When hope existed? Before the sky turned orange, and the winds came? That whole campaign felt important, a step forward. It felt as if by shining this honest light on women's daily harassments and horrific assaults men would understand the gritty texture of our lives and never cross a boundary again. It felt big, like there was no going back.
Men responded to that outpouring with shock. They'd known it happened of course, they just hadn't known. After publishing a column about that thread of assaults I received a load of emails from readers with their own stories – something had been uncorked, and women who'd never talked before about the crap they'd faced at 15 were encouraged now to shout about it. Partly out of solidarity. There was a huge feeling of warmth, of arms being linked, a reminder that you should not feel shame about having been victimised by a shitty man. But mainly these women were choosing to dredge up some of the worst moments of their lives in order to kick at the struts holding up powerful men, and to prevent a similar thing happening to somebody else.
And then time happened. It is one year later, and all that's different is what's playing on the radio. Post-Weinstein, women have been sharpening their experiences, again of harassment and assault, again into little hashtagged spears. A Twitter campaign is not the perfect solution to inequality, sure. Lumping Weinstein in with every other sexist dick in the world seems often to be very kind on Weinstein. But again shock has been expressed. People had known it happened of course, they just hadn't known, their memories now the length of half a piece of string. Which has left me standing here like, "Wait…?" Squinting as though watching a Black Mirror Christmas special on a very small screen, a story where every year as winter rolls in women's memories are harvested, our minds sluiced out with milk ready for spring. Because we literally Just. Did. This. We told these stories, we talked about what it meant, we prepared ourselves for a change that never came.
So what was the point? How does the value of solidarity we gain from these campaigns weigh against the price of the pounds of flesh shared, when the abusers of power we're seeking to topple remain largely untouched? After all, Weinstein's big crime was to promote his liberalism while quietly assaulting women; Trump made no such mistake. It was Weinstein's hypocrisy that got him – the women's voices still don't appear to be the things driving change from the front seat.
From my home on the internet, what initially felt like a tsunami, thousands of women shouting, powerful, now feels more like rain. Just weather, late October. We're still talking, but women's confessionals are cheap today, and many (particularly those for whom sharing stories of abuse will have immediate consequences, and those who, upon reading others accounts of rape and assault will be forced to revisit their own carefully compartmentalised memories) feel undersold.
Women have been expected to fight every side of this battle, providing evidence, commentary, their bloodied bodies and patience. But at some point, surely, the victims of power should no longer be held responsible for proving it's damaging. Women have laid out their experiences of abuse end-to-end, again and again, and now it's time for men to follow it as a path for change. They've been shouting for years, they need reassurance that all this has not been for nothing. It's someone else's turn now. Ending abuse is not a women's issue, nor women's responsibility. And we owe it to every one of the people who took a risk by sharing their story online to make sure our memories don't fail us, or them, again.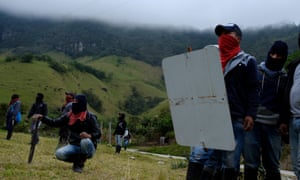 Members of the Kokonuko indigenous community confront riot police a day after the death of journalist Efigenia Vásquez. Photograph: Tom Laffay for the Guardian
A green-and-red flag flies over a cluster of bamboo and tarpaulin tents on the frontline of an increasingly deadly struggle for land and the environment in Colombia's Cauca Valley.
It is the banner for what indigenous activists are calling the "liberation of Mother Earth", a movement to reclaim ancestral land from sugar plantations, farms and tourist resorts that has gained momentum in the vacuum left by last year's peace accord between the government and the paramilitaries who once dominated the region – ending, in turn, the world's longest-running civil war.
The ragtag outpost in Corinto has been hacked out of a sugar plantation, destroyed by riot police, then reoccupied by the activists, who want to stop supplying coca (the main ingredient for cocaine) to drug traffickers in the mountains by cultivating vegetables on the plains instead.
Despite two deaths in the past year, the Nasa Indians – the biggest, most organised and most militant of the 20 indigenous groups in the valley – have staged waves of monoculture clearance and occupation operations. Almost every other week hundreds, sometimes thousands, of machete-bearing activists join these communal actions, known as minga, which involve burning and hacking down swaths of sugar cane, then erecting camps and planting traditional crops including maize and cassava.
The Nasa see this in historical, spiritual terms. For them, it is the latest phase in a centuries-old struggle for land and a clash between two contrasting world views: one that seeks harmony with nature, and one interested only in extracting as much profit as possible, regardless of the impact on the people and the environment.
"Liberating the earth means defending the land," says José Rene Guetio, a Nasa elder. "You can see the blood that has been spilled in the cause for better land and a better future for our children."
Environmental concerns are also among the motivations. The Nasa say they should not be living in such large numbers near sacred sites in the hills, particularly lakes, wetlands and waterfalls. "There are too many of us in the mountains. That's not good because we are destroying our water source," said Eduin Mauricio Capaz, human rights coordinator for the Association of Indigenous Councils of Northern Cauca (Acin). But this position has pitted them against the law, state security and some of Colombia's biggest property owners and global sugar suppliers.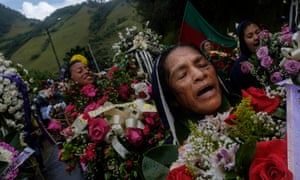 Kokonuko women accompany Vásquez's coffin. Photograph: Tom Laffay for the Guardian
The Colombian government sees things differently. It says the state has a responsibility to protect legally recognised property ownership and that indigenous land issues should not be confused with environmental protection. However, it acknowledges that peace has brought a destructive surge into land previously deemed off-limits because of occupation by the Farc. Deforestation in Colombia rose 44% last year. Coca production has also risen rapidly. To tackle this, President Juan Santos has demarcated more conservation areas and promised to use the army and work with former Farc combatants to protect forests.
The minister for the environment and sustainable development, Luis Murillo, said the state's security apparatus was the answer to environmental problems, not the problem. "We need to move very quickly to establish a presence in areas where we didn't have a presence before," he told the Observer, noting that the government is working on measures to protect human rights and environmental defenders.
The Cauca Valley has long been the base of operations for many of the most belligerent paramilitary groups in the country. Even with the demobilisation of the biggest organisation, the Farc, 12 other armed groups are still active in the valley, which stretches for several hundred kilometres. Some are armed rebels, such as the National Liberation Army, but others are little more than death squads that charge two million pesos (£500) per killing.
Drug gangs, militias and private security firms – which often overlap – have made this one of the most dangerous places in the world for indigenous rights campaigners, environmental defenders and journalists. Last year a record 37 activists were murdered in Colombia, which is second only to Brazil in a world ranking of such killings, according to the NGO Global Witness. This year looks set to be a similar story, with 28 fatalities so far.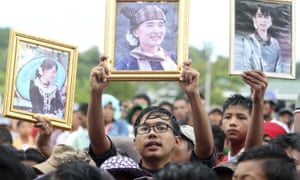 Supporters in Myanmar's capital Naypyidaw rally to the defence of Aung San Suu Kyi. Photograph: Aung Shine Oo/AP
On the top floor of the Myanmar Traditional Artists and Artisans Association in Yangon, the organisation's vice-president stands behind his latest creation.
It is a towering portrait of Aung San Suu Kyi, robed in pink and white, a concerned expression on her face. "If Oxford University takes down one portrait of her, we want to create 2,000 more," says the painter, who goes by the name K Kyaw.
Days earlier he had joined dozens of others at the gallery to protest against the decision of St Hugh's college to take down a painting of Myanmar's leader by making their own.
The college, where Aung San Suu Kyi studied politics, philosophy and economics in the 1960s, is among several British institutions to have stripped the Nobel laureate of honours as the world reacts in shock to the brutal violence meted out against stateless Rohingya Muslims in the country she leads.
More than 600,000 Rohingya have fled the northern Rakhine state since August, trekking for days to overburdened refugee camps in Bangladesh, bringing with them stories of gang rape, indiscriminate killing and mass arson at the hands of soldiers and local Buddhists. The United Nations has said the campaign of violence is ethnic cleansing. Others call it genocide. Pressure is mounting on global leaders to act.
In Myanmar, the condemnations are being met with both indignation and pleas for patience. It has been less than two years since Aung San Suu Kyi's National League for Democracy swept to power in a landslide election, ending half a century of junta rule.
As longtime democracy activists fear a return to international isolation and military dominance, diplomats are torn between the need to stand on the right side of history and fear that stronger rebukes, such as sanctions, will further imperil the country's fragile democratic transition.
"The Rohingya crisis has put Myanmar's reform process on a knife edge," says a former senior diplomat based in the country, who like others interviewed asked to remain anonymous.
"The country and its business people are pulled in two directions: openness, and a desire for international standards, clean government and human rights – but with the attendant accountability and scrutiny – or nationalism… and a reliance on support from China. The lack of government capacity and the poorly educated population heightens the risk that the military, still the only truly functioning institution, will return, and even be welcomed in some quarters."
For decades, Aung San Suu Kyi has been the living embodiment of Myanmar's democratic aspirations, both inside the country and overseas. The 72-year-old, who sacrificed her freedom and family in the struggle to bring democracy to Myanmar, enjoys unparalleled adoration and has not anointed a successor. Personal attacks by Oxford and others have led to rallies being held around the country, with crowds chanting her name.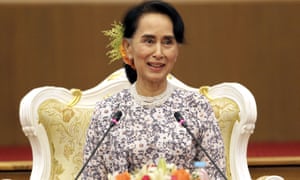 Aung San Suu Kyi at a ceremony to accept cash from private donors for development in Rakhine state. Photograph: Aung Shine Oo/AP
At an interfaith gathering attended by thousands in Yangon, many clutched photographs of the painting removed by St Hugh's. Myanmar's Catholic cardinal, Charles Maung Bo, one of the few public figures who has been willing to speak out for the Rohingya but who has been less vocal in recent months, took to the stage to appeal on behalf of Aung San Suu Kyi. "In her fragile hands she holds the dreams of millions," he said.
The hope instilled in Aung San Suu Kyi – and fear of the alternative – has driven western policy towards Myanmar for years. It is why allies refused to condemn her when she did not speak out in 2012, when tens of thousands of Rohingya were driven from their homes and herded into displacement camps where they remain, five years on.
They indulged her when she failed to field a single Muslim candidate in the 2015 election, which the NLD won by a landslide. "It's easy for people overseas to ask why she's not doing more," one diplomat said earlier this year. "Then the military take over and they're like, 'Oh, we lost Burma again!' The consequences for her could be more severe."
But now, with Rohingya continuing to flee daily, relations between the leader and her erstwhile allies have been at their lowest ebb. Views of the situation inside Myanmar – where the Rohingya are widely reviled as illegal immigrants and terrorists, as attacks by Rohingya militants preceded the crackdown – and outside the country are diametrically opposed.

Carles Puigdemont issues defiant video message urging 'democratic opposition' as cabinet are removed from their posts
Catalan leader calls for democratic opposition to Madrid takeover – video
The Catalan leader has issued a defiant response to Madrid's decision to take direct control of Catalonia, calling for "democratic opposition" to the takeover.
In a brief video message issued on Saturday afternoon, Carles Puigdemont vowed to continue working to build "a free country".
"We must do so resisting repression and threats, without ever abandoning, at any time, civic and peaceful conduct," he said, adding that his government did not have or want "the argument of force".
Madrid reacted to the Catalan parliament's unilateral declaration of independence on Friday by firing the regional government and dismissing the head of the local police force.
Puigdemont and his cabinet were formally removed from their posts, and their powers and responsibilities taken over by central government in notices posted to the official state bulletin on Saturday morning.
The orders provided an outline for a takeover approved by the Spanish senate on Friday, but Mariano Rajoy, Spain's prime minister, now faces the challenge of implementing them.
Puigdemont responded to Madrid's move with a choreographed show of normality, going out for drinks and lunch at a restaurant in his hometown of Girona, as the pre-recorded statement played out on national TV. He briefly stepped out to take a photo with supporters, to applause from other diners.
Many of the thousands of independence supporters who were weeping and celebrating in the streets of Barcelona and other towns on Friday had already pledged peaceful resistance to Madrid's orders.
Activists had offered to form human chains around buildings to protect officials, and some of the region's 200,000 civil servants have already said they will not accept orders from Madrid.
One Catalan union has called a 10-day strike in support of the new republic starting on Monday, although larger trade bodies have not so far joined.
Josep Lluís Trapero, head of the regional Mossos d'Esquadra police, who was praised for his response to the August terrorist attacks, has been the only senior official to say he will comply with Madrid, accepting a demotion to commissar.
Beyond the sweeping assumption of powers, Madrid took wider aim at the project of Catalan statehood pursued by the regional government.
Among other orders, it dismantled informal embassies set up by Catalonia in countries from Denmark to Morocco, and dismissed a tribunal set up to investigate rights abuses during the 1 October referendum, when Spanish police were widely criticised for their use of force.