31 Oct
News and Analyses, A Foreign Perspective
Nearly all of these are English-edition daily newspapers. These sites have interesting editorials and essays, and many have links to other good news sources. We try to limit this list to those sites which are regularly updated, reliable, with a high percentage of "up" time.

World Politics
United States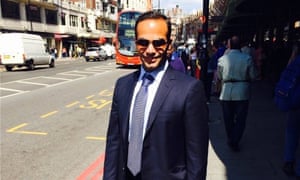 George Papadopoulos. Former Advisor at Donald J Trump for President Photograph: LinkedIn
F

or months the White House has denied collusion with Russia. But in court documents released on Monday, new evidence emerged of an ambitious plot by a former Trump foreign policy aide to arrange a meeting with Vladimir Putin on behalf of the future president. The plan featured a mysterious London professor, a female Russian national inaccurately referred to as "Putin's niece" – and bold promises that the Kremlin was ready to dispense "dirt" on Hillary Clinton.
The most explicit evidence yet of a campaign official's attempts to work with the Kremlin emerged in an indictment brought by Robert Mueller, the special counsel who since May has headed the investigation into Trump-Russia contacts.
It came the same day that Trump's former campaign manager Paul Manafort and adviser Rick Gates were indicted for conspiracy, money-laundering and other charges, and gave themselves up to the FBI.
Up until now George Papadopoulos, a Greek-American who served as a foreign policy adviser to the Trump campaign and once lived in London, has played a minor role in the scandal. But on Monday he emerged as the first person to agree to cooperate with the Mueller probe under the terms of a plea agreement. He also admitted to lying to investigators at the FBI.
The 14-page "statement of offence" unsealed on Monday sets out how in the spring and summer of 2016, Papadopolous sought tirelessly to forge ties to Kremlin officials – then misled the FBI, and tried to cover up what he had done.
According to the indictment, the FBI questioned Papadopoulos on 27 January 2017, a week after Trump was inaugurated. In that interview, Papadopoulos lied. Or, as the FBI put it, "made material false statements and material omissions".
In particular, he tried to dupe federal agents about the extensive nature of his contacts with Kremlin officials, and when he first learned that the Russians hacked Hillary Clinton's emails.
Papadopoulus joined Trump's campaign early in March 2016. Days later he spoke to an unnamed Trump "supervisor" who spelled out the campaign's principal foreign policy objective: "an improved US relationship with Russia".
A week later Papadopoulous flew to Rome where he bumped into a London-based "professor of diplomacy" from a "Mediterranean country". The professor – identified by the Washington Post as Joseph Mifsud – claimed to have "substantial connections with Russian government officials".
Mifsud is reportedly based at an institute called the London Academy of Diplomacy. He is a Maltese former foreign office diplomat, reports say. Interviewed by the Washington Post in August, he said he was not connected to the Russian government.
Papadopoulus, it appeared, saw an opportunity to impress his campaign bosses. According to the FBI, the professor was initially "uninterested" in developing ties, until Papadopoulos revealed his Trump connection. After that he became very keen indeed.
On 24 March there was a follow-up meeting in London. The professor brought a "Russian female national" along with him, who Papadopoulos described in an email afterwards as "Putin's niece". (Putin does not have any surviving siblings.)
Read Full Article>>

Carles Puigdemont and members of his cabinet may seek asylum or set up government in exile, according to reports
Spanish prosecutor files for charges of rebellion against Catalan government members – video 
Catalonia's ousted president and several members of his deposed cabinet have fled to Belgium hours before Spain's attorney general asked for charges of rebellion, sedition and misuse of public funds to be brought against them over their decision to declare independence last week.
Shortly after the possible charges were announced on Monday, Spanish media reported that Carles Puigdemont and five of his former ministers had driven to Marseilles and then caught a flight to Brussels. There was speculation they could be intending to set up a government in exile or claim asylum.
Spanish government officials said Puigdemont was in Brussels, which was confirmed late on Monday by Umberto Gambini, the head of Catalan legislator Ramon Tremosa's office.
In an apparent reference to Josep Tarradellas, the Catalan leader who lived in exile in Paris during the Franco dictatorship, a spokeswoman for Puigdemont's Catalan Democratic party (PDeCat) said: "We had presidents in this country who were not able to be here during Franco's time and they were still the president of the Catalan government."
Over the weekend, Belgium's immigration minister suggested that Puigdemont could be offered asylum in the country. "It's not unrealistic, looking at the current situation," Theo Francken, a member of the Flemish separatist N-VA party, told the Flemish-language broadcaster VTM on Saturday.
"Looking at the repression by Madrid and the jail sentences that are being proposed, the question can be asked whether he still has the chance for an honest court hearing."
Belgium's prime minister, Charles Michel, later clarified that an asylum request from Puigdemont was "absolutely not on the agenda". On Monday, Michel's office declined to comment on rumours that the former Catalan president intended to seek asylum.
On Monday night, Puigdemont's Belgain lawyer said the Catalan leader had not yet decided whether or not to seek asylum.
Paul Bekaert, who has represented members of the Basque separatist group Eta – whose long terror campaign claimed more than 800 lives – told VRT network that his client was "not in Belgium to specifically ask for political asylum. That is not decided yet.
Spain's prime minister, Mariano Rajoy, took the unprecedented step last Friday of using article 155 of the constitution to sack Puigdemont and his government and impose direct rule on Catalonia after the regional parliament voted to declare independence.
As well as taking control of the region's civil service, police and finances, Rajoy has used the article to call elections in Catalonia to be held on 21 December.
On Monday, Spain's attorney general, José Manuel Maza, announced that he would ask the national court to bring the charges against 14 members of Puidgdemont's administration for pushing ahead with independence in defiance of Spain's constitution and constitutional court.
They include Puigdemont, his deputy, Oriol Junqueras, the administration's foreign minister, Raül Romeva, and the government spokesman, Jordi Turull.
The supreme court, meanwhile, will investigate possible action against Carme Forcadell, the speaker of the Catalan parliament, and other parliamentary officials for the part they played in paving the way for the vote.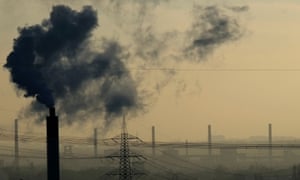 Smoke rises from a power plant in Bottrop, western Germany. Photograph: Patrik Stollarz/AFP/Getty Images
The concentration of carbon dioxide in the atmosphere increased at record speed last year to hit a level not seen for more than three million years, the UN has warned.
The new report has raised alarm among scientists and prompted calls for nations to consider more drastic emissions reductions at the upcoming climate negotiations in Bonn.
"Globally averaged concentrations of CO2 reached 403.3 parts per million (ppm) in 2016, up from 400.00 ppm in 2015 because of a combination of human activities and a strong El Niño event," according to The Greenhouse Gas Bulletin, the UN weather agency's annual flagship report.
This acceleration occurred despite a slowdown – and perhaps even a plateauing – of emissions because El Niño intensified droughts and weakened the ability of vegetation to absorb carbon dioxide. As the planet warms, El Niños are expected to become more frequent.
The increase of 3.3 ppm is considerably higher than both the 2.3 ppm rise of the previous 12 months and the average annual increase over the past decade of 2.08ppm. It is also well above the previous big El Niño year of 1998, when the rise was 2.7 ppm.
The study, which uses monitoring ships, aircraft and stations on the land to track emissions trends since 1750, said carbon dioxide in the atmosphere is now increasing 100 times faster than at the end of the last ice age due to population growth, intensive agriculture, deforestation and industrialisation.
The last time Earth experienced similar CO2 concentration rates was during the Pliocene era (three to five million years ago), when the sea level was up to 20m higher than now.
The authors urged policymakers to step up countermeasures to reduce the risk of global warming exceeding the Paris climate target of between 1.5C and 2C.
"Without rapid cuts in CO2 and other greenhouse gas emissions, we will be heading for dangerous temperature increases by the end of this century, well above the target set by the Paris climate change agreement," World Meteorological Organisation chief Petteri Taalas said in a statement.
The momentum from the Paris accord in 2015 is faltering due to the failure of national governments to live up to their promises. In a report to be released on Tuesday, UN Environment will show the gap between international goals and domestic commitments leaves the world on course for warming well beyond the 2C target and probably beyond 3C. International efforts to act have also been weakened by US president Donald Trump's decision to quit the accord.
Prof Dave Reay, professor of carbon management at the University of Edinburgh, said: "This should set alarm bells ringing in the corridors of power. We know that, as climate change intensifies, the ability of the land and oceans to mop up our carbon emissions will weaken. There's still time to steer these emissions down and so keep some control, but if we wait too long humankind will become a passenger on a one-way street to dangerous climate change."
"The numbers don't lie. We are still emitting far too much and this needs to be reversed," the head of UN Environment Erik Solheim said in reaction to the new report. "What we need now is global political will and a new sense of urgency."
The report comes amid growing concerns that nature's ability to deal with CO2 is weakening. Recent studies show forest regions are being cleared and degraded so rapidly that they are now emitting more carbon than they absorb.
"These large increase show it is more important than ever to reduce our emissions to zero – and as soon as possible," said Piers Forster, director of the Priestley International Centre for Climate at the University of Leeds. "If vegetation can no longer help out absorbing our emissions in these hot years we could be in trouble."
The World Meteorological Organisation predicted 2017 will again break records for concentrations of carbon dioxide and methane, but the growth rate will not be as fast because there is no El Niño effect.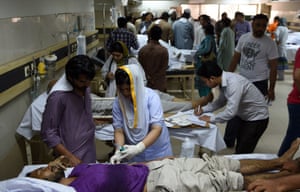 Pakistani heatstroke victims at a government hospital in Karachi, June 2015. The report found a huge increase in the number of people over 65 who are exposed to extreme heat. Photograph: Asif Hassan/AFP/Getty Images
The health of hundreds of millions of people around the world is already being damaged by climate change, a major report has revealed.
Heatwaves are affecting many more vulnerable people and global warming is boosting the transmission of deadly diseases such as dengue fever, the world's most rapidly spreading disease. Air pollution from fossil fuel burning is also causing millions of early deaths each year, while damage to crops from extreme weather threatens hunger for millions of children.
The findings, published in the Lancet journal, come from researchers at 26 institutions around the world, including many universities, the World Health Organization, World Bank and the UN's World Meteorological Organization (WMO). The WMO reported on Monday that the level of carbon dioxide in the atmosphere made a record jump in 2016 to hit a concentration not seen for more than three million years.
"Climate change is happening and it's a health issue today for millions worldwide," said Prof Anthony Costello, at the World Health Organization and co-chair of the group behind the new report. It follows a related report in 2009 that warned that climate change was the biggest danger to global health in the 21st century, an assessment repeated in the new report.
But Costello said acting to halt global warming would also deliver a huge benefit for health: "The outlook is challenging, but we still have an opportunity to turn a looming medical emergency into the most significant advance for public health this century."
"Our scientists have been telling us for some time that we've got a bad case of climate change. Now our doctors are telling us it's bad for our health," said Christiana Figueres, who as the UN's climate chief negotiated the Paris climate change agreement and also co-chaired the new report.
"Hundreds of millions of people are already suffering health impacts as a result of climate change," she told the Guardian. "Tackling climate change directly, unequivocally, and immediately improves global health. It's as simple as that."
One of the most striking of the 40 indicators assessed by the researchers was a huge increase in the number of people over 65 exposed to extreme heat. This rose by 125 million between 2000 and 2016 and worries doctors because older people are especially vulnerable to heat.
"There is no crystal ball gazing here, these are the actual observations," said Prof Peter Cox, at the University of Exeter, UK. He said the 70,000 deaths that resulted from the 2003 heatwave in Europe looked small compared to the long-term trends: "We were alarmed when we saw this."
Most of the increase in exposed people resulted from rising temperatures, but the number of older people is also rising, creating a "perfect storm", Cox said. The report also found that hotter and more humid weather was increasingly creating conditions in which it is impossible to work outside. In 2016, this caused work equivalent to almost a million people to be lost, half in India alone.
The report also found that climate change has increased the ability of dengue fever to spread, because the mosquitoes and the virus they carry breed more quickly. Dengue is also known as "breakbone fever" due to the pain it causes and infections have doubled in each decade since 1990, now reaching up to 100m infections a year now. Dengue was used as an example in the report and the researchers suggest global warming will also increase the spread of other diseases such as schistosomiasis.