01 Nov
News and Analyses, A Foreign Perspective
Nearly all of these are English-edition daily newspapers. These sites have interesting editorials and essays, and many have links to other good news sources. We try to limit this list to those sites which are regularly updated, reliable, with a high percentage of "up" time.

World Politics
United States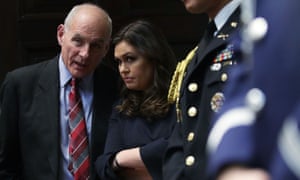 Sarah Sanders and John Kelly at the White House on Tuesday. Photograph: Alex Wong/Getty Images
The White House on Tuesday stood by chief of staff John Kelly's defense of Confederate monuments and his assertion that a failure to compromise led to the American civil war.
In an interview with Laura Ingraham on Monday night, Kelly suggested that both the Union and the Confederacy acted in "good faith" and "made their stand where their conscience had them make their stand".
His remarks reignited the debate over Confederate monuments fueled by his boss, Donald Trump, who earlier this year blamed "both sides" in the wake of deadly violence during a white nationalist protest against the removal of a statue of Robert E Lee.
The comments drew immediate backlash, as many observers noted that the matter the north and south couldn't compromise on was slavery. Southern states began to secede after the election of Abraham Lincoln in 1860. Although Lincoln did not favor the abolition of slavery, southerners found his support for limiting the institution to the states and territories where it already existed to be unconscionable.
"Notion that civil war resulted from a lack of compromise is belied by all the compromises made on enslavement from America's founding," said Ta-Nehisi Coates, a prominent intellectual and author who has written extensively about race in the United States.
"I mean, like, it's called the three-fifths compromise for a reason," he added, referring to provision in article 1, section 2 that provided that for purposes of representation in Congress, slaves would be counted as three-fifths of a person. "But it doesn't stand alone. Missouri Compromise. Kansas-Nebraska Act."
On Tuesday, press secretary Sarah Sanders accused the media of falsely perpetuating a narrative that the White House is "racially charged and divided".
"Because you don't like history doesn't mean you can erase it and pretend it didn't happen," she said during the press briefing. "And I think that's the point that General Kelly was trying to make. To try to create something and push a narrative that simply doesn't exist is just frankly outrageous and absurd."
Instead she blamed Democratic-leaning groups such as the organization behind a controversial opposition advertisement in the Virginia gubernatorial race for "stoking political racism". In the ad, minority children are intimidated by a white man driving in truck with a Confederate flag and a bumper sticker supporting the Republican in the race.
Sanders also claimed there is "historical documentation" to support Kelly's claim that an inability to compromise was a cause of the bloodiest conflict in American history.
"There's a pretty strong consensus from people from the left, the right, the north, and the south that believe that if some of the individuals engaged had been willing to come to some compromises on different things, then it may not have occurred," she said.
Pressed on Kelly's comments, she expressed exasperation with reporters: "I'm not going to get up here and re-litigate the civil war."
Trump's predecessor in the White House, Ulysses S Grant, described the southern cause as "one of the worst for which a people ever fought, and one for which there was the least excuse". Grant was a Union general during the war and rose to command the United States army.
Kelly's comments echoed those made by Donald Trump in the aftermath of the violence in Charlottesville, Virginia in August, when a white supremacist drove his car into counter protesters, leaving one woman dead and several others injured. The president sparked controversy in the days that followed by blaming violence "on both sides", appearing to put neo-Nazis and white supremacists on equal footing with demonstrators from the left.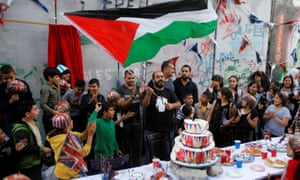 Banksy's street party in Bethlehem took place amid heightened sensitivities over the centenary of the Balfour declaration. Photograph: Mussa Issa Qawasma/Reuters
Protesters have crashed a tongue-in-cheek "street party" organised by the artist Banksy outside his Walled Off hotel in the West Bank city of Bethlehem to mark the 100th anniversary of the Balfour declaration, which promised a national Jewish homeland in Palestine.
People from the nearby Aida refugee camp said afterwards they objected to the way the event had "used" Palestinian children as the centrepiece of the performance. "We came because we didn't like the use of the British flags or the way they were using Palestinian children," said Munther Amira, a prominent activist from Aida who planted a large Palestinian flag in the middle of a cake.
The intervention came amid heightened sensitivities over the centenary of the Balfour declaration, which will be marked on Thursday with a formal dinner in London.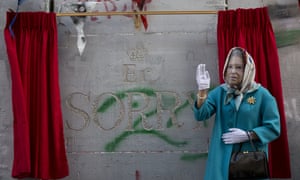 Banksy unveiled a new work at the event: a mock apology to the Palestinian people from Queen Elizabeth II. Photograph: Dusan Vranic/AP
Palestinians, not least in Bethlehem, have been divided over Banksy's hotel. While many are grateful that it has attracted foreign visitors to learn about the occupation, others have been uncomfortable that it has eclipsed local Palestinian voices while garnering publicity for the Bristol-based street artist.
Organisers of Wednesday's event have been contacted for comment.
Banky's rendering of a British street party was intended to satirise other celebrations, including the dinner on Thursday, at which guests will include the British prime minister, Theresa May, and her Israeli counterpart, Benjamin Netanyahu.
Several dozen Palestinian children had been invited to the event, which included scorched bunting and flags, cakes and helmets painted with union flags set at a table beneath the looming concrete separation wall.
The event also included the unveiling of a new work by Banksy, etched into the concrete of the wall: a mock apology from Queen Elizabeth II to the Palestinians reading "Er… sorry".
The Balfour declaration was the result of discussions between British Zionist leaders seeking political recognition of their goals for Jewish statehood and British politicians embroiled in the first world war.
The declaration, which promised British assistance to create a Jewish homeland, served as the basis for the British Mandate of Palestine, which was approved in 1920 by the League of Nations, a precursor to the UN.
A statement by Banksy read out at the event underlined that it was not intended to be a celebration. "This conflict has brought so much suffering to people on all sides – it didn't feel appropriate to 'celebrate' the British role," he said.
"The British didn't handle things well here. When you organise a wedding," the statement said, referring to the promise of a Jewish national homeland in Palestine, "it's best to make sure the bride isn't already married."
The event came as Israelis and Palestinians began marking the issuing of the declaration on 2 November 1917 in starkly different ways. Netanyahu's visit to London on Thursday will be followed next week by a special session of the Israeli parliament to celebrate the founding diplomatic document of Israeli nationhood.
Palestinians are marking the centenary with demands for a British apology. "We asked them to make it right, to make this historical oppression right by recognising the state of Palestine and apologising to the Palestinian people," the foreign minister, Riyad al-Malki, said.
Roderick Balfour, a descendant of Lord Balfour, who wrote the original document, has argued that the continuing lack of a Palestinian state would not have pleased his famous ancestor.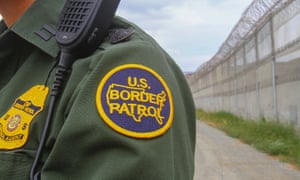 The US Border Patrol detained Rosa Maria Hernandez after she was discharged from a hospital. Photograph: Bill Wechter/AFP/Getty Images
A lawsuit has been filed seeking the immediate release of a disabled 10-year-old girl detained by the US Border Patrol after she went through a checkpoint on the way to hospital for an operation.
Rosa Maria Hernandez has been in custody at a shelter in San Antonio since last Wednesday after she was discharged by a hospital in Corpus Christi following gallbladder surgery.
She has cerebral palsy and, according to the federal suit filed by the American Civil Liberties Union on Tuesday, has the cognitive development of a six-year-old and requires specialised care and constant attention.
Rosa Maria's parents brought her from Mexico to the US when she was three months old. At about 2am last Tuesday, the special-needs transport vehicle taking her on the 150-mile journey from her home in the Texas border city of Laredo to Driscoll children's hospital was stopped at an interior Border Patrol checkpoint and agents discovered her undocumented status.
Officers then followed Rosa Maria, who was travelling with a 34-year-old cousin who is a US citizen. The lawsuit states they "shadowed her every move at the hospital. But rather than permit R.M.H. to return to her family once she was discharged after surgery, as her doctors had recommended, the agents arrested R.M.H. directly from her hospital bed, without a warrant, for the purpose of initiating removal proceedings to deport her from the United States."
The girl was taken 150 miles away to a shelter for unaccompanied minors run by a government contractor, where she is being held while the Office of Refugee Resettlement determines whether she can be returned to her family, an assessment process that could take weeks or months. Her primary caregiver, her mother, is undocumented and has been unable to visit her at the shelter.
The lawsuit accuses the government of violating multiple immigration laws and Rosa Maria's constitutional rights. It argues that she was unlawfully arrested without a warrant, that her detention is having a negative effect on her physical and mental health and that she was wrongly designated as an unaccompanied minor even though the immigration authorities are aware that she lives with her family in a stable home environment.
"The government cannot render [her] an unaccompanied child merely by virtue of her arrest," the ACLU contends.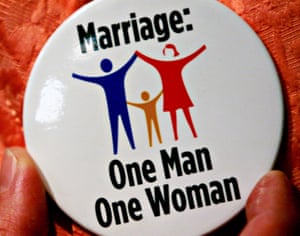 On average, 19% of participants in North America, South America and western Europe said people engaging in homosexual relationships should be criminalised. Photograph: Joe Marquette/Bloomberg/Getty Images
More than one in four people across the world think people engaging in same-sex relationships should be charged as criminals, according to a new survey of 77 countries and territories.
However, there were major divisions in attitudes towards the criminalisation of those engaging in same-sex relationships when broken down across regions, the 2017 Ilga-Riwi global attitudes survey to sexual and gender minorities found.
Almost half of respondents (45%) in the 15 African countries surveyed said those who have same-sex relationships should be charged as criminals, a sentiment shared by 36% of respondents in the Middle East.
At the other end of the spectrum, 15% of respondents from Australia and New Zealand said they agreed with this sentiment, along with 19% of participants in North America (the US and Canada combined), South America and western Europe.

Even within those countries where such criminalisation has long been abolished, there was a significant minority who believed those engaging in such relationships should be charged.
In the UK, where homosexuality has been decriminalised for 50 years, one in six people (17%) agreed that "people who engage in romantic or sexual relationships with people of the same sex should be charged as criminals". In Australia the figure stood at 16%, while 18% of US respondents agreed with the statement.
"It is worrying that these attitudes towards criminalisation hover around the 20% mark in many developed countries," said lead survey researcher and co-author of the report, Aengus Carroll. He added that this was partly due to continued prevalence of a "traditional values matrix" and a cohort of people who mistakenly equate homosexuality to "darker things like paedophilia".
Across all the countries surveyed, 28.5% of respondents to the survey said that people who engage in same-sex relationships should be charged as criminals.
In the 25 surveyed countries in which homosexual activity is already criminalised, a majority of respondents – 42% – said people who engage in such relationships should be charged as criminals compared with 36% who disagreed.

W

hen it rains or the wind blows in the tiny fishing village of Scotts Head, the youngest residents run for cover. With Dominica's once-lush landscape deeply scarred by the unprecedented fury of Hurricane Maria only weeks earlier, the signs of nature's wrath are everywhere and felt by everyone.
"The children are terrified the hurricane will return – we all are. Everybody is still in shock," says Guadiosa Ytac, 49, who left London for the Caribbean more than a decade ago.
On Monday 18 September, in the dead of night, the category 5 storm bore down on the island and lashed it for hours. Torrential rain and 160mph gusts tore off roofs, smashed through walls, uprooted trees and lifted roads. Communication towers snapped in two, schools were flattened and electricity cut. Nothing was spared.
In the few short hours between sundown and sunrise, the 29-mile by 16-mile "Nature Island" – which boasted dozens of waterfalls, rainforests, nine active volcanoes and 365 rivers – was reduced to rubble, lurching from tropical paradise with a burgeoning eco-tourism sector to abject poverty and ruin in a single night.
Ytac's roof, windows and front door were smashed in by the hurricane, leaving mounds of concrete, dirt and shattered glass scattered throughout the two-bedroom house she shares with her teenage son.
She counts herself one of the lucky ones. Only a few yards away, her neighbour, a woman in her 80s, is missing, presumed dead.
"That night the waves were higher than the houses, higher even than the coconut trees," Ytac says. "By morning, there was nothing left of my neighbour's home on the seafront – not even a scrap of furniture. She was gone and so was her house. The sea took it all."
With 95% of buildings damaged or destroyed and the few remaining roads still clogged with tree trunks, the distribution of aid – much of which has come from neighbouring islands – has been treacherous and slow.
Approximately 3,000 Dominicans are living in shelters; the rest are staying with relatives and friends, according to the UN, which launched an appeal for $31.1m (£23.4m) to reach at least 90% of residents – about 65,000 people – in the next three months.
Informal estimates suggest one-fifth of the population have fled the island since September, with ferry operators reporting that a growing number of passengers are opting for one-way tickets.
But what of those who remain, marooned without work or permanent shelter? What are their hopes for the future now that the country has, according to the prime minister, been reduced to "worse than a war zone"?
"Things were so hard straight after the hurricane. We had nothing," says Ytac. "Every day my son would go to the bay, hoping to get a delivery of food and bottles of water. He would stand there from morning to night, watching as neighbours collected boxes of supplies delivered by their relatives on fishing boats from Guadeloupe and Martinique. But every day he would leave empty handed and disappointed … We have no one there to help us.
"Some emergency goods have been arriving in Scotts Head over the past couple of weeks – biscuits, corned beef, napkins, that kind of thing – but we still struggle to get the stuff that everybody wants, like water. We have a drum to collect rainwater, but some days it's dry and there just isn't enough."
Houses in the New Town area of the capital, Roseau, saw extensive flooding damage but were also hit by landslides due to the unstable, mountainous terrain above.
The destruction Hurricane Maria unleashed on the tiny Caribbean island of Dominica on the 19th of September, 2017 was absolute. Survivor Ivonne Salbon recalls the wind roaring like a "howling demon at the end of the world".
A month later, the first seedlings of felled trees are once again sprouting, but it will be years if not decades before island life returns to normal.
"Dominicans are a people born from resistance," says Salbon, clutching a cutlass to control the growth around her sprouting banana garden. "We faced down every adversity in our history; we can come out from under this nightmare too."
Living on Mero Beach under the meagre shelter of an almond tree in bloom, his home obliterated by the storm, Glennsworth Irving finds shade but also hope: "If this tree can survive, we can survive," he says. "If this tree can bear fruit, so will our island. All in due time."