02 Nov
News and Analyses, A Foreign Perspective
Nearly all of these are English-edition daily newspapers. These sites have interesting editorials and essays, and many have links to other good news sources. We try to limit this list to those sites which are regularly updated, reliable, with a high percentage of "up" time.

World Politics
United States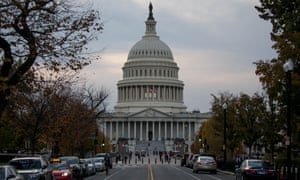 Republican leaders briefed rank-and-file lawmakers on the proposal Thursday morning ahead of a formal rollout. Photograph: Zach Gibson/Getty Images
Guardian staff and agencies
Donald Trump's push for deep tax cuts reached a milestone on Thursday as his fellow Republicans in the House of Representatives unveiled a long-awaited plan which would benefit corporations and the wealthy but is less generous to the middle class.
The legislation would permanently lower the corporate tax rate to 20% from 35% and repeals the inheritance tax on multimillion-dollar estates in what would be the most sweeping change to the United States tax code in three decades.
It also would reduce the number of tax brackets from seven to four and nearly double the standard deduction that most Americans take on their tax returns to $12,000 for individuals and $24,000 for couples.
The sweeping tax cuts, long a priority of the Trump administration and congressional Republicans, faces major obstacles to passage as Democrats are almost uniformly skeptical of the plan and a number of Republicans have concerns.
Among the biggest red flags within the GOP are a provision to cap the deduction for state and local income taxes, which has faced skepticism from Republicans who represent high-tax states such as New York and New Jersey and the plan's addition of $1.5tn to the national debt which may raise the ire of deficit hawks. The bill would eliminate the tax deduction for state taxes and leave only a limited deduction for up to $10,000 in local property taxes.
The legislation is expected to face fierce opposition from realtors and the homebuilding industry as well over a provision to cap the deduction for mortgage interest on newly purchased homes at $500,000.
According to a summary obtained by news organizations, the long-awaited tax plan would:
Limit the widely used deduction for mortgage interest for newly purchased homes at up to $500,000, a sharp reduction from the current $1m cap.

Limit the deductibility of local property taxes to $10,000.

Eliminate the deduction for state income taxes.

Nearly double the standard deduction used by most average Americans to $12,000 for individuals and $24,000 for families.

Slash the corporate tax rate from 35% to 20%.

Repeal the inheritance taxes on multimillion-dollar estates.

Increase the child tax credit from $1,000 to $1,600, though the $4,050 per child exemption would be repealed.

Shrink the number of tax brackets from seven to four, with respective tax rates of 12%, 25%, 35% and 39.6%.

Preserve a popular retirement account for middle-class Americans by leaving intact existing rules on 401(k) retirement accounts and the ability of Americans to contribute up to $18,000 into the accounts tax-free.
GOP leaders briefed rank-and-file lawmakers on the proposal Thursday morning ahead of a formal rollout and a show of unity event at the White House with Donald Trump.
A major revamp of the tax code, the first in three decades, is a top legislative and political priority of Republicans.
But curtailing the state and local income tax deduction is sure to face opposition from Republicans in high-tax states.
"I view the elimination of the deduction as a geographic redistribution of wealth, picking winners and losers," said Representative Lee Zeldin of New York. "I don't want my home state to be a loser, and that really shouldn't come as any surprise."
The legislation is a longstanding goal for Capitol Hill Republicans who see a once-in-a-generation opportunity to clean up an inefficient, loophole-cluttered tax code. The tax system would be simplified, and most people would be able to file their returns on a postcard-sized form.
Influential conservative Representative Mark Meadows dismissed proposed retirement changes as a "non-starter", adding "that's what most of middle-income America uses as their nest egg".
The plan calls for nearly doubling the standard deduction used by most average Americans to $12,000 for individuals and $24,000 for families, and increasing the per-child tax credit. On net, it could mean tax increases for many upper middle-income families.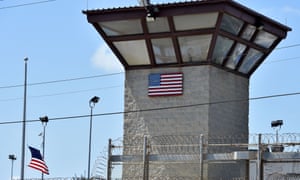 Brig Gen John Baker was sentenced to three weeks' confinement on the naval base after the judge found him in contempt of court. Photograph: Mladen Antonov/AFP/Getty Images
The military tribunals at Guantánamo Bay are facing chaos after a trial judge sentenced the chief defence counsel, a marine general, to 21 days' confinement in his trailer for contempt.
The uproar came on the same day Republican senators called for the suspect in Wednesday's New York truck attack to be sent to the detention camp on a US enclave in Cuba, and Donald Trump said he would certainly consider the idea. His administration has already said it may start sending new inmates to the camp, which was set up in 2001 to try terror suspects in the wake of the 9/11 attacks.
In court on Wednesday, Marine Brigadier General John Baker, who oversees defence teams at the facility, attempted to argue the court had no jurisdiction over him. But Air Force Colonel Vance Spath, the judge in the case about the 2000 bombing of the USS Cole in Yemen, refused to let him speak and ordered him to sit down, according to the Miami Herald.
Spath declared Baker in contempt for excusing three civilian defence lawyers from the case because of an unspecified ethics conflict involving attorney-client privilege. Spath ordered the general confined to his quarters in a trailer near the court and to pay a $1,000 fine.
Spath ordered the civilian lawyers to return to Guantánamo Bay or appear by video-link next week.
The defendant in the USS Cole case, a Saudi national, Abd al-Rahim al-Nashiri, has asked the US district court in Washington to halt the trial because the only defence attorney left at the trial is a navy lieutenant who graduated five years ago and has never tried a murder case. Nashiri is facing a potential death sentence.
"The USS Cole is a proxy for much larger issues that have not been settled yet, and which should to be resolved by another court some distance from Guantánamo," said Stephen Vladeck, a law professor at the University of Texas. He added that among those unresolved questions are who can decide when and whether civilian lawyers can withdraw from a trial and whether the court has the power to confine a lawyer who is a US citizen.
Vladeck, who is co-editor of the website Just Security, said that another unsettled question is whether the New York suspect, Sayfullo Saipov, an Uzbek immigrant who was legally settled in the US, could be designated an enemy combatant and sent to Guantánamo.
The White House press secretary, Sarah Sanders, said on Wednesday: "I believe we would consider the suspect to be an enemy combatant, yes."
However, an unnamed administration official was quoted by NBC News as saying there was likely to be no legal authority to send Saipov to Guantánamo Bay.
On Wednesday evening it was reported that a federal court in Manhattan would be charging Saipov.
All but 10 of the 41 men still at the prison are being held in indefinite detention without trial, and five have gone on hunger strike. In recent weeks, the military authorities have taken a tougher line on the strikers, allowing them to deteriorate significantly before force-feeding them.
Read Full Article>>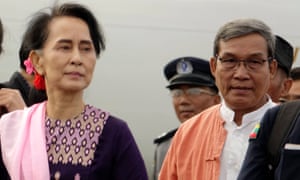 Aung San Suu Kyi, with chief minister Nyi Pu, has made an unannounced trip to Rakhine state. Photograph: Nyunt Win/EPA
Myanmar's leader, Aung San Suu Kyi, has made her first visit to the conflict-battered northern state of Rakhine, a previously unannounced trip to a region that has been almost emptied of its Rohingya Muslim population fleeing army attacks.
The Nobel laureate has been criticised by the international community for failing to speak up in defence of the Rohingya, a long-persecuted minority in majority-Buddhist Myanmar.
Some 600,000 people have fled to Bangladesh in two months, carrying accounts of murder, rape and arson at the hands of Myanmar's security forces, who say they are responding to militant raids on August 25.
The UN says that crackdown is tantamount to ethnic cleansing, and pressure has mounted on Myanmar to provide security for the Rohingya and allow people to return home.
"The state counsellor [her official title] is now in Sittwe and will go to Maungdaw and Buthiduang too. It will be a day trip," government spokesman Zaw Htay told Agence France-Presse, mentioning two of the centres of the violence but without elaborating on her schedule.
Images posted on social media showed what appeared to be Aung San Suu Kyi speaking to villagers in Rakhine.
It was not clear if Aung San Suu Kyi would visit some of the more than 200 Rohingya villages torched by the army – allegedly aided by ethnic Rakhine Buddhist locals – or if she would be taken to see remaining Rohingya, who are living in fear and hunger surrounded by hostile neighbours.
Thousands of others are believed to still be camped on a beach near Maungdaw awaiting boats to Bangladesh in increasingly parlous conditions.
The Rohingya, widely hated by Myanmar's Buddhist population, are denied citizenship and dismissed as illegal "Bengali" immigrants by many government officials.
For years, tens of thousands paid people smugglers to get them out the country on dangerous sea voyages. But the current bloodshed has displaced the vast majority of the remaining population, many of them poor rice farmers.
Life for Rohingya refugees in Bangladesh, many with bullet wounds and burns, is deteriorating inside makeshift and overcrowded camps amid funding shortfalls.
Aid groups say the risk of significant outbreaks of disease is high.
The European commissioner Christos Stylianides visited the camps this week and said the conditions were "beyond imagination".
"[The] Rohingya are nothing less than every other human being in the world. This [situation] is, especially for the European Union and also for me personally, appalling," he was quoted as saying by the Dhaka Tribune after a two-day visit.
Aung San Suu Kyi has set up a committee tasked with repatriating Rohingya from Bangladesh, but aid workers fear the displaced may end up forcibly interned.
On Wednesday, a Myanmar government spokesman, Zaw Htay, accused Bangladesh of delaying the start of the repatriation process.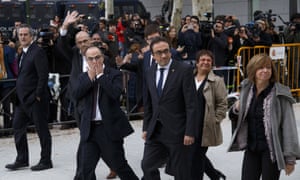 Former members of the Catalan government arrive at Spain's national court in Madrid on Thursday morning. Photograph: Pablo Blazquez Dominguez/Getty Images
Sam Jones in Madrid and agencies
The deposed leaders of Catalonia's separatist government have begun arriving at court in Madrid to face possible charges of rebellion, sedition and misuse of public funds over their roles in last week's declaration of independence.
Notable by his likely absence, however, is the dismissed Catalan president, Carles Puigdemont, who is in Brussels and refusing to come, according to his lawyer.
"He will not go to Madrid and I have suggested that he be questioned here in Belgium," Paul Bekaert told Spain's TV3 television on Wednesday.
The hearing at the national court in Madrid, which deals with major criminal cases, began at 9am and will continue on Friday.
Catalonia's former vice-president, Oriol Junqueras, was the first to arrive at the court. He went in accompanied by lawyers, passing by dozens of journalists, and declining to answer questions.
Assumpció Lailla, a former politician with Catalonia's Democrats party, said she had travelled to Madrid joining about 100 other politicians and elected officials to show support to those investigated in the rebellion investigation.
"This is an unjust situation in which they are being investigated for facilitating democracy," she told Associated Press. "I don't understand how Europe can look away from democracy."
Supporters outside court cheered and shouted "Freedom, Freedom" and "we are not afraid".
Across the street, half a dozen protesters with Spanish flags were stopped by police. Addressing the Catalan politicians, they shouted "cowards" and "to jail, to jail".
The judge wants to question Puigdemont and 13 others over their efforts to spearhead Catalonia's independence drive, which has plunged Spain into its biggest crisis in decades.
An independence referendum on 1 October – which heavy-handed Spanish police tried and failed to stop – was followed by a declaration of independence by the Catalan parliament last Friday.
On Monday, Spain's chief prosecutor said he was seeking charges of rebellion – punishable by up to 30 years in prison – sedition and misuse of public funds against the 14.
The speaker of the Catalan parliament, Carme Forcadell, and five parliamentary deputies will also be questioned over the same alleged offences, but by a judge at the supreme court.
It remains unclear how many of them will show up.
Puigdemont, 54, has dismissed the accusations as politically motivated. On Tuesday said he would remain in Brussels until he had guarantees that any proceedings would be impartial.
In a statement, he said there was a concerted effort to divide his government. Some will go before a national audience "to denounce the drive of Spanish justice to pursue political ideas", while others "will stay in Brussels to decry this political process to the international community", he wrote.
Puigdemont has retained the support of many in Catalonia. Maria Angels Selgas, a 60-year-old sales manager in Barcelona, said for her, Puigdemont was still the Catalan president.
"If they humiliate him then they humiliate also the more than 2 million Catalans who voted yes in the referendum," she said.
On Wednesday, several hundred separatist supporters accompanied some of those due to appear in the Madrid court to Barcelona's main train station, chanting "liberty" and "you are not alone".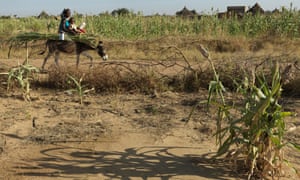 Successive droughts, like those seen in sub-Saharan Africa, could cause millions to migrate to Europe. Photograph: Peter Caton/Tearfund
Tens of millions of people will be forced from their homes by climate change in the next decade, creating the biggest refugee crisis the world has ever seen, according to a new report.
Senior US military and security experts have told the Environmental Justice Foundation (EJF) study that the number of climate refugees will dwarf those that have fled the Syrian conflict, bringing huge challenges to Europe.
"If Europe thinks they have a problem with migration today … wait 20 years," said retired US military corps brigadier general Stephen Cheney. "See what happens when climate change drives people out of Africa – the Sahel [sub-Saharan area] especially – and we're talking now not just one or two million, but 10 or 20 [million]. They are not going to south Africa, they are going across the Mediterranean."
The study published on Thursday calls on governments to agree a new legal framework to protect climate refugees and, ahead of next week's climate summit in Germany, urges leaders to do more to implement the targets set out in the Paris climate agreement.
Sir David King, the former chief scientific adviser to the UK government, told the EJF: "What we are talking about here is an existential threat to our civilisation in the longer term. In the short term, it carries all sorts of risks as well and it requires a human response on a scale that has never been achieved before."
The report argues that climate change played a part in the build up to the Syrian war, with successive droughts causing 1.5 million people to migrate to the country's cities between 2006 and 2011. Many of these people then had no reliable access to food, water or jobs.
"Climate change is the the unpredictable ingredient that, when added to existing social, economic and political tensions, has the potential to ignite violence and conflict with disastrous consequences," said EJF executive director, Steve Trent.
"In our rapidly changing world climate change – and its potential to trigger both violent conflict and mass migration – needs to be considered as an urgent priority for policymakers and business leaders alike."
Although the report highlights to growing impact of climate change on people in the Middle East and Africa, it says changing weather patterns – like the hurricanes that devastated parts of the US this year – prove richer nations are not immune from climate change.
But Trent said that although climate change undoubtedly posed an "existential threat to our world" it was not to late to take decisive action.
"By taking strong ambitious steps now to phase out greenhouse gas emissions and building an international legal mechanism to protect climate refugees we will protect the poorest and most vulnerable in our global society, build resilience, reap massive economic benefits and build a safe and secure future for our planet. Climate change will not wait. Neither can we. For climate refugees, tomorrow is too late."