03 Nov
News and Analyses, A Foreign Perspective
Nearly all of these are English-edition daily newspapers. These sites have interesting editorials and essays, and many have links to other good news sources. We try to limit this list to those sites which are regularly updated, reliable, with a high percentage of "up" time.

World Politics
United States
 T

he

McGlynn: Is the only real explanation for this jackass  quote is that he loves coal so much he's been licking it?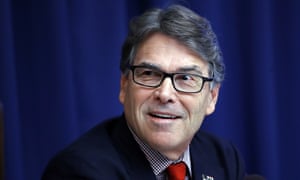 Rick Perry said of sexual assault: 'When the lights are on, when you have light that shines the righteousness, if you will, on those types of acts.' Photograph: Jacquelyn Martin/AP
Staff and agencies
The US energy secretary, Rick Perry, has said he thinks using fossil fuels can help prevent sexual assault, sparking criticism from the Sierra Club, which accused Perry of exploiting the struggle of those most affected by climate change.
Perry, who was at an energy conference in Africa last week, said on Thursday that fossil fuels used to power electricity could help developing regions in the continent.
The Trump administration has been pushing to increase domestic production of fossil fuels for export, with Perry specifically challenging what he calls an inaccurate narrative pushed by environmentalists that fossil fuels are harmful because they contribute to climate change.
"Let me tell you where people are dying, is in Africa, because of the lack of energy they have there," Perry said at an event sponsored by the news site Axios and NBC News.
"And it's going to take fossil fuels to push power out into those villages in Africa, where a young girl told me to my face: 'One of the reasons that electricity is so important to me is not only because I'm not going to have to try and read by the light of a fire and have those fumes literally killing people.'"
He continued: "But also from the standpoint of sexual assault. When the lights are on, when you have light that shines the righteousness, if you will, on those types of acts."
Perry's remark comes amid an uproar over sexual assault allegations against the film mogul Harvey Weinstein that has spread to other industries and politics.
Michael Brune, executive director of the Sierra Club, the nation's largest environmental group, called Perry's comments offensive.
"It was already clear that Rick Perry is unfit to lead the Department of Energy, but to suggest that fossil fuel development will decrease sexual assault is not only blatantly untrue, it is an inexcusable attempt to minimize a serious and pervasive issue," Brune said in a statement.
"Women, and particularly women of color, are among the most severely impacted by the climate crisis, and it is these same communities that are most at risk of sexual assault," Brune said.
Perry's "attempt to exploit this struggle to justify further dangerous fossil fuel development is unacceptable", Brune said, adding that Perry should resign immediately.
Shaylyn Hynes, a Department of Energy spokeswoman, told the Hill that in Africa, "one person told [Perry] about how light can be a deterrent to sexual assault and security in remote areas".
She added: "Those powerful stories stuck with him and that is what he was sharing with the crowd in Washington today."
On the 2012 presidential campaign trail, Perry called for the Department of Energy to be abolished.
In January, at a Senate confirmation hearing to lead the agency he once pledged to eliminate, Perry said he regretted calling for the department's destruction.
Former ministers remanded in custody as prosecutors seek European arrest warrant for region's ousted president
Barcelona anger at detention of Catalan leaders – video
A judge in Madrid has ordered eight members of the deposed Catalan government to be remanded in custody pending possible charges over last week's declaration of independence.
Carmen Lamela, sitting in Spain's national court, jailed the eight former ministers – including Oriol Junqueras, deputy to the deposed president, Carles Puigdemont – on Thursday while they are investigated on possible charges of sedition, rebellion and misuse of public funds.
Lamela ruled that a ninth, who resigned the day before the Catalan parliament voted to declare independence last Friday, could remain at liberty on bail of €50,000 (£44,600).
Lawyers for those under investigation said their clients would appeal against the judge's decision, which they described as unjustified, disproportionate and predetermined.
In a written request to Lamela, prosecutors said that Puigdemont and four other members of his administration were aware that they had been ordered to testify, but had chosen not to attend.
"Repeated attempts to deliver the summons at home and repeated phone calls have been ignored," they said. "For his part, Carles Puigdemont has publicly stated his intention not to appear and has requested … to make a statement via videoconference, without giving any information about his current whereabouts."
Consequently, they added, they were requesting Puigdemont be found and arrested, along with the four other regional ministers who are also in Belgium.
Late on Tuesday, Puigdemont's Belgian lawyer Paul Bekaert claimed to state broadcaster VRT that a warrant had been issued for the five Catalan politicians, but this was contradicted by a Spanish judicial source.
"I have just heard from my client that the warrant has been issued for the president and four of his ministers who are in Belgium," he said.
"Mr Puigdemont will stay here. He has said that he will fully cooperate with Belgian authorities during the procedure," Bekaert said.
A Spanish court source later told the Reuters news agency that this was not true.
Lamela's decision to remand the leaders in custody on the grounds that they could be a flight risk was swiftly condemned by politicians and civil society groups in Catalonia and beyond.
Hundreds of thousands of people took to the streets of Catalonia last month after the same judge ordered the jailing of two prominent pro-independence leaders, Jordi Sánchez, the president of the Catalan National Assembly (ANC), and Jordi Cuixart, the president of Òmnium Cultural.
Both men are under investigation for alleged sedition in the run-up to the unilateral independence referendum on 1 October.
The ANC's vice-president, Agustí Alcoberro, said the arrested leaders were political prisoners, and tweeted: "Vice-president and ministers, we will not stop until we secure your freedom."
The mayor of Barcelona, Ada Colau, described it as a black day for Catalonia. "A government democratically elected at the ballot box is in jail," she said. "There is a common front to achieve the freedom of the political prisoners."
Puigdemont reacted to the judge's decision in a televised address on Thursday evening, in which he branded the move a "very serious attack on democracy" and a "coup against the [regional] elections" on 21 December.
Speaking as thousands of people protested across Catalonia, he said: "Imprisoning political leaders for fulfilling an electoral commitment breaks down the basic principles of democracy."
The Catalan leader called on people in the region to protest "without violence, peacefully and with respect for everyone's opinions", but said Thursday's events had shown that Catalan independence was no longer an internal Spanish matter.
"The fury with which the Spanish government has attacked a beautiful European nation is outrageous and is threatening us all," he said.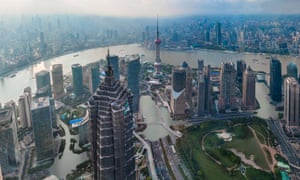 How Shanghai would look with a rise of just 2C: the UN warned this week of a potential 3C scenario. Photograph: Nickolay Lamm/Courtesy Climate Central
Hundreds of millions of urban dwellers around the world face their cities being inundated by rising seawaters if latest UN warnings that the world is on course for 3C of global warming come true, according to a Guardian data analysis.
Famous beaches, commercial districts and swaths of farmland will be threatened at this elevated level of climate change, which the UN warned this week is a very real prospect unless nations reduce their carbon emissions.
Data from the Climate Central group of scientists analysed by Guardian journalists shows that 3C of global warming would ultimately lock in irreversible sea-level rises of perhaps two metres. Cities from Shanghai to Alexandria, and Rio to Osaka are among the worst affected. Miami would be inundated – as would the entire bottom third of the US state of Florida.
The Guardian has found, however, that local preparations for a 3C world are as patchy as international efforts to prevent it from happening. At six of the coastal regions most likely to be affected, government planners are only slowly coming to grips with the enormity of the task ahead – and in some cases have done nothing.
This comes ahead of the latest round of climate talks in Bonn next week, when negotiators will work on ways to monitor, fund and ratchet up national commitments to cut CO2 so that temperatures can rise on a safer path of between 1.5 and 2C, which is the goal of the Paris agreement reached in 2015.
The momentum for change is currently too slow, according to the UN Environment Programme. In its annual emissions gap report, released on Tuesday, the international body said government commitments were only a third of what was needed. Non-state actors such as cities, companies and citizens can only partly fill this void, which leaves warming on course to rise to 3C or beyond by the end of this century, the report said.
The UN's environment chief, Erik Solheim, said progress in the year since the Paris agreement entered into force has been inadequate. "We still find ourselves in a situation where we are not doing nearly enough to save hundreds of millions of people from a miserable future," he said.

South Beach, Miami, would be mostly underwater. Photograph: Nickolay Lamm/Courtesy Climate Central
Nature's ability to help may also be diminishing. On Monday, the World Meteorological Organisation said concentrations of carbon dioxide in the atmosphere rose last year at a record speed to reach 403.3 parts per million – a level not seen since the Pliocene era three to five million years ago.
A 3C rise would lead to longer droughts, fiercer hurricanes and lock in sea-level rises that would redraw many coastlines. Depending on the speed at which icecaps and glaciers melt, this could take decades or more than a century. Colin Summerhayes of the Scott Polar Research Institute in Cambridge said three-degrees of warming would melt polar and glacier ice much further and faster than currently expected, potentially raising sea levels by two metres by 2100.
At least 275 million city dwellers live in vulnerable areas, the majority of them in Asian coastal megacities and industrial hubs such as Shanghai, Shenzhen, Bangkok and Tokyo.
Japan's second biggest city, Osaka, is projected to lose its business and entertainments districts of Umeda and Namba unless global emissions are forced down or flood defences are built up. Officials are reluctantly accepting they must now put more effort into the latter.
"In the past our response was focused on reducing the causes of global warming, but given that climate change is inevitable, according to the Intergovernmental Panel on Climate Change (IPCC), we are now discussing how to respond to the natural disasters that will follow," said Toshikazu Nakaaki of the Osaka municipal government's environment bureau.
In Miami – which would be almost entirely below sea level even at 2C warming – the sense of urgency is evident at city hall, where commissioners are asking voters to approve a "Miami Forever" bond in the November ballot that includes $192m for upgrading pump stations, expanding drainage systems, elevating roads and building dykes.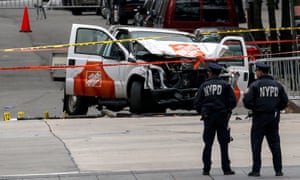 'The reality is that by no stretch of geography is America's security, let alone its existence, under threat.' Photograph: Brendan Mcdermid/Reuters
D

rive a truck down a New York street and knock people down, and you're "a sick and deranged person". But what if you drive a truck down a New York street, knock people down and shout, "Allahu Akbar"? You are a Muslim terrorist, a global news story and a threat to the security of nations. You drive a president to "extreme vetting" procedures and bring down a plague on all Muslims who dare to visit the United States.
When President Trump first rushed to tweet about Tuesday's New York killings, he sensibly assumed the "deranged person" thesis. His one-man global newsfeed may exaggerate bad news when it involves foreign cities – as in recent London terror attacks – but he is reluctant to do so when the news is about his home town. Only when told about the "Allahu Akbar" cry did he change his stance. Then he had to be a man of power, defender of his nation.
It appears that the culprit is yet another "lone wolf". He has the familiar background of rootless immigrant, described by those know him as quiet and hard-working, an Uber driver who passed all security checks, and who had a wife and family. His entry into America in 2010 was from a country, Uzbekistan, that is not on Trump's list of "dangerously" Muslim places. Yet Trump could still demand an enhancement of immigration control as part of his "war on terror".
Those who know and admire the United States recognise it for two qualities. The first is its robustness towards the slings and arrows of fortune, as exemplified by its attitude to gun ownership, unemployment and healthcare. America's public realm borders on the callous, echoing the tough individualism of the wild west. It is proud to distance itself from the safety nets and sensitivities of Europe's welfare societies.
This was manifest last month, in Trump's response to the massacre by machine gun of 58 people, and the wounding of 500 others, in Las Vegas. There was no mention of "extreme vetting" of gun owners, despite their posing a threat a thousand times greater to Americans than any terrorist. There was no hint that any change in the criminal law, or in the wider regulation of this particular pastime, was due. Las Vegas has passed into history as just one of those things that happen. Guns are a very American form of terror.
Yet amid this toughness lurks a pathological wimpishness towards the outside world. The most powerful and secure nation on Earth, its territory last threatened with invasion by the British in 1815, quivers with fear before an imagined army of hostile forces massing across every border and beyond every sea. Its budget groans under the burden of "homeland defence". Its politics is dominated by "tough on terror". The reality is that by no stretch of geography is America's security, let alone its existence, under threat.
No open society can work without a degree of vulnerability. This has long included politically motivated violence
This leads to a syndrome displayed by Trump and his predecessor-but-one, George W Bush: the construction of scenarios requiring presidential reaction. Bush's response, desperate not to seem weak in confronting terror, was the disastrous "wars of 9/11". Trump in opposition ridiculed these wars. Yet from his first day in office, he searched for similar enemies against whom to arm his rhetoric. Hence his imposition of migration controls that have proved discriminatory, unjust and inoperable.
The politics of fear is poison to the body politic. That Britain is no less vulnerable to it was illustrated by last month's claim by its head of MI5, that the nation is "more under threat than ever". I am sure Andrew Parker is right to worry about Islamic State fighters returning to the UK and what they may wish to do, but it is most unlikely they will kill even remotely as many people as Britain has faced in many decades of homegrown terrorism, without national security being undermined.
Lone-wolf suicide killers are the toughest of all criminal nuts to crack. Even if it one day becomes conceivable to match facial recognition to mass surveillance, and to tail all suspect individuals and sniff out all explosives, it will remain impossible to forestall a determined suicide killer. Prevention on the ground soon degenerates into the absurd clutter now on display in London's tourist West End – a blight of ugly barriers, bollards, cones and gates. They indicate nothing beyond a city in panic-stricken thrall to terror, and no mayor with the guts to call a halt.
The reality is that a modern city-dweller is far more at risk from traffic accidents, gangland knives, air pollution and hospital infection than from terrorism. No reasonably open society can work without a degree of vulnerability. This has long included politically motivated violence. But of all the risks to life and limb that a modern citizen runs, such violence is almost trivial in its incidence.
Terrorism is a means to an end: that of coercive publicity. It will happen. It will happen especially where we polarise confrontations of race and religion round the world. It will happen when weak people cannot resort to armies or bombs or drones, to gain leverage in enforcing their ideas of how society should be run. There is no such thing as a terrorist state. There are just people who use terror as a means to an end.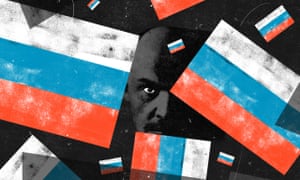 Illustration by Nate Kitch
N

ovember always brings a welcome holiday for Russians. The day off work is about some great historical event, but most use it to catch up with their families. On 7 November 2017, it will be exactly 100 years since Vladimir Lenin's Bolshevik revolution, the one that people used to mark with anthems, weaponry and fireworks.
But this year's official holiday commemorates not the revolution, but an uprising of 1612 against the Poles. National Unity Day was a tsarist invention that Vladimir Putin's government relaunched in 2005. Marked on 4 November, its timing has been perfect. After three days on their sofas, will anyone really notice that there are no red flags?
The silence is like a dream in which the dreamer is being suffocated. Centenaries are special: everyone can count to 100. But so far Lenin and his comrades have not rated as much as a commemorative stamp. The man himself is still displayed – in a new suit – in the mausoleum on Red Square, but no one wants to talk about exactly what he did. The current Russian government makes ample use of history – no child is likely to forget the great patriotic war against fascism – but Lenin can't be made to fit.
It is awkward enough, Moscow's mandarins must think, that the Russian revolution was a people's uprising against despotic rule, a fight against injustice and the gross excesses of the rich. With terrorism such a real threat, the Kremlin would be unwise to appear to condone violent revolt. Yet it can't vilify a man whose corpse still lies in state, whose statue is a landmark in hundreds of towns. And what is it to make of Soviet power? If it condemns the Russian revolution, where does that leave Stalin and the people's triumph?
So far the answer seems to be to keep things bland. Lenin, after all, is boringly familiar. If he will only stay that way, if young people decline to think, then even this annoying anniversary will pass. There are rumours that Russia's new left may take to the streets this year to mark the anniversary with demonstrations, but most Russians under 50 regard the Soviet story as a dowdy relic, an embarrassment. The state wants it to stay that way, the province of those staunch old trouts who still sell apples outside metro stops. Its very language, "Soviet", is an antique. It must be held back in the past, exiled along with dissidents, stretch nylon and bad teeth.

'A cloud of tedium now hangs over Lenin and the revolution. And that suits Putin and his government.' Photograph: Valery Sharifulin/TASS
The Russian revolution was a moment when the veil of human culture tore. It was a season of euphoric hope, a terrifying experiment in utopia. It tested to destruction the 19th-century fantasy of progress. It was the work of tens of thousands of zealous enthusiasts.
Yet now their great-great-grandchildren are bored. This situation suits their government. A cloud of tedium hangs over any formal gathering that ventures to discuss the thing. Most choose the safest, dullest line. There is to be a round-table meeting held at Smolny, for instance, the building from which Lenin launched the revolution, working around the clock. Scheduled for late November 2017, the theme will not be revolution but the centenary of Finnish independence.
I tried asking in the museums. The Russian state has preserved every relic of the revolutionary year, including Lenin's pillow and his brother-in-law's chess set. You can still run a finger around Stalin's bath, the one that Lenin must have used before fleeing from Kerensky's police. But nothing special has been planned, no big event, no cameras. The museum of Pravda, the Bolshevik party's newspaper, is clearly short of funds. In Soviet times, schoolchildren visited in their thousands – it was part of their curriculum – but now the place relies on tourists.
To attract the schoolchildren back, the staff have been forced to adapt. "We call this the museum of tolerance," my guide explained. "See? Everything in this room has come from somewhere in Europe. The typewriter there is German, the table is French."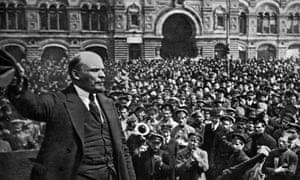 'The Russian government can't vilify a man whose corpse still lies in state, whose statue is a landmark in hundreds of towns.' Lenin in Red Square, 1919. Photograph: Heritage Images/Getty Images
But mere avoidance doesn't always work. A centenary of this importance is bound to be marked by someone; there has to be an official response. Ten months ago, the independent journalist Mikhail Zygar launched a website to track the events of 1917 as they unfolded, day by day. Belatedly, but with a considerably larger budget, the state-sponsored Russia Today responded with a handsome Twitter feed, lavishly illustrated with archival photographs and featuring imaginary tweets from some of the key figures of 1917. Both are useful resources, though neither has engaged with what the revolution means. That question haunts Red Square like Lenin's ghost.