08 Nov
News and Analyses, A Foreign Perspective
Nearly all of these are English-edition daily newspapers. These sites have interesting editorials and essays, and many have links to other good news sources. We try to limit this list to those sites which are regularly updated, reliable, with a high percentage of "up" time.
Some say Donald Trump's presidency does not present an existential threat to the American Republic. But after a year of MAGA, it has become clear that a disaster is unfolding whose consequences for humanity and decency will be substantial.
REUTERS U.S. President Donald Trump
Ten months into the Trump presidency, the world has not gone over a cliff. Nuclear brinkmanship with North Korea has not produced Armageddon. That this must be considered an achievement is testimony to how alarming Donald Trump's erratic belligerence has been. Chancellor Angela Merkel of Germany has concluded that Europeans must now take "our destiny into our own hands." Dismay is widespread. The post-war order, stripped of its American point of reference, is frayed to the breaking point.
This is no surprise. Trump's election, like Britain's perverse flight from the European Union, reflected a blow-up-the-system mood. The tens of millions of Americans who elected Trump had few illusions about his irascibility but were ready to roll the dice in the name of disruption at any cost.
The president, who continues to act principally as the rabble-rousing leader of a mass movement, is the ultimate provocateur. He jolts the facile assumptions of a globalized liberal elite. Rising inequality and rampant impunity for the powerful certainly demanded such a jolt. But the question remains: How dangerous is Trump to the world and the American Republic?
One school of thought argues: Not very. For all the presidential mouthing and angry ALL-CAPS dawn tweeting, there's no sign of the wall on the Mexican border; and NATO is no longer "obsolete" (at least some days of the week); and the "One China" policy has not been scrapped; and the Iran nuclear agreement endures for now, despite Trump's outrageous refusal to recertify it; and the United States embassy is still in Tel Aviv; and the North American Free Trade Agreement hangs on. Even Trump's decision to quit the Paris climate accord has not yet been made effective.
So perhaps Defense Secretary James Mattis and H.R. McMaster, the national security adviser, have ring-fenced Trump's recklessness. Perhaps they have neutralized his ahistorical ignorance. Trump's "America First" may be a slogan of impeccable fascist pedigree, but it will not upend the world.
I wish I could believe this, but I am dubious. A disaster is unfolding whose consequences for humanity and decency will be substantial. America's word, which has constituted the undergirding of global security for more than seven decades, is a fast-devaluing currency. Trump is likely to become more capricious in the coming months. The investigation by Robert Mueller into possible collusion between the Kremlin and the Trump presidential campaign has already led to the indictment of the president's campaign manager, Paul Manafort. War was ever a great distraction from domestic difficulty.
Stepping into the Void
Already, Russian president Vladimir Putin and Xi Jinping of China are stepping into the void. This is inevitable. The message from the Trump White House is one of withdrawal – from global responsibility above all, be it for the environment, European stability or the fate of the Middle East.
If the Iran nuclear deal is working but Trump chooses to trash it because the Islamic Republic did not become a benign power overnight – the deal was about centrifuges not Iranian support for Bashar al-Assad's butchery in Syria – then why on earth should any other nation conclude a treaty with bait-and-switch America?
The most terrifying thing to me about the insults hurled in recent weeks between Trump and the North Korean leader, Kim Jong-Un, was that it was impossible to distinguish between them. The American president had descended to the level of a tantrum-prone totalitarian despot.
Trump vowed to "totally destroy" North Korea and called Kim "Rocket Man on a suicide mission." The United States, he proclaimed, was "locked and loaded." Kim, in return, called Trump "a rogue," a "gangster," and a "dotard," the last a word not much in vogue since the 17th century. Americans scurried for their dictionaries to discover that a dotard was a senile fool.
The unfunny thing is that when two thin-skinned men with nukes, grudges and mysterious hair hurl insults at each other, and one of them is the American president, there is no cause for comfort. Wars begin in unforeseeable ways; with nuclear brinkmanship, accidents happen.
Call all this a disturbing Asian flurry if you like. But something deeper is going on. The United States has often fallen short. Ken Burns' remarkable documentary on the Vietnam War has been a recent reminder of this. So, of course, were Abu Ghraib or Guantanamo. Yet, over time, American reinvention does its work and the idea flickers to life again: that we are a nation of laws; that all Americans, whatever their beliefs or faiths, have rights and responsibilities under the law; and that this law establishes checks and balances designed to safeguard our freedom and our democracy and our decency, the values we carry out into the world in the belief that if they cannot always deliver the best, they may at least avert the worst.
Contemptuous of Principle
Separate the United States from these principles and there is not much left. America's claim to leadership is voided permanently, if stripped of a moral component. The German Bundesrepublik, America's child, ushered into being under American tutelage, knows this as perhaps no other nation.
To all of this, Trump seems oblivious. He is contemptuous of principle. Words cascade from his mouth and they mean nothing, because when a man of moral emptiness tries to exhort a nation to greatness the only thing communicated is pitiful, almost comical, hypocrisy.

World Politics
Germany
United States
Paradise Papers show these men, who invest heavily in Super Pacs, share a presence offshore if not a love of Trump
Seven Republican super-donors helped bankroll the conservative push for power in the 2016 election cycle, between them pumping more than $350m (£264m) into federal and state races.
The Paradise Papers illuminate another aspect of these vastly wealthy men – their propensity to nurture offshore some of their combined fortunes, estimated by Forbes at $142bn, largely beyond the reach of public scrutiny and tax authorities.
The seven have their divisions, especially over Donald Trump. Warren Stephens was a major backer of the Stop Trump movement last year, while Geoff Palmer was among the then Republican nominee's biggest financial backers.
But they share a presence in tax havens. In turn, they face a legitimate question as they wield influence by investing in Super Pacs with names including "Rebuilding America now", "Right to rise USA" and "American unity": are their political principles undermined by their offshore practices?
Warren Stephens
Stephens, a major Republican donor, was the hidden co-owner of a payday lending company US authorities are suing for $50m after it allegedly used predatory tactics to deceive customers about the true cost of their loans.
He is identified in the leaked documents as one of the two main owners of a group of short-term lenders including Integrity Advance, which is accused of violating federal laws.
The Paradise Papers reveal that the billionaire financier, based in Arkansas, holds a 40% stake in the lender's parent company, which donated widely to US political campaigns over recent years while its link to Stephens was generally unknown.
Since 2015, Integrity Advance has been fighting a legal action brought against it by the Consumer Financial Protection Bureau, a financial industry watchdog…………………..
Charles and David Koch
The shadow of the Koch brothers has fallen across the US political landscape for decades, as they have made huge donations in an attempt to push the Republicans further to the right.
Charles and David Koch control Koch Industries, the second largest privately held company in the US. In 2005, they bought the paper and pulp giant Georgia-Pacific for $21bn.
The Kochs took their new holding private, and in doing so shut the door on public access to information about its internal workings. The Paradise Papers open that door, giving a glimpse of how Georgia-Pacific conducts its affairs offshore.
Within months of the company being acquired by the Kochs, it relocated millions of dollars of profits from high-tax jurisdictions such as the US and UK to low-tax environments in Luxembourg and the offshore haven Bermuda.
At the center of the money shuffle was Georgia-Pacific Britain Ltd, a subsidiary leasing paper production equipment, which was incorporated in Bermuda but controlled and managed out of the UK.
Shortly after the Kochs bought Georgia-Pacific, the subsidiary found itself under pressure from UK tax authorities to settle a dispute over the leasing of a paper mill, at which point directors began discussing the possibility of "exiting the UK"……..
In the ensuing months, the management of Georgia-Pacific Britain passed from the UK to Bermuda.
Two huge loans were made from Georgia-Pacific's parent companies in the US to the Bermuda subsidiary, amounting to $522.1m.
The Remaining Four:
Sheldon Adelson
Geoff Palmer
Steve Wynn
Paul Singer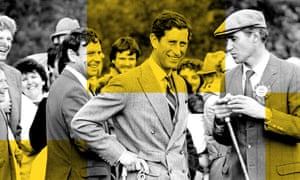 Prince Charles with Hugh van Cutsem at an agricultural show in the 1980s. Photograph: PA/Guardian Design Team
While there was no tax advantage to the estate, the decision to give financial backing to a company run by such a close friend of the prince, and the insistence that the estimated $100,000 stake be kept secret, may raise awkward questions for the duchy.
Its financial advisers may also be asked if the duchy should have publicly declared the investment in a company that might have indirectly benefited from the impact of the prince's longstanding support for conservation projects.
He has been making speeches and writing books on the environment since the 1980s. In January 2008, months after the duchy bought the shares, the prince released a video in which he called for new ways of supporting rainforests.
The duchy pointed to the prince's track record on green issues and insisted he had "never chosen to speak out on a topic simply because of a company that the duchy may have invested in".
It said the prince did not have any "direct involvement in investment decisions".
But the Labour MP and tax campaigner Margaret Hodge said the disclosures confirmed the need for more transparency.
"It seems clear to me that Prince Charles could not have known or understood the nature of the investment in his friend's company," she said.
"What is clear is that there should be proper transparency of all investments made by the Duchy of Cornwall, that the Prince of Wales should not be involved in investment decisions and that the Treasury should monitor the investments to ensure that the reputation and integrity of our royal family is protected."
Before the Paradise Papers leak, there had been no public disclosure that the prince's estate had offshore interests. While the royal household publishes annual accounts, it does not go into details about investments and where they are made – omissions that have been repeatedly challenged by parliamentary committees and campaign groups.
The Duchy of Cornwall is a private estate that was established in 1337 by Edward III to provide independence to his son and heir, Prince Edward. A charter ruled that each future Duke of Cornwall would be the eldest surviving son of the monarch and the heir to the throne. The duchy's main purpose is funding the "public, charitable and private activities of the Prince of Wales and his family".
The duchy owns 53,000 hectares of land in 23 counties, including Prince Charles's Gloucestershire home of Highgrove. It is a major business with interests in commercial and residential property and farmland. The latest accounts show it had assets of £913m in April.
The duchy's portfolio included shares in a company called Sustainable Forestry Management, which it bought in early 2007, according to the Paradise Papers.
The company, which was registered in Bermuda's capital, Hamilton, was set up in 1999 to trade in carbon credits. Van Cutsem, who died in 2013, was a director of SFM, a company that aimed to generate "attractive returns … by investment in the world's tropical and subtropical forests".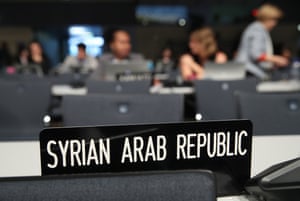 Syria's surprise decision to sign the Paris climate agreement comes against the background of a brutal civil war. Photograph: Sean Gallup/Getty Images
Syria has decided to sign the Paris agreement on climate change, the world's final functioning state to do so. The surprise decision, taken amid a brutal civil war in the country, will leave the US as the only country outside the agreement if it follows through on President Donald Trump's vow to leave.
Syria's decision brings to 197 the number of nations signed up to the landmark 2015 pact on global warming, the first in more than 20 years of UN negotiations to bind both developed and developing countries to a clear limit on temperature rises.
President Barack Obama signed the accord and it was ratified before his term of office ended, but this summer Donald Trump began the process of withdrawing from it. Withdrawal will take several years under UN rules, so the US officially remains a party until 4 November 2020, the day after its next presidential election. The US is the only country to renege on the agreement.
Civil society groups said the US, the world's largest economy and second biggest emitter of greenhouse gases after China, was now isolated on the world stage.
Paula Caballero, global director of the climate programme at the World Resources Institute, said: "Now the entire world is resolutely committed to advancing climate action – all save one country. This should make the Trump administration pause and reflect on their ill-advised announcement about withdrawing from the Paris agreement."
Michael Brune, executive director of the Sierra Club environmental group, said: "As if it wasn't already crystal clear, every single other country is moving forward together to tackle the climate crisis, while Trump has isolated the US in an embarrassing and dangerous position. Trump's desperate moves to help corporate polluters by refusing to acknowledge the climate crisis shows he neither cares about leadership nor does he understand it."
Observers said that although the White House could withdraw the federal government from the pact, cities and states in the US would continue to take action on climate change, for instance by investing in renewable energy.
The French government, according to reports, said Trump had been excluded from the invitations to more than 100 world leaders to meet in Paris for a climate conference next month, to follow on from the Paris agreement.
The US delegation in Bonn, where two weeks of UN climate negotiations are in their second day, did not respond to the Guardian's request for comment.
The US is participating in the Bonn talks, according to the UN climate chief Patricia Esposito, but its contributions so far have been low-key. Under UN rules, it will continue to be allowed to do so until the formal withdrawal can be completed in 2020.
At the Bonn talks, called COP23 in the UN jargon, countries are hoping to come up with a roadmap to meet the goals set out in the Paris agreement. In 2015, countries agreed to hold rising temperatures to no more than 2C, which scientists say is the limit of safety, beyond which the ravages of climate change are likely to become catastrophic and irreversible.
Such a roadmap must include ways to toughen the promises on curbing greenhouse gas emissions that countries made in Paris. The Paris pledges are not in themselves enough to satisfy the 2C limit, and if left unchanged would lead to a 3C rise in temperatures, according to studies. A 3C rise would mean far higher sea level rises, heatwaves and droughts afflicting large swaths of the globe and making agriculture impossible in those areas, while devastating floods would increase in other areas.

The world's nations are meeting in Bonn, Germany, for the 23rd annual "conference of the parties" (COP) under the UN Framework Convention on Climate Change (UNFCCC), which aims to prevent dangerous global warming. This year, Fiji plays president and meeting the Paris climate goals are top of the agenda

Climate change activists march to demonstrate against coal energy and other climate-related issues.
Photograph: Sean Gallup/Getty Images

The breadth of protest at the talks can be seen by these banners.
Photograph: Ronald Wittek/EPA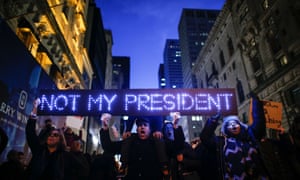 'Whether or not we can do anything about last year's election, we can try to make sure we never again have one like it.' Photograph: Kena Betancur/AFP/Getty Images
T

he 2016 US presidential election was so corrupted in so many ways, small and large, that there is no reason to respect its outcome or regard Donald J Trump as the legitimate president of the United States.
Many things warped the process, including massive intervention on many fronts by a hostile foreign power, apparent collusion by Trump and his associates, and disturbing anomalies in the actual voting process and its outcome. It's worth remembering that, and reviewing the evidence.
In South Korea in late 2016, popular uprisings and parliamentary impeachment proceedings forced the corrupt president out of office. In Kenya on 1 September of this year, the supreme court annulled a presidential election because of evidence that "the vote had been electronically manipulated" and ordered a new election.
There is no domestic precedent for nullifying a presidential election; there is also no previous election like this one in the nature and range of its corruptions and the unanswered questions about its anomalies.
It is unlikely that it will be overturned, but that is not an argument against the case that it should be. Nor is this a case for handing the presidency to Hillary Clinton. Kenyans and South Koreans got new elections. (The order of succession is a grim thought, if it makes Vice-President Pence or Speaker Ryan president, but it's fun to note that if Democrats retake the house in the 2018 midterm elections, and prosecutions or other factors remove both Pence and Trump after that event, the country gets handed a Democratic president.)
You can't count the votes that weren't cast, and you can make a case that the election was sabotaged without taking them into account. But when you add up the different means of disenfranchisement – voter ID laws and illegitimate enforcement of them, the Crosscheck program, voter roll purges, reduction of poling places, gutting the Voting Rights Act – you see that millions of poor, student and nonwhite voters were denied one of their basic rights as citizens, along with more than six million disenfranchised because of felony convictions.
That is a huge chunk of the electorate, and had half of them voted, it would have given us a wildly different outcome – in fact, it probably would've dictated significantly different campaigns and candidates.
The erasure of these voices is the fruit of decades of Republican scheming to win elections without winning majorities – to hang on to power as the party of white grievance in an increasingly non-white country. That grave injustice got overlooked by the widespread arguments that the election results in key states were due entirely to the weakness of the Democratic candidate.
But Ari Berman of Mother Jones recently reported that in Wisconsin, where Trump was supposed to have won by less than 23,000 of the nearly three million votes cast, as many as 45,000 voters, particularly black voters, were prevented from casting a ballot by voter identification laws designed to disenfranchise them.
Berman cites another study suggesting that in total 200,000 more voters would have participated in the 2016 election had nothing changed since 2012 in how elections were run in Wisconsin, and of course these voters "skewed more African American and more Democrat".
Even those who were able to vote may not have their votes counted. A few weeks after the election, journalist Gabriel Sherman reported "that in Wisconsin, Clinton received 7% fewer votes in counties that relied on electronic-voting machines compared with counties that used optical scanners and paper ballots. Based on this statistical analysis, Clinton may have been denied as many as 30,000 votes," significantly more than Trump's margin of victory.
Further, in many swing states, including Florida, North Carolina, Pennsylvania and Wisconsin, there were extraordinary discrepancies between the exit polls and the vote tallies. Though it's common to regard the latter as more reliable than the former, in other parts of the world, exit polls are treated as important verifications of the outcome.
As Alan Gilbert wrote in the Daily Beast: "In Germany, Canada, and many other countries, an initial exit poll is released. And then paper ballots are counted. Where this procedure is used, there is no controversy. If the election is very close, the ballots can easily be recounted. Further, since 2000, the US State Department has used initial exit polling to test the fairness of elections in 14 'transitional' democracies."
Clinton would have won the election overwhelmingly had she won those states. Perhaps she did. Shortly after the election, Bob Fitrakis and Harvey Wasserman reported: "In 24 of 28 states, unadjusted exit polls also showed Clinton with vote counts significantly higher than the final official outcome. The likelihood of this happening in an election that is not rigged are in the realm of virtual statistical impossibility."
Perhaps Trump did actually win against such enormous odds, but we don't actually know if he did or didn't.
Green Party candidate Jill Stein, at the behest of election experts troubled by these results, exercised her right to carry out a recount in three states where Trump won by a tiny margin, and a few weeks after the election raised more than $7m in small donations to carry out the project.
Pennsylvania blocked a recount by mounting outrageous obstacles to the process. Wisconsin prevented a hand recount that might have found machine errors; and the Michigan recount was stopped after enormous errors were detected. The Republican party appeared to be frantic to prevent us from finding out what really happened.
Republicans, with some notable exceptions, have also been eager to prevent any investigation of Russian intervention in the election and collusion between Trump's associates and the Putin regime.