10 Nov
News and Analyses, A Foreign Perspective
Nearly all of these are English-edition daily newspapers. These sites have interesting editorials and essays, and many have links to other good news sources. We try to limit this list to those sites which are regularly updated, reliable, with a high percentage of "up" time.
One year after Donald Trump's election, the United States is deeply divided. The state of California is at the heart of the anti-Trump resistance. Many Republicans who support the president say they no longer feel welcome there. Some have even decided to leave and move to a more conservative state, such as Texas. Our Los Angeles correspondents report.

World Politics
Great Britain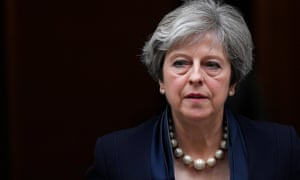 United States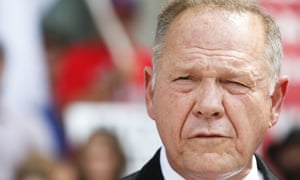 Roy Moore has long been a controversial figure in Alabama politics. Photograph: Brynn Anderson/AP
Roy Moore, the Republican Senate nominee in Alabama, has been accused of having inappropriate sexual contact with a 14-year-old girl when he was 32.
A Moore campaign adviser, Dean Young,told the Guardian: "For the next 33 days, Alabamians are going to be tested whether they can be tricked by fake news and the establishment.
"If they pass the test, our nation has hope. But if they can beat Judge Roy Moore in Alabama, they can beat anybody, anywhere, anytime and our nation will continue to go down in a spiral."
The Post reported that Moore took Leigh Corfman to his house in 1979, stripped down to his underwear and made her touch his genitals. Under Alabama law, such conduct would be sexual abuse in the second degree, although the statute of limitations would have long passed.
Corfman told the Post: "I wasn't ready for that – I had never put my hand on a man's penis, much less an erect one."
The story also details allegations from three other women about Moore dating them when they were underage. Although one told the Post that Moore had ordered her cocktails when she was below the legal drinking age, there were no other accusations of illegal behavior.
The report comes five weeks before Moore faces off against Democrat Doug Jones in the fiercely competitive special election to fill the Senate seat vacated by Jeff Sessions when he became US attorney general. He won the Republican nomination in September, besting the appointed incumbent, Luther Strange, by a margin of 55%-45% despite Strange's support from Donald Trump and the entire machinery of the Republican party. Moore, though, did receive the support of the former White House strategist Steve Bannon.
Moore's campaign used the allegations to fundraise in an email sent out hours after the Washington Post article was posted. The email said the campaign was in "a spiritual battle" against "the forces of evil" and characterized the Post's reporting as an attack: "The Obama-Clinton Machine's liberal media lapdogs just launched the most vicious and nasty round of attacks against me I've EVER faced."
Shortly before the Washington Post article was published, Breitbart, the conservative website run by Bannon, published an article featuring the Post's request for comment to the Moore campaign, which detailed the accusations against him, and the Alabama Republican's response to the allegations.
Top Republicans immediately took steps to distance themselves from Moore. The Senate majority leader, Mitch McConnell, who actively supported Strange, said in a statement: "If these allegations are true, he must step aside." Senator Cory Gardner of Colorado, who runs the National Republican Senate Committee, also put out a statement saying: "The allegations against Alabama Senate candidate Roy Moore are deeply troubling. If these allegations are found to be true, Roy Moore must drop out of the Alabama special Senate election."
Senator John McCain of Arizona, the Republican presidential nominee in 2008, said bluntly in a statement that Moore should drop out. "The allegations against Roy Moore are deeply disturbing and disqualifying," said McCain. "He should immediately step aside and allow the people of Alabama to elect a candidate they can be proud of."
Among the handful of Senate Republicans who have endorsed Moore, only Mike Lee of Utah weighed in on the allegations. Lee said in a statement: "If these allegations are true, Judge Moore should resign."
The Alabama state auditor, Jim Ziegler, a Moore ally, came to the embattled Republican's defense, telling the Washington Examiner: "There is nothing to see here."
Ziegler went on to compare the allegations to biblical stories. "Also take Joseph and Mary," he said. "Mary was a teenager and Joseph was an adult carpenter. They became parents of Jesus."
Moore has long been a controversial figure in Alabama politics. He has been twice removed as chief justice of the state supreme court, first for refusing to remove a monument to the Ten Commandments from the grounds of his courthouse and more recently for refusing to implement the US supreme court ruling legalizing gay marriage.
Moore also has a long history of incendiary comments on social issues. He has argued that "homosexual conduct" should be illegal, said the United States could be described as "the focus of evil in the world" for promoting "bad things" like gay marriage and that a Muslim congressman should be prohibited from serving in the House of Representatives.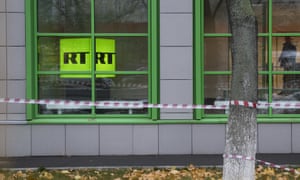 Friday's developments come after weeks of tensions between Moscow and Washington over RT. Photograph: Pavel Golovkin/AP
Russia's parliament has begun drafting tit-for-tat measures that would place severe restrictions on some US media outlets operating in the country, in a move that looks likely to plunge US-Russia relations to a new low.
The announcement on Friday came shortly after the Kremlin-funded international news channel RT said it had been ordered by the US Department of Justice to register as a "foreign agent" by Monday or have its bank accounts frozen.
Russian president Vladimir Putin had previously warned that Russia would take retaliatory steps if RT, formerly known as Russia Today, was targeted by US authorities.
The Russian parliamentary speaker, Vyacheslav Volodin, said MPs had been tasked with drafting amendments to Russia's own law on foreign agents to include "biased" media organisations that "oppose" Russia's political system.
He said the amendments could be approved in their third and final reading as earlier as next Friday. "What the US authorities are doing today is an infringement of fundamental civil rights, of freedom of speech," said Volodin.
Senator Alexei Pushkov, who chairs the upper house of parliament's media policy committee, said the measures would initially target CNN, the Voice of America, and Radio Liberty.
However, Maria Zakharova, the Russian foreign ministry spokeswoman, did not rule out that the updated law could also result in the expulsion of Moscow-based correspondents from US newspapers such as the New York Times and The Washington Post.
"We have received so many appeals from our citizens demanding that we do something about American media outlets," Zakharova told state television.
Russia's controversial law on foreign agents, approved by Putin in 2012, has previously been used to stifle the work of organisations funded from abroad and engaged in what Russia loosely terms "political activity."
Organisations targeted by the law are subject to increased tax inspections, and are obliged to identify themselves in Russia as "foreign agents" – a term associated by most Russians with espionage.
Russian telecoms watchdog Roskomnadzor also proposed it be granted powers to block the websites of foreign media outlets and non-governmental organisations without a court order.

Since 1966, mass shootings have occurred regularly in the US. Attackers are linked by frequent mental health problems – and access to guns
Roxanne Dunbar-Ortiz

In Newtown, Connecticut, dozens of people attend a vigil remembering the people killed in the Las Vegas shooting and calling for action against guns. Photograph: Spencer Platt/Getty Images
While nearly anything, including human hands, may be used to kill, the gun is created for the specific purpose of killing a living creature.
Gun-love can be akin to non-chemical addictions like gambling or hoarding, either of which can have devastating effects, mainly economic, but murder, suicide, accidental death, and mass shootings result only from guns.
The definition of "mass shootings" varies, but is generally defined by four or more deaths in one location by a lone gunman or in a few cases, such as Columbine and San Bernardino, two.
Although each of these mass killings is idiosyncratic, they often share many features, including but not limited to the most obvious, which bears repeating – their use of guns.
There were 127 mass shootings with 874 victims in the United States between 1966 and 2016, an average of seven deaths in each. Nearly all of them were carried out by white men.
Only three of the 130 shooters were women. If domestic shootings are included – meaning a man shooting his partner, often including their children and other relatives – the number of mass shootings rises dramatically.
A New York Times report, titled How Often Do Mass Shootings Occur? On Average, Every Day, Records Show, uses the measure of four or more wounded, and includes domestic shootings. More than two-thirds took place in private residences and included "a current or former intimate partner or family member of the attacker".
Half of all victims were women.
Investigative journalist Jane Mayer has further linked domestic violence and many non-domestic mass shootings. Shortly after the June 2017 shooting that wounded House majority whip Steve Scalise and four others, it was learned that the shooter, James Hodgkinson, had a history of domestic violence. The shooter in the 2015 Planned Parenthood Clinic attack had an arrest record of rape and sexual violence.
Mayer writes: "Many domestic-violence suspects, like Hodgkinson, are arrested only to have the charges dropped later, which leaves them armed and dangerous. The National Rifle Association and its allies have successfully argued that a mere arrest on domestic-violence charges … is not sufficient reason to deprive a citizen of his right to bear arms."
Devin Patrick Kelley, the former US air force serviceman who killed at least 26 people and injured another 20 in a Texas church this past Sunday morning, had been court-martialed in 2012 for assaulting his wife and stepson. He was able to purchase his murder weapons even though, since 1996, federal law has banned people with domestic violence convictions from owning guns.
Some mass shootings have taken aim at women simply because they are women. On 16 October 1991, a 35-year-old civilian named George Jo Hennard drove his pickup truck into the plate glass window of Luby's Cafeteria in Killeen, Texas – home to the enormous Fort Hood army base – while some 150 patrons were having dinner. Armed with a Glock 17 and a Ruger P89, he then jumped out of his vehicle and into the restaurant yelling: "All women of Killeen and Belton are vipers!" Then he began shooting, killing 23 people, 14 of them women whom he appeared to be targeting, yelling "bitch!" as he shot. The violence ended when he shot himself.
* * *
Like Sunday's massacre, the first notable mass shooting was carried out by a white man with a military background who lived in Texas, where there is an unbridled gun culture. Some experts have also argued that this attack, in 1966, may have been a model for Stephen Craig Paddock, the shooter who murdered 58 people in Las Vegas this October.
The University of Texas (UT) mass shooting is often not counted among lists of such killings, because there were no more that fit the definition until 1982, when they began with some regularity. But, in retrospect, the 1966 attack was no anomaly – more like a comet that would return.
Former marine sniper and UT engineering student Charles Whitman shot and killed 14 people and wounded another 32 while perched for 90 minutes on top of the 27-story clock tower on the University of Texas, Austin, campus, before he was killed by police.
Early that morning, he had strangled his mother to death and murdered his wife by stabbing her in the heart as she slept. He later explained that he didn't want them to be ashamed of him and suffer for his actions.
Whitman had been in the Marine Corps, but did not serve in combat and completed his service before US troops were deployed to Vietnam. However, he had suffered a head injury from a Jeep accident during his service. Whitman kept a detailed journal in the months before the shootings, recording his severe headaches and feelings of rage and his failure to get help from multiple doctors he consulted and the ineffectiveness of the medications they prescribed. In the autopsy of his body, doctors discovered a pecan-sized tumor in his brain that could have caused his derangement.
In the wake of the tragedy, rather than taking action to improve preventive healthcare at the university or the state, authorities created the first Swat team, soon to be replicated in nearly every police force in the country.
In January 2016, a new Texas law went into effect allowing handgun permit holders, who had been required to conceal their weapons, to carry handguns openly except not on public or private university or college campuses.
Then, on 1 August 2016, on the 50th anniversary of the University of Texas tower shooting massacre, the legislature included public university campuses in the right to openly carry handguns.
"Especially among Texas politicians, there's a locker-room lust for weaponry that belies noble-sounding proclamations about self-protection and Second Amendment rights," the writer Lawrence Wright, himself a Texan, has written.
"In 2010, Governor Perry boasted of killing with a single shot a coyote that was menacing his daughter's Labrador. Perry was jogging at the time, but naturally he was packing heat: a .380 Ruger. The gun's manufacturer promptly issued a Coyote Special edition of the gun, which comes in a box labelled 'for sale to Texans only'."…………………On Sunday evening, 1 October 2017, records were broken again for the number of people killed during a mass shooting perpetrated by a single gunman. On that occasion, 64-year-old Stephen Craig Paddock shot to death 59 people, including himself, with nearly 500 hospitalized with injuries resulting from the incident.
Paddock was born in Iowa and had lived in Florida, Texas and an upscale retirement community in Mesquite, Nevada, near the Arizona and Utah borders. Four days before his massacre-suicide, Paddock checked into a 32nd-floor suite at the luxury Mandalay Bay casino-hotel in Las Vegas. Having been a high-rolling professional gambler at the hotel for some time, Paddock was familiar to the staff, who comped him the expensive suite as a perk for gambling on their premises. Under the lax scrutiny of "what happens in Vegas stays in Vegas", Paddock managed to stockpile his room with 22 high-powered scoped rifles ranging in size from .308 to .223 caliber, two tripods, and thousands of rounds of ammunition. Just after 10pm that Sunday night, Paddock broke two windows in the suite and began firing semiautomatic weapons that had been fitted with a "bump stock" device that allowed him to increase the speed he could fire bullets into the crowd.
His target was a packed, shoulder-to-shoulder crowd of 22,000 people enjoying the final set of a country music festival taking place in the open air across from his hotel. Paddock attacked the audience with 10 long minutes of non-stop shooting.
Paddock owned multiple properties in Nevada, where police found more weapons, approximately 50 in all, half of which Paddock had purchased during the previous 12 months in Nevada, Utah, Arizona and California. Every weapon and device Paddock owned was legal and registered under his name, including the bump stock. For gun enthusiasts and those familiar with them, the number of weapons Paddock possessed was far from shocking……………..In a satirical essay written following the Orlando nightclub killing, historian and theologian Garry Wills concluded that gun control in the United States is "inconceivable":
So this time let us skip all the sighing and promising and moments of silence. Why keep up the pretense that we are going to take any real and practical steps toward sanity? Everyone knows we are not going to do a single damn thing. We can't. We are captives of The Gun.
The Gun is patriotic. The Gun is America. The Gun is God.

UN human rights committee says mandatory detention policy is unlawful and Australia cannot 'pick and choose' which international laws it follows
Smuggled footage shows horrific conditions in Manus detention centre – video
Australia remains responsible for the people held in its offshore detention regimes on Manus Island and Nauru, and should immediately close the centres and bring refugees and asylum seekers to Australia or another safe country, the United Nations human rights committee has told the government.
In an excoriating report, the expert committee said it was concerned about the conditions in the offshore immigration processing facilities in Manus Island and Nauru, which also holds children, "including inadequate mental health services, serious safety concerns and instances of assault, sexual abuse, self-harm and suspicious deaths; and about reports that harsh conditions compelled some asylum seekers to return to their country of origin despite the risks that they face there".
Instances of refugees and asylum seekers being encouraged to return to places where they might face danger – a breach of Australia's non-refoulement obligations under international law – have previously been reported by the Guardian.
The human rights committee – an 18-member expert panel – said Australia exercised "effective control" over the offshore regime and should close it immediately.
Australia should end the practice of "offshore processing", immediately close Nauru and Manus Island, and "take all measures necessary to protect the rights of refugees and asylum seekers affected … ensure their transfer to Australia or their relocation to other appropriate safe countries".
The committee said Australia's policy of mandatory – and in some cases indefinite – detention of asylum seekers was unlawful. Mandatory detention, including of children, was instituted by the Keating Labor government in 1992 as a temporary measure. A 273-day time limit on detention was abandoned in 1994.
During hearings last month, Australia was castigated for its routine refusals to implement the findings of the committee.
Prof Yuval Shany, the committee's vice-chair, said it was "unacceptable" for Australia to "routinely reject" the committee's views or "self-judge" international human rights treaties, telling Australia it could not "pick and choose" which laws it followed and which rights it wanted to uphold.
The committee also condemned Australia's "marginalising and stigmatising" postal survey on marriage equality, saying it was "not an acceptable decision-making method"; the low age (as young as 10) of criminal responsibility in some states; and the persistently high rates of Indigenous incarceration, in particular mandatory sentencing laws, and allowing imprisonment for fine defaults.
Australia's confronting appraisal comes as its asylum policies reach new domestic and international attention.