11 Nov
News and Analyses, A Foreign Perspective
Nearly all of these are English-edition daily newspapers. These sites have interesting editorials and essays, and many have links to other good news sources. We try to limit this list to those sites which are regularly updated, reliable, with a high percentage of "up" time.

World Politics
United States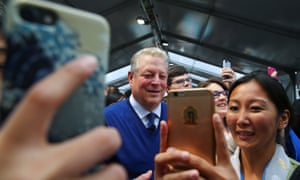 Al Gore at the climate summit in Bonn. Gore has emerged as one of the leading voices in the fight against climate change. Photograph: Wolfgang Rattay/Reuters
Al Gore has accused Donald Trump of surrounding himself "with the absolute worst of climate deniers" and said he has given up attempting to persuade the president to reverse his dismantling of policies combatting global warming.
However, both Gore, the former US vice-president, and Jerry Brown, governor of California, told the Guardian they were confident the US will regain its leadership position on climate change if Trump is defeated in the next presidential election.
Gore, Brown and Michael Bloomberg, the billionaire former mayor of New York, are heading a broad coalition of climate change hawks from US states, cities and businesses in Bonn, where UN climate talks are being held. This alliance is in sharp contrast to the official US delegation, which is representing the only national government in the world that doesn't want to be part of the Paris climate accords.
"I haven't had any conversations with [Trump] since his speech to withdraw from Paris. I tried my best and thought he'd come to his senses but I've been proven wrong," Gore, who met with Trump during the transition to try to influence his thinking, told the Guardian. "I don't feel I have the ability to change his mind. He's surrounded himself with the absolute worst of climate deniers who seem to have captured his mind on the issue."
Trump has aligned with Scott Pruitt, the head of the US Environmental Protection Agency who is a vocal critic of the Paris deal. Pruitt has cast doubt on whether carbon dioxide drives global warming, and claimed there is "tremendous disagreement" among scientists over climate change.
Several former and current members of the administration, including Stephen Bannon and Mick Mulvaney, have also previously dismissed evidence for climate science.
Gore, who is now one of the world's leading voices on climate change, said other countries are "aghast" at Trump's retreat from climate policy but said the backlash both within the US and abroad is encouraging.
"The US cities and states have made a tremendous difference and I think the reaction of the rest of the world has minimized the damage done by Donald Trump," he said. "The reaction to Trump is if anything stronger than the actions Trump is taking.
"This experiment with Trump is less than a year old and in science, experiments are sometimes cut short early. I'm not saying this will happen this time, but this feels like a movie I've seen before.
"We went off the rails a bit in the last election. I think the rest of the world understands that the Trump period is an unfortunate departure from what the US is known for when we are at our best. Those who have appreciated US leadership grieve its loss and hope it's temporary."
Brown also said he sees little point attempting to sway the Trump administration. "The official policy of the US is that climate change is a total and complete hoax conceived by Chinese conspirators," the California governor told the Guardian. "That is so preposterous that engagement on that basis is just useless."
However, the California governor said mid-term elections in the US next year may pressure Trump to change position. "He's an action orientated person, not a politician, so who knows," he said.
"Ultimately we won't have a denier in the White House forever. We are engaged in a great political struggle between the deniers who want to turn the world over to fossil fuel interests and scientists and concerned activists who want to see decarbonization.
"Donald Trump is a very small point in the overall climate factor. We are facing a moment of truth over whether we can decarbonize or see civilization itself decline over the next 100 years.
"We have a political sidebar we can tweet about but the existential problem is that species are being destroyed, ecologies are being degraded and mankind is on the chopping block. This isn't the time for politics, it's the time for courageous action."
Brown has attempted to step into the vacuum created by US withdrawal by holding dozens of events and meetings with national leaders, UN officials and NGOs across Europe ahead of the Bonn talks.
The Democratic governor has taken on a role highlighting the impact of sub-national entities such as California, which would have the sixth largest economy in the world if it were a country and has implemented a 'cap and trade' emissions trading system that may soon be linked to a similar mechanism used by European Union countries.
"I want to strengthen the coalition of states and provinces in order to do everything possible to reduce carbon emissions," Brown said.
"The great threat to the world is the

'Democrat-inspired hit job' distracts from diplomatic aims, president says
Former CIA chief: agency stands by conclusion on 2016 election
Donald Trump said on Saturday he believes Vladmir Putin's denials of Russian involvement in the manipulation of the 2016 presidential election.
After a brief meeting with the Russian leader on the margins of an Asia-Pacific Economic Cooperation (Apec) summit in Vietnam, Trump launched a tirade against special counsel Robert Mueller's investigation into possible collusion between his campaign and the Kremlin.
The investigation could cost "millions and millions of lives", Trump claimed, by hindering agreement with Moscow over conflicts in Syria and Ukraine and a looming confrontation with North Korea.
The president's remarks, made to reporters as Air Force One flew to Hanoi from Da Nang, represented his open disregard for the views of US intelligence agencies. They have concluded that Russia did interfere in multiple ways in the 2016 election, with the aim of helping Trump's candidacy.
The president suggested he put more faith in Putin's word.
"Every time he sees me he says 'I didn't do that' and I really believe that when he tells me that," Trump said. "He really seems to be insulted by it and he says he didn't do it. He is very, very strong in the fact that he didn't do it. You have President Putin very strongly, vehemently says he has nothing to do with that."
The president described the investigation led by Mueller, a former FBI director appointed by Trump's own justice department, as "Democrat-inspired" and a "hit job".
Trump also claimed the investigation was preventing a normalisation of relations with Putin and therefore could cost countless lives around the world. He suggested Russia was not helping more to persuade Pyongyang to disarm "because of the lack of the relationship that we have with Russia, because of this artificial thing that's happening with this Democratic-inspired thing".
"I think [Putin] is very insulted by it, which is not a good thing for our country. Because again, if we had a relationship with Russia, North Korea which is our single biggest problem right now, it would help a lot," he said.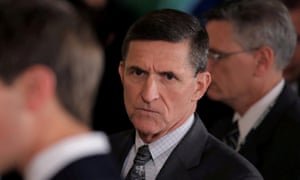 The new allegation is that Flynn and his son engaged in a conspiracy to arrange the rendition of Fethullah Gülen to the Erdo?an government. Photograph: Carlos Barria/Reuters
Donald Trump's former national security adviser, Michael Flynn, is under investigation for involvement in an alleged plot to kidnap a Turkish dissident cleric living in the US and fly him to an island prison in Turkey in return for $15m, it was reported on Friday.
The report in the Wall Street Journal is the latest of a string of allegations facing Flynn, a retired general and former head of the Defence Intelligence Agency (DIA).
Robert Mueller, the special counsel investigating Russian manipulation of the 2016 US election, has already indicted Trump's former campaign manager Paul Manafort and another senior fundraiser on charges including money laundering. A former foreign policy adviser has pleaded guilty to perjury.
Mueller is now reported to have gathered sufficient evidence to bring charges against Flynn and his son, Michael Flynn Jr, which would bring his investigation another leap closer to Trump.
The fact that no indictment has been made public may only increase concerns for Trump's legal team. Flynn has expressed interest in an immunity deal and Mueller, in his dealings with former foreign policy adviser George Papadopoulos, has shown himself ready to negotiate.
The former national security adviser's company, Flynn Intel Group, is allegedly under scrutiny for failing to register work it did for interests linked to Turkish president Recep Tayyip Erdo?an, and Flynn is in legal jeopardy for his statements to investigators about his contacts with representatives of the Turkish and Russian governments.
The new allegation, that Flynn and his son engaged in a conspiracy to arrange the rendition of Fethullah Gülen to the Erdo?an government – which accuses the cleric of plotting an abortive coup in July 2016 – could if confirmed result in even more serious charges.
In September, the Wall Street Journal reported a meeting about the plan, in which former CIA director James Woolsey is said to have participated. Friday's report describes a second meeting involving both Flynns at the 21 Club restaurant, a prohibition-era New York speakeasy patronised by Trump, in mid-December. According to "people familiar with the investigation", it was at this encounter that the $15m payment was discussed.
One source said Gülen would be seized and flown by private jet to the Turkish prison island of Imrali. It is not clear if any money changed hands or if any preparatory steps were taken.
The timing of the 21 Club meeting is significant. The White House has distanced itself from the men charged by Mueller – Papadopoulos, former campaign manager Paul Manafort and his business associate Rick Gates. But by mid-December Trump had named Flynn national security adviser and he was playing a central role in the transition.
That period is a grey area when it comes to paid work for foreign interests, but if the arrangement was carried through past inauguration in January, Flynn could face bribery charges on top of questions of whether the New York conversations represented a conspiracy to carry out a forced extra-judicial rendition of a legal US resident.
"If the facts involving Flynn and his son are true, or even mostly true, it indicates an incredible propensity for outrageously illegal conduct," said Ryan Goodman, a New York law professor and former Pentagon counsel. "Evidence that Flynn was prepared to act in such an unlawful way could help prove a case against him in other activities as well involving his ties to Russia during the campaign.
"If Mueller has sufficient evidence that Flynn and his son were involved in this audacious plot to kidnap the cleric, the special counsel can use that to pressure the former Trump campaign associate to flip and tell the FBI everything he knows of relevance to the Russia investigation."
The White House did not respond to a request for comment.
Robert Kelner, Stephen Anthony and Brian Smith, attorneys for Flynn, said that so far, out of respect for the various investigations into alleged Russian meddling in the 2016 US election and possible collusion with the Trump campaign, they had avoided responding to "every rumor or allegation raised in the media".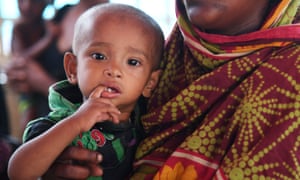 Rohingya refugees wait to be seen by a doctor at a camp in Bangladesh's Ukhia district. Thousands of children are suffering from malnutrition despite escaping across the border from Myanmar. Photograph: Dibyangshu Sarkar/AFP/Getty Images
One in four Rohingya children who recently fled to Bangladesh from Myanmar is now suffering from life-threatening malnutrition, with aid workers warning that refugees are "essentially starving" before they have even crossed the border.
The preliminary findings of a joint nutrition assessment conducted in late October at Kutupalong refugee camp in Cox's Bazar show that severe acute malnutrition rates among child refugees under five have doubled since May, while nearly half of young children are also underweight and suffering from anaemia.
The figures – already above international emergency levels – are likely to increase, warned aid agencies, since the assessment surveyed only 10% of the population in need, and included families who had arrived before as well as after violence erupted in Rakhine state in August.
Once data is taken solely from new arrivals, malnutrition – and with it the risk of diarrhoea, dysentery, respiratory infections and measles – is expected to increase.
"The conditions we are seeing in Cox's Bazar create a perfect storm for a public health crisis on an unimaginable scale," said Cat Mahony, emergency response director in Cox's Bazar for the International Rescue Committee.
"These shocking figures substantiate the IRC's own findings on worrying food insecurity: three in four do not have enough food, and 95% of the population are drinking contaminated water. This is especially serious, as agencies report that two-thirds of the water in Cox's Bazar is contaminated with faeces."
Malnutrition rates among children in northern Rakhine state were above emergency thresholds even before the recent exodus. But severe acute malnutrition has increased tenfold since last year, according to the joint assessment by Save the Children, IRC partner Action Against Hunger and Unicef. Conditions have worsened due to acute food and water shortages and unsanitary living quarters in Kutupalong camp, which is home to roughly 26,000 refugees.
More than 600,000 Rohingya men, women, and children have crossed the border from Myanmar to Cox's Bazaar since August. These families joined an estimated 212,000 Rohingya previously living in Bangladesh. The IRC expects an additional 200,000 new arrivals in the weeks ahead, pushing the total refugee population to more than 1 million.
Severe acute malnutrition can affect anyone but, if left untreated, children under five are up to nine times more likely to die than a well-nourished child.
New arrivals are often forced to set up camp far from the main road where food and medical distribution centres are located, said Save the Children's Rik Goverde, leaving many refugees facing a long walk simply to get one meal a day.
"Malnutrition is rampant here, absolutely rampant, even among the adults," said Goverde, speaking by phone from Kutupalong camp.
"Two men just came into the clinic weighing 32kg and 34kg. This hasn't happened overnight – they have been hungry for a very long time and they are exhausted."
New arrivals are required to register for an identity card in order to qualify for food distribution, Goverde said, which can take a few days to arrive. Many adults and children are consequently obliged to walk for hours into the forest, where they cut firewood in order to sell it and buy food.
"There are problems here on every sector – this isn't just about food and malnutrition," said Goverde. "We're sure there are children suffering from mental health issues because they've suffered terrible things, they've lost their parents in the chaos, or seen their parents being shot. It's truly grim."
Unicef and other humanitarian agencies are currently treating more than 2,700 acutely malnourished children at 15 treatment centres. But the agencies are overstretched and underfunded, prompting the IRC to launch an emergency response on both sides of the Bangladesh-Myanmar border, which the agency says will require $12m (£9m) over the next year.

Pintail ducks, an elephant seal pup and an osprey in action are among this week's pick of images from the natural world

Opinion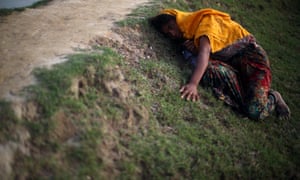 'After every atrocity, we say 'never again'. We must mean it.' Photograph: Hannah Mckay/Reuters
O

ver the past two months, more than 600,000 Rohingya people have been driven from their homes, had their land destroyed, and endured torture and rape while searching for safety. Remember what happened in Rwanda? Now, pay attention to Myanmar.
The Rohingya are often described as among the most persecuted people on earth. They are a predominantly Muslim ethnic group, and despite having lived in Myanmar's Rakhine state for centuries, they're refused citizenship. For years, their movement has been restricted, and they have been denied access to education, health care, and other basic services.
Under the guise of fighting insurgency, or terrorism, the Rohingya have suffered what the UN has called a "textbook case" of ethnic cleansing. Since 25 August, almost half the Rohingya population in Myanmar has been driven out – one of the fastest movements of people in recent decades.
Bangladesh has opened its borders and is doing what it can, which is a lot for the most densely populated country on earth, already fighting poverty and the consequences of climate change.
The international response to the Rohingya crisis has fallen far short of what's needed. The UN appeal is still underfunded, and world leaders have not put sufficient political pressure on the government.
Myanmar is no longer a pariah state; it has a democratically elected government and has been flooded with foreign direct investment over the past few years.
The corporations who have invested in this region must speak up and divest, unless human rights are respected, or they too will be complicit in these horrendous acts.
This Friday, world leaders will gather at the Asean summit but the Rohingya crisis is nowhere on the agenda. We call on leaders to pressure the Myanmar government to stop these atrocities, grant the Rohingya citizenship, and allow them to return to a place they call home.
Countries must fully fund the UN appeal and close the funding gap that is leaving traumatized children without basic food, water, and shelter. Finally, member states of the United Nations must assess what diplomatic efforts can enable them to fulfill their responsibility to protect the Rohingya.
We must not be bystanders to this genocide. We cannot allow people to be slaughtered and burnt out of their homes, while the world watches.
After every atrocity, we say: "Never again." We must mean it.
Full list of signatories here:
Waris Ahluwalia, Babi Ahluwalia, Sachin Ahluwalia, Riz Ahmed, Utkarsh Ambudkar, Aziz Ansari, Dev Benegal, Gotham Chopra, Nandita Das, Rana Dasgupta, Anil Dash, Kiran Desai, Noureen DeWulf, Geeta Gandbhir, Vikram Gandhi, Shruti Ganguly, Janina Gavankar, Neelam Gill, Maneesh Goyal, Arjun Gupta, Mohsin Hamed, Hitha Prabhakar-Herzog, Anadil Hossain, Vijay Iyer, Sakina Jaffrey, Madhur Jaffrey, Poorna Jagannathan, Riddhika Jesrani, Rega Jha, Mindy KalingRaghu Karnad, Siddhartha Khosla, Hari Kondabolu, Shruti Kumar, Anjali Kumar, Hari Kunzru, Ajay Madiwale, Karan Mahajan, Rekha Malhotra, Aasif Mandvi, Sunita Mani, Nimitt Mankad, Suketu Mehta, Hasan Minhaj, Smriti Mundhra, Ajay Naidu, Aparna Nancherla, Kumail Nanjiani, Karuna Nundy, Maulik Pancholy, Joseph Patel, Shomi Patwary, Freida Pinto, Shaifali Puri, Aniq Rahman, Saira Rao, Zuleikha Robinson, Salman Rushdie, Reema Sampat, Reshma Saujani, Nikil Saval, Sumana Setty, Shiza ShahidKamila Shamsie, Anoushka Shankar, Sheetal Sheth, Sonejuhi Sinha, Madhureeta Goel, Southworth Lakshmi, Sundaram Himanshu Suri, Sonali Thimmaya, Pej Vahdat