12 Nov
News and Analyses, A Foreign Perspective
Nearly all of these are English-edition daily newspapers. These sites have interesting editorials and essays, and many have links to other good news sources. We try to limit this list to those sites which are regularly updated, reliable, with a high percentage of "up" time.

World Politics
United States
The presidents may find a lot in common, both having ridden waves of populism to beat their countries' political elite
Anti-Trump protests erupt on the streets of Manila as Trump arrives in the Philippines – video
It's the final act of Donald Trump's marathon Asia tour and it could be the showstopper.
Touching down in the Philippine capital Manila on Sunday, the US president arrived in a country run by a man regularly described as the "Donald Trump of Asia" for his shock rise to power and volatile temperament.
Months before Trump was elected, Rodrigo Duterte proved the strength of anti-establishment populism in the Philippines by taking the presidency in a campaign filled with black-and-white promises to wipe out crime by killing drug pushers.
And when his administration did indeed start killing hundreds of suspected drug pushers and alleged addicts, US-Philippine relations – historically one of the strongest alliances in Asia – plummeted. At its lowest point, Duterte called former president Barack Obama a "son of a whore" for criticising his human rights record.
For Trump, however, the Philippines is bringing out the red carpet.
For the US leader, the Philippines visit is a chance to show he can win back estranged allies, said Richard Javad Heydarian, the author of The Rise of Duterte.
"He also sees in Duterte a fellow populist and decisive leader besieged by liberal internationalist elite, so there is some element of personal rapport and ideological solidarity," he added. "I expect a convivial hobnob between the two in Manila."
That is possible because Trump appears to have abandoned his predecessor's focus on rights, even praising Duterte's bloody crackdown by saying he was doing an "unbelievable job on the drug problem".
Trump does not appear to care, as Obama did, with "advancing rule of law globally and advancing democracy globally", according to Christopher Primiano, a teaching fellow based at the China campus of the University of Nottingham.
"I just don't think Trump is interested in any of this – these are non-issues for Trump," he said. "Trump and Duterte, given that both of them are authoritarian in terms of their governance, have much more in common than say Duterte and Obama."
There is a lot of work to be done. Duterte has moved the Philippines swiftly away from its former colonial power on several fronts. Increasingly looking to Beijing and Moscow as new backers, especially for weapons shipments, he ended joint war games with the US military last year.
"He has pivoted to Asia, veered away from [the] traditional political relationship between the Philippines and the United States," Duterte's spokesman Roque said.
And in steps to boost ties with China, the 72-year-old leader has played down territorial disputes in the South China Sea, which has worried Washington as it wants the vital shipping route to remain outside of Chinese control.
However, the academic Primiano warns, there is one major caveat that makes it hard to concretely predict a jovial US visit to Manila.
"Trump is a complete wild card," he said. "He says one thing one minute, maybe he'll tweet something this morning, and then say something totally different in the afternoon."
Philippine protesters are preparing to burn an effigy of Trump on Monday outside the US embassy, which could sour the US leader, especially at the end of a tiring trip.
Duterte, too, has sent mixed messages and has a famously changeable mood, even berating close allies at a moment's notice.
The Philippine president had promised to be on his best behaviour as the host of the Association of South-east Asian Nations leaders' summit, saying he would deal with Trump "in the most righteous way, welcome him as an important leader".
But he has not always been so diplomatic. During the Philippine election campaign, he shunned the Trump comparison, saying the then-candidate was a "bigot" for his proposals to ban Muslims entering the US.
And despite being invited by Trump to visit Washington, Duterte said in July he would never visit the "lousy" US after Congressman James McGovern announced he would protest any such trip.
Some Philippine media reports even suggest Duterte might not meet with Trump one-on-one at all during the visit, which could certainly lead to an outburst from the prickly US leader.
"[Trump] is completely unpredictable," said Primiano. "We all need to keep that in mind."

Former White House chief strategist Steve Bannon faced off with a heckler at the Citadel Republican Society in Charleston, South Carolina on Friday evening. Bannon was discussing Hillary Clinton's approach to a rape case when she was a lawyer when a woman stood up and shouted something. As the woman was dragged out by security guards, Bannon joked that it was as if 'one of my ex-wives' had showed up, before saying: 'You're a good girl, you got the right for free speech – outside.'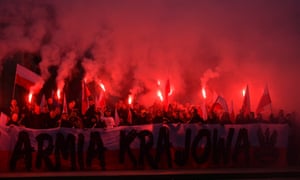 Polish nationalists light flares as they march through Warsaw on Poland's Independence Day. Photograph: Bartlomiej Zborowski/EPA
Associated Press and Reuters
Tens of thousands of nationalists have marched through Warsaw to mark Poland's independence day, throwing red smoke bombs and carrying banners with such slogans as "white Europe of brotherly nations".
The march organised by far-right groups was one of many events marking Poland's rebirth as a nation in 1918, overshadowing official state observances and other patriotic events.
Police estimated 60,000 people took part. Many were young men, some with their faces covered or with beer bottles in hand, but families and older Poles also participated.
Those marching chanted "God, honour, country" and "Glory to our heroes", while a few people also shouted xenophobic phrases like "pure Poland, white Poland" and "refugees get out".
Some participants marched under the slogan "We Want God", words from an old Polish religious song that the US president, Donald Trump, quoted during a visit to Warsaw earlier this year. Speakers spoke of standing against liberals and defending Christian values.
Many carried the national white-and-red flag as others set off flares and firecrackers, filling the air with red smoke. Some also carried banners depicting a falanga, a far-right symbol dating to the 1930s.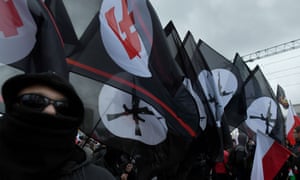 Far-right marchers brandish banners depicting a red falanga, a far-right symbol dating to the 1930s. Photograph: Janek Skarzynski/AFP/Getty Images
The march has become one of the largest such demonstration in Europe and drew far-right leaders from elsewhere in Europe, including Tommy Robinson from Britain and Roberto Fiore from Italy. It also attracted a considerable number of supporters of the governing conservative Law and Justice (PiS) party.
State broadcaster TVP, which reflects the conservative government's line, called it a "great march of patriots", and in its broadcasts described the event as one that drew mostly regular Poles expressing their love of Poland, not extremists.
"It was a beautiful sight," the interior minister, Mariusz Blaszczak, said. "We are proud that so many Poles have decided to take part in a celebration connected to the Independence Day holiday."
A smaller counter-protest by an anti-fascist movement also took place. Organisers kept the two groups apart to prevent violence. However, there was one incident in which the nationalists pushed and kicked several women who chanted anti-fascism slogans and had a banner saying "Stop Fascism".
Polish nationalists carry a banner translating to 'we want God' during a march in Warsaw. Photograph: Jacek Turczyk/EPA
"I'm shocked that they're allowed to demonstrate on this day. It's 50 to 100,000 mostly football hooligans hijacking patriotism," said 50-year-old Briton Andy Eddles, a language teacher who has been living in Poland for 27 years. "For me it's important to support the anti-fascist coalition and to support fellow democrats, who are under pressure in Poland today."
But main march participant Kamil Staszalek warned against making generalisations and said he was marching to "honour the memory of those who fought for Poland's freedom".
"I'd say some people here do have extreme views, maybe even 30 per cent of those marching, but 70 per cent are simply walking peacefully, without shouting any fascist slogans," he said.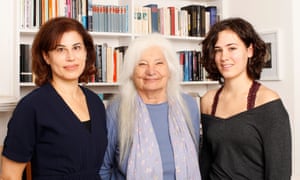 Natasha Walter, left, with her mother, Ruth, and 16-year-old daughter, Clara. Photograph: Katherine Anne Rose for the Observer
After the 2016 referendum, something new popped on to my to-do list, usually appearing somewhere after Take back library books and before Book dentist appointment: Apply for German citizenship.
My mother had been the first to bring up the idea. Because of the referendum, she felt our family should take up the right that Germany granted in 1949 to those, mainly Jews, who had been stripped of their citizenship under the Third Reich. "You should get yours and the children's," she said. At first, I was dismissive. I work every day with refugees in London and their yearning to remain has made me vividly aware of the luck I already have in having British citizenship.
Even for the most rational of us, citizenship is not just a piece of convenient paper. I have lived my whole life in England, apart from brief stints to work or study in Italy and the US, and even if the result of the referendum has made my relationship with my country more fraught, I still love it: its landscape, its language, its humour. But my 16-year-old daughter, Clara, fastened quickly on my mother's statement and did not forget it. For teenagers, the result of the referendum is becoming a practical question about what they will be able to do, rather than a theoretical question about who they are.
It was only when I reached down my old files of family papers that I realised why I had been putting it all off
Clara is the product of the multicultural London of the 21st century and looks outward in a way I never did. Her three best friends are, by background, Syrian, Chinese and Bengali. She has a French exchange friend who is far from the usual reluctant pen pal; they have spent four holidays in each other's cities and they regularly WhatsApp in both languages. And she is realistic: "I don't know where I want to live," she says. "But no one can buy a flat in London. So it isn't going to be here, is it?"
If the result of the referendum came as a shock for me, for her I could see it came more as a challenge. "Why shouldn't I still have the right to work in Europe?" she said to me. "You did." I got her point and the resentment that rang through it. Why should the older generation take away what she feels as her birthright: porous borders and the possibility of living and working in many different countries?
Still, the months passed and I didn't download the relevant forms. Clara couldn't understand why I was being so slow about it. My mother couldn't understand why I was being so slow about it. I couldn't understand why I was being so slow about it. It was all so straightforward, wasn't it?
Yes, it should have been straightforward. My mother's application was quickly accepted, so ours would obviously follow directly down the line with pure German efficiency. All I had to do was print out those damn forms, put in the addresses of my grandparents' last residence in Germany, when they lost their German citizenship and so on…
But this is where it didn't feel straightforward. I didn't seem to be able to get it done. Was it just inertia about another bit of administration to do? Did it feel like a little betrayal of Britain? In the end, after Clara had downloaded and started the forms herself, I put aside an evening in late September to fill in the blanks. It was only when I reached down my old files of family papers, with "Hamburg" scribbled in marker pen on the spines, that I realised why I had been putting it all off.
I've collected a bizarre amount of stuff about the German side of my family over the years. Photocopies of passports and telegrams, records of a trial from 1933, a business card from someone in the Hamburg archives, printouts of emails about the location of a memorial stone, a couple of pages titled "Eva's memories", based on conversations I had with my late grandmother and laboriously typed on an old ribbon typewriter when I was 15.
So it all comes at you, birth and war and death all muddled up. You look for some information to add into a small box on a clean form – my grandmother's last residence in Germany – and you find yourself reaching through time, into darkness, into loss.
I was sitting on the floor of my study, with pieces of paper stacked up around me. I felt listless and overwhelmed by the history that I did not want to see. I went to talk to Clara. She was lying on her bed, multitasking in teenage style – listening to music, messaging her friends, studying her homework.
Natasha Walter's great-grandparents, Mathias and Clementine Stein, with their children in Hamburg, Germany, late 1920s. The Steins died in the Holocaust in 1942; their children, including Walter's grandmother Eva (centre), survived. Photograph: Courtesy Natasha Walter
"Those forms," I said, wanting her to see what I saw when I looked into the files, the threat as well as the opportunity. "I can't find my grandmother's last address. It's confusing…" I held out one of the many pages I had about the past. "I guess it would be this address, where my great-grandparents were living at the start of the war. I know they were sent to Theresienstadt but not until later. Then to Treblinka. They arrived in Treblinka on 28 September 1942."
My daughter looked at me, and I at her, as the significance of the date penetrated our minds. The previous day's date. Exactly 75 years after my great-grandparents' death in Treblinka, we are seeking to regain our German nationality. I left the page I was carrying on her bed and went downstairs to make dinner. The forms got put aside again.
It was a journey taken by so many Jews, the journey my great-grandparents took 75 years ago. At the start of the war, their children, including my grandmother, had already fled and Mathias and Clementine Stein had been left behind. This 58-year-old housewife and this 62-year-old teacher, who was also a decorated first world war veteran, were not welcome in any country. The doors were closed. In 1942, the transports began of elderly Jews from Hamburg to Theresienstadt. Mathias and Clementine were taken with another 664 Jews in trucks to the railway station and then on the train to Theresienstadt.

'A stone of hope': the Martin Luther King memorial. Photograph: Jon Hicks/Getty Images
Aaron Millar
A

t his memorial in Washington DC, the statue of Martin Luther King is half finished. The legs and back disappear, like a ghost, into a slab of uncarved white marble. His face is determined and resolute, but not yet satisfied. A line from his "I Have a Dream" speech, from 1963, is etched into the rock: "Out of the mountain of despair, a stone of hope." His sculpture is unfinished for a reason – the struggle continues.
Parts of the Capitol building, the Statue of Freedom, and even the White House, were built by men in chains
The civil rights movement was about racial equality, but it was also about living up to the guarantees of the constitution, to "cash a cheque," as Dr King put it, "[on the] promissory note to which every American was to fall heir" – that all individuals, regardless of who they are or where they're from, would be given the unalienable rights of life, liberty and the pursuit of happiness.
Now something's brewing again. Fuelled by the far right rhetoric of the Trump presidency, and a growing distrust in political and economic systems, a new civil rights movement has been born – one based not just on race but on LGBQT rights, economic rights, immigration rights and the environmental rights of all future generations. The new civil rights movement, the resistance as it has come to be known, may be angry at Trump, but it's also about cashing that cheque.
Celebration of black lives: the Smithsonian National Museum of African American History and Culture. Photograph: Getty Images
Which is why I've come to Washington DC – to see where the great experiment in self-governance began. There is nowhere better to understand America's political hopes and dreams, to get a sense of the roots of the division in America and the future of the resistance now.
There are other reasons to visit. Washington DC is rated the number one foodie destination in America
But there are other reasons to visit, too. Zagat recently rated Washington DC as the number one foodie destination in America. And the historic Georgetown district, with its grand, red-brick homes and cobbled pavements, is lively and fun, filled with shops, restaurants and bars.
There are many decently priced hotels in Washington. One of the best value is probably the Tabard Inn in Dupont Circle, mentioned in John Grisham's Pelican Brief. But if you can afford to splash out for one night the Watergate Hotel is worth it for its legacy alone. It was here, in 1972, that employees of President Nixon spent the night after illegally raiding the offices of the Democratic National Committee nearby. It may have been marred by the Watergate scandal, but it's spectacular: bold, midcentury modern design filled with gold, glamour, and the best whisky bar in the city.
If you're here for the history, the best place to start is where Dr King ended his famous march, on the steps of the Lincoln Memorial. He chose this spot because, in many ways, it represented a full circle for African Americans. The man who had signed the Emancipation Proclamation and freed the slaves stood watch as thousands came to demand the fruits of that promise. It's a moving place. The great obelisk of the Washington Memorial, the pillars of the National Archives, home of the Constitution and the Bill of Rights, and the rotunda of the Capitol – they are a powerful sight, but a conflicting one, too.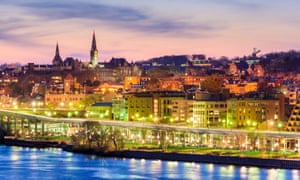 Many rivers to cross: Washington DC skyline on the Potomac. Photograph: Alamy
Many of these monuments were made by slaves. Parts of the Capitol building, the Statue of Freedom which sits on top, even the White House itself were built by men in chains. This country was founded on that paradox. Lincoln freed the slaves and was shot in Ford's Theatre down the road for doing so. Dr King's dream, those words that seem so obvious now, were viewed by many as a threat: J Edgar Hoover, the director of the FBI at the time, worked tirelessly to undermine his efforts. The Civil Rights Act, far from being unanimously received, was constantly obstructed by southern members of the congress. Only the assassination of Kennedy, and the outrage that followed, had the political muscle to push it through.
Away from the politics, there is much else in Washington to admire. Ben's Chili Bowl on U-Street, home of the chili half smoke, is a DC institution and has welcomed everyone from Chris Rock to the cast of House of Cards. There's also Capitol Lounge for pizza and $5 margaritas; and the Cozy Den Coffee Shop, with the excellent bookstore above which hosts regular author talks and events. Baba, just across the Potomac river in Arlington, serves craft cocktails in a cool speakeasy setting and a chocolate and orange dessert that tastes like Jaffa Cakes.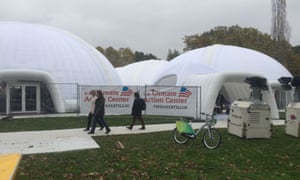 The huge alternative US Climate Action Centre at Bonn. 20 US states, more than 50 of its largest cities, and 60 businesses have committed to emissions reduction goals. Photograph: Jonathan Watts for the Guardian
The US states, cities and businesses that have signed up to reduce greenhouse gas emissions despite president Donald Trump's threats to withdraw from the Paris agreement would, if put together, have the clout of the world's third biggest economy, after the US and China.
To date, 20 US states and more than 50 of its largest cities, along with more than 60 of the biggest businesses in the US, have committed to emissions reduction goals.
Added together, they have an economic power of about $10tn, placing this group behind only the US as a whole ($18.6tn) and China ($11tn) in terms of GDP.
On Saturday at the Bonn conference on climate change, these groups joined together to make "America's pledge", a commitment to combat global warming, in stark opposition to the Trump administration.
"This is very powerful," said Paul Bodnar, a former lead negotiator at the climate talks for the US under Barack Obama. "These states and cities would be larger than 195 out of the 197 countries signed up to the Paris agreement."
Michael Bloomberg, the former mayor of New York, led the group in vowing to take measures, such as reducing coal-fired power and investing in renewable energy and efficiency, which would substantially reduce their carbon output.
But some delegates want the companies and local governments involved to go further, by submitting reports on their progress towards their emissions-cutting goals to be subject to the kind of monitoring and accountability that is required from national governments under the UN process. They have put forward a draft text which, if accepted, would mean such voluntary commitments were made in line with UN standards, and could therefore be included in the national greenhouse gas inventories required from countries.
Kevin Conrad, of Papua New Guinea, told the Guardian: "We welcome their contributions, but they should be accountable [on their progress in meeting their voluntary goals]. Will they be willing to be reviewed on their results, not just on the blather?"
He said the draft text was aimed at giving these contributions "a legitimacy" under the UN's rules. "They should be transparent," he said. "We do not want to pre-judge America's Pledge, we just want rigour on the results."
The group's commitments fall outside the pledges under the landmark 2015 Paris agreement, and are likely to fall short of the requirements on carbon-cutting under the pact. Trump has vowed to withdraw the US from this agreement, the first to bind developed and developing countries to a specific temperature goal.
At the Bonn COP23 talks, scheduled to continue to the end of the week, nations are discussing how to improve their pledges on cutting carbon in line with scientific advice. Under the Paris agreement, they must hold global temperature rises to no more than 2C, which scientists say is the limit of safety, beyond which climate change is likely to become catastrophic and irreversible.
Current pledges under the Paris agreement are inadequate to reach this goal and it is estimated they would bring the world to 3C of warming, which would cause drastic changes in sea level rises, bring droughts and floods to many areas of the world, and make agriculture impossible in huge swaths of the globe.
However, consensus on how to strengthen the pledges is proving elusive, and is unlikely to be finalised at these talks.
Meanwhile, the Trump White House has indicated its priorities, to the consternation of many delegates, by scheduling a meeting at the talks focusing on the future of coal and how its use can be continued with new technologies.
The America's Pledge report will be released in the alternative US headquarters at the talks, the US Climate Action Center. The giant inflatable dome sits on the edge of the conference – which many of its supporters claim is a sign of its endorsement as a semi-official player.
Despite the geographical proximity of the "America's Pledge" delegation, there are limits to what non-state actors can do. They are excluded from many of the technical talks and cannot tap into federal funds that states use to finance commitments to slow climate change or reduce its impacts. More importantly, it is harder for them to set a course for the country.
But while that is missing, Antha Williams, head of the Bloomberg Philanthropies environment team, said it was necessary to fill the void.
"It would be better if we saw leadership from the White House, but the overarching point is that cities, states and companies that represent more than half of the US are showing their support for climate action."
Nick Nuttall, communications chief of UN Climate Change, said the organisers were willing to work constructively with non-state actors.
"We are extremely supportive of the whole mass of cities, states and territories who have been aligning themselves with the Paris agreement," he said. "American cities and states have been very active, which is welcome – and it mirrors what is happening elsewhere in the world."
His comments were echoed by several delegates.

Opinion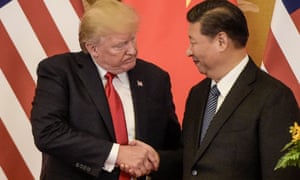 Presidents Donald Trump and Xi Jinping after their speeches in Beijing. Photograph: Fred Dufour/AFP/Getty Images
I

t was an extraordinary moment, so small wonder there was an audible intake of breath from the huge audience in Beijing's Great Hall of the People. Here was Donald Trump, visibly flattered by the pomp and magnificence of the welcome mounted by the Chinese Communist party, saying in his big speech he did not blame his hosts for China's enormous trade surplus with the US. What?!
Trump made China public enemy number one on his campaign trail. China, he declared repeatedly, had raped the US economy. It had to stop. He was going to brand it a currency manipulator on his first day in office, opening the way for a range of punitive responses. There would be swingeing tariffs on Chinese imports into the US, with steel singled out for early action. Jobs in industrial America had to be protected. A year on, nothing, apart from a couple of reviews, has happened.
Now this. Trump's admiration for the world's strong men who "get things done", regardless of the hindrances of law, treaties, human rights and democracy, is well known. But this broke new ground. His fawning to President Xi, a dictator, seemed to increase by the hour, congratulating him in his speech on his warmth, graciousness and ability to deliver. He had readily agreed that after their speeches there would be no vexatious questions from the press, which would inevitably be about China's human rights abuses or his failures to act as he promised. Much better to head off to a swanky banquet in the depths of the Forbidden City, the labyrinth lair of emperors past and present.
The country wants a free run to achieve "China's dream'' of becoming the world's number one power during this century, making global rules on its own "socialist" terms. The aim is for a country of 1.3 billion people to become a fully developed nation by 2050, with the military power to match. There is a $900bn ambition to build two new "silk roads" to further globalisation on Chinese terms – one overland to Turkey and Europe and one by sea through the Suez Canal, involving a string of Chinese-controlled ports. This will unlock $8tn of infrastructure spending in more than 60 countries, say the Chinese, a vast extension of Chinese hard and soft power, along with accompanying asymmetric trade deals.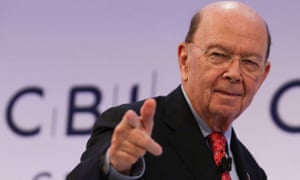 US Secretary of Commerce, Wilbur Ross, told the CBI that Britain would have to adopt US standards in any post-Brexit trade deal. Photograph: Daniel Leal-Olivas/AFP/Getty Images
The Chinese know a little flattery goes a long way, especially when the object of flattery has an ego as large and fragile as Trump's. Last week's summit achieved its objective. Trump signalled he had no intention of trying to frame China's expansion within any kind of multilateral framework or internationally agreed rules. Good luck to China is his message: your huge trade surplus with us is our fault because successive American governments have not bent the rules to their advantage as you have. We won't strengthen the international framework through arrangements such as the Trans-Pacific trade pact, which the US has abandoned. We will try to play the same one-sided game as you.
Thus, China may pay lip service to free trade, multilateralism and the World Trade Organisation, but President Xi does not mean it. The new world is dog eat dog, which,in a bewildering tirade at the Asia Pacific Economic Co-operation summit in Da Nang in Vietnam, Trump claimed the feeble WTO was doing too little to suppress. It turned a blind eye to too many members flouting its rules and permitted gross trade unfairness. Now, he declared, he looked forward to doing deals with individual countries on a reciprocal basis of "mutual benefit". The WTO is to be sidelined.
What this means is the rule of the strong. It is not China that has felt the first wave of swingeing tariffs to achieve trade deals of "mutual benefit", but less-powerful Canada, with up to 300% tariffs to be imposed on Bombardier's new jets. The US has told Canada and Mexico, signatories of the North American Free Trade Agreement, that it wants proposals from both on how trade can be "fairer" – ie more tilted towards US interests – by Christmas or it pulls out of the agreement. Nor in future will there be any disputes resolution via international tribunals; these will be repatriated to US courts. It is the brutal exercise of economic power.
Nothing less should be expected. It is the same in Saudi Arabia, where Trump unashamedly backs crown prince Mohammed bin Salman, de facto ruler as his father ails, as he potentially squares up for a regional war against Iran. The prince is Saudi Arabia's strong man, but he also confers huge arms deals. Similarly in France. President Macron has emerged as the strong man of Europe, so Trump is his new best friend. But Macron, with the EU behind him, is not going to invite the US to the climate change talks in Paris next month unless the US finds a way of recommitting to an international effort to contain climate change. Trump may embrace isolation, but he can see where power lies.
He is no less clear sighted about Britain's weakness as we are about to find ourself in the same relationship to the US as Canada. I am told a senior State Department Trump appointee told his staff that "the Brits are on the ropes. There are going to be some rich pickings – our job is to make sure we get them." Helpfully, US commerce secretary, Wilbur Ross, explained what that might mean for any post-Brexit trade deal with the US at the recent CBI conference. Britain would be expected to adopt laxer, ultra business-friendly US standards and its approach to standard-setting. There was no indication of any reciprocal concession. There is no need. The Brits "are on the ropes", so they must accept whatever is offered. The WTO is too weak to offer any help, even if it could.
Fear not. The government is preparing for this brave new world. Liam Fox, international trade secretary, published his trade bill last week, allowing Britain to secure quickly and expeditiously the multiple trade deals that will allegedly follow Brexit. Importantly, he will be given prerogative rights to do whatever deal he can negotiate, without any recourse to parliament.