14 Nov
News and Analyses, A Foreign Perspective
Nearly all of these are English-edition daily newspapers. These sites have interesting editorials and essays, and many have links to other good news sources. We try to limit this list to those sites which are regularly updated, reliable, with a high percentage of "up" time.

World Politics
United States
The US and Philippine presidents have huge respect for each other, so it was no surprise to see Duterte's 'drug war' ignored when he hosted the US president
Unlikely as it may seem, Donald Trump and Rodrigo Duterte may have more in common than any other US and Philippine presidents in history. For one thing, they're fans of each other. Huge fans.
*********************************************
Let us reflect on the proverb "A man is known by the company he keeps"
Dictators love to see themselves reflected in their peers (and they certainly are peers). Trump and Duterte are like Hitler and Mussolini
Trump the Dump must be really bewailing the fact that he missed out on Adolf. He'd have loved to have feted him at the White House.
And…….Why bother yourself with an issue that sees 30,000 Americans die every year from guns when you can be gratifying yourself making tremendous deals selling US weapons around the globe that will kill 100,000's of non-Americans. But according to this jackass , 'It's not a gun thing, it's a mental health thing'.
The McGlynn
*********************************************
Long before the initial face-to-face between the Donald and Digong – the nickname by which Duterte is best known – Trump had already complimented him on doing an "unbelievable job on the drug problem". He was referring to the Philippines' so-called drug war, which has resulted in several thousand extrajudicial killings linked to the national police and sanctioned by the national government.
"I would love to have you in the Oval Office, any time you want to come," Trump cooed to his newest best friend. More recently, Duterte, who on more than one occasion has heaped insults on former president Barack Obama, has praised Trump profusely. Mostly for his billions and his choice of wife. But then envy is said to be one of the more sincere forms of flattery.
But the course of true love never does run smooth, does it? Two US congressmen – one a Republican, the other a Democrat – criticised Trump for issuing the invitation, and called out the Philippine president on human rights violations. Duterte gleefully threatened to ban them both from entering the country. "If you do not like me, I do not like you. We're even," he said, adding that the US was "lousy" anyway.
But the red carpet was readily rolled out this week for Trump, who was serenaded by Duterte with a romantic Filipino song at a formal dinner.
So what happens when narcissists face their mirror image? They can only fall in love. Alt-reality being the order of the day, their first meeting behind closed doors was followed by a bland announcement from the White House saying that human rights had indeed been brought up. The Philippine government announced, just as blandly, that this had not happened.
And that's the end of the matter. Whatever was said – or not – could hardly dent the two principals' undeniable rapport. They get each other. "Sometimes, two toughies become very close and end up as true friends," said Philippine foreign secretary Alan Peter Cayetano. After all, both presidents revel in flexing their authoritarian muscle. Both are outsiders who immediately set about wrecking the political establishment. Each addresses himself almost exclusively to a core base of supporters for whom "human rights", "mainstream news media", the constitution, and other pesky elements of a functioning democracy are but flies to be brushed off.
Both fancy themselves as dealmakers. According to the legend running in their minds, this is how Trump managed to succeed in New York's cut-throat property development business, tussling with competitors, investors, unions and shadier sorts. And this is how Duterte, as a small-city mayor in a conflict-ridden region, had reportedly played off different warring parties – communist rebels, Islamist insurgents, and the odd vigilante group – against each other.
Both presidents readily disregard facts and self-contradict at lightning speed. (Their supporters adore them for it.) Both like to see themselves as masters of the ruse and the feint and the devil-may-care move. For example, calling the touchy leader of a totalitarian nuclear state "short and fat".
Both Trump and Duterte have been really nice lately about Vladimir Putin and Xi Jinping. Duterte has expressed fulsome thanks to both for their modest funding and arms donations in the government's battle against Islamic State in the southern city of Marawi. And despite China's relentless buildup of military infrastructure in an area of the South China Sea that was recognised as belonging to the Philippines in a landmark international ruling, Duterte has steadfastly refused to criticise his big neighbour. So far, his handling of relations with China has gained him the approval of most Filipinos.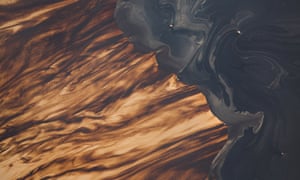 'Tar sands have been dubbed the largest (and most destructive) industrial project in human history.' Photograph: Aaron Huey/National Geographic/Getty Images
T

his week, the Canadian government will be in Bonn touting Canada's climate plan. It will be joined by Canadian oil companies working to put a green hue on Canadian tar sands – but the world shouldn't be fooled.
The truth is, Canada cannot yet meet its own arguably weak climate targets. The country plans to expand oil and gas production despite evidence that this is inconsistent with Paris goals. Then, there is the issue of the toxic sludge of waste products from Canada's tar sands destruction, which form what are known as tailings ponds.
As of this year, these ponds hold 1 trillion litres of sludge that is unlike any other industrial byproduct in the world. They contain a unique cocktail of toxic chemicals and hydrocarbons that will remain in molasses-like suspension for centuries if left alone.
These open, unlined ponds currently cover 220 sq km, an area of land equivalent to 73 New York Central Parks. A single tailings pond – the Mildred Lake Settling Basin – has been identified by the US Department of the Interior as the world's largest dam.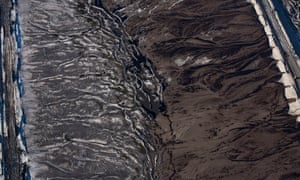 'These ponds hold 1 trillion litres of sludge that is unlike any other industrial by-product in the world.'
These tailings ponds made international headlines in 2008 when 1,600 ducks flew into one of them. The resulting imagery of animals coated in oil was a powerful reminder of the costs of our global oil addiction.
Since then, the issue has slowly faded from public memory as the Alberta government's strident promises to clean up the ponds left Canada and the rest of the world under the impression the problem was being seriously dealt with.
Yet, last month the government of Alberta approved a tailings management plan for Suncor Energy Incorporated, the oldest mining company in the Canadian tar sands. By approving this plan, Suncor will get an additional 70 years after their operations shut down to clean up the environmental mess that they have created over 60 years of oil extraction.
These open, unlined ponds currently cover 220 sq km, an area of land equivalent to 73 New York Central Parks
To be clear, Alberta has a new progressive majority NDP government which has made some great, long overdue strides in addressing social and environmental issues such as a coal phase-out and a cap on emissions from the tar sands.
However, even under this government, the cumulative impacts of this fossil fuel development are growing and industry continues to obtain sweeping approvals that are shocking for their lack of environmental rigour.
The history of the government's weak attempts to address tailings are shocking. A couple of years ago a directive was put into place to require companies to reduce tailings. Not a single company complied. Rather than fining the companies or refusing permits, the government simply removed the directive.
This recent Suncor approval highlights the staggering and growing cumulative environmental footprint of the Alberta tar sands. Mining the tar sands for oil produces over 3,600 tonnes of CO2 emissions per hectare, consumes freshwater at a rate that rivals the daily water use of several major Canadian cities combined, and has destroyed a New York City-sized chunk of boreal forest and muskeg habitat.
Six firsthand accounts from some of America's worst mass shootings Lois Beckett and Jamiles Lartey
They see the alerts on their phones. They turn on the news. And then, like the rest of us, the survivors of America's previous mass shootings watch the grim details of the latest attack unfold.
This month a gunman killed 25 people at a rural church in Sutherland Springs, Texas, just over a month after 58 people were murdered and more than 500 wounded in Las Vegas, the worst mass shooting in recent US history. The tragedies join a long, somber list of high-casualty killings that dominate the headlines and then gradually fade from public view.
We asked survivors and family members of victims from six previous mass shootings – including some that were, briefly, the deadliest, the worst – what they do after each new incident. How do they make sense of the country's response to these shootings? What do they want to see change? How do they cope with the intense coverage of the latest incident – and the silence when the news cycle suddenly moves on……………….
Erica Lafferty
Daughter of principal Dawn Hochsprung
Sandy Hook Elementary School shooting
Newtown, Connecticut
2012
E

rica Lafferty was barely awake one morning at the beginning of last month when she saw a Facebook alert from a childhood friend who had recently moved to Las Vegas, marking herself "safe." Lafferty called her immediately. The friend had wanted to go to the country music concert the Las Vegas shooter had targeted, but "It was sold out by the time she had tried to get tickets," her friend told her.
For Lafferty, the first hours after a mass shooting are the most excruciating. She knows that family members of the victims of a new attack are waiting, like she once did, for news, and "they're still holding out this little bit of hope" that somehow their loved ones are still alive.
Five years ago, her mother, Dawn Hochsprung, an elementary school principal in Connecticut, had been in a meeting when she heard gunshots. She came out into the school hallway and was immediately shot by a disturbed young man with a military-style rifle who had forced his way inside. Lafferty had to wait until until the early hours of the day after the shooting before she was finally told her mother had been murdered.
After the Sandy Hook Elementary School shooting, the Obama administration endorsed a slate of gun control reforms, with the biggest push in favor of bipartisan legislation that would expand background check requirements on gun sales.
The Congressional vote on the background check legislation "was my biggest moment of hope," and when it narrowly failed to get enough votes in the Senate, "also my biggest letdown"…………….
Caren Teves
Mother of Alex Teves
Movie theater shooting
Aurora, Colorado
2012
C

aren Teves and her husband Tom were on vacation in Maui in 2012 when they received a frantic phone call from Amanda Lindgren, their son Alex's girlfriend. Amanda and Alex had been at a movie. There had been a shooting. She didn't know what had happened to him.
For the next twelve hours, the family desperately tried to locate Alex. In between frantic phone calls to the police and different local hospitals, they watched the sensationalistic TV news coverage about the mass shooter who attacked a midnight viewing of The Dark Knight Rises in Colorado. Photos of the perpetrator, with his garishly dyed red hair, kept appearing on the screen.
Lindgren would later describe how she had kept standing up in shock as the shooting began, and how Alex had pulled her down and covered her body with his own. He had been killed trying to shield her.
In the days after they learned Alex had been killed, Tom Teves challenged news anchors to report on his son's heroism, and the bravery of other survivors and first responders, instead of trying to delve into the mind of the shooter.
It was an uphill battle. Some TV segments simply cancelled their interviews with the Teves family over their request that the perpetrator's photograph not be displayed during an interview with them. "I wish I had not done that," Caren Teves says, believing now that their principled stance only served to silence them. "I would have still been able to talk about Alex and call them out, whether the picture was up or not."