15 Nov
News and Analyses, A Foreign Perspective
Nearly all of these are English-edition daily newspapers. These sites have interesting editorials and essays, and many have links to other good news sources. We try to limit this list to those sites which are regularly updated, reliable, with a high percentage of "up" time.

LGBT politician weeps with joy at Australia's same-sex marriage vote – video
Penny Wong breaks down after hearing the result of the voluntary same-sex marriage survey, in which 61.6% of people voted yes. The participation rate was 79.5% and the result prompted nationwide celebrations
Turnbull pledges same-sex marriage will be law by Christmas
At a press conference in Canberra, Malcolm Turnbull says Australians have 'spoken in their millions and they have voted overwhelmingly yes for marriage equality … they voted yes for love'. Turnbull said the result was 'unequivocal and overwhelming', warning conservatives, including in his own government, that the public are 'our masters' and the parliament must now deliver on the result. 'Now it is up to us here in the parliament of Australia to get on with it, to get on with the job the Australian people asked us to do and get this done,' he says.

World Politics
United States
Cases were among 10 where Moore, as Alabama's top judge, dissented from court's majority view and sided with alleged offenders, Guardian review finds
Roy Moore served as chief justice of Alabama's supreme court between 2013 and 2016, and also between 2001 and 2003. Photograph: Mickey Welsh/AP
Roy Moore challenged the scope of an Alabama law that protects rape victims while serving as the most senior judge on the state's highest court, according to a review of records.
As chief justice of Alabama's supreme court, Moore twice argued that the state's "rape shield" law should not prevent alleged sex offenders from using certain evidence about their underage accusers' personal lives to discredit them.
The cases were among 10 between 2013 and 2016 where Moore dissented from the court's majority and sided with alleged offenders who were appealing to the court as part of their efforts to overturn convictions or punishments for sexual crimes.
Moore, 70, is under pressure from senior Republicans in Washington to step down as the party's candidate for the special election to fill Alabama's vacant US senate seat, following multiple allegations of sexual misconduct.
He was on Monday accused by a second woman of sexually assaulting her when she was a teenager and he was a prosecutor. The woman, Beverly Young Nelson, said at a press conference that Moore had attacked her when she was 16.
Moore has refused to back down, claiming that the allegations against him are false. Last week Leigh Corfman, another Alabaman, alleged that Moore touched her crotch and made her touch his when she was 14.
Moore was chief justice of Alabama's supreme court from January 2013 until May 2016, when he was suspended for instructing judges in the state to continue enforcing Alabama's ban on same-sex marriage even after it was ruled unconstitutional. He had previously held the same job between 2001 and 2003.
A review by the Guardian of all decisions issued by the Alabama supreme court during Moore's second stint found decisions on 16 criminal cases that involved alleged sexual crimes. Moore sided with the offender over state prosecutors in 13 of those cases.
On 10 occasions, this meant dissenting from the majority view of the court's nine judges. Moore sided with the state in the other three cases.
Among Moore's 10 dissents was the case of David Pittman, who had pleaded guilty to the rape of a 12-year-old girl. Moore in September 2015 said that Pittman ought to have been allowed to present evidence to court indicating that the girl had been sexually active and had a sexually transmitted disease.
"I believe this evidence could be relevant to the complaining witness's alleged motive in accusing Pittman and that it is not barred by … the rape-shield rule," Moore wrote in his dissent.
Like other states, Alabama has a law generally barring defendants accused of sexual assaults from using evidence relating to their accuser's sexual history. Alabama's law includes an exception that says evidence can be used if "excluding it would violate the defendant's constitutional rights". Moore argued that Pittman was being denied his right to be confronted by any witnesses testifying against him.
The rape-shield law also arose in the case of Sherman Tate, a school mentor who was convicted of coercing two 15-year-old female students to touch him sexually. Moore argued in June 2014 that attorneys for Tate should have been allowed to tell jurors that he believed the girls were bisexual and in a relationship together.
Moore said evidence of a relationship between the teenage girls "could be relevant to the victims' alleged bias against Tate or their collusion" and that this should not be barred by the state's rape-shield rules.
He argued in his dissent that while the rape-shield law bars discussion of an alleged victim's sexual history with other people, it "does not bar cross-examination regarding a victim's romantic relationship or even sexual behavior with another complaining victim".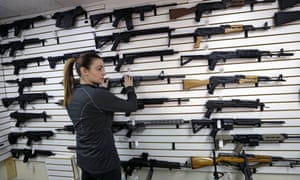 Gun shop owner Tiffany Teasdale-Causer at her store in Lynnwood, Washington on Tuesday. Photograph: Elaine Thompson/AP
You've heard the statistics before: Americans have more guns per head than any nation on earth – along with gun violence rates that are dramatically higher than other rich, developed countries.
But these big-picture facts can be misleading. Not every American is packing heat and gun violence is intensely concentrated in small neighbourhoods.
Here's a look at the dramatic concentration of America's guns – and America's violence:
Gun ownership
American civilians own at least 265m firearms, which gives Americans the highest rate of per capita firearm ownership in the world, with about one gun for every American.
Yemen comes in a distant second, with about 55 guns for every 100 people, according to data from the 2007 Small Arms Survey.
But surveys show that gun ownership in America is actually highly concentrated. Only 22 to 31% of Americans adults say they personally own a gun.
Rates of personal and household gun ownership appear to have declined over the past decades – roughly two-thirds of Americans today say they live in a gun-free household. By contrast, in the late 1970s, the majority of Americans said they lived in a household with guns.
Most of America's gun owners have relatively modest collections, with the majority of gun owners having an average of just three guns, and nearly half owning just one or two, according to a 2015 survey by Harvard and Northeastern researchers, which gave the most in-depth estimate of Americans' current patterns of gun ownerships.
But America's gun super-owners, have amassed huge collections. Just 3% of American adults own a collective 133m firearms – half of America's total gun stock. These owners have collections that range from eight to 140 guns, the 2015 study found. Their average collection: 17 guns each.
After the Las Vegas shooting, officials said the killer had 23 guns in his hotel room, and another 19 at home. Some Americans asked, shocked, why one person purchasing so many guns had not set off any red flags.
Part of the answer is that owning more than 40 guns is actually fairly common in the United States: there are an estimated 7.7 million super-owners, which might make it difficult to flag a mass shooter building an arsenal from enthusiastic collectors and gun enthusiasts piling up different kinds of guns for hunting different kinds of game, a selection of handguns for self-defense, and various accessories for the popular, customizable military-style rifles that enthusiasts have compared to lethal Lego sets for grown men.
"Why do you need more than one pair of shoes? The truth is, you don't, but do you want more than one pair of shoes? If you're going hiking, you don't want to use that one pair of high heels," Philip van Cleave, the president of the Virginia Citizens Defense League, a gun rights group, explained last year.
Super-owners were less diverse than gun owners overall, with super-owners more likely to be male, less likely to be black or Hispanic, and more likely to own a gun for protection, researchers said.
While Americans have a constitutional right to have a gun in their homes for self defense, an increasing number of Americans also appear to be armed on a regular basis outside their homes. A newly released study found that three million Americans carry loaded handguns with them on a daily basis, and nine million Americans do so on a monthly basis. Most of those choosing to carry are men.

Opinion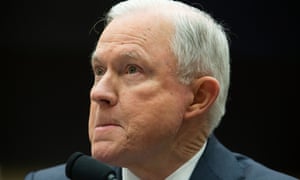 'Sessions had sworn, like the honorable southern gentleman that he is, that there were no absolutely no such contacts with the Russians, no siree.'
Photograph: Michael Reynolds/EPA
F

or so many people who are close to Donald Trump, Russia is the Bermuda Triangle of their memory.
Conversations and meetings seem to pass through this mysterious quadrant of their brains and simply disappear. Even when the wreckage is found on some server or other, they profess ignorance, confusion or innocence. And sometimes all three at once.
On Tuesday the synapses inside the skull of attorney general Jeff Sessions magically reconnected around a March 2016 campaign meeting in which he heard Trump's point man on Russian policy discuss how the candidate could get together with one Vladimir Putin.
This is kind of awkward since Sessions had sworn, like the honorable southern gentleman that he is, that there were no absolutely no such contacts with the Russians, no siree.
Fortunately for the former senator, his amnesia has recovered enough to remember that he pooh-poohed the idea of a Trump-Putin meeting. Somehow he could remember none of the other sordid details of what normal people would call collusion.
"I had no recollection of this meeting until I saw these news reports," Sessions told the House judiciary committee, before he recalled only the details of the meeting that made him look good.
Sadly this sickness may have started inside the Trump family itself, in which case Sessions is just a hapless victim of some brain-corroding virus. After all, Donald Trump Jr, the president's son, shows repeated symptoms of Moscow Memory.
It is only five long months since we learned about the slick-haired son's meeting with a Russian lawyer. Luckily his father was on hand to draft a press statement saying the meeting was no big deal: just a casual chat about Russian adoptions.
But then there were all those leaked emails from Trump Jr himself in which he set up the "adoptions" meeting. "I love it," he wrote, when offered a Russian government trove of "official documents and information that would incriminate Hillary".
Once the emails were public, Trump Jr denounced the leaks and claimed he was being wonderfully transparent after all.
This makes the latest leaks – involving WikiLeaks, no less – all the more conclusive in diagnosing this Putin-induced amnesia. It also makes them more exquisitely ironic.
As reported by the Atlantic, in the final stages of last year's presidential election, our forgetful protagonist was coordinating campaign efforts and tweets with WikiLeaks.
This was at a time when WikiLeaks was publishing vast gob-loads of hacked emails from the Clinton campaign. It was also at a time when US intelligence agencies had already identified Russia as the source of the hacked emails peddled by WikiLeaks.
A week later, Trump Jr received a direct message from WikiLeaks thanking his father for saying "I love WikiLeaks!" at a campaign rally. The message encouraged him to publicize a search tool for the massive dump of hacked emails. Just 15 minutes later, Trump himself tweeted about the "very little pick-up by the dishonest media of incredible information provided by WikiLeaks".
And then two days later, Trump Jr obliged by posting a tweet directing everyone to the search tool so helpfully suggested by WikiLeaks.
For his part, Trump Jr laments the leaking of his messages with WikiLeaks about their leaks. Being radically transparent himself, he published the thread that was already published, and tried to crack a joke about "my whopping 3 responses".
Whopping is indeed one way to describe his version of events.
But to really put the whole thing into context, you should probably listen to Mike Pompeo, Trump's director of the CIA, who said this in April: "It is time to call out WikiLeaks for what it really is – a non-state hostile intelligence service often abetted by state actors like Russia."
The slow reawakening of the Trump campaign's recollections about Russia is something of a mystery to those of us who are forced to listen to the man who led the campaign and now purports to lead the nation.
According to Donald J Trump himself, he has "one of the great memories of all time". Unfortunately his great memory somehow failed him when it came to recalling the existence of his point man on Russia, George Papadopoulos.
Since so much of TrumpWorld is a legacy of the 1980s, this seems to be a good time to recall that classic line in The Bonfire of the Vanities about grand juries indicting ham sandwiches.
Now that we have Robert Mueller's team engaged with grand juries, we seem to have stumbled on a bumper delivery of quite delicious sandwiches……………….. We could spend years examining the brain scans of the Trump family, and its closest aides, to understand how they could so confidently assert that it is simultaneously both night and day. We could search through endless medical literature for the root causes of this debilitating amnesia that only gets triggered by the words "Putin" and "Russia".
Or we could leave it to the grand juries to enjoy their ham sandwiches.