16 Nov
News and Analyses, A Foreign Perspective
Nearly all of these are English-edition daily newspapers. These sites have interesting editorials and essays, and many have links to other good news sources. We try to limit this list to those sites which are regularly updated, reliable, with a high percentage of "up" time.

World Politics
France
United States
Gena Richardson tells Washington Post that when she declined to give Moore her number in 1977, he called her high school days later to talk to her
Roy Moore is rumored to have been banned from an Alabama mall for bothering underage girls. Photograph: Ander/Zuma Wire/Rex/Shutterstock
Two more women have come forward with allegations that Roy Moore pursued them when they were working at a local mall and made unwanted advances.
A Washington Post report published late Wednesday detailed the accounts of Becky Gray and Gena Richardson, who in the late 1970s worked at the same mall from which Moore was rumored to have been banned after local talk that he had been bothering young women there.
They join a growing list of women who have alleged sexual misconduct by Moore, a former judge seeking to fill the Alabama Senate seat vacated by the US attorney general, Jeff Sessions. The controversy has roiled the Senate race one month before the state's special election, with top Republicans in Washington calling on the embattled candidate to drop out of the race.
Richardson told the Post she was a senior in high school when Moore first approached her at the Gadsden Mall in the fall of 1977, just before or after her 18th birthday. Moore, then around 30 years old, asked for her phone number and the name of her school.
Richardson said when she declined to give Moore her number, he called her school days later and asked to speak with her – prompting her to be pulled from her trigonometry class to take the call from the principal's office.
Richardson told the Post she accepted a date with Moore because she was initially flattered. But during their encounter, he drove her to an empty parking lot and tried to forcefully kiss her.
"I never wanted to see him again," Richardson, now 58 and a community college teacher, said.
Gray, who also had not yet spoken publicly, said she was 22 and working at the mall when she was approached by Moore.
"I'd always say no, I'm dating someone, no, I'm in a relationship," Gray, now 62, recalled.
"I thought he was old at that time. Anyone over 22 was just old." Gray added that Moore would linger and she complained about him to her manager.
The new allegations in the Post came just hours after another new accuser told Al.com that Moore groped her while she was in his law office in 1991. The woman, Tina Johnson, said she was 28 at the time, in Moore's office with her mother on legal business.
"He kept commenting on my looks, telling me how pretty I was, how nice I looked," Johnson said. "He was saying that my eyes were beautiful."
Johnson said Moore even asked questions about her young daughters, including if they were as pretty as she was, and grabbed her buttocks as she was leaving.
Moore's campaign did not address the new allegations, but has vehemently denied the claims made by his other accusers.
On Wednesday, a defiant Moore was joined by his lawyer, Phillip Jauregui, and his campaign chairman, Bill Armistead, at a press conference in Birmingham, at which where sought to discredit Moore's accusers. Jauregui specifically challenged the account of Beverly Young Nelson, a 56-year-old Alabama resident who on Monday alleged that Moore had sexually assaulted her when she was 16 years old.
The press conference occurred as Alabama's state Republican party gathered its steering committee for an emergency meeting on possible alternative paths forward. Party officials are reportedly weighing a write-in campaign, an approach that has also been advocated by the Senate majority leader, Mitch McConnell.
On Tuesday, McConnell publicly stated his view that Sessions, who remains broadly popular in his home state, should mount a write-in campaign if he is willing to part ways with his position as attorney general. Republican leaders have even floated the possibility that they will move to expel Moore from the Senate if he wins the election despite the allegations, even as a new poll found him now trailing his Democratic opponent, Doug Jones by 12 points amid the scandal.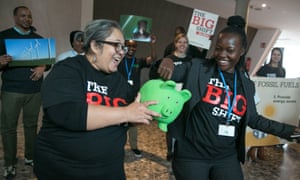 Fossil fuel protesters at the Bonn climate summit. The talks are entering the final high-level phase. Photograph: Kieria Worth/ENB/IISD
Ministers from governments around the world meeting in Bonn for the final days of the UN climate talks must prove they can pass "the Trump test" by moving on without the US on issues crucial to combating global warming, a leading climate economist has said.
"It's about getting on with it," Lord Nicholas Stern told the Guardian. "They have to get on with it. But there are good signs."
He said the recent meeting of the International Monetary Fund had proved countries were prepared to pass the test. "[We will have] the absence of the US for a little bit, but the determination at that meeting was striking. There is a determination to get on with things come what may."
A former World Bank chief economist, Stern was the author of the landmark review of the economics of climate change in 2006, which showed that tackling greenhouse gas emissions sooner would cost less and yield more economic benefits than waiting for years, or decades, until the results of climate change are clearer.
The COP23 talks discussing crucial issues related to climate change began in the former West German capital, Bonn, last week and will finish on Friday. Ministers began arriving on Wednesday for the final "high-level segment" of the talks, which are expected to include toughening pledges to cut greenhouse gas emissions made at the historic Paris conference in 2015.
Trump has begun the process of US withdrawal from the Paris agreement, which will take several years, but in the meantime the US will continue to participate in the talks. So far, the US has taken little part in discussions, but this could change in the final days.
Nicholas Stern: 'There is a determination to
get on with things come what may.'
Photograph: David Levenson/Getty Images
"We should recognise that these countries are moving very quickly [on greenhouse gases]," he said. "My view is that [emissions from] China will peak by 2030. In India, the price of solar power has fallen to three cents a kilowatt hour [on a par with coal]. That is remarkable. The dial is really turning up in India now, which is really important."
India has been a reluctant participant in previous talks. Six years ago, when the UN's climate conference was held in Durban, India and China stood alone in holding out against the proposals which led to the Paris agreement. They eventually agreed, and China went on to take a leading role in the run-up to Paris, but India's position has been less clear. The country's prime minister made an angry speech in Paris saying that developed countries should take more responsibility, but the country signed up to the ensuing agreement and since then, according to Stern, there has been much more support within the Indian government.
Stern also called for more focus on the ways for poorer countries in particular to adapt to the effects of climate change. He said this should be known as fostering "resilience", rather than adaptation as it used to be known, because resilience requires a broader range of measures and skills and it makes more sense to build and retrofit cities and infrastructure in such a way as to improve their resilience to all potential natural disasters, not just the effects of climate change.

Indigenous groups claimed a victory at the UN climate talks in Bonn on Wednesday as governments acknowledged for the first time that they can play a leadership role in protecting forests and keeping global temperatures at a safe level.
Long marginalised and often criminalised in their home countries, the "first peoples" – as they often refer to themselves – also achieved breakthroughs in terms of official international recognition of their rights, autonomy and participation in negotiations.
This represents considerable progress for the world's 370 million indigenous peoples, whose territories are estimated to contain 20% of the world's tropical forest carbon and often have to defend it against encroachments by loggers and farmers.
"This is a victory for indigenous peoples who have always been fighting for recognition of our rights as a way to protect forests and tackle climate change. This is a big advance," said Juan Carlos Jintiach of Coica, a group representing indigenous communities in the Amazon.
For much of the past 20 years, indigenous groups have been a disgruntled, fractious presence on the fringes of climate talks who were primarily portrayed as victims, but this has gradually changed along with a growing body of research showing that respect for the territorial rights of communal land is one of the most cost-effective ways of sequestering carbon.
The 2015 Paris accord recognised the contribution of indigenous knowledge in dealing with climate change, but the document approved in Bonn this week goes further by acknowledging that countries "should, when taking action to address climate change, respect, promote and consider their respective obligations on the rights of indigenous peoples and local communities."
It also proposes greater participation of indigenous communities in "leadership roles" and mentions this will have budget implications, opening the possibility that they could be covered by the Green Climate Fund.
"This shows that the international community increasingly recognises the way indigenous peoples and local communities manage their lands and territories can be an important climate change solution, because they help to protect forests and other natural resources. Now for the first time the UNFCCC [United Nations Framework Convention on Climate Change] is establishing concrete mechanisms, with funding to support those efforts," said Penny Davies of the Ford Foundation.
In a sign of the change in status, the French president, Emmanuel Macron, was scheduled to meet indigenous representatives in Bonn on Wednesday. China, which is keen to appear as a climate leader, has also softened its position on indigenous rights, long shaped by Beijing's concern about separatist movements in Tibet, Xinjiang and Inner Mongolia.
Governments should now be obliged to talk to indigenous communities when drawing up national climate targets, though their influence remains to be seen.
Former Brazilian environment minister Izabella Teixiera welcomed the move and hoped it would have positive domestic as well as international implications.
"Indigenous rights are really important to move towards a fair, low-carbon planet," she said. "I hope this can also help us avoid backsliding on this agenda in Brazil."
Clare Shakya of the International Institute for Environment and Development said new mechanisms for indigenous participation should not be used to channel their voices away from the main debate.

Donald Trump's administration plans to allow imports of elephant trophies from Zimbabwe into the US – a move campaigners fear could damage global momentum on ending the ivory trade.
In 2014, US big game hunters killing elephants in Zimbabwe were banned from bringing their trophies home, on the basis that the country had failed to show that it was taking elephant management seriously.
The decision by the US Fish and Wildlife Service (USFWS) to reverse the ban, which will also apply to trophies from Zambia, follows moves in favour of the US hunting sector that are worrying some observers. Last week US interior secretary, Ryan Zinke, a hunter himself and a keen supporter of hunting policies, established an International Wildlife Conservation Council It has a clear focus, the African Wildlife Foundation has pointed out, "on promoting the hunting industry, not conservation." Trump's sons Donald Jr and Eric are well-known hunting enthusiasts.
The USFWS decision to lift the ban was announced at the African Wildlife Consultative Forum in Tanzania – an event co-hosted by Safari Club International (SCI), a hunting rights group. The US Humane Society said the announcement showed an "uncomfortably cozy" relationship between SCI and the Trump administration.
Paul Babaz, the president of SCI, said the decision shows the administration "recognizes that hunting is beneficial to wildlife and that these range countries know how to manage their elephant populations".
The National Rifle Association (NRA), which joined with SCI to challenge the elephant trophy ban in court, also praised the rollback.
"This is a significant step forward in having hunting receive the recognition it deserves as a tool of sound wildlife management, which had been all but buried in the previous administration," said Chris Cox, executive director of the NRA's Institute for Legislative Action.
Hunting elephants is legal under strict permit systems in several African countries, and the revenue is crucial, some argue, for supporting conservation efforts. The large fees that trophy hunters pay in order to be allowed to shoot elephants, lions and leopards can be a significant source of revenue. In Zimbabwe, according to the Safari Operators Association, annual revenue this year could be as much as $130m, mainly from the US market.
But there has been an international backlash against the practice. A huge outcry over the shooting of Cecil the lion by Walter Palmer in 2015 led to calls for the dentist to be jailed, and trophy hunters are now regularly named and shamed by campaign groups. A petition to ban trophy hunting currently has 146,000 signatures.
The move from the US is seen by some as a step backwards from its strong stance against the illegal ivory trade; ivory poaching has led to a catastrophic drop in elephant populations around the world over the last 15 years.

Trees have been a source of inspiration to photographers all over the world, from the earliest practitioners to the present day, as botanical subjects and poetic symbols. Featuring photographs by celebrated artists such as Ansel Adams, Alfred Stieglitz and Agnes Warburg, an exhibition at the V&A draws on works from the collections of the museum and the Royal Photographic Society
Rimon (Pomegranate), 2011
Photograph: Tal Shochat/Victoria & Albert Museum, London
Bas-Breau, in the Forest of Fontainbleau, 1852
Photograph: Gustave Le Gray/Victoria & Albert Museum, London