18 Nov
News and Analyses, A Foreign Perspective
Nearly all of these are English-edition daily newspapers. These sites have interesting editorials and essays, and many have links to other good news sources. We try to limit this list to those sites which are regularly updated, reliable, with a high percentage of "up" time.
For more than three years, the US-led coalition has been using air strikes to help Iraqi troops retake territory from Islamic State group jihadists. But some are now tallying the human cost of the bombings. In West Mosul in northern Iraq, where Islamist militants used the population as human shields, the loss of life was especially high. FRANCE 24 investigated one air strike that killed an entire family.
Please note that some viewers may find images in this report disturbing.
Deep in the ruins of West Mosul in northern Iraq, an area closed to the population and which was booby-trapped by retreating Islamic State (IS) group fighters, another story from the long battle for Mosul is emerging: The story of the civilians trapped between the jihadists holed up in the old city and the Iraqi army, supported by coalition forces.
Every day roughly a dozen bodies – mostly those of women, children and the elderly – are dug up by firefighters. What exactly happened in west Mosul, which was liberated in July? Representatives of the international anti-IS group coalition say the lives of civilians remained a priority, although they admit that air strikes on Mosul probably killed around 350 civilians. Mosul residents say the number of collateral victims could range from 6,000 to as many as 8,500.
Our reporters looked at the story of one family that was wiped out by a single missile strike at the height of the battle against the jihadists. One of the 14,000 missiles fired by the coalition landed on their house on June 20. Did the family have jihadist links? Or did the coalition make a fatal mistake?
Our reporters also investigated the decision-making process that governs military air strikes. How is the decision taken to fire a missile and with what explosive charge? How quickly and on what basis? All of these factors can be decisive in avoiding the tragedies known collectively as "collateral damage".

World Politics
United States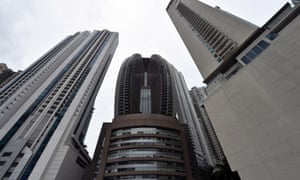 The Trump Ocean Club International Hotel and Tower 'aligned' Trump's financial interests with those of crooks, according to Global Witness. Photograph: Rodrigo Arangua/AFP/Getty Images
The Trump Ocean Club International Hotel and Tower soars over Panama City bay, a 70-storey skyscraper shaped like a sail. Donald Trump's first international hotel venture, it opened in 2011, a mix of condominiums, hotel rooms and a casino.
As one of the tallest structures in Latin America, it was a bold and lucrative expression of the Trump brand, earning him as much as $13.9m in management fees and royalties in the last three years.
By day it glints in the tropical sunshine, an apparently shining testament to the US president's business savvy.
But a curious thing happens at night. Many of the lights stay off. The restaurants are near deserted; the corridors silent. The skyscraper appears to be largely empty – a dark tower.
Many of those who bought the condos, it turns out, did so not to live there but allegedly to launder illicit money – Russian gangster money, drug cartel money, people-smuggling money.
A joint Reuters–NBC News investigation published on Friday alongside a report by the non-profit Global Witness said the skyscraper with Trump's name had ties to international organised crime.
The reports detailed how the future president gave the project to his daughter Ivanka as a "baby" effort to gain real estate experience, and said it ended up drawing a cast of characters accused of fraud, corruption and kidnapping.
Trump may not have intended to facilitate criminal activity but the Panama tower "aligned" his financial interests with crooks, said Global Witness. "Trump seems to have done little to nothing to prevent this. What is clear is that proceeds from Colombian cartels' narcotics trafficking were laundered through the Trump Ocean Club and that Donald Trump was one of the beneficiaries."
There is no evidence that the Trump Organization or members of the Trump family broke the law or knew of the criminal backgrounds of some of the tower's brokers, buyers and investors.
The White House and Ivanka Trump referred requests for comment to the Trump Organization, which issued a statement distancing itself from the tower.
"The Trump Organization was not the owner, developer or seller of the Trump Ocean Club Panama project. Because of its limited role, the company was not responsible for the financing of the project and had no involvement in the sale of units or the retention of any real estate brokers."
The story may endure. The president won last year's election on the promise of draining corruption in Washington and building a wall to keep out drugs and undesirable immigrants. Robert Mueller, the special counsel who is investigating Russian influence in the election, is looking at Trump's business dealings.
Trump lent his name but did not exert management control over the tower's construction and was under no direct legal obligation to conduct due diligence on other people involved.
But Arthur Middlemiss, a former assistant district attorney in Manhattan and a former head of JP Morgan's global anti-corruption program, told Reuters that since Panama was "perceived to be highly corrupt", anyone engaged in business there should conduct due diligence on business collaborators. If they did not, he said, there was a potential risk in US law of being liable for turning a blind eye to wrongdoing.
Trump wanted to use the Panama project as a "baby" for Ivanka, Roger Khafif, a Panamian developer who pitched the deal to Trump in 2005, told Reuters.
She helped kickstart the project a year later by selecting a Brazilian former car salesman, Alexandre Ventura Nogueira, as a lead broker to sell units. He promised quick sales at high prices. Ventura's firm, Homes Real Estate Investment & Services, delivered, selling 350 to 400 units, about $100m worth of property, he told Reuters and NBC.
He met Ivanka numerous times, met her brothers Eric and Donald Jr, and met the future president once, at a celebratory event in 2008 at Mar-a-Lago, the family's Florida estate.

At Prospect Hill in Mississippi, people came from as far as Liberia for an unlikely gathering that led to a scene of visible emotion – with 'a lot to talk about'
Alan Huffman in Red Lick, Mississippi
Claudius Ross: 'Visiting Prospect Hill brings all the pieces back together.' Photograph: Blue Magnolia Film
The gathering at Prospect Hill plantation that day could have been a casting call for a period drama set before the American civil war.
The location was remote, along a one-lane gravel road in sparsely populated Jefferson County, Mississippi. A group of about 50 people, black and white, stood in front of an archetypal southern Gothic home, chatting amiably about slave owners and slaves.
At one point, a lone costumed man in a top hat strolled through. Nearby, an elderly white woman held the hand of a black man with whom she was deeply engrossed in conversation. Then a van pulled up and discharged a group of African visitors who were running an hour late, and the crowd broke into applause.
As she surveyed the scene, Prospect Hill's de facto director, Jessica Crawford, said: "This is all actually a bit surreal."
She was right: where but in a dream would stand-ins for slave owners and slaves gather in the middle of nowhere, just to chat? Yet these were actual descendants of Prospect Hill's original slave owners and slaves, gathered for the first of a series of reunion events held between November 2011 and April 2017.
Each attendee existed along a vast network of interconnected circuits, and once they got together, all the circuits lit up.
'It changed my whole life. It helped me to understand who I am'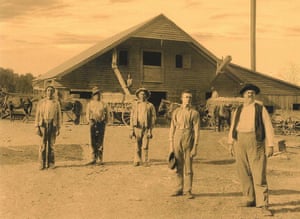 BH Wade, a descendant of the founder of Prospect Hill, poses with workers in front of the plantation's cotton gin in 1902. Photograph: Courtesy Jim DeLoach
With the arrival of the van, a missing piece fell into place: the passengers were descendants of slaves who had been emancipated from the plantation before the civil war and emigrated to a freed-slave colony in what is now the west African country of Liberia. The contingent had driven all night to attend the event, completing a trip across a chasm that encompassed 170 years and 5,000 miles.
Their leader, Evangeline Wayne, noted that her ancestors had been taken from Africa during the slave trade. After decades in the US, their descendants had been allowed to immigrate "back" to Africa, though they'd never actually been there before.
Then, as a result of Liberia's civil wars, which lasted from 1990 to 2003, Wayne herself immigrated "back" to the US, though she had likewise never been to the country before.
At Prospect Hill she found herself being embraced by people she'd never met as if she were a long-lost friend. "I didn't expect this," she said, smiling and fighting back tears. "I don't know what I expected, but it wasn't this."
Wayne cannot definitively document her connection to Prospect Hill because Liberia's national archives were destroyed during the civil wars, though she remembers her grandmother mentioning a Mississippi plantation and a "Captain Ross".
Isaac Ross, a revolutionary war veteran, founded the plantation and provided in his will for the freeing of its slaves to emigrate to a colony in what is now Liberia – Prospect Hill's primary claim to fame.
"To be honest, I'm unsure of who, and what, I am, and where I fit in," Wayne observed, with visible sadness. "I'm considered a foreigner in Liberia, even though I'm from there, and it's the same in the US." When she met James Belton, a descendant of Prospect Hill slaves who had chosen not to emigrate, they both encountered someone whose life represented what their own might have been, had their ancestors made a different choice.
Unsure what to say, they simply embraced.
Belton said the reunions had helped him see Prospect Hill's history from different vantage points. "In this country, we have so much division, black, white and what have you. And things like this, if it's put out there where you can see it, it will let people know you can have unity regardless of what happened 150 years ago. It was a rare opportunity for everyone."
Claudius Ross, a Liberian, visited Prospect Hill in June, when he was interviewed by the documentary film-makers Alison Fast and Chandler Griffin, who have been compiling footage from the reunion events. He became curious about his own background after his family was threatened by fighters from Liberian indigenous groups who were at war with his own ethnic group, freed slave descendants known as Americo-Liberians.
After he moved to the US in 2007, Ross was distressed to read that some Liberian immigrants had enslaved members of indigenous tribes. Then he read about Prospect Hill and recognized his family's connection.
In Liberia, he recalled being told: "'You don't belong here. Go where you came from.' So I was humiliated. I was sad. It led me on this journey of trying to find out exactly who I was. You know, 'What does my name come from? What does it mean? Who does it belong to?'"
Visiting Prospect Hill, he said, "brings all the pieces back together". He added: "It's also a celebration for me, knowing that I do have a history. I'm not just a wandering person in the galaxy. I do have a spot, I do have a name, I do have a light."
Mississippi-in-Africa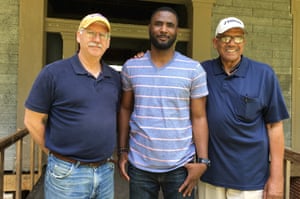 James Belton, Claudius Ross and Sam Godfrey. Photograph: Alison Fast and Chandler Griffin/Blue Magnolia
Charles Greenlee, a white descendant of the plantation's slave owners, said he was "filled with anxiety the week prior to the reunion, as well as the day of the event". He could barely contain his emotions as he watched the Liberians disembarking from the van.

Opinion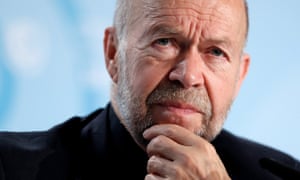 James Hansen in Bonn: he and his fellow Nasa researchers first raised the alarm about global warming in the 1890s. Photograph: Friedemann Vogel/EPA
O

ne of the fathers of climate science is calling for a wave of lawsuits against governments and fossil fuel companies that are delaying action on what he describes as the growing, mortal threat of global warming.
Former Nasa scientist James Hansen says the litigate-to-mitigate campaign is needed alongside political mobilisation because judges are less likely than politicians to be in the pocket of oil, coal and gas companies.
"The judiciary is the branch of government in the US and other countries that is relatively free of bribery. And bribery is exactly what is going on," he told the Guardian on the sidelines of the UN climate talks in Bonn.
Without Hansen and his fellow Nasa researchers who raised the alarm about the effect of carbon emissions on global temperatures in the 1980s, it is possible that none of the thousands of delegates from almost 200 countries would be here.
But after three decades, he has been largely pushed to the fringes. Organisers have declined his request to speak directly to the delegates about what he sees as a threat that is still massively underestimated.
Instead he spreads his message through press conferences and interviews, where he cuts a distinctive figure as an old testament-style prophet in an Indiana Jones hat.
He does not mince his words. The international process of the Paris accord, he says, is "eyewash" because it fails to put a higher price on carbon. National legislation, he feels, is almost certainly doomed to fail because governments are too beholden to powerful lobbyists. Even supposedly pioneering states like California, which have a carbon cap-and-trade system, are making things worse, he said, because "half-arsed, half-baked plans only delay a solution."
For Hansen, the key is to make the 100 big "carbon majors" – corporations like ExxonMobil, BP and Shell that are, by one account, responsible for more than 70% of emissions – pay for the transition to cleaner energy and greater forests. Until governments make them do so by introducing carbon fees or taxes, he says, the best way to hold them to account and generate funds is to sue them for the damage they are doing to the climate, those affected and future generations.
Hansen is putting his words into action. He is involved in a 2015 lawsuit against the US federal government, brought by his granddaughter and 20 others under the age of 21. They argue the government's failure to curb CO2 emissions has violated the youngest generation's constitutional rights to life, liberty, and property.
A district court is due to hear the case in February in Oregon, though the federal government has tried to delay the case.
Hansen believes Donald Trump's actions to reverse environmental protections and withdraw from the Paris accord may be a blessing in disguise because the government will now find it harder to persuade judges that it is acting in the public interest.
"Trump's policy may backfire on him," he said. "In the greater scheme of things, it might just make it easier to win our lawsuit."
He feels a growing sense of urgency. Current government commitments are so inadequate that temperature rises are currently on course to exceed 3C by the end of the century. Hansen says that would mean existing problems – rising sea levels, displacement by flooding, droughts disrupting food production, wildfires consuming forests, worsening storms and hurricanes – would get three times worse.
"Three degrees would be disastrous. You can imagine the planet becoming ungovernable because we would lose the coastal cities where most people live … You'll see migrants from those parts of the world and also so much disruption to the centres of wealth. So we can't go down that path."
Hansen is a believer in direct action. "I've been arrested five times. The idea was to draw attention to injustice," he says. He has also testified on behalf of others who have lost their liberty during climate campaigns. On January, he will speak in defence of an activist who turned off the tar sands pipeline in North Dakota.
But he says litigation and political mobilisation are more effective than protests.
"Those are defence. We should be on the offensive. The lawsuits versus Trump and the fossil fuel industry are offence. People should use the democratic process," he says. "That's our best chance. It's better than getting arrested."…………..
According to Hansen, the action cannot come too soon. In a press conference at the climate conference, which is the first under the presidency of a small island state – Fiji – he noted that the risks are rising and so should the push for justice.
"We are entering a period of consequences and are in danger of being too late," he warned. "I have come to note that greenhouse gas climate forcings are accelerating, not decelerating, and sea-level rise and ocean acidification are accelerating. We confront a mortal threat, now endangering the very existence of island and low-lying nations in the Pacific and around the planet. Accordingly, ambition must be increased and enforced."