20 Nov
News and Analyses, A Foreign Perspective
Nearly all of these are English-edition daily newspapers. These sites have interesting editorials and essays, and many have links to other good news sources. We try to limit this list to those sites which are regularly updated, reliable, with a high percentage of "up" time.

World Politics
Germany
United States
The Trump administration's dismantling of environmental regulations has intensified a growing civil rights battle over the deadly burden of pollution on minorities and low income people.
Black, Latino and disadvantaged people have long been disproportionately afflicted by toxins from industrial plants, cars, hazardous housing conditions and other sources.
But political leaders, academics and activists spoke of a growing urgency around the struggle for environmental justice as the Trump administration peels away rules designed to protect clean air and water.
"What we are seeing is the institutionalization of discrimination again, the thing we've fought for 40 years," said Robert Bullard, an academic widely considered the father of the environmental justice movement.
"There are people in fence line communities who are now very worried. If the federal government doesn't monitor and regulate, and gives the states a green light to do what they want, we are going to get more pollution, more people will get sick. There will be more deaths."
Activists and some in Congress now view the blight of pollution as a vast, largely overlooked civil rights issue that places an unbearable burden on people of color and low-income communities.
Senator Cory Booker, a Democrat from New Jersey, recently said: "Civil rights have to include, fundamentally, the right to breathe your air, plant tomatoes in your soil. Civil rights is the right to drink your water.
"If your children don't have access to clean air and water, all the ideals we preach in this country are a lie. Environmental justice must be at the center of our activism in our fight to make real the promise of America."
A superfund site is land in the US that has been contaminated by hazardous waste and identified by the EPA as a candidate for cleanup because of risks to human health, or the environment.
Last month, Booker unveiled new legislation, supported by a group of senators including Bernie Sanders and Elizabeth Warren, that he said would help eliminate environmental injustice. The bill would require federal agencies to address the issue, force authorities to consider existing pollution when allowing new industrial facilities and hand individuals the power rto use the Civil Rights Act to sue over pollution.
Mustafa Ali, who helped create the Environmental Protection Agency's (EPA) office of environmental justice and worked there for 24 years, told the Guardian he's been alarmed by proposed EPA budget cuts and the federal government's heavily-criticized response to the ongoing humanitarian disaster in Puerto Rico, which was struck by Hurricane Maria in September.
"I left the EPA because of the proposals to roll back legislation that will have direct impacts on local communities," he said. "Ten months in, they have yet to move forward any action to help communities be healthier. People in Puerto Rico are drinking toxic water. Unfortunately, so far, I've been proved right in my decision to leave. I wanted them to prove me wrong."
The Trump administration has targeted dozens of regulations it says have stymied economic growth. It has moved to axe an Obama-era plan to reduce emissions from coal-fired power plants, delayed new standards to cut toxic fumes from vehicles and dropped a proposed ban on a pesticide linked to developmental delays in children.
An EPA spokeswoman said the agency is "pursuing common sense reforms that reduce regulatory burden while maintaining environmental and public health protection". She said the agency's leadership is "refocusing EPA on its core mission" to tackle the most significant environmental and public health problems.
"Under the nation's environmental laws, the US has made great progress in cleaning up the air, land, and water," she said. "However, we acknowledge that many low income, minority and tribal populations still bear a disproportionate burden of potential risk from sources of pollution."
The Trump administration's proposed budget outlined a plan to close the EPA's office of environmental justice, although this plan now appears to have been shelved with the office shifting to be directly under the purview of EPA administrator Scott Pruitt.
"This move is a reaffirmation of administrator Pruitt's commitment to the mission and goals of the agency's environmental justice program," said the EPA spokeswoman.
But Ali said there is little evidence the agency is focused on vulnerable communities, claiming it is a "particular slap in the face" that the EPA wants to cut funding for anti-lead programs given that the largely black city of Flint, Michigan, continues to suffer from lead-tainted water, three years after the scandal was exposed.
Recent high-profile controversies such as Flint, where a series of failures allowed lead to leach into the drinking supply, and the Dakota Access pipeline, where protestors in North Dakota have clashed with police over concerns the Standing Rock tribe's water will be contaminated, have elevated the profile of environmental justice. But similar problems have dotted the US for years, often lingering stubbornly.
I had never heard of environmental racism until I was a victim of it. It's sickening that this is going on in America
Booker recently embarked on a tour of festering environmental problems suffered largely by minorities, including a North Carolina community next to hog farms that spray untreated waste onto nearby fields, meaning that opening windows or hanging washing outdoors are risky endeavors. The industry dismisses these claims.
Booker also visited Uniontown, Alabama, which he said had been "ruined" by a giant industrial waste dump and the so-called "cancer alley" – communities that live alongside an infamous corridor of petrochemical plants in Louisiana. But he said it wasn't necessary to travel far from his home state to understand the problem.
"I became an environmentalist, I have to be candid with you, not because of the effects of global warming some time in the future," said Booker, a former mayor of Newark, New Jersey, at a time when the city was experiencing its own problems with lead contamination of drinking water. "I became an environmentalist because I saw horrific examples of environmental injustice and how it was hurting my community in every single way."

 Opinion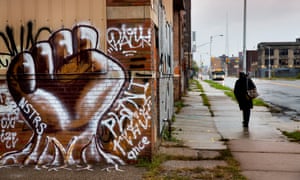 A street in Detroit. 'Civil society can lift up the downtrodden and improve American life in myriad other ways.' Photograph: Barry Lewis/Corbis via Getty Images
N

ot so long ago, conservative thinkers and Republican leaders were strong champions of private charity. George HW Bush talked about a "thousand points of light", while his son created a new White House office to engage nonprofits.
But lately the right's love affair with philanthropy and civil society has fizzled. Donald Trump – whose claims of generous giving were debunked during the campaign – has shown no interest in forging partnerships between government and philanthropy since taking office. He has wooed a parade of business executives and minor celebrities while largely ignoring leaders from the nonprofit world – save for allies on the religious right such as Jerry Falwell Jr.
The administration's proposed cuts to agencies such as the National Institutes of Health and the National Endowment for the Arts would choke off billions of dollars in grants that flow to universities, hospitals, museums and community development groups.
A Trump-dominated Republican party seems to have no such social conscience
Now, Republicans in Congress are advancing tax proposals that would lower charitable giving by billions of dollars and deal a major blow to the nonprofit sector.
The Republican's new cold shoulder toward nonprofits – which employ 10% of the labor force and enrich every corner of American life – isn't so surprising. It reflects the rising grip of libertarianism within the party, as well as a tribal fixation with cultural enemies.
These trends have marginalized conservatives who actually care about the poor and see local nonprofit organizations and faith-based social service groups as key players in the fight against poverty. While such thinkers have sometimes peddled the fantasy that charity could replace the government safety net, they've channeled a genuine belief – one long shared across party lines – in the power of civil society to lift up the downtrodden and improve American life in myriad other ways.
A Trump-dominated Republican party seems to have no such social conscience. And, increasingly, the populist right views the nonprofit world with hostility.
In other countries that have veered into authoritarianism, like Russia, civil society groups have faced outright suppression. Nothing like that is happening in the US yet, but Trumpist culture warriors have cast nonprofits and philanthropists as key villains in a narrative that pits coastal elites against the common (white) man.
Hillary Clinton may have lost the election, but the Clinton Foundation – an organization that mainly works on global health issues – remains at the center of feverish conspiracy theories. And hardly a day goes by without Breitbart running a paranoid story involving Planned Parenthood, the ACLU, or George Soros. Craven university leaders beholden to PC activists are another favorite target of scorn in the conservative media.
Republicans like the Bush family may still regard civil society and the charitable sector as manifesting some of America's finest values. But the more dominant mood on the right is that these institutions pose a threat to those values.
All of which helps explain Republican party tax proposals that amount to the most sweeping attack on charitable giving and the nonprofit sector in memory.
According to an analysis by the Joint Committee on Taxation provisions of the House bill – specifically, a doubling of the standard deduction – 31 million taxpayers would no longer be incentivized to make charitable deductions, gutting a tax break that has helped spur giving for 100 years.
Scrapping the estate tax – another feature of the House bill (although not the Senate version) – would lower donations by eliminating a major incentive for the wealthiest Americans to devote large fortunes to philanthropy.
Overall, the proposed changes could lower charitable giving by as much as $13bn a year, according to one estimate – a falloff that would hurt nonprofits even as they're called on to do more in an era of declining government budgets. The bill would also impose a 1.4% tax on income generated by university endowments, and penalize nonprofit executive salaries over $1m a year – although it says nothing about exponentially higher levels of corporate compensation.
There's no question that philanthropy deserves new scrutiny. It's an opaque sector that's become more dominated by super-wealthy donors who do, in fact, largely live on both coasts and often hold different views from those of most Americans. There is a case for reforms that would bring more transparency to philanthropy, limit politicized giving for policy advocacy, and incentivize more citizens of modest means to make charitable donations to offset the growing clout of mega-givers. Donor-advised funds also need more regulation, to ensure timely payouts to charity by entities which are now attracting billions of dollars in tax-deductible gifts.