21 Nov
News and Analyses, A Foreign Perspective
Nearly all of these are English-edition daily newspapers. These sites have interesting editorials and essays, and many have links to other good news sources. We try to limit this list to those sites which are regularly updated, reliable, with a high percentage of "up" time.
France will be the first to welcome African refugees evacuated from Libya to Niger by the United Nations refugee agency, French officials announced Monday.
FRANCE 24 screen grab
After experiencing appalling living conditions at camps in the north African country, the refugees were taken to Niger on November 11 by the UN High Commissioner for Refugees (UNHCR), where they have been looked after.
The 25 Eritreans, Ethiopians and Sudanese including 15 women and four children should reach France "at the latest in January," the interior ministry said.
Libya has long been a major transit hub for migrants trying to reach Europe, and many of them have fallen prey to serious abuse at the hands of traffickers and others.
US television network CNN aired footage last week of an apparent live auction where black men are presented to buyers as potential farmhands and sold off for as little as $400 (340 euros).
And the European Union's policy of helping Libyan authorities intercept migrants crossing the Mediterranean and returning them to "horrific" detention has been branded "inhuman" by UN human rights chief Zeid Ra'ad Al Hussein.
Pascal Brice, the director general of OFPRA (French Office for the Protection of Refugees and Stateless Persons) told AFP that France will take in the migrants following a visit to Niger's capital Niamey.
He said the migrants who were selected because they need protection will be given refugee status "very quickly" when they arrive in France.
"It is above all a way of saving people who have come out of a hell, with torture, rape and abduction of children," Brice said, adding the refugees were "almost all victims of sexual violence".
"The challenge now is that other countries, Europeans, Americans, Canadians, join this process," said Brice.
A further 47 refugees who were already living in Niger will also be taken in by France.
Alessandra Morelli, head of UNHCR in Niamey, said "we have done miracles" following the evacuation.
Although the figure of 25 refugees is tiny when compared to the 44,000 registered by UNHCR in Libya, Morelli said "we are convinced that there will be other operations".

World Politics
United States
Leigh Corfman on her encounter with Roy Moore at age 14 – video
The woman who first spoke out to accuse Alabama Senate candidate Roy Moore of sexually assaulting her when she was 14 said on Monday it took her a long time to get her self-esteem back after she blamed herself for what she says happened. Leigh Corfman was 14 in 1979 when she alleges Moore, then 32, took her to his house, removed most of her clothes, groped her and put her hand on his genitals. He took her back to her home when she told him she was uncomfortable and wanted to leave, but she was emotionally scarred for decades after, she said.
Moore denies the allegations.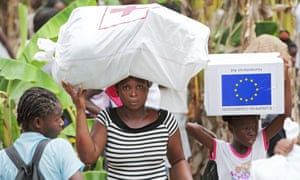 Aid is distributed for victims in Haiti in 2010. The US says it is ending the program because conditions in Haiti have improved, but others called the move 'heartless'. Photograph: Alamy Stock Photo
The Trump administration said on Monday that it was ending a temporary residency permit program that has allowed almost 60,000 citizens from Haiti to live and work in the United States since a 2010 powerful earthquake shook the Caribbean country.
The homeland security department said conditions in Haiti had improved significantly, so the benefit will be extended one last time – until July 2019 – to give Haitians time to prepare to return home.
"Since the 2010 earthquake, the number of displaced people in Haiti has decreased by 97%," the department said in a press release. "Haiti is able to safely receive traditional levels of returned citizens."
Advocates and members of Congress from both parties had asked the Trump administration for an 18-month extension of the program, known as "temporary protected status". The government of Haitis' president, Jovenel Moïse, also requested the extension.
Advocates for Haitians quickly criticized the decision, arguing the conditions in the island have not improved nearly enough for Haitians to be deported.
Florida congressman Mario Díaz-Balart expressed his "strong opposition" to the measure and urged the administration to reconsider.
"Forcing them to leave the United States would be detrimental," he said in a press release. "Almost eight years later, Haiti remains in total disarray and still requires much rebuilding."
Amanda Baran, policy consultant at the Immigrant Legal Resource Center, called the termination of the status a "heartless decision" and said the Trump administration has no plan in place for the US-born children who may now lose their Haitian parents and caregivers to deportation.
While Haiti has made advances spurred by international aid since the quake, the country remains one of the poorest in the world. More than 2.5 million people, roughly a quarter of the population, live on less than $1.23 a day, which authorities there consider extreme poverty.
The United Nations last month ended a peacekeeping mission in Haiti that, at its peak, included more than 10,000 troops. Its new mission comprises about 1,300 international civilian police officers and 350 civilians who will help the country try to reform a deeply troubled justice system………..Maryland senators Ben Cardin and Chris Van Hollen, along with fellow Democrat Dianne Feinstein of California, last week unveiled new legislation to protect undocumented immigrants living under temporary protected status. It would make immigrants under the program eligible to apply for legal permanent residency after three years.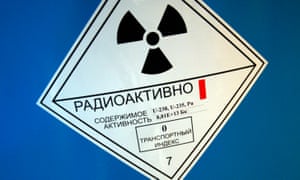 Nuclear experts have said there was no evidence to suggest the leak posed a significant hazard to human health or the environment. Photograph: Martin Argles for the Guardian
A secretive Russian nuclear facility has denied it was behind high atmospheric concentrations of the radioactive isotope ruthenium-106, after Russia's meteorological service confirmed levels several hundred times the norm were found in several locations in the country during tests in late September.
Greenpeace has called for an investigation into a potential cover-up of a nuclear accident after Russia's nuclear agency had denied European reports of increased ruthenium-106 levels. Rosgidromet, the weather monitoring service, released test data on Monday that showed levels were indeed much higher than normal. The most potent site was Argayash in the south Urals, where levels were 986 times the norm.
Argayash is about 20 miles from Mayak, a facility that reprocesses spent nuclear fuel. The plant facility issued a denial on Tuesday. "The contamination of the atmosphere with ruthenium-106 isotope registered by Rosgidromet is not linked to the activity of Mayak," a statement said.
It went on to reassure people that the measurements were well below dangerous levels: "The measurements which Rosgidromet has released suggest that the dose people might have received is 20,000 times less than the allowed annual dose and presents no threat at all to health."
Nuclear experts also said there was no evidence to suggest the leak posed a significant hazard to human health or the environment.
A report earlier this month from France's Institute for Radioprotection and Nuclear Safety (IRSN) said ruthenium-106 had been detected in France between 27 September and 13 October.
In mid-October, the state nuclear agency Rosatom issued a statement saying that samples from across Russia during the same period showed no trace of ruthenium-106 after European agencies had reported levels that were higher than usual.
Greenpeace Russia called on Rosatom to open "an in-depth inquiry and publish the results about the incidents at Mayak", and the group also said it would ask prosecutors to look into the potential concealment of a nuclear incident.
Later on Tuesday, Rosatom released a statement saying the scare had been down to a "misreading" of the data.
"Rosatom categorically confirms there have been no unreported accidents or reportable events on any of its nuclear sites. It also confirms that the recent Ru-106 emission which is being reported is not linked to any Rosatom site," the nuclear agency said.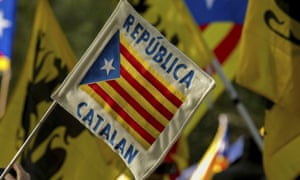 Flags and banners at a pro-Catalan independence rally in Brussels, Belgium. Photograph: Olivier Matthys/AP
Madrid is paving the way for Catalonia to be given the power to collect and manage its own taxes, similar to the system enjoyed by the autonomous Basque country, in an attempt to defuse the crisis over an illegal referendum on independence for the region.
Senior sources in the Spanish government have told the Guardian that although there remains intense opposition within the ruling People's party (PP) to any future referendum on self-determination, there is a renewed willingness to open discussions on a new fiscal pact under which Catalonia would have greater control of its finances.
"If the Catalans ask for a fiscal pact, we are ready to discuss this," one senior source said. "The Basque country [in northern Spain] and Navarre collect their own taxes. They have their own system and there is a meeting between the Basque country and the central government and they decide how much they contribute to foreign policy and defence. It's a negotiation. Every five years.
"We are open to discuss this, taking into account that the constitution of Spain also establishes solidarity [among the Spanish regions]."
A fiscal pact was proposed in 2012 by Catalonia's then president, Artur Mas, but the Spanish government blocked the move over concerns that it would be destabilising at a time when Spain appeared to be in dire economic peril.
A cross-party commission on potential constitutional reform opened discussions last week on a new settlement between the Catalans and the Spanish government, with the support of the prime minister, Mariano Rajoy.
Madrid has consistently taken a tough line with the Catalan secessionists since the crisis exploded in recent months, culminating in the referendum on 1 October and the Catalan government's unilateral declaration of independence on 27 October. Rajoy responded by stepping in to take control of the region and sacking the Catalan regional government.
Eight former Catalan ministers were taken into custody pending investigations by Spain's top criminal court, the Audiencia Nacional. The deposed Catalan president, Carles Puigdemont, who fled with four ministers to Brussels this month, is awaiting a court hearing over a European arrest warrant issued on charges of rebellion, sedition and the misuse of public funds.
Spanish government sources insist that the establishment of parliamentary commission on constitutional reform is a genuine attempt to move on from the dispute. Fresh elections have been called for the Catalan parliament.
The Spanish government intends to lift article 155 of the Spanish constitution, by which it imposed direct rule on the region, once a new regional government is formed committed to ruling in accordance with the constitution.
"When there is a government, and this government stays behind the framework of the constitutional order, we will drop 155. As soon as there is a government, whoever the government is," a source said.