23 Nov
News and Analyses, A Foreign Perspective
Nearly all of these are English-edition daily newspapers. These sites have interesting editorials and essays, and many have links to other good news sources. We try to limit this list to those sites which are regularly updated, reliable, with a high percentage of "up" time.

World Politics
United States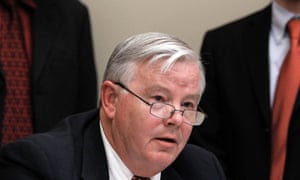 Joe Barton, seen during a 2010 House committee hearing on the role of BP in the Deepwater Horizon Explosion and Oil Spill. Photograph: Haraz N. Ghanbari/AP
Associated Press in Washington
The Texas Republican representative Joe Barton told a woman he would complain to US Capitol Police if sexually explicit photographs of him and other material from their relationship were to be exposed publicly, according to a published report.
The Washington Post reported the threat on Wednesday after Barton, from North Texas, apologized for a nude photo of him that circulated on social media. The photo of Barton appeared on an anonymous Twitter account. It was not immediately known who posted the photo or when it was taken.
Barton, a member of the conservative House Freedom Caucus, issued a statement saying that while separated from his second wife, prior to their divorce in 2015, he had sexual relationships "with other mature adult women". The 68-year-old said each relationship was consensual and has ended.
"I am sorry I did not use better judgment during those days," said Barton, the longest-serving member of Congress from Texas. "I am sorry that I let my constituents down."
Barton announced his re-election bid this month. His district includes several counties in the Dallas-Fort Worth area. Earlier on Wednesday, his spokeswoman told The Dallas Morning News that the congressman has no plans to step down.
A woman whom the Post did not identify told the newspaper of Barton's threat over the sexually explicit photographs, videos and messages he had sent to her. The woman described sexual encounters and contact extending over five years, beginning with her posting a message on Barton's Facebook page in 2011.
She also shared with the Post a secretly recorded telephone conversation with Barton in 2015 in which he warned her against using the material "in a way that would negatively affect my career".
The Post reported that the woman, who is not married, spoke on the condition of anonymity to protect her privacy.
A message left at Barton's district office in Arlington, Texas, was not returned. The voicemail for his office in Washington was full.
In a statement to the Post, Barton said a transcript of the telephone conversation provided by the newspaper may be "evidence" of a "potential crime against me". He also said Capitol police had informed him on Wednesday they were opening an inquiry.

M

ore than half of the world's population now lives in cities, but many people are residing in a state of limbo, leading a precarious existence on the margins, excluded from the promises of urban life. The world's population is on the move more than ever before, driven by conflict and persecution, by the threat of environmental catastrophe and the lure of a better life, but cities simply aren't prepared to receive their new arrivals.
Over the last two decades, Guardian photographer David Levene has documented the ways that people are living and working in cities around the world, how they make do with the bare minimum of resources to carve out space for themselves and their families in the most precarious of circumstances, and how cities are being polarised into places of haves and have-nots, with the right to the city relentlessly eroded.
From the yurt encampments on the peripheries of Ulaanbaatar built by herders following the disastrous loss of livestock during extreme winters, to the self-built city of the Calais Jungle refugee camp, the growing homeless population of San Francisco forced on to the streets by the tech boom, and the dislocated town of Abu Dis, now cut off from Jerusalem by a huge concrete wall, Levene's photographs reveal a shared experience: of human ingenuity against the odds………………….
By 7am, the pews of St Boniface Catholic church in San Francisco are already full. Beneath the ornately painted ceiling and romanesque arches that spring from huge marble columns, bodies fill every space on the rows of wooden benches. But the congregation isn't here to pray: they've come here to sleep.
The ornate nave of St Boniface is one of the few places where some of San Francisco's 7,000-strong population of homeless people can come to rest, thanks to the Gubbio Project, a local non-governmental organisation. And it is one of the only such safe havens during the daytime. Most homeless shelters in the city close early in the morning and don't allow people to stay during the day, unless they have a medical condition that requires it, while the city's recent ban on sitting or lying on sidewalks in daytime means homeless people have to keep on the move.
Yet the daylight hours provide their best chance for peace. Many of the city's rough sleepers force themselves to stay awake at night for fear of being attacked or robbed, so save rest for the daytime. The queue outside St Boniface extends around the block by 6am every morning, with over a hundred people on average waiting to get some rest and access church amenities like bathrooms, blankets, clothing vouchers and haircuts.
I've salvaged about $400 worth from that dumpster. I guess that makes me part of the tech industry, but I don't feel like it

John Pobuda
As the rise of the Bay Area tech industry has driven up rents and the rate of evictions, San Francisco is struggling to house its low-income residents more than ever before. While statistics compiled by the US Department of Housing and Urban Development show that homelessness has been declining steadily across the country since 2007, the west coast is a different story. California is one of the five states to see the greatest increase, now accounting for 21% of the entire nation's homeless population, with both Los Angeles and San Francisco dotted with encampments of tents and shacks across the city.
In 2016, San Francisco declared a "shelter emergency", a piece of legislation usually reserved for natural disasters such as floods and earthquakes, following similar moves in 2015 by Los Angeles, Portland, Seattle and King County, Washington. It was announced a week after city officials had cleared out a sprawling homeless encampment under a highway overpass where as many as 300 people had been living in tents and makeshift shelters.
A few blocks away from St Boniface church stands the gleaming white headquarters of Airbnb, a former factory building now kitted out with themed meeting rooms modelled on holiday rentals offered through the home-sharing platform – including tents and camper-vans. Across the street stands a line of tents of a different kind, home to community of around 20 people sheltering beneath the flyover.
Now valued at $30bn (£23bn), Airbnb has become the ultimate poster child of the "sharing economy", yet it has been roundly accused of exacerbating the city's homelessness problem by taking thousands of units out of the rental market. "We believe in a world where all seven billion of us can belong anywhere," is the company's motto – a sentiment that jars with the tents on its doorstep.
John Pobuda, a 58-year-old former US army private from Minnesota, is one resident of the undercroft below the deck of Interstate 80, who manages to scratch a living from what Airbnb throws in the trash. "Cans, bottles, extension cords, piping, copper – it's amazing what people throw away," he says. "I've salvaged about $400 worth from that dumpster. I guess you could say that makes me part of the technology industry, but I don't feel like it."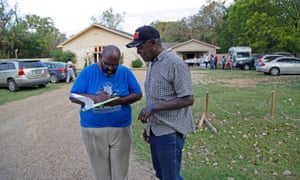 Eugene Keahey, left, pastor at Mount Zion Baptist church, gets a volunteer to start a sign-in sheet for people in need of basic supplies from the church located in Sandbranch, Texas. Photograph: Stewart F House
I

t's a sweltering Saturday in October and Pastor Eugene Keahey is becoming agitated. His flock live in a Texas town that hasn't had running water in 30 years and the donated bottled water they rely upon is in short supply.
"We got six cases of water from a donor but two have already gone in the last hour," said Keahey, eyeing the line of people waiting for their weekly handout of food and water from the Mount Zion Baptist church in Sandbranch, a largely African American community that lies 20 minutes and a world away from Dallas.
Recent hurricanes in Texas and Florida have diverted the attention of non-profits away from the sisyphean struggle endured in Sandbranch. "I'm going to have to come up with a plan, get on Facebook and beg or borrow water from somewhere," said Keahey.
"People come for donations from outside the town and it's difficult to say, 'No you can't get water because you've got running water at home.' My test is to say 'What do you do with the bottled water?' If they just say they drink it, I have to say no because people here shower, brush their teeth with it, everything."
Keahey, a stout man with a greying beard and half-moon glasses, rubbed his face. "This is a full-time job. It's not part time. Water is like gold here."
Sandbranch has no water pipes, sewerage, trash collection or street lights. In an added dash of irony, the sprawling Dallas Southside water treatment plant is situated about 10 yards from Sandbranch, its rusting barbed wire fence running along the northern boundary of the town.
The slow, dry decay of Sandbranch is startling but little known even among the Dallasites who neighbor this crumbling enclave that extends off a quiet stretch of looping highway to the south of the metropolis. The population once stood at more than 500, dwindled to less than 100 by 2010 but has anecdotally rebounded with some newcomers attracted by the cheap land.
"Everyone around us has water but not here," said Detra Newhouse, a 46-year-old who grew up in Sandbranch with her grandparents. "For a while people didn't even bathe. Some still don't. There's a man who lives nearby and I don't think he's had a proper bath in 20 years.
"We are a dirty little secret no one wants to talk about. I was listening to MSNBC talk about Flint, Michigan, the other day and what is happening there is unconscionable. But I thought, 'Yeah, and what about us? What about us?'"
Many residents are at a loss as to why they have been forgotten. Officially, Sandbranch's woes stem from being small, unincorporated and situated on a floodplain area that restricts new development.
But the fact that low-income minority areas in the US are often blighted by environmental problems, whether it's tainted water or toxic air from nearby industrial plants, is well understood here. Sandbranch is a jarring example of environmental injustices that have pockmarked the US for decades.
"We don't have water here and you know why?" asked Ivory Hall, a spry 83-year-old black man who deftly slaps my arm as he makes his point. "The pigment of my skin. If I were white like you I bet they'd have water down here."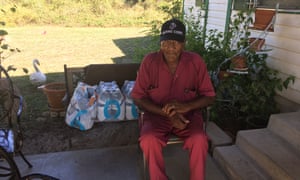 Ivory Hall: 'If I were white like you I bet they'd have water down here.' Photograph: Oliver Milman for the Guardian
Newhouse easily draws upon fonder Sandbranch memories; of collecting eggs from the chickens at the back of the house, hanging upside down in trees, getting penny candies from the corner store, playing in the then unpaved streets with other children until the dark finally forced them indoors.
There was a well at her grandparent's house and the children would press their mouths to the nozzle of the pump and gleefully guzzle the water. "It was so refreshing and it was so cool," Newhouse said. "I had the best childhood ever."
By the mid-1980s, Newhouse had moved in with her parents in Dallas and noticed a difference in the well water when she visited Sandbranch. The liquid was brown, laced with sand. It emitted a nauseating smell.
"I got used to being able to fill up a cup of water and drink it but then I'd go to Sandbranch and have to stop and think, 'I can't do that – I could die,'" she said.
Later, as an adult, Newhouse's job required trips to India, where it became clear she had diverged from the American norm. "Places like Mumbai, Hyderabad, Bangalore – you wouldn't dare drink the water there," she said. "I thought, 'Dang, we are living like India. I'm living like an Indian woman.'"