25 Nov
News and Analyses, A Foreign Perspective
Nearly all of these are English-edition daily newspapers. These sites have interesting editorials and essays, and many have links to other good news sources. We try to limit this list to those sites which are regularly updated, reliable, with a high percentage of "up" time.

World Politics
Ireland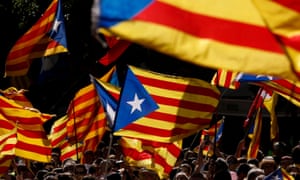 Demonstrators wave the Catalan 'estelada' in Barcelona. Photograph: Pau Barrena/AFP/Getty Images
A

t 7.50am on 1 October, a car tore down a narrow street in Barcelona's gothic quarter, scattering the crowd that had been waiting in the dark and drizzle outside the Cervantes primary school for almost three hours.
The panic – this was only six weeks after August's atrocities – soon gave way to elation, and the screams to cheers. The car, it transpired, was delivering ballot boxes, their arrival greeted with rapture and perhaps even a touch of disbelief.
Here at last was the moment that half of Catalonia's 7.5 million inhabitants had dreamed of, and half had dreaded: their chance to vote on becoming an independent state and witness the response of the Spanish authorities.
I've been the Guardian's Madrid correspondent since June 2016, after two years travelling the world as the Guardian's global development correspondent, reporting on humanitarian emergencies, natural disasters and the politics of international aid.
I was looking forward to a proper stint of reporting from a single country, which you might assume would be somewhat calmer and less pressured. Instead, I arrived in Spain to cover the fallout from Brexit, followed, three days later, by what turned out to be the country's second inconclusive general election in six months.
I have since written about everything from the Barcelona terror attack to Spanish gastronomy and the country's shifting political landscape. But no single story in my 16 months here has occupied as much of my time and energies as the saga of Catalan independence, which built slowly over the summer before exploding this autumn and winter.
"The experience of being able to vote has given me a satisfaction I could never have dreamed of," one 77-year-old man told me that October morning as he emerged from a polling station with tears in his eyes and a textbook list of nationalist grievances on his lips.
"It would have been impossible under Franco – although his heirs are still in power. Catalan independence is important so that we can live in a democracy, which Spain isn't. We send all our money to the government and get crumbs in return."
Spain's prime minister, Mariano Rajoy, begged to differ. Later that evening he declared that there had not been a self-determination referendum in Catalonia. "The rule of law remains in force with all its strength," he said.
No one who took part in the vote, tried to stop it, or, like me, watched events unfolding, could have foreseen how thoroughly those innocuous plastic ballot boxes would detonate Spain's worst political crisis in 40 years; a crisis in which Rajoy sacked Catalonia's government, its former president, Carles Puigdemont, fled to Brussels, and eight of his deposed ministers were jailed.
Like the referendum day itself, the events of the past six weeks have been sad, brutal, farcical, bizarre, relentless and exhausting but, above all, they have been utterly unpredictable and deeply and painfully divisive.
When you lift your eyes to balconies in Barcelona and Madrid, you will see row upon row of flags. The pro-independence esteladas are nothing new in the Catalan capital; some have hung there so long their red and yellow stripes have been bleached almost pink and white. Madrid, however, where I am based, is not used to so many Spanish flags. Look closely and you see that many are such recent purchases they still bear the creases of their packaging.
The proliferation of flags is the most visible sign of the tensions in Spain, but there are others, some obvious, some more hidden. Take, for example, the recent decision by Spain's state-run broadcaster, RTVE, to use the Exorcist theme tune to accompany a clip of Puigdemont.
If the crisis has an emblem though, it is probably the so-called "Tweetie Pie" ferry. Painted with huge Looney Tunes cartoon characters, this temporary floating home to some of the Spanish police officers deployed to prevent Catalan independence was one of the first things you saw as the plane swung around to land at Barcelona airport. It finally pulled out of port last week.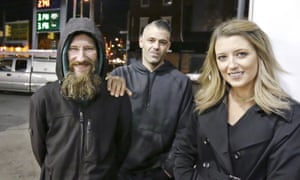 Johnny Bobbitt Jr, left, Kate McClure, right, and McClure's boyfriend, Mark D'Amico, pose at a Citgo station in Philadelphia. Photograph: Elizabeth Robertson/AP
A GoFundMe campaign set up to raise $10,000 for Johnny Bobbitt Jr, a homeless veteran who helped a woman when her car ran out of gas in Philadelphia, had by Friday collected more than $320,000 in contributions from more than 10,500 strangers.
Kate McClure of Bordentown, New Jersey, started the fund earlier this month after Bobbitt helped her out when he found her stranded on Interstate 95. According to McClure, 27, who works for the New Jersey department of transportation, Bobbitt, 34, told her to get back in her car and lock the door.
"He said, 'I'll be back. Trust me,'" she told the Philadelphia Inquirer. Bobbitt used his last $20 to buy her gas and then sent her on her way.
Bobbitt is a certified paramedic originally from the Raleigh, North Carolina, area who also served in the US Marine Corps. He has been homeless for about a year after moving to Philadelphia for a job that fell through.
Over the next several weeks, McClure returned to the roadside spot where he customarily sat with a sign asking for assistance. She repaid the $20 and gave him a jacket, gloves, a hat and socks.
Then, McClure and her boyfriend, Mark D'Amico, decided they wanted to do more. They started the GoFundMe page with the aim of raising enough for first and last month's rent on an apartment, a car and some monthly expenses. A local New Jersey paper picked up the story and donations began pouring in.
"I don't have an explanation for it," D'Amico told CNN. " I think it was the perfect storm. We wanted to make sure he was safe and go from there. I remember when we got our first donation, we were like, 'Holy crap.'"
Bobbitt, who spent Thanksgiving in a hotel after the couple gave him money for contact lenses and took him to Walmart, has said he plans to make a video to explain what he will do with the money.
"He plans on donating a large portion to causes that are close to his heart," D'Amico said, indicating that those causes include programs for "homeless vets and a few organizations that helped him the last year or two".
Bobbitt, D'Amico added, also wants to help a woman who works at a homeless organization and who "always went above and beyond" her duties to help people.
In a video McClure posted to YouTube on 16 November, Bobbitt appeared astonished by donations that had then reached $769.
"God, that's amazing," he said. "Damn, y'all did all that. That is awesome … People talk about Philly … I have honestly met more good people than bad, I really have. Like y'all! I mean, that is amazing."
Related Stories:

Editorial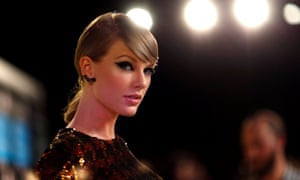 Taylor Swift. 'Ms Swift's songs echo Mr Trump's obsession with petty score-settling.' Photograph: Mario Anzuoni/Reuters
I

n the year since Donald Trump was elected, the entertainment world has been largely united in its disdain for his presidency. But a notable voice has been missing from the chorus: that of Taylor Swift, the world's biggest pop star. Her silence is striking, highlighting the parallels between the singer and the president: their adept use of social media to foster a diehard support base; their solipsism; their laser focus on the bottom line; their support among the "alt-right".
Swift's songs echo Mr Trump's obsession with petty score-settling in their repeated references to her celebrity feuds, or report in painstaking detail on her failed romantic relationships (often, there is crossover). The message is quintessentially Trumpian: everyone is out to get me – but I win anyway. Seeded with clues to the identities of her famous associates, her lyrics reel in and solidify a hardcore fanbase – usually young, female followers known as "Swifties" – who passionately defend her honour on social media by attacking her detractors.
Mr Trump realised it was more effective to target a core group than attempt blanket appeal in his campaign – but Swift worked it out first. For years, she has directed her extraordinary self-promotional skills towards cultivating a dedicated and emotional army of followers, handpicking particularly loyal fans for private listening parties and, on her latest tour, allowing members of the public to buy tickets only once they have proved their allegiance through their purchasing history. Her new album, Reputation, is not available on Spotify – anyone wishing to hear it must buy it.
To some that makes her an artist wresting control, and a strong woman asserting and celebrating herself. The articulation of her inner life might be labelled introspection or splendid, swaggering confidence if it issued from a boy with a guitar. She calls herself a feminist. In August, she won a court case against a DJ who had groped her in 2013, taking a clear stand against the kind of sexual harassment that has long been trivialised in society, and foreshadowing the Harvey Weinstein allegations and the #MeToo campaign. She has been a target of the kind of misogyny that Mr Trump espouses.
Yet notably her much-publicised "squad" of female models, actors and musicians is largely thin, white and wealthy. In a well-publicised Twitter exchange with rapper Nicki Minaj, she treated the discussion of structural racism as not only incomprehensible, but a way to disempower white people such as herself – though her lawyers have taken action over articles that associate her with the far right, and have taken issue with claims that she has not sufficiently denounced white supremacy.

Brown bears, grey seals and an errant crocodile are among this week's pick of images from the natural world