30 Nov
News and Analyses, A Foreign Perspective
Nearly all of these are English-edition daily newspapers. These sites have interesting editorials and essays, and many have links to other good news sources. We try to limit this list to those sites which are regularly updated, reliable, with a high percentage of "up" time.
The mobilization of finance is the foundation for a just, fair, adequate, and effective global response to the climate crisis.
According to UNFCC, climate finance is critical in addressing climate change because large-scale investments are required to reduce emissions and to make a systematic transformation to a more sustainable future.
In addition, financial resources are required to allow countries to adapt to the adverse effects and reduce impacts of climate change.
Article 4 of the UNFCC requires developed countries to provide new and additional financial resources to meet the costs incurred by developing countries in implementing climate projects and programs.
It is important to note that this climate finance is not considered aid or assistance but rather an obligation upon developed countries and part of their fair share of global climate actions.
"This is in recognition that developed countries are largely responsible for climate change and its impacts on peoples of the developing countries who have contributed the least to the problem yet bear the brunt of its devastating consequences," according to a report by Corporate Accountability.
Even by doing the utmost domestically, developed countries would still not meet their fair share of reductions due to their huge historical accumulated emissions, it elaborates.
To ensure that developed countries fulfill this obligation, the Green Climate Fund (GCF) was established in 2012 as the operating entity of the financial mechanism of the UNFCC.
While the GCF is still in the process of fully developing its policies and programs, the fund has been operational since 2015.
GCF is, essentially, tasked with resource mobilization as well as allocation and disbursement of these funds and central to the delivery of climate finance.
Thus it is crucial to ensure that the GCF plays this role in the best interest of the people and communities in the developing world.
"Unless these funds find their way into the hands of the national and local climate actors that need them and know how to make the best use of them, countries enduring the realities of the climate crisis risk their very survival," adds the report which extensively details how conflicts of interest are creating obstructions in climate talks.
Only five large international entities manage nearly 75 percent of the GCF's funds
There are huge challenges to this and a significant one is to prevent the GCF from becoming an instrument of corporate interests.
Civil society groups engaging around the fund's activities say that corporate influence on decision-making in the GCF is definitely not limited to what happens during decision-making sessions, which include the presence of corporations and industry groups as 'observers', nor done mainly through what is conventionally considered lobbying.
As of now, only five large international entities manage nearly 75 percent of the GCF's funds.
"The sheer economic power of corporations and the pervasive and insidious hold of the neoliberal ideology of free-market push decision makers to go towards particular policy positions that favor the private sector and big business at the expense of communities and people on the frontlines of climate change impacts," according to Corporate Accountability.
In addition, an extremely controversial feature, the Private Sector Facility (PSF), was approved into the GCF in 2011 at COP17 despite vigorous objections from several developing countries, civil society organizations, and activist groups.
PSF actively promotes and seeks out private sector projects to fund both directly and through intermediaries and allocates available funds away for public programs for people, communities, and other local actors on the ground to private sector projects and private corporations including multinational firms and big banks.
Because of PSF, public funds are allocated to private entities that are not publicly accountable, most of which are solely motivated by profit and are major contributors in worsening the climate crisis.
Institutions have to be accredited by the GCF to submit project proposals, channel funds (financial intermediaries), or receive funds (implementing entities) and GCF accreditation rules allow private entities to be accredited, further exposing climate finance to the risk of corporate seizure.
According to the report, to date, 27 of the 59 accredited entities of the GCF are international institutions.
Four of these are transnational banks engaged in fossil fuel financing, including HSBC, Deutsche Bank, Crédit Agricole, and the Bank of Tokyo-Mitsubishi (BTMU).
And at least eight are multilateral banks, like the International Finance Corporation, the Inter-American Development Bank, the Asian Development Bank, and the European Investment Bank explicitly subscribe to private-sector-led growth' and have major programs for private sector development.
As of October 2017, the GCF had approved 43 projects across developing countries. Thus far, the GCF has approved fewer private sector projects— just 17—but more than 50 percent of the allocated funds are for these 17 projects, totaling $1.74 billion. The allocation for the public projects is only $1.3 billion.
Many activist groups and movements have been actively engaged in challenging and shaping the design, policies, and operations of the GCF.
Collective efforts have led to some successes but it is a continuing fight to assert, defend, and expand civil society voice and participation.
The solution is creating a GCF policy and guideline that are fully transparent
However, in July 2017, for the first time, the active civil society observers were not allowed to speak before a decision was taken on the accreditation of entities to the GCF board during a meeting.

World Politics
United States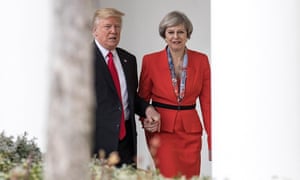 Donald Trump and Theresa May met earlier this year in Washington. Photograph: Christopher Furlong/Getty Images
Donald Trump has publicly rebuked Theresa May over her criticism of anti-Muslim propaganda, opening an extraordinary diplomatic spat between the transatlantic allies.
"Theresa@theresamay, don't focus on me, focus on the destructive Radical Islamic Terrorism that is taking place within the United Kingdom," the US president tweeted on Wednesday evening. "We are doing just fine!"
Trump's message came in response to criticism from the British prime minister's spokesman over the president's retweeting of incendiary videos posted by the deputy leader of a British far-right group.
However, the "@theresamay" Twitter handle that Trump targeted does not belong to Theresa May, the British prime minister, but a woman called Theresa Scrivener. Minutes later Trump deleted and reposted the tweet, this time with the correct handle: @Theresa_May.
The angry tirade, crowning one of the most wayward days yet of Trump's presidency, earned a swift putdown from the US senator Orrin Hatch of Utah, who met May at Downing Street last week to discuss terrorism threats to both countries. He tweeted: "PM @theresa_may is one of the great world leaders, I have incredible love and respect for her and for the way she leads the United Kingdom, especially in the face of turbulence."
May is currently on a tour of the Middle East and declined to immediately respond to the personal rebuke from Trump.
May is in Jordan, where she is due to deliver a major speech outlining her hopes for increasing UK influence in the region after Brexit.
But her trip, during which May also visited Iraq – the first British PM to do so in nearly a decade – and Saudi Arabia, was dominated by questions over the behaviour of Trump.
May's officials with her in Jordan declined repeated requests on Thursday morning for a response to the new tweet. It is expected that the prime minister will deal with the issue in questions after her speech.
Among the likely questions will be whether she regrets being the first overseas leader to visit Trump after his inauguration, and his planned state visit to the UK.
The prime minister is due to cover this threat in a part of the speech dealing with more direct security assistance in the region, also including training for Iraqi forces to clear Mosul and Raqqa of explosive devices left by Isis as it fled, and more security assistance for Jordan.
Justine Greening, the education secretary, said the row should not undermine the UK's long and close relationship with the US.
Asked if she was shocked that Trump was directly attacking a close ally, Greening told the BBC's Today programme: "The UK and US have been longstanding allies and our relationship with America is a hugely important one, and I don't think we should allow this tweet to undermine that in any way… (our relationship) will succeed long after presidents come and go and I don't agree with the tweet President Trump has made but I also don't believe it should distract from the agenda we have domestically or detract from the close relationship the UK has had for many many years and will go on to have with the American people."
However, Sajid Javid, the local government secretary, who is Muslim, took a much harder line. He posted on Twitter: "So POTUS has endorsed the views of a vile, hate-filled racist organisation that hates me and people like me. He is wrong and I refuse to let it go and say nothing."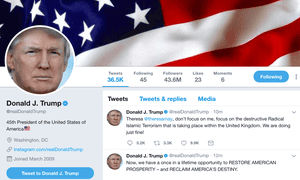 A screenshot of Trump's Twitter account, with the original tweet. Photograph: Twitter/Screen shot
The feud marks a new, unexpected twist in the "special relationship" that has benefited from personal chemistry between leaders such as Winston Churchill and Franklin Roosevelt, Margaret Thatcher and Ronald Reagan, and Tony Blair and Bill Clinton.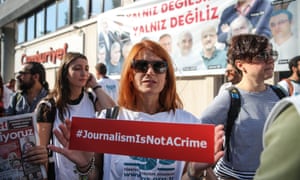 A protester holds up a banner at a rally against the trial of staff from Cumhuriyet newspaper in Turkey, which has had the biggest decline in freedom of speech in the past decade. Photograph: Burak Kara/Getty Images
Media freedom around the world has fallen to the lowest level for at least a decade, according to a study that shows journalists are threatened by government censorship, organised crime and commercial pressures caused by the growth of the internet.
Turkey has experienced the biggest decline in freedom of speech over the past decade but Brazil, Burundi, Egypt, Poland, Venezuela and Bangladesh have also had a disturbing decline in the diversity and independence of the media, according to the report.
"For the first time, we have a comprehensive and holistic overview of the state of freedom of expression and information around the world," said Thomas Hughes, the executive director of Article 19, the freedom of expression campaign group, which produced the report in conjunction with V-Dem, a political and social database.
"Unfortunately, our findings show that freedom of expression is under attack in democracies as well as authoritarian regimes."
The report's authors measured freedom of expression in 172 countries between 2006 and 2016 through a metric they have described as the Expression Agenda. This is based on 32 social and political indicators such as media bias and corruption, internet censorship, access to justice, harassment of journalists, and equality for social classes and genders.
Hughes said journalists were threatened by intimidation, prosecution and even murder in some parts of the world; there were 426 attacks against journalists and media outlets in Mexico in 2016 alone. He believes the UK was responsible for one of the most draconian surveillance legislation in the form of the Investigatory Powers Act, which "offers a template for authoritarian regimes and seriously undermining the rights of its citizens to privacy and freedom of expression".
The freedom of the media globally is further threatened by the rise of the internet because online content is being controlled by a handful of internet companies whose processes "lack transparency", commercial pressure on news providers has led to redundancies and cuts in investment, and the "vast majority of countries", including China, restrict access to a range of websites.
The report found that 259 journalists were jailed last year and 79 were killed. Areas of concern include the vulnerability of journalists reporting on or criticising the "war on drugs" in the Philippines, Mexico and Honduras, and intimidation and malicious charges against opposing voices to the Erdo?an regime in Turkey.
"Global media freedom is at its lowest level since the start of the century," the report said.
As of April this year, 152 Turkish journalists were in prison, according to the opposition. More than 170 media organisations have been shut down since last year's coup, including newspapers, websites, TV stations and news agencies, and 2,500 journalists have been laid off.
On a brighter note, Article 19 said there were improvements in countries including Tunisia, Sri Lanka and Nepal, and also praised the introduction of freedom of information laws in 119 countries.
Another group, the Committee to Protect Journalists, warned there has "never been a more dangerous time to be a journalist". It said Donald Trump's attacks on the "fake news" media in the US was sending a message to authoritarian leaders that it is acceptable to crack down on the press, pointing to recent criticism of CNN by the Egyptian government for its coverage of the terrorist attack on a mosque in Sinai.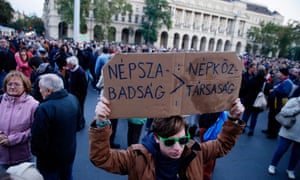 A demonstrator holds a placard reading, 'Nepszabadsag, People's Republic' as crowds gather in front of the Parliament building in Budapest to show their support of the Hungarian political daily. Photograph: Zoltan Balogh/EPA
When staff at Hungary's left-leaning Nepszabadsag newspaper packed up their stuff on a Friday night a year ago, they thought they were just moving across town.
As it happened, they were moving out altogether. Within hours, the paper had been shut down, literally overnight. Within weeks, ownership of the other publications in the group had been transferred to a new holding company linked to Lorinc Meszaros, an oligarch ally of populist prime minister Viktor Orban and mayor of Orban's hometown.
"It was an ambush," recalls deputy editor Marton Gergely. "All the circumstances spoke against economic reasons for closing the newspaper down suddenly. We felt betrayed, lied about, cynically played. There were journalists close to retirement worried about their pensions, there were photographers, technical staff, and not all of them were opposed to Orban."
But Nepszabadsag, which had suffered a decline in circulation and heavy losses according to claims from the owners, was no isolated instance. Across central and eastern Europe – and indeed in some parts of the world beyond – political and economic forces are combining to put independent media under unbearable pressure.
The combination of falling newspaper circulations and ad revenues has shattered the business model and left newspapers weakened and vulnerable to both political and corporate pressure. Some fear that as a result, the ideal of journalistic independence is being critically compromised.
In Poland, for example, liberal outlets claim that they are now unfairly treated by the centre-right government, which they say uses economic means for political ends.
"Since autumn 2015, there has been a drastic reduction – sometimes a complete ban – of subscription to some newspapers by public institutions, targeted mostly against two weeklies – Polityka, Newsweek – and Gazeta Wyborcza, which criticise the ruling party," says Piotr Stasi?ski, deputy editor-in-chief of Gazeta Wyborcza.
"There has been a total withdrawal of state-owned companies' ads from critical media and transferring them to many (pro-government) media outlets. This has led to a loss of advertising and circulation revenue."
Luka Oreskovic, an expert in media investment, says this is a common complaint across the region. "From Poland and Hungary and all the way to the chronic state-sponsored pressures on media in the western Balkans – governmental action in the form of withholding public sector advertising, conducting repeated tax raids via state tax authorities, and restricting freedom of speech through the introduction of repressive and restrictive media legislation has had a negative impact on the quality of public discourse," he said.
"These are powerful tools for curtailing media freedom and independence, as they can have – and have had – a tremendous impact on the financial health of stand-alone media outlets."
"The economic volatility of media is an enormous challenge for journalism," says Harlem Désir, a former French minister, and now the representative on freedom of the media at the Organisation for Security and Cooperation in Europe. "It is more difficult to find resources to finance independent and qualitative journalism. Furthermore, media ownership concentration is speeding up. This endangers pluralism and it also means that in some areas, local media are simply disappearing."
Globally, newspaper revenues have declined by 7.8% over the last five years, according to figures from the World Association of Newspapers (WAN-IFRA). But that figure is distorted by the fact that newspaper circulations in China and Indonesia are up by more than 25% and in India have soared by 71%. The reality for most parts of the world has been far more grim: circulation declines of 34% in Spain, 19% in Brazil, 32% in Australia, 22% in South Africa, and 39% in Italy, to pick out a few.
And as revenue from print sales shrinks, global print advertising revenue has been falling too, from $79bn in 2012 to $58bn in 2017. Digital advertising is rising – up 5% in the period from 2015 to 2016 alone – but most of that growth has been captured by the internet giants, Google and Facebook.
"The American commercial news model has been really falling apart over the last 10 years," says Tara Susman-Peña of IREX, which has been monitoring global media sustainability since 2001. "And there has been a huge crisis in the ad model. The old media model is not the future, and that is exacerbating the problems."
"Media is now weakened," believes Prof Rosental Alves, founder of the Knight Center for Journalism in the Americas. "In western democracy, the media has been very profitable and as a result has been given more and more strength to become independent and immune to pressure for corporations and governments. But as the financial situation has changed, the vulnerability has increased."
Starved of cash, many newspapers are forced to depend on income that comes with strings attached, in a way that can trigger disastrous soft censorship and self censorship. State advertising, in particular, is often used as a manipulative tool by governments; the advertising simply goes to the friendly press.
A global review by WAN-IFRA found that in many countries the press was worryingly dependent on state advertising: Cambodia's media, for example, "struggle to maintain editorial integrity, often succumbing to government (or private) influence that is rewarded with advertising. An estimated 99% of local advertising revenue is found in just a handful of newspapers".
The need for money has also given commercial interests far more power. In many of the countries looked at by the global Worlds of Journalism study, journalists report that "advertising concerns" and "profit-making pressures" have increased in their newsrooms in the last five years.
Open Democracy, in partnership with Index on Censorship and the European Federation of Journalists, is currently carrying out a survey of European journalists across 47 countries to find out whether commercial pressures have increased; so far, they say, the results are concerning.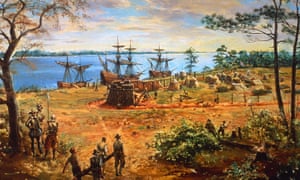 Early settlers carry lumber in Jamestown, Virginia, the first permanent English settlement in America, circa 1610. Photograph: Hulton Archive/Getty Images
Large tracts of America's east coast heritage are at risk from being wiped out by sea level rise, with the rising oceans set to threaten more than 13,000 archaeological and historic sites, according to new research.
Even a modest increase in sea level will imperil much of the south-eastern US's heritage by the end of the century, researchers found, with 13,000 sites threatened by a 1m increase.
Thousands more areas will be threatened as the seas continue to climb in the years beyond this, forcing the potential relocation of the White House and Lincoln Memorial in Washington DC and inundation of historic touchstones such as the Kennedy Space Center and St Augustine, Florida, which lays claim to being the oldest city in the US.
"There are going to be a lot of cultural sites lost and the record of humanity's history will be put at risk," said David Anderson, a University of Tennessee anthropologist who led the published research.
"Some sites will be destroyed, some buried in marshes. We may be able to relocate some. In some places it will be devastating. We need to properly understand the magnitude of this."
Threatened areas, including locations on the national register of historic places, include Native American sites that date back more than 10,000 years, as well as early colonial settlements such as Jamestown, Virginia and Charleston, South Carolina. Researchers pinpointed known sites using topographical data and analyzed how they would fare in various sea level rise scenarios.
Florida, which has a southern portion particularly vulnerable to sea level rise, has the most sites in danger from a 1m raising of the oceans, followed by Louisiana and Virginia.
A 1m sea level rise by 2100 could prove optimistic, with several studies showing the increase could be much greater. Scientists have warned that the break up of the Antarctic ice sheet could significantly fuel sea level rise, pushing the global increase to around 6ft by 2100.
The latest US government estimate predicts a worldwide increase of 1ft to 4ft by 2100, although an 8ft rise "cannot be ruled out".
The eastern seaboard of the US is at particular risk, with water piling up along the coast in greater volumes than the global average. The problem is compounded by areas of the coast, such as in New Jersey and Virginia, gradually subsiding due to long-term geological hangover from a vast ice sheet that once covered much of North America.
Sea level rise is expected to displace millions of people from the US coasts over the next coming decades, with Anderson warning this will create further damage to heritage sites as people move inland.
There is still some uncertainty over the exact timescale involved in the changes – it may take several hundred years for some coastal places to be at risk – leading to hopes that coastlines can be adapted in time in order to protect vital infrastructure and sacred sites. But losses appear inevitable.
"Putting a sea wall around the whole of the US won't be an easy thing to do and would cause a lot of damage elsewhere," said Anderson. "We are going to have to do a lot of planning as a civilization in the next 50 to 100 years and we have to take heritage into account."
Coastal heritage has been lost by previous fluctuations in sea level rise and Harold Wanless, a coastal geologist at the University of Miami who wasn't involved in the study, said that tough decisions will need to be made as to what to protect in the future.
"We will have to look at how much effort we expend saving these sites over more practical things such as critical infrastructure or developing new agriculture resources," Wanless said. "Our human history is important but there are a lot of new things to focus on. They will all need time and effort."
Human-driven climate change is already creating its own historical artifacts, with around a dozen towns in Alaska set to be abandoned or relocated due to rising sea levels and diminishing sea ice. In Louisiana, a community near New Orleans received federal funding last year to relocate because much of their low-lying land has disappeared.