At the heart of Philip Alston's special mission will be one question: can Americans enjoy fundamental human rights if they're unable to meet basic living standards?
Deana Lucion, who lives in McDowell County, West Virginia. Life expectancy for men in McDowell County is 64 years old – the same as for men in Namibia. Photograph: Jeff Swensen
T

he United Nations monitor on extreme poverty and human rights has embarked on a coast-to-coast tour of the US to hold the world's richest nation – and its president – to account for the hardships endured by America's most vulnerable citizens.
The tour, which kicked off on Friday morning, will make stops in four states as well as Washington DC and the US territory of Puerto Rico. It will focus on several of the social and economic barriers that render the American dream merely a pipe dream to millions – from homelessness in California to racial discrimination in the Deep South, cumulative neglect in Puerto Rico and the decline of industrial jobs in West Virginia.
With 41 million Americans officially in poverty according to the US Census Bureau (other estimates put that figure much higher), one aim of the UN mission will be to demonstrate that no country, however wealthy, is immune from human suffering induced by growing inequality. Nor is any nation, however powerful, beyond the reach of human rights law – a message that the US government and Donald Trump might find hard to stomach given their tendency to regard internal affairs as sacrosanct.
The UN special rapporteur on extreme poverty and human rights, Philip Alston, is a feisty Australian and New York University law professor who has a fearsome track record of holding power to account. He tore a strip off the Saudi Arabian regime for its treatment of women months before the kingdom legalized their right to drive, denounced the Brazilian government for attacking the poor through austerity, and even excoriated the UN itself for importing cholera to Haiti.
The US is no stranger to Alston's withering tongue, having come under heavy criticism from him for its program of drone strikes on terrorist targets abroad. In his previous role as UN special rapporteur on extrajudicial executions, Alston blamed the Obama administration and the CIA for killing many innocent civilians in attacks he said were of dubious international legality.
Now Alston has set off on his sixth, and arguably most sensitive, visit as UN monitor on extreme poverty since he took up the position in June 2014. At the heart of his fact-finding tour will be a question that is causing increasing anxiety at a troubled time: is it possible, in one of the world's leading democracies, to enjoy fundamental human rights such as political participation or voting rights if you are unable to meet basic living standards, let alone engage, as Thomas Jefferson put it, in the pursuit of happiness?
"Despite great wealth in the US, there also exists great poverty and inequality," Alston said in remarks released before the start of the visit. The rapporteur said he intended to focus on the detrimental effects of poverty on the civil and political rights of Americans, "given the United States' consistent emphasis on the importance it attaches to these rights in its foreign policy, and given that it has ratified the International Covenant on Civil and Political Rights."
The US has an extraordinary ability to naturalize and accept the extreme poverty

David Grusky, director of the Center on Poverty and Inequality
Poverty experts are watching the UN tour closely in the hope that it might draw public attention to a largely neglected but critical aspect of US society.
David Grusky, director of the Center on Poverty and Inequality at Stanford, said the visit had the potential to hold a mirror up to the country at a moment when globalization combined with a host of domestic policies have generated a vast gulf between rich and poor.
"The US has an extraordinary ability to naturalize and accept the extreme poverty that exists even in the context of such extreme wealth," he said.
Grusky added that the US reaction to Alston's visit could go either way. "It has the potential to open our eyes to what an outlier the US has become compared with the rest of the world, or it could precipitate an adverse reaction towards an outsider who has no legitimacy telling us what to do about internal US affairs."
Alston's findings will be announced in preliminary form in Washington on 15 December, and then presented as a full report to the UN human rights council in Geneva next June. An especially unpredictable element of the fallout will be how Trump himself receives the final report, given the president's habit of lashing out at anyone perceived to criticize him or his administration.
Trump has also shown open disdain towards the world body. In the course of the 2016 presidential campaign he griped that "we get nothing out of the United Nations other than good real-estate prices".
On the other hand, observers have been surprised that the White House has honored the invitation to host Alston after the initial offer was extended by Barack Obama. US diplomats on more than one occasion since Trump's inauguration have said they welcomed the UN party.
Alston himself is reserving his comments until the end of the tour. But his published work suggests that he is likely to be a formidable critic of the new president. In a lecture he gave last year on the challenges posed by Trump and other modern populist leaders, he warned that their agenda was "avowedly nationalistic, xenophobic, misogynistic, and explicitly antagonistic to all or much of the human rights agenda".
Alston concluded the speech by saying: "These are extraordinarily dangerous times, unprecedentedly so in my lifetime. The response is really up to us."
The UN poverty tour falls at a singularly tense moment for the US. In its 2016 state of the nation review, the Stanford Center on Poverty and Inequality placed the US rank at the bottom of the league table of 10 well-off countries, in terms of the extent of its income and wealth inequality.
It also found that the US hit rock bottom in terms of the safety net it offers struggling families, and is one of the worst offenders in terms of the ability of low-income families to lift themselves out of poverty – a stark contrast to the much-vaunted myth of the American dream…………..Martha Davis, a law professor specializing in US human rights at Northeastern University, said that such vast regional variations present the UN monitor with a huge opportunity. Unlike other international officials, he has the ability to move freely at both federal and state levels – and be equally critical of both.
"There's a lot that Philip Alston can say about basic inequality that goes to the heart of the rights that he is reviewing," Davis said.

The British Ecological Society has announced the winners of its annual photography competition, Capturing Ecology. Taken by international ecologists and students, the winning images will be exhibited at the society's joint annual meeting in Ghent in December
This year's overall winner is Christopher Beirne, from the University of Exeter and Crees Foundation, with his image of an ocelot taking advantage of human-made nature trails to stalk its prey in Peru. 'The photograph was taken in an area of land, which was completely cleared for agriculture 30-50 years ago. Documenting the wildlife that has returned as the forest has recovered was not only a real privilege, it has also changed my perspective on the value of degraded land in tropical areas.'
Photograph: Christopher Beirne/University of Exeter and Crees Foundation/British Ecological Society
Dynamic ecosystems category winner: Zoe Davies. A brown bear catching sockeye salmon in Alaska.
Photograph: Zoe Davies/University of Kent/British Ecological Society

How climate denial blogs misinform so many people with such poor scientific arguments.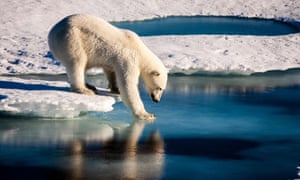 This file photo taken on August 22, 2015 shows a handout photo provided by the European Geosciences Union of a polar bear testing the strength of thin sea ice in the Arctic. Photograph: Mario Hoppmann/AFP/Getty Images
The body of evidence supporting human-caused global warming is vast – too vast for climate denial blogs to attack it all. Instead they focus on what a new study published in the journal Bioscience calls "keystone dominoes." These are individual pieces of evidence that capture peoples' attention, like polar bears. The authors write:
These topics are used as "proxies" for AGW [human-caused global warming] in general; in other words, they represent keystone dominoes that are strategically placed in front of many hundreds of others, each representing a separate line of evidence for AGW. By appearing to knock over the keystone domino, audiences targeted by the communication may assume all other dominoes are toppled in a form of "dismissal by association."
Basically, if these bloggers can create the perception that the science underlying polar bear or Arctic sea ice vulnerability to climate change is incorrect, their readers will assume that all of climate science is fatally flawed. And blogs can be relatively influential – surveys have shown that blog readers trust them more than traditional news and information sources.
Denier blogs and science-based blogs "diametrically opposite"
In this study, the authors examined the arguments made by 45 denier blogs and 45 science-based blogs regarding the impact of human-caused global warming on polar bear populations and Arctic sea ice extent. They found that the science-based blogs all showed that Artic sea ice is declining, and nearly all said that global warming threatens polar bear populations.
Conversely, the denier blogs nearly all denied that Arctic sea ice is declining or argued that we can't predict how it will change in the future, and that polar bears aren't threatened and/or will adapt to climate change.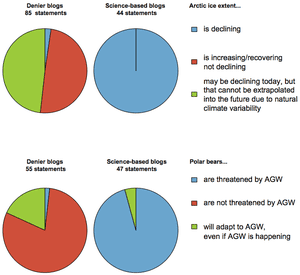 Pie charts showing the percentage of 45 science-based and 45 denier blogs expressing positions on the effects of human-caused global warming (AGW) on Arctic ice extent and polar bears. Illustration: Harvey et al. (2017), Bioscience
The authors also noted that unsurprisingly, the science-based blogs had much stronger supporting arguments:
Scientific blogs provided convincing evidence that AGW poses a threat to both, whereas most denier blogs did not. Science-based blogs overwhelmingly used the frame of established scientific certainties and supported arguments with the published literature affirming that warming is rapidly reducing seasonal Arctic sea-ice extent and threatening the mid- to longer-term survival of polar bears, whereas those written by deniers did not.
In fact, on the question of polar bears, the study authors found that as their primary source, nearly 80% of denier blogs referenced another blog written by a zoologist named Susan Crockford. However, Crockford has never conducted research on current polar bear populations or published any peer-reviewed studies on the subject. There are experts on this subject, like the Polar Bear Specialist Group, but deniers cite Crockford quite simply because she's one of the few scientists who tells them what they want to hear.
Science isn't on the deniers' side
The study authors also examined 92 peer-reviewed papers on polar bears and Arctic sea ice and grouped them using the same categories as the denier and science-based blog posts. As the figure below shows, the scientific research (green triangles) is extremely consistent in concluding that climate change threatens both polar bears and Arctic sea ice, although a few papers (6.5% – the red triangles) suggested that polar bears might be able to adapt to their changing environment.