04 Dec
News and Analyses, A Foreign Perspective
Nearly all of these are English-edition daily newspapers. These sites have interesting editorials and essays, and many have links to other good news sources. We try to limit this list to those sites which are regularly updated, reliable, with a high percentage of "up" time.
GENEVA –

Japan has found itself in hot water over its "research whaling" in the Northwest Pacific amid a possible violation of an international treaty on endangered species.
Kyodo
Japan drew criticism during a five-day meeting in Geneva of a standing committee on monitoring wildlife trade over its hunting of sei whales from anti-whaling countries, with Australia noting that research whaling could also be used for commercial purposes.
The Convention on International Trade in Endangered Species of Wild Fauna and Flora (CITES), which is also known as the Washington Convention, prohibits international trade in sei whales and effectively bans the catching of them in the open sea.
But Japan has continued to hunt the whales under the auspices of research whaling, as scientific research is not restricted under the convention.
In 2014, the International Court of Justice in The Hague ruled that Japan's research whaling in the Antarctic violated the 1946 International Convention for the Regulation of Whaling.
Since then, there has been growing speculation that CITES would also take up the issue of Japan's sei whale hunts.
During the conference in Geneva, which ran through Friday, some proposed banning trade with Japan, but the panel instead recommended that Tokyo provide sufficient information to the CITES secretariat and accept a monitoring team.
The Japanese government is expected to accept the team if the CITES secretariat concludes it is necessary to do so.
"What Japan has done is calculated the collected samples and selection of research areas. … It's difficult to say that it's for scientific research," said Atsushi Ishii, an expert on whaling and an associate professor at the Center for Northeast Asian Studies at Tohoku University in Sendai.
"Chances are high that (Japan's whaling) will be recognized as a violation of the treaty," he added.
Meanwhile, the committee adopted a proposal that Japan should submit a report next year explaining how to regulate its ivory trade in accordance with the treaty.
The move came after four countries that are home to African elephants submitted a report criticizing Japan. While the United States and China have already banned domestic ivory trading, Japan is drawing criticism as it continues to allow the trade.

Israeli PM says he has asked for legislation on police investigations to be redrafted so it does not apply to his own case
Agencies in Tel Aviv
Protesters chant 'shame' during anti-corruption rally in Tel Aviv – video
Tens of thousands of people attended a rally in Tel Aviv on Saturday night protesting against alleged corruption in the Israeli government. The prime minister, Benjamin Netanyahu, known to many in the country as 'Bibi', is under investigation over allegations he accepted luxury gifts worth thousands of dollars from wealthy supporters
The Israeli prime minister, Benjamin Netanyahu, has ordered his backers to reword a contentious piece of legislation that could potentially stifle a police investigation against him, in what appeared to be an attempt to defuse rising public anger against the Israeli leader.
The so-called "recommendations bill" would end the police's current practice of recommending to prosecutors whether to indict suspects upon completing their investigations. It also aims to stem leaks from the investigations themselves, stating that no police recommendations be made public and penalising those found leaking to the media.
The bill has been pushed by Netanyahu's staunchest allies in the Likud party, whipping up criticism that the beleaguered prime minister himself is seeking to pass legislation that would change the rules for police investigations and protect him from embarrassing revelations they may have discovered.
"Unfortunately, the debate over the recommendations bill has turned into a political weapon against an elected government," Netanyahu wrote on Facebook on Sunday. He said he had asked a lawmaker behind the bill to ensure that it "be worded in a way that it won't apply to the investigation taking place into my affairs".
Netanyahu is suspected of receiving luxury gifts from wealthy supporters and has also faced police questioning over a secret deal he allegedly sought for favourable coverage with the publisher of the top-selling Israeli daily newspaper, Yedioth Ahronoth.
Tens of thousands of people protested in Tel Aviv on Saturday night against alleged corruption within the government and the slow pace of investigations of Netanyahu. It was one of the largest demonstrations yet against Netanyahu's lengthy rule.
Protesters massed in a large boulevard of an upmarket neighbourhood late on Saturday shouting "shame" and "Bibi go home", referring to the prime minister by his nickname.
"I think the time has come to change the government. The government is corrupt. We're sick of the corrupt," said a protester, Avi Elmozlinu.
The rally – dubbed "the march of shame" – was organised by the leaders of weekly protests that have taken place outside the home of the attorney general, Avichai Mandelblit, over the past few months.
"Bibi and his government are destroying the country. There's been enough corruption," said one demonstrator, Michal, a Tel Aviv resident who preferred not to give his full name.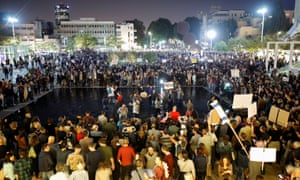 Israelis take part in a protest against corruption in Tel Aviv. Photograph: Amir Cohen/Reuters
The opposition leader, Isaac Herzog, expressed solidarity with the protesters, writing on Facebook that "the frustration … stems from a feeling of injustice, revulsion against corruption and the moral objection to a law made to measure for one person".
On Sunday morning, Israeli police questioned a close Netanyahu ally on separate corruption charges. The coalition whip David Bitan – who is seen as the driving force behind the bill – was grilled in relation to accusations that he promoted the interests of criminals in return for debt relief, while he was a municipal politician years ago……………..Netanyahu is suspected of having received luxury gifts from affluent individuals, including the Israeli businessman and Hollywood producer Arnon Milchan, who has also been questioned.
Milchan, a long-time friend of Netanyahu, reportedly sent him boxes of expensive cigars and other items worth tens of thousands of dollars.
Milchan has denied the gifts were part of any improper quid pro quo, according to Israeli media.
World Politics
United States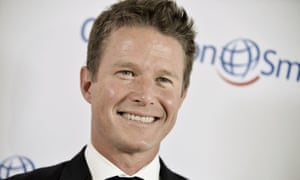 Billy Bush was fired from his position as a co-host at the Today Show after the tape was released in October 2016 Photograph: Richard Shotwell/AP
Billy Bush has pushed back against reports that Donald Trump believes the Access Hollywood tape was a hoax. Writing in the New York Times on Sunday, the television host says: "Of course he said it."
Bush, who was recorded listening to Trump making lewd comments about grabbing women "by the pussy", said that recent reports that the US president was denying the remarks "hit a raw nerve in me".
He also said that he believed at the time that Trump's remarks were "a crass standup act … Surely, we thought, none of this was real". Bush added that after reading the accounts of many of the nearly 20 women who accused Trump of sexual misconduct, he now believes "the 'grab 'em by the pussy' routine [was] real."
The tape, which was published by the Washington Post on 7 October 2016 sent shockwaves through American politics. In addition to boasting about grabbing female genitalia, Trump said "when you're a star they let you do it. You can do anything". Although a number of major Republican figures withdrew their support for Trump after the tape was published, he managed to overcome the revelations and win the presidency despite losing the popular vote.
Although Trump apologized for his remarks at the time, there have since been several reports that he has told others that he doesn't believe the tape is real.
The New York Times op-ed marks a rare return to the spotlight for Bush, who was fired from his position as a co-host at the Today Show after the tape was released in October 2016. He has since left the public eye and has taken up pursuits such as yoga and mediation. Bush is also scheduled to be interviewed by late-night talk show host Stephen Colbert on Monday.
His intervention comes at a moment has been increased focus on allegations of sexual harassment and misconduct. A number of prominent men in politics, media and the arts have faced signification allegations including producer Harvey Weinstein, actor Kevin Spacey and television host Matt Lauer.
The White House stood by its position that all of the women who have accused Trump of misconduct were lying. Trump also backed the candidacy of Roy Moore for Senate in Alabama, who is facing several credible allegations of sexual assault against teenage girls from the 1970s.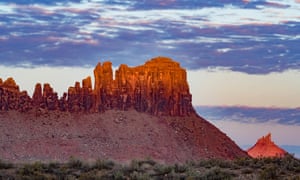 The Anasazi Family rock formations in Bears Ears National Monument, Utah. Photograph: Alamy Stock Photo
O

n Monday, Donald Trump will visit Salt Lake City. He is expected to formally announce plans to substantially shrink two Utah national monuments: Grand Staircase-Escalante and Bears Ears.
A review of national monuments was conducted by the interior secretary, Ryan Zinke, who recommended boundary changes to 10 such areas. In seeking to open up more land for development and extractive industries, Trump has the support of Utah's all-Republican congressional delegation.
Orrin Hatch, the senator who invited Trump to Utah, said in a video statement the "outcome" the president will announce "strikes an excellent balance where everybody wins".
Thousands of demonstrators, however, gathered at the state capitol on Saturday in a show of solidarity with Native American tribes that say the move against Bears Ears and Grand Staircase-Escalante is nothing less than a "monumental mistake".
A coalition of five Utah tribes with ties to the land – the Navajo Nation, Ute Mountain Ute, Ute Indian Tribe, Hopi and the Pueblo of Zuni – has vowed to oppose any shrinkage of the national monument. Before the formation of the Bears Ears Inter-Tribal Coalition, in 2015, the tribes had never come together. Their leaders say legal action is likely if Trump announces a reduction.
Shaun Chapoose, chairman of the Ute Indian Tribe business committee, said this was a significant moment for Native Americans. Many citizens mobilized around tribes opposing the Dakota Access pipeline and alliances were forged around Bears Ears. Despite reverses suffered by the Dakota Access protesters, he said, he sees a reawakening of hope.
It's turned us back into cowboys and Indians again … we'll see battle lines

Shaun Chapoose, Ute Indian Tribe
"Indian country is coming out of its sleep," Chapoose said. "It's given an opportunity for us to voice concerns, and it's made it OK for tribes to talk amongst themselves, like they used to do a long time ago.
"At one time, there was this big network of communication going on between tribes. After the reservations system, they got isolated from surrounding neighbors. Bears Ears has brought that back where it didn't exist. It's brought Indian Country back together."
Chapoose said that in backing extractive industry over preservation and Native American communities, the Trump administration had drawn a line in the sand.
"It's another slap in the face in the overall relationship between the federal government and the tribes, and local people," he said.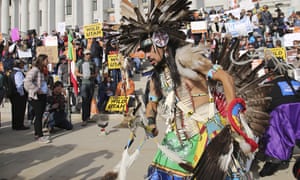 A supporter of the Bears Ears and Grand Staircase-Escalante national monuments dances with a headdress during a rally on Saturday in Salt Lake City. Photograph: Rick Bowmer/AP
Chapoose said the issue had led locally to a polarization between supporters of the monument and people who want the freedom to use the land for mining, logging and riding off-road vehicles.
"It's turned us back into cowboys and Indians again," he said. "The tension is higher than it started but it hasn't reached a plateau. That's going to happen Monday. Then we'll see the battle lines."
Davis Filfred, the son of a medicine man and a Navajo Nation council delegate, said he did not want to see Bears Ears become like his tribe's land, which he said had been contaminated by fossil fuel development. Coalmining in the Four Corners area, he said, offers a cautionary tale.
We'll tell the next generation, 'You see that ash pit over there, that's where Bears Ears was. Now it's a uranium mine

Davis Filfred, Navajo Nation
"There is no reclamation, they scarred the whole Mother Earth," Filfred said. "The way I see it, they're going to bulldoze Bears Ears, and there will be nothing there. We'll tell the next generation, 'You see that ash pit over there, that's where Bears Ears was. Now it's a uranium mine.'
"Money cannot replace what we have in terms of wilderness area. It's habitat to many species, plants and medicinal and ceremonial herbs. You can't wipe all those away."

WARNING: this footage may distress some readers.
Footage released by activist group Sea Shepherd shows Japanese fishermen harpooning whales in the Southern ocean before dragging them, still alive, along the side of the vessel. The publication of the video follows a five-year legal battle with the Australian government to make the images public. The footage was filmed in 2008 by Australian customs officials and requests from Sea Shepherd in 2012 for the film were denied by the government amid fears it would damage international relations. Sea Shepherd's managing director, Jeff Hansen, said: 'The Australian government has chosen to side with the poachers instead of defending the whales of the Southern ocean.'