05 Dec
News and Analyses, A Foreign Perspective
Nearly all of these are English-edition daily newspapers. These sites have interesting editorials and essays, and many have links to other good news sources. We try to limit this list to those sites which are regularly updated, reliable, with a high percentage of "up" time.
Robert Mueller. Thomson Reuters
Robert Mueller obtained a search warrant for records of "inauthentic" Facebook accounts

It's bad news for Russian election interference "deniers"

Mueller may be looking to charge specific foreign entities with a crime
FBI Special Counsel Robert Mueller reportedly obtained a search warrant for records of the "inauthentic" accounts Facebook shut down earlier this month and the targeted ads these accounts purchased during the 2016 election.
The warrant was first disclosed by the Wall Street Journal on Friday night and the news was later confirmed by CNN.
Legal experts say the revelation has enormous implications for the trajectory of Mueller's investigation into Russia's election interference, and whether Moscow had any help from President Donald Trump's campaign team.
"This is big news — and potentially bad news for the Russian election interference 'deniers,'" said Asha Rangappa, a former FBI counterintelligence agent.
Rangappa, now an associate dean at Yale Law School, explained that to obtain a search warrant a prosecutor needs to prove to a judge that there is reason to believe a crime has been committed. The prosecutor then has to show that the information being sought will provide evidence of that crime.
Mueller would not have sought a warrant targeting Facebook as a company, Rangappa noted. Rather, he would have been interested in learning more about specific accounts.
"The key here, though, is that Mueller clearly already has enough information on these accounts — and their link to a potential crime to justify forcing [Facebook] to give up the info," she said. "That means that he has uncovered a great deal of evidence through other avenues of Russian election interference."
It also means that Mueller is no longer looking at Russia's election interference from a strict counterintelligence standpoint — rather, he now believes he may be able to obtain enough evidence to charge specific foreign entities with a crime.
Former federal prosecutor Renato Mariotti, now a partner at Thompson Coburn LLP, said that the revelation Mueller obtained a search warrant for Facebook content "may be the biggest news in the case since the Manafort raid."
The FBI conducted a predawn July raid on the home of Trump's former campaign chairman, Paul Manafort, in late July. The bureau is reportedly investigating Manafort's financial history and overseas business dealings as part of its probe into possible collusion between the campaign and Moscow.
White House senior adviser Jared Kushner listens as President Donald Trump answer questions regarding the ongoing situation in North Korea, Friday, Aug. 11, 2017, at Trump National Golf Club in Bedminster, N.J. Associated Press/Pablo Martinez Monsivais
The Facebook warrant "means that Mueller has concluded that specific foreign individuals committed a crime by making a 'contribution' in connection with an election," Mariotti wrote on Saturday.
"It also means that he has evidence of that crime that convinced a federal magistrate judge of two things: first, that there was good reason to believe that the foreign individual committed the crime. Second, that evidence of the crime existed on Facebook."
That has implications for Trump and his associates, too, Mariotti said.
"It is a crime to know that a crime is taking place and to help it succeed. That's aiding and abetting. If any Trump associate knew about the foreign contributions that Mueller's search warrant focused on and helped that effort in a tangible way, they could be charged."

World Politics
United States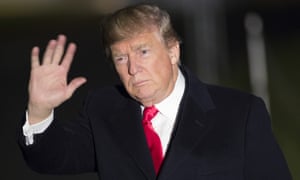 The revelation makes clear that Mueller is investigating Trump's financial transactions. Photograph: UPI/Barcroft Images
Donald Trump's personal banking information has formally been turned over to Robert Mueller, the special prosecutor who is investigating whether the president's campaign conspired with the Kremlin during the 2016 presidential election.
Bloomberg reported early on Tuesday that Deutsche Bank, the German bank that serves as Trump's biggest lender, had been forced to submit documents about its client relationship with the president after Mueller issued the bank with a subpoena for information.
The new revelation makes it clear that Mueller and his team are investigating the president's financial transactions. It is not clear whether Mueller is interested in the bank accounts because they are connected to the Russia probe or if he is investigating another matter.
Deutsche Bank did not immediately respond to a request for comment. The bank told Bloomberg in a statement that it always cooperated with investigating authorities.
The news could also elicit a strong reaction from the president, who has previously said that any attempt to investigate his personal business dealings would go beyond Mueller's investigative mandate and would represent a "violation".
Trump has consistently denied any collusion between his campaign and Russia and has stated that he did not have any business dealings in Russia. Since then, news has emerged that the Trump Organization sold a significant number of its properties to Russian clients and explored opening a hotel in Moscow, though the plan never came to fruition.
Mueller's investigators have, according to previous media reports, examined Russian purchases of Trump-owned apartments, the president's involvement with Russian associates in a development in SoHo, New York, and the president's 2008 sale of his Florida mansion to a Russian oligarch, Dmitry Rybolovlev.
News of the subpoena was not unexpected. The Guardian reported in July that executives at the bank were anticipating they would receive a formal demand for banking records about the president and had already established informal contacts with Mueller's investigators.
But the development nevertheless represents a significant blow to the president personally and indicates that Mueller is not limiting his probe to Trump campaign officials.
Deutsche Bank has for months been the subject of intense scrutiny – especially by Democrats on Capitol Hill – because of its dealings with the president and his family, who are also clients. Trump owes the bank about $300m in loans that were extended to him before he became president.
The Guardian reported in February that the bank had launched a review of Trump's account earlier this year to gauge whether there were any connections to Russia and had not discovered anything suspicious.
Ivanka Trump, the president's daughter and adviser in the White House; her husband, Jared Kushner, who is also a presidential adviser; and Kushner's mother, Seryl Stadtmauer, are all clients of Deutsche Bank.
President signs two proclamations slashing protections for Utah monuments, representing a triumph for fossil fuel industries, ranchers and Republicans
Donald Trump signs two proclamations slashing protections for Utah monuments – video
Donald Trump was widely condemned on Monday for drastically shrinking two national monuments, representing the biggest elimination of public lands protection in US history.
The president modified designations for Bears Ears and Grand Staircase-Escalante in Utah, potentially opening the land to big corporate developers and the oil and gas industry. The move – a repudiation of past presidents Barack Obama and Bill Clinton – seems certain to be challenged in court.
"Some people think that the natural resources of Utah should be controlled by a small handful of very distant bureaucrats located in Washington," Trump said at the state capitol in Salt Lake City. "And guess what? They're wrong.
"The families and communities of Utah know and love this land the best, and you know the best how to take care of your land. You know how to protect it, and you know best how to conserve this land for many, many generations to come."
Bears Ears will be slashed from nearly 1.5m acres to 228,784 acres, while Staircase will be halved from around 2m acres to 1,006,341 acres
Trump, who has focused intently on undoing Barack Obama's legacy, described his predecessor's Antiquities Act designations as a threat to people's way of life, imposing restrictions on hunting, ranching and economic development. "As many of you know, past administrations have severely abused the purpose, spirit, and intent of a century-old law known as the Antiquities Act," he continued.
"This law requires that only the smallest necessary area be set aside for special protection as national monuments. Unfortunately, previous administrations have ignored the standard and used the law to lock up hundreds of millions of acres of land and water under strict government control."
Trump claimed: "With the action I'm taking today, we will not only give back your voice over the use of this land, we will also restore your access and your enjoyment. Public lands will once again be for public use because we know that people who are free to use their land and enjoy their land are the people most determined to conserve their land."
But his move to shrink the national monuments represents a triumph for fossil fuel industries, ranchers and Republicans, particularly those representing Utah, who have pushed the president to undo protections put in place by previous administrations that curb activities such as oil drilling and cattle grazing.
In April, promising to "end another egregious use of government power", Trump ordered a review of national monuments declared since the 1990s.
Interior Secretary Ryan Zinke, who has been a vocal proponent of allowing greater development including mining on public lands, recommended shrinking six monuments and altering the management plans of a further four.
If Trump follows through with all those recommendations, protected areas in Nevada, Oregon and California would be resized, as well as two vast marine monuments in the Pacific ocean. The areas could be remodeled to allow activities such as timber production, grazing or commercial fishing.
Zinke told reporters on Air Force One that "no one loves public land more than I do" and he is a "steadfast believer in public lands for public use" but added: "When a monument is used to prevent rather than protect, the president is right to take action."